Update for the Windows Central App brings web-app link support, fixes, and more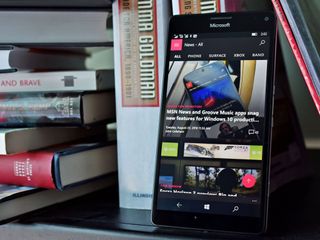 An update for the official Windows Central App is now available on the Store for Mobile and PC users. We've been hard at work for a few weeks on this addressing a few of those lingering bugs as well as addressing a new one discovered by Redstone 2 users.
Also, we're excited to bring web-app link support for those running Anniversary Update on PC or phone. Here is what is new and fixed with version 1.3 of the Windows Central App.
Windows Central App v1.3
Features
The What's New feature – For each new release, we will notify the user of what is new, fixed, and improved without having to wait for the Store to update the changelog or see the article on Windows Central
Support opening Windows Central links in the app instead of a browser (Anniversary Update only) – External links from apps like Skype or email will open our app instead of the web. Additionally, clicking links in an article keeps you in the app instead of kicking you to the browser.
Added Onecast Youtube channel to Videos – Now Jez and Matt's weekly games podcast and deeper dives into hit games can be found under the Video section
Fixes
Fixed an issue that could cause the app to crash on launch on RS2 preview builds
Notifications now navigate to the correct page
Fixed an issue that could cause the app to crash when loading comments
Live Tile should be more reliable with up-to-date content
Miscellaneous
Improved startup and scrolling performance
Minimum Windows 10 version is now 10586
Perhaps the biggest feature we are most excited about the web-app links introduced with the Anniversary Update. If you are reading an article in our app and click a link for related coverage, you now stay in the app instead of going to the web. Likewise, if someone texted you our link and you clicked it, the link will open our app directly to that article. This feature should complete the experience of using our app all the time instead of a mixture of app and web browser.
Note: This feature is pending some last minute server-side changes on our end. While it is not working now, it should "turn on" in the next 24 hours, maybe sooner
We also spent a lot of time debugging issues with the app crashing in comments for some of you including those on Redstone 2 who had a lot of stability issues. We think this build should load content much quicker, be more reliable, and app crashing should be reduced dramatically (fingers crossed). We've also tweaked the haptic feedback so that it vibrates both in the article feed (refresh) and when an individual article loads on your phone.
Finally, we fixed a long vexing bug that prevented Toast notifications from taking you directly to the article. That feature is now working regardless of the app state (closed or resuming).
Assuming this update goes smoothly, we'll be adding a few more features in the coming week or two, including:
Chase-able Live Tiles for the Anniversary Update
Save images in articles
Keep leaving feedback on any crashes, issues, or bugs you notice on our Windows Central UserVoice page and feel free to either leave or update a review for us in the Store!
Download Windows Central from the Store (opens in new tab)
Windows Central Newsletter
Get the best of Windows Central in in your inbox, every day!
Daniel Rubino is the Editor-in-chief of Windows Central, head reviewer, podcast co-host, and analyst. He has been covering Microsoft since 2007 when this site was called WMExperts (and later Windows Phone Central). His interests include Windows, laptops, next-gen computing, and for some reason, watches. Before all this tech stuff, he worked on a Ph.D. in linguistics, watched people sleep (for medical purposes!), and ran the projectors at movie theaters because it was fun.
downloading... hope it escapes from the position #1 app crash for windows 10 mobile.

I'm glad you are using version numbers now and not build no's :)

The build numbers were for while we were in Beta.

Wasn't having a go, more of a positive observation :) Good work.

Windows Central App is the only app that has a Windows 10 Mobile version that I had to downgrade back to the Windows Phone 8 version.. Even Facebook app runs more fluid.
And I'm not ready to upgrade it cos I believe it still has loads of bugs.. *please no one should judge my believe...*

The Windows Central app is a school example of how UWP apps should be so fly back to your to your cave on mars.
Awesome work guys!

The app did have a lot of stability issues so I can understand why one would have ran back to the W8.1 app. Good progress has been made though and the app has gotten much more stable.

It's really not. This app gas beg full of issues since day one... and it was released much later than other W10 mobile apps. It's also still missing features that the WP8 app had and forum access is atrocious.

Not had any issues on W10M version. Weird

First time I launched the app after update, pressing the reply button on comments was not work. Had to close app ad restart. Lumia 640 14905

Also, not sure if it's me alone but getting a brief white screen when opening articles . Lumia 640 14905. Haven't tested on sp4 yet.

Has it improved? I've got a 640, So am curious if you're still having problems.

major improvement. i am on a 640xl

The app linking doesnt work for store? After browsing a couple of articles and opening several apps on store, edge is just useless till i open it, go to the tabs page, within that time edge reloads one of the tabs, which will take me to the store again, come back try to close the tab again, and hopefully it won't reload another tab. MSPU app had direct links from the day they launched their app. To mytube, store and everything. You guys being much bigger player should've thought of this earlier.

Nice list of new features! Unfortunately I am unable to login on the SP3 using my Microsoft account: "CSRF_Token mismatch". EDIT: A reset of the app didn't fix it.

Standby on that. We made some changes with Passport yesterday and thought it fixed most instances, but flagging your case. It's something on our server, not the app.

Good to know. In case it helps, I got the same problem attempting to log in with either my Microsoft Account or Facebook login. Logging in with email address and password worked, though... had to really dig deep to remember what I had set that password to. :-)

Could please make so that we can scroll from the article to comments section? I've seen it is possible the other way.

Swipe from the edge of the screen and it works. Unfortunately this is a limitation of WebView control.

Actually, there are a app called AAWP. I don't know how but they integrated same behave on their app. Swipe anywhere from article to left and you will be in comment section.

It's not that simple and depends on what you are using to render the article. We're using WebView, which gives us a lot of benefits e.g. same formatting as the site, but it has some drawbacks too.

Honestly swiping from the edge isn't a drawback for me once I got used to it... Works quite well imho...

Daniel, not sure if it's me alone but getting a brief white screen when opening articles . Lumia 640 14905. Haven't tested on sp4 yet.

If you open a article you can actually scroll to the comment section anywhere on the screen before the article loads.

Keep up the good work guys!

Why isn't there a option to enable live tile to show how many new content is available ? Just like 8.1version

They rebuilt the W10M app from scratch. It takes some reimplementing all old features while adding modern features at the same time.

Great Job, one of the vexing issues I was having (I'm curious if it was only an EDGE issue or if it was throughout all browsers) that of clicking on a notification in my email for comments only to have it load up the website and state NOTHING IS HERE." It made it real hard to try and go back and respond to comments. I love that it takes you to the APP now and directly to those comments. I'm noticing a scrolling bug, where I scroll up a bit to read other replies and try scrolling down and it keeps kicking me back up to the place where I was scrolling from.

Tried to launch the app for 10 times amazing all the time it crashed without fail.

I had the crash while viewing comments issue. Thanks

Wow guys this is awesome! Keep up the good work!!!

Seeing a white screen before opening any article, disappears very fast.

On action bar? Yeah. Same here.

When will we be able to install the apps for other mobile nations sites?

Seems like web-app link support isn't working on desktop for me. Clicking links from the Windows Central Twitter account just opens them in Microsoft Edge.

Yeah, not working for me on Mobile :/

See the note in the article.

Yup, I just seen it now. My bad.

Is the animation removed when you open an article?

Is the app supposed to have a live tile where it shows a new/unread article count on the tile similar to the old WC app? I have never seen this work with the new app. I see there is an "Enable Live Tile" option in the settings, but not sure what that does as the tile has never displayed anything for me. I am using the small tile, if that helps.

Did you enable the live tile option in settings? If not you need to enable it. The tile has been working without fail here for a long time.

The count on live tile isn't back yet... Probably on the roadmap though.

Why the app doesn't stay in the background in mobile?

Holy cow! Load times are so fast now! No crashing in comments anymore is a welcome fix and the "what's new" pop up is welcome!

The best update to this app by far, I love it!

The whole screen goes white for a mini second before opening an article.

About that web-app links, are you guys using 'apps for websites' feature witch is available with the anniversary update? There's a settings for that. Will I have to set something in there.

No. When it kicks in and open a link a pop up should ask you what you want to do. For links within the app they should just navigate. We just have to get the server site issue addressed.

Thank you for clearing. I was thinking that when we click on a link it will throw you on edge and then edge will throw you back on application again. My bad.

But it will work on both Mobile and pc right?

Nice update but still waiting to reply in forums from mobile

Just skeleton of the app is loaded. NOthing else, articles are not loading at all. when i am trying to open settings it crashes.... did soft reset and checked for pending updates, nothing working... But it is working fine on my PC app

So far so good. I'll scroll fast to see if it will crash.

Interesting. I can no longer reply to comments. I logged off and on again, restarted the app and nothing.

Edit: After I posted my previous comment, I cannot reply to people again. Yet I cannot reply to myself or edit my comment.

I had the same problem as you few minutes ago, now everything works normal again.

Did a hard reset of my L640 over the weekend, and brought it back up to RS2 from a clean install. Unfortunately, since then I cannot log onto this app (previous version either). I get a blank screen for a few seconds and then it kicks me back to the settings menu. I don't even get the option to choose how I want to log on. Any ideas?

Likely related to an issue with Passport, which is being investigated right now. So not related to the app and it should be resolved in the next few hours.

Anyone on mobile RS2 having problems replying to comments?

Nevermind, restarting the app fixed it.

I can reply to some but not others.

Hit refresh then try to reply. There is a new bug we're tracking down :/

Cool. Gonna download..my two biggest issues are the live tile won't show a new article count, and I can't respond to any threads in the forums in which I have started. Hopefully this fixes those.

Ugh. Tile count still does not work. Anyone know why this is?

it is not working if app present in SD Card, uninstalled and installed in internal storage and working fine... however when trying to Login the app using my google account is shows "CSRF_Token mismatch" error

The login error is server side and being looked after according to Daniel.

Nice additions and support! Awesome!

Here's to hoping live tile counter finally starts working! -_-

Working here. Has been since last update

Wow, it works! I'm so happy! :D

Well i thought it worked! Shows the count, but everytime it says 15 no matter what....

This is great! First app I use that takes advantage of an app being able to open websites instead of the browser. Shame it has to be server-sided to enable support as well, it would be lovely if apps like Readit and myTube! could use this feature. Regardless, great update guys! Thank you very much!

Thumbs Up and Down not working for me on RS2 Desktop.

Must be a deep-linking issue. I pressed the Home button, and went back to the article from there and was able to thumbs up and down.

Finally! I live in this app at work (well, I work and have this always running) and not having it run while on RS2 was a bummer. Glad this is resolved. Good work Gary and team WC!

Scrolling is amazingly smooth now, not that the last version wasn't good. Is chaseable live tiles coming?

Thanks for supporting the Windows Mobile platform.

Thanks for supporting the Windows Mobile platform.

There is this massive space after pulling down the page to update and the articles are too close to each other

Is it just me or does the website app launching thing not work?

"Note: This feature is pending some last minute server-side changes on our end. While it is not working now, it should "turn on" in the next 24 hours, maybe sooner"

Still can't post comments via app, only on site

Yes it seems faster and much smoother ☺

Faster but i cannot reply to comments or up and downvote. Still no live tile counter for unread articles and the tile only shows article previews til the last time I opened the app. Nice to see but kinda useless...

Windows Central Links are not opening in the app...

So glad i can use the app again... Going on the web is just not the same

So glad i can use the app again... Going on the web is just not the same

Reply function is working sometimes on comments. Restarting the app seems to fix it for a while then it starts acting up again. Lumia 640 14905

In addition to my above comment, it seems the reply button AND the edit button is broken... Actually, all those button don't seem to work . Upvote etc .

Great! I was expecting the update, since there were some annoying bugs in the previous version. Thanks, WC! Awesome that chaseable tiles are coming ;)

Hmmm weird I've been using this app before the update on RS2 with no crashes updated the app 2 mins ago opened it and was see x2 of every article. I closed the app and reopened it and it sorted itself out. Scrolling seems smoother as well. Good job WC team the apps just getting better and better each time. And that wee popup window with change log info is great addition.

Can't edit own post nor upvote or downvote.

Have you closed app and reopened? I had the same but a refresh cured it

Love the new look, but I seem to have some 'stuttering' when scrolling through news items. Could be my old eyes ;P Scrap that. Had a tinker, now scroll beautifully! PS, why are you developing an app for a dead platform :D :D

Which dead platform? If you want to play go play somewhere not on this site

You guys finally managed to get the margin and padding of the main page right. Impressive.

Forums are messed up a bit, while searching and browsing works great, replying doesn't work. I can start a thread but cannot quote anyone participated nor simple reply. Hopefully it will be fixed soon. Till then I'll use 8.1 app for forums.

It looks Nice, it crashed some times, and open too slow from the last build.....

This update totally sucks. Nothing works right. Links do not open in app, no upvote or downvote, no reply, and the live tile stays stuck at 15. Don't you guys test this stuff out before pushing it out??

Actually, performance is great for me on RS2 and I like the new changes, but edit post doesn't seem to work.

What about "safe to offline" feature?

No more crashing while scrolling thru comments...

The deep linking thing doesnt work. Just tried it by clicking the link in the back to school gadget article, opened up in Edge instead of in-app.

It's noted in the article we need to do something back end changes first.

Great! Finally something in my "apps for websites"

Another failed WC app for me. Upvote and down it's don't work anymore. I'll be keeping my 1 star rating.

**** even editing post doesn't work. WTF!

Cant upvote/dowvote or reply to comments..

Does this update is for windows phone 8.1too

Having videos open in Tubecast is an improvement, but still an easy out that is less than desirable. In app video would be much better, but worked horribly in your previous implementation. BTW, Tube cast doesn't render full screen video correctly on the 950 either.

Down voted for the truth.
Settling for mediocrity just because your a fan is pathetic and doesn't do anyone any good - current users, developers, potential users, etc.

Phenomenal update. Apps for website support is awesome. Performance is through the roof. Doesn't crash. Happy!

Web-app link is not working..

apps for websites not working nor or mobile nor on pc

Keep up with the good work!

Performance is good, faster, clean but in app links aren't finalized yet

Live tile is not working anymore

I can't send comments from my Lumia 640XL after typing it. The send arrow key won't work, and I can't add my account on my PC. It is only on the Android mobile that it is working. Posted via the Windows Central App for Tecno-L8+

Geez I can't even comment upvote or downvote a comment even after restarting

Congratulations on being the first app to make it on the "Apps for websites" list :D! (To my knowledge)

Tried to login via facebook i get a token mismatch and i have to try a couple of times. Then it rejects almost evety username i use until i tried a number of times. On the design it feels so windows 8 like on mobile. I fell windows 10 mobile design ia better and you could do better. On the positive side its a great app though

Excellent update. Not a single crash since.

The app seems to crash less often than before. This is good improvement. As of now, replies and up/down votes is broken which is a really annoying bug. I don't want to wait another month for a fix. Please as chase-able tile as MSPU has updated the app with them on the same day AU started rolling out.

What's the difference between the WC app by Jay Bennet and the one by Mobile Nations? I downloaded the former years ago and didn't know about the latter until now!

Update up and downvotes and reply to other peoples comments seem to have started to work again still no edit own post but its a start.

Haven't noticed any issues previously nor currently.
Lumia 950
Insider Release Preview
Version: 1607
Build: 10.0.14393.82
Canada
Office Wifi Network Speed: Reverse
(ya, it's that slow)

Does the Apps for Websites feature not work when shortened URLs are involved? Opening a WC link from the Twitter app isn't working for me (on mobile). Edit: Nevermind, I somehow missed the part about it not working yet.

Much improved, especially comments scrolling, great work thanks...

all the links are opening in browser and not in this app. Am I assuming wrong or the feature is not working in my PC and Mobile app ? b/w i am unable to login in my mobile. still shows error. Hope the issue is resolved by the end of the day at WC Server side.

does anyone know why i can't seem to have the weather app notification on my lockscreen? i even set it in the settings
Windows Central Newsletter
Thank you for signing up to Windows Central. You will receive a verification email shortly.
There was a problem. Please refresh the page and try again.