Updated Ask Ziggy (or other apps) not launching? Try to re-install the app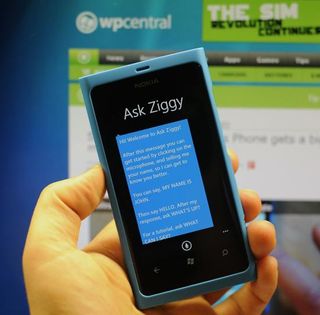 We've received reports from some readers that the recent update to Ask Ziggy version 2.0, the Siri-like SkyNet-type app for Windows Phone, has left the app unusable. The recent update addressed some issues and fixed some bugs, but it seems that users may experience problems when launching the app after updating.
Like many apps that experience issues when launching with crashes or errors, a simple way to fix the problem (especially if it's after an update has been installed) is to re-install the troubled app. We advise Windows Phone users to troubleshoot before reporting issues to prevent frustration. This should fix Ask Ziggy too.
Thanks to everyone who sent in troubled reports.
Rich Edmonds is Senior Editor of PC hardware at Windows Central, covering everything related to PC components and NAS. He's been involved in technology for more than a decade and knows a thing or two about the magic inside a PC chassis. You can follow him over on Twitter at @RichEdmonds.
First thing I tried. Works fine now

I re-installed it and it works great.

All I get on my Titan is Exceeded maximum number of unique devices per day. huh ?

Reinstalled it and it only works on first start still. That was the 1st thing I did

Same here. Reinstalled three times, and it still works only on the first launch.

Lol 4th reinstall now it works

Funk it it doesn't work after the 3rd start

Try uninstalling, rebooting, then reinstalling. Or, you could just try a reboot. I have trouble with Ffffound sometimes and it requires a reboot.

Just imagine what them Android boys have to deal with. Hahahaha! Lol..

Asky ziggy error when application is loaded "exceeded maximum number of unique devices per day"

I used to have trouble with updated apps not starting, usually, unpinning and repinning the app to the start screen got rid of the problem.

On Ask Ziggy, I've reinstalled 4 times now, first use gets "exceeded maximum number of unique devices per day", then it doesn't load at all on my HD7... Its become an error circle!! Will just wait for another fix to be released.....

I get the same error on my original Focus.

Yeah, uninstall/reinstall & reboot didn't work. Just gonna uninstall the app for good, no app is worth this much work/headache.

Anyone know what the update was for?

All I saw was the greeting option...

Need to reinstall after every 3 launches, just broken right now. Its a shame cuz its a fun app!

There was a second update a day later after the first update to 2.0. That fixed the crash problems on my Focus. Works perfectly now.

Speaking of 'other apps' - Does anyone know how to reinstall IE? My tabs started behaving weirdly & eventually I couldn't open IE at all. I managed to get it to work by disabling tabs in settings. It's usable, but I'd like my tabs back! I suppose I could use another app, but IE should work. I've done multiple resets & don't want to factory reset as I will lose my messages (as there is no way to back them up).

It's still broken... I press the IE icon, it sort of shudders and nothing happens. Disabling tabs allows me to open it again

I noticed that 2.0 has crashed on my device as well. Even after the minor update, 2.1, the app crashed after it lauches a second time. Tried reinstalling the app a few times and still behaves the same way. hope it will be fixed again.

They need to update the update cause this suck balls=(

The error about maximum devices per day might be a server overload. The app works fine now.

My Trophy & Ziggy are friends again :-)

The update crashed after a few goes. Then it would not even startup. So I uninstalled and reinstalled. Now seems to be working again.

My Lumia 800 and Ziggy are friends again too :-)

...I had the same problem after the 2nd update. I sent a mail to support@ask-ziggy.com. They were aware of it and have already submitted a patch to Microsoft. It seems that the problem is the greeting function. If not activated, the app works fine...

I just discovered this as well. It worked fine until I turned on the greeting and then it stopped working. I wish I'd known that before I reset my phone and now have to reinstall all my apps again.

Hey guys I was just wondering if anyone else has been having issues with ask ziggy with 1 the app crashing which I have fixed, but now the app doesn't crash but won't let me use it at all, it says "you not authorized to use this service please contact your service provider" any idea of how to fix this problem? Thanks guys :)

Installed Ask Ziggy and, other than not being the greatest at recognizing words hence returning a lot of irrelevant Yahoo answers, it worked fine. I enabled the greeting and the app shutdown and would only launch & immediately close. I uninstalled and reinstalled and can launch the app, but when I tap the microphone is says "Listening," however, the microphone has a line through it. Now I receive only the message "You are not authorized to use this service. Please contact your service provider." Many of the message boards I've seen suggest the problem is pervasive. I hope we see a fix soon. Ask Ziggy has the potential to be a great tool. Thank you.

App busted, all i get now is "user cannot access network, not authorized" or the maximum number unique devices" messages, too bad, worked nice before this.

The crash bug has been fixed.
Update 2.2 is now live on the market.
We are also addressed several traffic related issues. We recieved a few million voice queries, in a very short time span, but it is ok now.
We are integrating calenders and reminders along with a few other surprises in updates coming in a few weeks.
Just so you know we are aware of all the issues and working hard to remedy them.
We also use wikipedia for some answers and use Yahoo answers as a fall back, but we will work on improving he answers.
Thanks for your patience,
AskZiggy

We are currently experiencing extremely high traffic volume, and are working around the clock to restore service to Ask Ziggy users. We are working towards a permenant solution, and apoligize for the inconvenience.
Windows Central Newsletter
Get the best of Windows Central in in your inbox, every day!
Thank you for signing up to Windows Central. You will receive a verification email shortly.
There was a problem. Please refresh the page and try again.