Should you upgrade from AMD Radeon RX 5000 to an RX 6000 graphics card?
Current Radeon RX 5000 owners have a tough decision to make now that next-gen "Big Navi" cards are here.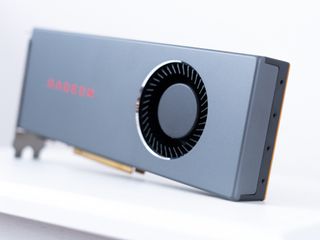 (Image credit: Windows Central)
Whether or not you should upgrade from AMD's Radeon RX 5000 GPU lineup to the new RX 6000 cards isn't easy to answer. There are a bunch of RX 5000 cards with differing performance, and someone with a high-end RX 5700 XT might not be as inclined to upgrade as someone with a lower-end RX 5500. The new RX 6000 graphics cards are a big jump up in performance — enough of one that we're expecting them to occupy our collection of best graphics card options — so the upgrade is no doubt tempting. Let's break the cards down into performance categories to determine whether or not an upgrade is worth the money or really even necessary for the gaming experience you prefer.
AMD Radeon RX 5000 and RX 6000 specs and features
It's worth taking a look at the raw specs to understand how these cards differ. Some of the specs will change based on third-party design, but overall performance will remain almost the same. We're focusing here on the GPUs available to buy on their own without having to invest in a pre-built system.
Swipe to scroll horizontally
| GPU | Stream Procs. | Compute units | Texture units | Ray accels. | Boost clock | Memory | TDP |
| --- | --- | --- | --- | --- | --- | --- | --- |
| RX 6900 XT | 5,120 | 80 | 320 | 80 | 2,250MHz | 16GB GDDR6 | 300W |
| RX 6800 XT | 4,608 | 72 | 288 | 72 | 2,250MHz | 16GB GDDR6 | 300W |
| RX 6800 | 3,840 | 60 | 240 | 60 | 2,105MHz | 16GB GDDR6 | 250W |
| RX 5700 XT | 2,560 | 40 | 160 | — | 1,905MHz | 8GB GDDR6 | 225W |
| RX 5700 | 2,304 | 36 | 144 | — | 1,725MHz | 8GB GDDR6 | 180W |
| RX 5600 XT | 2,304 | 36 | 144 | — | 1,560MHz | 6GB GDDR6 | 150W |
| RX 5500 XT | 1,408 | 22 | 88 | — | 1,845MHz | 4GB, 8GB GDDR6 | 130W |
You can see from these numbers what a jump in performance RDNA 2 is set to deliver. AMD wanted to improve performance-per-watt by 50% compared to RDNA, and it actually increased by 54% with the RX 6800 and RX 6800 XT GPUs. As for the RX 6900 XT, performance-per-watt has jumped up 65%. Even the RX 6800, the least powerful card recently revealed, is a huge jump up over the RX 5700 XT, AMD's previous heavy-hitter.
No matter which RX 5000 GPU you're currently using, something to keep in mind is DirectX12 Ultimate support in the new RX 6000 cards. Along with ray tracing abilities, Big Navi delivers mesh shaders, sampler feedback, and variable rate shading. If these new features, in your opinion, can't be missed, an upgrade to one of the new RX 6000 cards is in order. Have a look at our guide to which AMD Radeon RX 6000 GPU you should buy for more information.
Radeon RX 6000 GPUs will include a proprietary Infinity Cache technology, effectively reducing bottlenecks and doubling the bandwidth of a 384-bit G6 interface. Silicon design has been improved, resulting in a 30% increase in frequency compared to the RX 5000 cards. Compared to RDNA, the new RDNA 2 GPUs double performance at 4K.
If you're upgrading your processor (CPU) soon to one of AMD's Ryzen 5000 chips, you also want to keep in mind that pairing up an RX 6000 GPU unlocks Smart Access Memory. Mixing a Ryzen 5000 CPU, Radeon RX 6000 GPU, and 500-series chipset motherboard can deliver up to a further 13% increase in performance with this feature. That number is bound to change, but bottom line is you're going to see a slight performance boost in most games.
With all this information in mind, let's look at the individual cards and some scenarios where an upgrade may or may not be worth the money.
Should you upgrade from the RX 5700 XT or RX 5700?
If you already have a Radeon RX 5700 XT or RX 5700, you're no doubt used to a rather high-end gaming experience. Both of these GPUs can deliver quality 1440p, and especially the RX 5700 XT will allow you to dabble with 4K.
Those who are comfortable sticking with 1440p and don't want to take advantage of the new features specific to Big Navi should be just fine with their RX 5000 GPU. It's still going to handle QHD at smooth framerates, and you'll be able to save a good chunk of change.
However, if you've had a taste of 4K and can't go back, the RX 6800 XT or RX 6900 XT is no doubt quite tempting. The former card can do 4K at 60 FPS in just about any modern game, even with in-game settings cranked up. And the latter card will absolutely crush 4K and even allow to you dabble in 8K if you happen to have the dough for a proper monitor.
6000-Series Beast
If you're looking for the most power of the three initial RX 6000-series GPUs, this is it. Just cross your fingers and hope you find one for sale.
Should you upgrade from the RX 5600 XT?
The AMD RX 5600 XT competes with the NVIDIA RTX 2060, able to deliver a truly high-end 1080p gaming experience. It also does very well with 1440p, albeit with lower in-game settings to reach the same frame rates.
This card isn't going to handle 4K, so if you are interested in the boosted resolution, you'll undoubtedly want to check out either the RX 6800 XT or RX 6900 XT. If you'd like to stick with 1440p but want a better experience without worrying about lowering in-game settings, the RX 6800 is no doubt a solid upgrade. Whether or not it's worth the $580 price tag is really up to your budget.
Awesome 4K Gaming
This powerful GPU is built on AMD's RDNA 2 architecture. It can handle 4K gaming, ray tracing, and stacks up against the NVIDIA RTX 3080.
Should you upgrade from the RX 5500 XT?
Available in 4GB and 8GB VRAM versions, the RX 5500 XT is a solid GPU (in either case) for 1080p gaming. That holds true even with in-game settings cranked up. If you're happy sticking with your FHD monitor, an upgrade to the new RX 6000 cards shouldn't really be necessary.
Sure, the RX 6800 would absolutely dominate 1080p, but it's overkill and not really worth the $580 upgrade. At least unless you're looking to move up to 1440p.
High-End 1440p
This RDNA 2 GPU is the right option if you want to absolutely crush 1440p PC gaming.
When can you buy AMD RX 6000 GPUs?
AMD has launched its three initial RX 6000-series GPUs, though stock is severely limited. If you're wondering where you can get your hands on these cards, be sure to check out our guide on where to buy AMD Radeon RX 6000 graphics cards.
Get the Windows Central Newsletter
All the latest news, reviews, and guides for Windows and Xbox diehards.
Senior Editor, Laptop Reviews
Cale Hunt is formerly a Senior Editor at Windows Central. He focuses mainly on laptop reviews, news, and accessory coverage. He's been reviewing laptops and accessories full-time since 2016, with hundreds of reviews published for Windows Central. He is an avid PC gamer and multi-platform user, and spends most of his time either tinkering with or writing about tech.