AMD Radeon RX 6000 GPUs: Everything you need to know about 'Big Navi'
AMD's Radeon RX 6000 lineup of "Big Navi" graphics cards is here. Here's what you need to know about specs, performance, price, and release dates.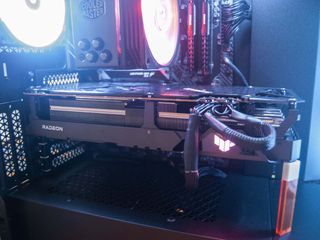 (Image credit: Windows Central)
AMD took the cap off its next-generation Radeon RX 6000 Series graphics cards (GPU) using RDNA 2 architecture last year, just weeks after unveiling its desktop-class Ryzen 5000 processors (CPU). And just like the CPUs and their huge boost to performance, the new RX 6000 GPUs bring a ton of power compared to the last generation. Enough that they rank high in our list of the overall best graphics card options out there. Here's what you need to know.
AMD announces the RX 6500 XT and RX 6400
AMD announced at CES 2022 two new desktop GPUs, the Radeon RX 6500 XT and the RX 6400. The former is a budget 1080p performer, while the latter is intended for use more commonly in OEM systems.
Swipe to scroll horizontally
| Category | RX 6500 XT | RX 6400 |
| --- | --- | --- |
| Stream processors | 1,024 | 768 |
| Compute units | 16 | 12 |
| Texture units | 64 | 48 |
| Ray accels. | 16 | 12 |
| Game clock | 2,610MHz | 2,039MHz |
| Boost clock | 2,815MHz | 2,321MHz |
| GDDR6 memory | 4GB | 4GB |
| Infinity Cache | 16MB | 16MB |
| TDP | 107W | 53W |
| Recommended PSU | 400W | 350W |
| Slot size | 2 | 1 |
| Price | $199 | TBD |
The RX 6500 XT is expected to launch Jan. 19 for a list price of about $199, though whether there's much stock at launch remains uncertain. It has 4GB of GDDR6 VRAM, 1,024 stream processors (half as many as the RX 6600 XT), and a modest 107W TDP. Because it's an RDNA 2 card, it has access to all of AMD's extra features, including FidelityFX Super Resolution, Radeon Super Resolution, Smart Access Memory, and Infinity Cache. If you're looking for a GPU that can handle decent 1080p frame rates in modern games, this should be a solid option.
AMD announces the RX 6600 XT for high-end 1080p gaming
AMD announced the Radeon RX 6600 XT on July 30, 2021. The GPU launched Aug. 11 with a list price of $379. AMD says it aims to deliver "epic 1080p performance" at a cost that's $100 less than the RX 6700 XT. It has 8GB of GDDR6 VRAM, 2,048 stream processors, and a 160W TDP. It has access to all of AMD's extra features, including FidelityFX Super Resolution, new Radeon Super Resolution, Smart Access Memory, Infinity Cache, and more.
Compared to the NVIDIA RTX 3060, its main competition, you're looking at about a 15% performance premium for AMD's card. However, the RX 6600 XT has a list price about $50 higher than the 3060.
AMD announces the RX 6700 XT for 1440p gaming
Image 1 of 3
In its "Where Gaming Begins: Ep. 3," AMD announced the Radeon RX 6700 XT. This was the fourth GPU to be born into the RDNA 2 family, and it comes in just below the AMD Radeon RX 6800 in terms of performance and price. It was released March 18 at a $479 list price.
Both AMD's reference cards and third-party cards from popular manufacturers were released the same day to hopefully alleviate the stock shortages, though you'll still be hard-pressed to find stock. AMD stressed that the RX 6700 XT is the card you want for 1440p gaming, beating out the RTX 2080 Super, RTX 3060 Ti, and RTX 3070 in numerous popular AAA games. With 12GB of VRAM, it's well equipped to handle 1440p at max settings in particularly demanding games.
What about the other Radeon RX 6000 GPUs?
Along with the newer RX 6600 XT and RX 6700 XT, the three other Radeon RX 6000 GPUs are just as drool-worthy. They're all using the RDNA 2 architecture that is an evolution of RDNA we saw in the RX 5000 Series cards. You might have also heard RDNA 2 called Navi 2x or Big Navi, but the facts remain the same; these new cards are absolutely sizzling. This same technology is being used in next-gen Xbox Series X, Xbox Series S, and PlayStation 5 consoles, but these are the first PC-based GPUs with the technology. Here's a breakdown of the specs for each new Radeon RX 6000 GPU.
Swipe to scroll horizontally
| Category | Radeon RX 6900 XT | Radeon RX 6800 XT | Radeon RX 6800 | Radeon RX 6700 XT | Radeon RX 6600 XT |
| --- | --- | --- | --- | --- | --- |
| Stream processors | 5,120 | 4,608 | 3,840 | 2,560 | 2,048 |
| Compute units | 80 | 72 | 60 | 40 | 32 |
| Texture units | 320 | 288 | 240 | 160 | 128 |
| Ray accelerators | 80 | 72 | 60 | 40 | 32 |
| Game clock | 2,015MHz | 2,015MHz | 1,815MHz | 2,424MHz | 2,359MHz |
| Boost clock | 2,250MHz | 2,250MHz | 2,105MHz | 2,581MHz | 2,589MHz |
| GDDR6 Memory | 16GB | 16GB | 16GB | 12GB | 8GB |
| Infinity Cache | 128MB | 128MB | 128MB | 96MB | 32MB |
| TDP | 300W | 300W | 250W | 230W | 160W |
| Recommended PSU | 850W | 750W | 650W | 650W | 500W |
| Slot size | 2.5 | 2.5 | 2 | 2 | 2 |
| Price | $999 | $649 | $579 | $479 | $379 |
The first version of RDNA was a huge step up over AMD's previous GCN architecture. AMD aimed for the 7nm RDNA 2 to trounce again the performance-per-watt of RDNA, and it has pulled it off with an actual 54% increase. If that wasn't impressive enough, the mighty RX 6900 XT boosts the performance-per-watt increase to a whopping 65%.
How did AMD do it? Compute unit design has been advanced with 30% more efficiency. The proprietary Infinity Cache, based on the Zen L3 cache and optimized for graphics, reduces bottlenecks and effectively doubles the bandwidth of a 384-bit G6 interface. And thanks to improved silicon design, there's a 30% frequency increase despite a similar 7nm node. Altogether this contributes to the huge performance-per-watt gain, but it also delivers more than double the performance of RDNA at 4K.
On top of that, RX 6000 GPUs support DirectX 12 Ultimate, which encompasses ray tracing, variable rate shading, mesh shaders, and sampler feedback. The addition of ray tracing will no doubt help them compete with the current market-leading NVIDIA RTX 3070, RTX 3080, and RTX 3090 GPUs in compatible games. At the March 3 event, AMD also noted new Radeon Anti-Lag and Radeon Boost Variable Rate Shading support for DirectX 12.
AMD's FidelityFX Super Resolution, also known as FSR, has also officially arrived. It is essentially AMD's answer to NVIDIA's DLSS, with both technologies essentially taking a low-res frame, upscales it, and sharpens it to look as close to the original. This alleviates some pressure on the GPU, boosting frame rates in compatible games. My guide on AMD FidelityFX Super Resolution vs. NVIDIA DLSS has more information.
And now AMD's Radeon Super Resolution — a driver-based spatial upscaling technique — will work across RDNA and RDNA 2 GPUs as well as games with fullscreen support. My article on FidelityFX Super Resolution vs. Radeon Super Resolution explains the differences between the two features.
Comparing AMD Radeon RX 6000 and NVIDIA RTX 3000 performance
The main stats most people were awaiting were raw performance in popular PC games compared to NVIDIA's mighty RTX 30-series GPUs. And for those on Team Red, the numbers look great. The RX 6800 XT is set to compete with the RTX 3080, and at 4K resolution in games like Battlefield V, Borderlands 3, and Call of Duty: Modern Warfare, the RX 6800 XT pulls ahead in frame rates. That's with maxed in-game graphics settings, so you can be assured that there is no compromise.
Even dropping down to 1440p, the RX 6800 XT beats the RTX 3080 in almost all games tested. Keep in mind the RX 6800 XT is doing this at a lower 300W TDP compared to the RTX 3080's 320W. And now with the RX 6700 XT on the table, coming in at a lower price than the RTX 3070 and beating it out in raw performance in many scenarios, NVIDIA has some close competition.
The RX 6800 compared to the RTX 2080 Ti tells about the same story. With the Smart Access Memory feature (more on that below) enabled, the RX 6800 beats out the RTX 2080 Ti at a 4K frame rate in all games tested. The same holds true when dropping down to 1440p. Considering the RX 6800 is expected to retail for about $649, this is a huge amount of performance.
Stepping up to the RX 6900 XT — which is actually no larger physically than the RX 6800 XT — you're getting performance to rival the beefy RTX 3090. AMD padded the stats a bit with Rage Mode and Smart Access Memory enabled on its side, but at 4K with maxed setting the RX 6900 XT manages to beat the RTX 3090's frame rates in six out of the 10 games tested. And where it fell short, it wasn't far behind.
With the RX 6900 XT hitting the 300W TDP mark (compared to 350W) and costing $500 less than the RTX 3090, this seems like a big win for AMD.
More gaming features shown off
AMD also showed off some extra goodies that are going to help make your gaming experience that much better. Rage Mode delivers the ability to overclock your GPU with one click in Radeon software, and AMD's Smart Access Memory works with AMD's new Ryzen 5000 CPUs. When you combine the new CPU, GPU, and a 500-series chipset motherboard, you will see up to a 13% increase in performance. And that's before games further optimize this feature.
AMD stressed in its "Where Gaming Begins: Ep. 2" presentation that FPS is ultra important, but so is latency between your actions and what you see on screen. That's why its second-gen latency reduction tech is here, combining Radeon Anti-Lag and FreeSync monitors across DX9 and DX11 games. Radeon Boost also works in select games for controller and mouse input, giving you further latency reduction. Altogether, AMD showed off 37% less latency in Fortnite at a 4K resolution with these features enabled through Radeon software.
The RX 6000 Series GPUs fully support DirectX 12 Ultimate, but AMD has also improved its FidelityFX collection of features to work better with new ray-tracing implementation. AMD FidelityFX is so far supported in 35 games, with more on the way.
When can you buy an AMD Radeon RX 6000 GPU?
The AMD Radeon RX 6900 XT, RX 6800 XT, RX 6800, RX 6700 XT, and RX 6600 XT have been available for months, but good luck finding anything in stock. The RX 6500 XT is expected to launch January 19 at a $199 price tag. More details about launch date and price are to be determined for the RX 6400.
For way more information about how to get your hands on the new GPUs, be sure to have a look at our guide on where to buy AMD Radeon RX 6000 graphics cards.
Windows Central Newsletter
Get the best of Windows Central in in your inbox, every day!
Senior Editor, Laptop Reviews
Cale Hunt is formerly a Senior Editor at Windows Central. He focuses mainly on laptop reviews, news, and accessory coverage. He's been reviewing laptops and accessories full-time since 2016, with hundreds of reviews published for Windows Central. He is an avid PC gamer and multi-platform user, and spends most of his time either tinkering with or writing about tech.
6900XT looking VERY impressive, that could be where my money goes. I'd want a 5000 CPU too, obviously

One thing that bothers me about all 3 of these cards. No exhaust to the outside of the PC case. They blow ALL of their heat directly back into your case. That will make them a real problem in smaller cases, and a serious problem in micro-cases, and an absolute no-go in low-noise cases unless OEMs come up with water-block versions. I wonder why they made that design decision? Seems odd to me. Noise reduction? Who knows. As to the slides shown; I'll reserve my opinion on performance until the actual reviewers get their hands on them and do independent testing. Remember, there are Lies, Damn Lies, Statistics, and Benchmarks. I HOPE they are as good as described because heaven knows we need some fierce competition to bring down prices on GPUs.

Yes, I don't understand why they haven't kept the usual openings on the back. If you're talking about blowers, blower designs are usually good for cases with bad ventilation, classic design is better with a good case. Anyway, that's still better that nVidia's new design that blow the hot air directly on the CPU...

Wouldn't this entirely depend on the case you're using though? How would a GPU engineer know ahead of time whether your board is going to mounted from the side or the bottom? The primary purpose of the fans is to cool the gpu, the rest is up to you. Besides, these are reference cards, OEMs are going to make their own designs, some will have water cooling blocks OR you custom fans solutions you can get on your own

NVidia really needs to produce a proper follow up to the RTX Titan now.
AMD is on a roll.

"HEY!" "LISTEN!" "WATCH OUT!" "LOOK!"

After around 15 years of Nvidia GPU's I was able to snag an MSI 6800 XT Trio X, and I am absolutely so impressed with this thing! I love Nvidia and appreciate what they bring to the table, but AMD's software and believe it or not the drivers have been outstanding. People would warn me be careful if you get an AMD GPU because of driver support, but I have had way less crashes and issues (in fact I haven't had any) while gaming than I ever did over the past year with Nvidia (1660 TI & 3060). I love the catalyst software as well, so many options and the layout is great. I like that I can tinker in the software and see stats as I game. Lastly the performance and cooling of this card has just been great. Super impressed and happy with everything so if you have been debating going with an AMD GPU I will say you should give it a try!!

This article is OVER a year old now.
I commented on this in Oct. 0f 2020! (see above.) These are pretty good cards. These benchmarks have been born out as real and the drivers have been solid. Good to see some competition with Nvidia, and in a few months we may see the new Intel ARC series of GPUs come to market. Still, they are almost impossible to purchase due to the bitcoin miners snapping them all up at the wholesale level (and I don't blame the manufacturers, whose job it is to SELL PRODUCT, not make sure it gets into the hands of gamers vs. Miners.)

Still holding out for the RX 7000 Radeon GPUs lol. As the 6000 series GPUs are still hard to buy without paying a massive premium.
Windows Central Newsletter
Thank you for signing up to Windows Central. You will receive a verification email shortly.
There was a problem. Please refresh the page and try again.