Verizon's Microsoft Lumia 735 reportedly slated for June 11 launch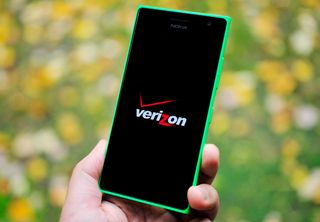 The Verizon Lumia 735 has been rumored as coming to Verizon since late last year until further reports from our sources pushed the phone back to "early 2015". That earliness has slipped in late spring and after being recently outed at the FCC, the phone finally has a launch date.
Thursday, June 11 appears to be the set launch date for the mid-range phone first launched under Nokia. The Verizon variant ships with CDMA plus 4G LTE bands for Verizon's network and presumably Windows Phone 8.1 Update 2, which may have held up the release.
Details of the launch come from a source to Windows Central, who provided the above photo. The image is reportedly from Verizon's computers for employees, and it lists the Lumia 735 under the 'coming soon' area with a '6/11' launch date.
Interestingly, an anonymous tip appeared earlier today on Reddit. However the 'throw away account' was unable to provide any direct proof for the June 11 date. Our source though was able to provide the corroborating evidence making the claim much more believable.
Verizon recently launched the more budget friendly LG Lancet also with Update 2, signaling a concerted effort by the carrier. Verizon has traditionally been very difficult to get phones tested and approved, and the Lumia 735 appears to be no different.
As evidenced by the above FCC photos, the Lumia 735 is expected to launch with Microsoft branding instead of Nokia's. It is not known if there are other hardware changes requested by Verizon or provided by Microsoft.
No word on pricing although the Verizon Lumia 735 should be priced slightly higher than the LG Lancet, which has some more stripped down hardware and lower screen resolution.
Verizon will likely announce the availability of their Lumia 735 at any moment with further details.
Lumia 735
The Lumia 735 is a mid-range Windows Phone with Verizon's CDMA and LTE bands on board. The phone features a 4.7-inch 720p OLED display (1280 x 720), 1.2 GHz quad-core Snapdragon 400 processor and 1 GB of RAM. It comes with 8 GB of internal storage, which is supplemented with micro SD card. For cameras, you are looking at a sharp 6.7 MP shooter with ZEISS optics and a f/1.9 aperture. LED flash is also included. Up front, you'll find a full HD 5 MP wide angle f/2.4 camera.
Thanks to our source, who wishes to be unnamed, for the information.
Daniel Rubino is the Executive Editor of Windows Central, head reviewer, podcast co-host, and analyst. He has been covering Microsoft here since 2007, back when this site was called WMExperts (and later Windows Phone Central). His interests include Windows, Microsoft Surface, laptops, next-gen computing, and arguing with people on the internet.
Should have skipped this & went straight to the 640....

Maybe I'm overstaing the obvious but why wouldn't a person just wait to see what new phones come out after Win 10 Mobile is released? I assume they'll be made for it. Can't picture forking over $275 instead of waiting 4 months or so.

Look at what phone this is. This is a mid range phone. The type of people who would buy this or the lg don't care about the latest and greatest. It would be a different story if they released the 1520. I'd understand your statement. But for a low end device like this its fine.

$275 isn't a low end price...

It's certainly not a high end price. Midrange pricing.

For off contract with the 735 specs, it is indeed a good price. Please direct us to competing devices with similar specs and lower price. And remember this device has Qi, NFC and OLED when you're making your comparison.

This phone is essentially end of line in many countries. It was being sold in the UK for £109 from EE with a free wireless charger....so a $275 price point months later in the land where everything is cheap....
Nah, sorry - it's too costly. Unless of course it has had a processor revision to give it some extra power OR it has had a software update giving it Lumia Camera 5 (which IS available on the cheaper 640 which has a worse camera!)

The Lumia 735 had a price hike since then in the UK

Because they might be on a phone that's doing or a phone like the 635 with 512mb ram and no flash and no front camera and desperately want something else

I'm using a $50, Lumia 635 just to tide me over until the W10 Mobile phones are released. $275 sounds like a lot of "desparation" fot me with only a few months to go. Anything you buy today won't have the specs needed for Continuum if that's your thing. So no. I don't understand anyone spending more than $100 right now. Do without selfies, flash and RAM until we know what's going to happen.

Yeah but on that case the 640 would be a better value for 129.99 cuz its got 1gb and nfc and ffc maybe not as good as a 735 but its cheaper and a great phone for the money

I think 735 is better than 640

No, in most of the aspects, it is way better than 640.

Except battery life, Glance and so far, a more flexible camera due to Lumia Camera 5.

5mp Camera ffc vs 1mp Camera ffc, main camera with zeiss optics vs main camera with no Zeiss optics. Wireless charging vs no wireless charging. Clear black display vs not so clear black display ;)

exactly!!!..when people compare phones, why do they never talk about AMOLED vs IPS v TFT?? Its VERY Expensive to make AMOLED - so thats why some of these phones cost more, you're looking at a MUCH better screen where each pixel lights up on its own...Why do People never compare this aspect?...I dont get it.

Have you seen the 640 screen? It doesn't look like real ClearBlack, and Microsoft has admitted that it used a different method on the 640. The 640XL has true ClearBlack.

Yup, that's why I called it not so clear black display.

Source? Btw amoled/oled always have deeper blacks

I own a 640 and trust me I has clear black you must have had a defective one or something I had the 635 witch also has clear black the screens and color look identical and no the 640 is not spec wise as good as 735 but it is a good phone for being 175 dolars cheaper its got nfc it got 1gb ram a decent camera and Lumia camera 5.0 and Lumia denim out the box you better hope the 735 comes with denim out of the box otherwise no Lumia camera 5.0 for the 735.

Good grief, who cares what specs the 640 has. It is not available on Verizon. Otherwise you're comparing apples to oranges.

Yeah the 735 is a little better but not enough if you ask me to justify the 175 dollar difference the 640 is a great phone for the money I own one and it can play all the games lag free it has the new Lumia camera 5.0 and it come with nfc and the best part it don't have that ugly Nokia name on it anymore

If the price is concern then Lumia 640 it is. But if not I will persuade people to buy Lumia 735 instead of Lumia 640. I'm not saying that Lumia 640 is not good, it's good, but when my self comparing it to Lumia 735 (exclude the price factor) I tend to vote for Lumia 735, but if Lumia 640xl is around and mostly my friends love big screen, I will definitely persuade them to buy Lumia 640xl.
In Malaysia I can find Lumia 640 for rm629, Lumia 735 for rm699, then Lumia 640xl for rm759. First ask what they want and their budget then show them the choices.

Thats on my Birthday..... Microsoft's treat for U.S people on my birthday....! Sounds great

XD launch it with Lumia 840 for market XD

If they launch Lumia 840 or 740 .... Then birthday would be much exciting

If it's priced good, I'll buy it. I really need a CDMA phone, and I don't want to buy a phone without wireless charging. Also, the 735 has a REALLY sexy design, and the Microsoft logo is a bonus.

It's a fun phone and even I'm excited about having one with LTE finally.

Are we assuming the specs are the same as the Nokia version, or has that been confirmed? Is is possible that other specs may have changed along with the radio?

I personally wouldn't be surprised if the Verizon variant has an SD410 since the 410 natively supports LTE, but who knows.

Cool :) Thanks for replying Mr Rubino. Kinda eased my fear of buying a phone that I'm afraid won't have support for very long. But as I said, this is IF it's priced good.

Dan, you could get a USA GSM LTE 735 from B&H for a few months now...

That 6.7mp shooter is a killer(in that price range).

With Carl Zeiss optics, It is better than any normal 6.7mp or even 8mp shooter.

Yes, that's what I said. Isn't it?

I'm gonna predict it'll run between 149 and 199 dollars. This might also mean that the Microsoft Store can finally carry some unlocked GSM models. (Or it absolutely won't because of Verizon's exclusive deal).

Mine was around 350$ when I make a direct conversion

I'm expecting the same US carrier subsidy that makes the Lancet cost less than the Blu Win HD LTE and the Lumia 635 cost 50 dollars from AT&T.

Verizon phones come factory unlocked.

Also, between having all of their Nokia phones running Denim, rolling out Update 2 for the HTC One M8, getting the LG Lancet and now this bad boy, I think that Verizon's trying to make up for crappiness during 2014 in 2015. Hopefully they get the 940 and Plus... non exclusively.

Mine is called Nokia Lumia 730 :'(

Iconic, don't you think? One of the last devices that own that NOKIA logo. :)

Iconic yes. But Nokia was never my favourite brand at all, I only got a Nokia because it was the only Wp device in my country

Nokia was never your favourite brand? Oh god.

Please don't talk like isheep now

You need some therapy dude..

Nokia was never my favourite brand either, much rather prefered to have a Microsoft branded one.

Nokia carried Windows Phone. It made it what it is today.
Microsoft lucked out to have a partner like Nokia that brought offline mapping, MixRadio, all of the camera goodies, and a myriad of fixes for various OS problems (Storage Check Beta for clearing out those junk files for example!).
It is a crying shame that Microsoft wiped out Nokia. They haven't released one phone since the 1520/1020 that could really lay claim to being the best at anything.
Hopefully Microsoft will reverse that trend with Windows 10 -- but my oh my, they do not deserve the patience that people like me have demonstrated. Microsoft need to start driving Windows 10 Mobile development as much as they are Windows 10.

Why does MS takes time to release a phone in their own parent country even if they launched the same model almost few months ago? I know it's about market share or low usage of Windows phone in US but still they need to release a model worldwide atleast in same month or two.

This phone definately needs an update in terms of processing power like snapdragon 410 because people just see the specs and buy

A normal consumer does not know about specs. They only know megapixels. Lol

... and size & candy crush & snapcrap...

I think you are from 2012...
Nowadays people care about soc's.
I could see android people crying when they release a phone with snapdragon 615 and 2 gb ram for ₹15000(approx 250$).
Microsoft must really think about releasing phones with outdated specs.

Bro... You talk with some of my friends in my college.... They only know about Megapixels , RAM and internal memory and screen size... They dont even care about Video rec resolution , display resolution ,PPI , processor , O.S version and Gorilla glass...!

Check out LG's new flagship, it comes with a snapdragon 808, which is not the most powerful processor.

But Gfelx 2 handles the powerfull Soc ... Well my favourite one is G4... With OIS2.0, f1.8lens , IPS quantum display

It's ridiculous why that give a 1.9 lens aperture to a mid range phone when they give a 2.4 to the highest Lumia available -.-

We don't need a phone with too much features. This is enough.

A upgrade process would be nice :)

What's the difference between OLED & AMOLED?

Difference is AM. AMOLED (active-matrix organic light-emitting diode) vs OLED (organic light-emitting diode) AMOLED (active-matrix organic light-emitting diode) is a display technology in mobile devices and television. OLED describes a specific type of thin-film-display technology in which organic compounds form the electroluminescent material, and active matrix refers to the technology behind the addressing of pixels.

Well now we know what it stands for but really still dont know the difference

AMOLED is Samsung's version of OLED, basically with Samsung's improvements.

But the Lumia 925 has an AMOLED display

So, they probably got the screens from Samsung. They are a massive producer of screens for everyone including Apple.

Okay let's just pretend that your info is correct. That still doesn't answer my question. What is the difference?? What improvements did Samsung make then??

Is there any chance of a Lumia 730 coming in India with Microsoft name..bec already no stocks are available in shops and no new ones is coming...

I like the Lumia 735 around 4,7" inch display. So not as big as Lumia 640. I hope it got the new Snapdragon 410.

This is interesting, as AT&T here no longer carries windows phones

Verizon phones come unlocked, so buy this one and use it on AT&T if you like it.

I have never seen a verizon phone work on at&t or the other way around. Verizon is cdma and at&t is gsm plus they use different radios....

Verizon uses both and they come unlocked. Its more to travel then to use with ATT. Dan tested the Icon on ATT back in the day and it worked but data was really slow. I wanted the 1520 but ATT doesn't work at my home or office so I was testing the 1520.3 on Verizon. I got LTE but no voice. So Verizon users CDMA for voice and GSM for LTE.

Depends where you are. They've been phasing out CDMA for voice for quite awhile. Mine operates exclusively on LTE and have voice and data. I have yet to see a Verizon phone have working LTE on aother carrier though. Yours is the first report I've seen of someone else's LTE working on Verizon. That really shouldn't be possible as Verizon's LTE channel and band are exclusive to Verizon. Also, GSM is not LTE. GSM is an international standard now, Verizon phones have GSM so they can go international.

I'm surprised so many people still think that. Most Verizon LTE phones come with an unlocked GSM slot. They work perfectly on other carriers, like AT&T, T-Mobile, etc. Specially the Nokia ones, since you can install the Nokia Access Point app, which makes all the APN configuration automatic.

You can use a Verizon phone on AT&T but not the other way around.

To the guys that are moaning about its age: I've just dropped my green 930 and I'm absolutely gutted, this phone did everything I wanted it to and loads more... Which is why I've purchased a gold and black limited edition version, it's an old phone so it's cost approx $300 this will see me over til the next amazing flagship because its all I need for my lifestyle, so my advice is buy an older brilliant Lumia outright and enjoy cheaper phones with cheaper tarrifs etc, why get locked down to mid range devices?

I agree but the the 930 won't work on Verizon, it doesn't use GSM.

Same for me. If I were to get a phone without glance, I'd go with the HTC One. But I'm hooked on all that glance offers and my trusty 928 is still working great. As is my 822.

I broke the glass on my 822 a few months ago and i was just living with it. i found a brand new in the box 822 on ebay and bought it for $79. I'll wait until something much better comes along than this.

i assume this is a Windows 10 ready smart phone I think 8 gigs is too small an amount for a smart phone's main memory. when a person buys this smart phone they should have a Micro SD card immediatly installed to store their apps on so that when Windows 10 for Windows Mobile devices is ready they have plenty of main memory space for it to go on

I'll wait for a higher end hone to replace my Icon. Spoiled by the camera.

830, but only if you can find it for a very good price imo

Is Lumia 750 is better than Lumia 730

This phone has now disappear from shelves in Thailand and the 640, 640 XL are the prominent phones on the shelves. Congratulations on keeping pace with the market.

This would probably come with glance screen.
Makes sense

I've got the 735 its a fantastic phone and feels like an i6 , got great features and nice and sleek

Who said its 1.9 mpixle on front?
Its 5mpxl wide angle

Actually it is 6.7 MP, 1.9 is the aperture.....

More mid to low end phones, YEA ! :-/

whatever this midrange phones, i want a new 1020 or new 920 ASAP!!!

In true Verizon fashion, almost a year after the phone is released elsewhere, they get it.........God I hope MS has their shit together for the release of the Flagship, it needs to have Multi-band LTE, and release on all carriers...... Wishful thinking, I mean, Apple and Samsung do it, why not MS?

Is there an echo in here? Posted via the Windows Central App for Android

Verizon will probably only offer a white or black color too.

I sincerely think that Verizon releases the LG and the 735 is because they are late to the game, middle to low end specs and when they fail, Verizon can say "again" that Windows Phones don't sell and they will not carry them again for a while. I have an ICON on Verizon and each time I go into the store to look around, I'm always asked whe did you buy the piece of junk when you could have had an Android or iPhone. Just never stops.

Microsoft is crazy to let Verizon sell any of their devices under an exclusive deal. After screwing Microsoft and every one of their customers with the ICON, Verizon should be cut off and treated just like Cricket or any other average carrier. Verizon, thier culture and their staff have done more harm to the Windows Phone line than any carrier I have read about. Microsoft should get them ready to launch, then pull the plug.

Why does this phone exist when the 640/XL is obviously better? Is it because the 640 isn't going to be available at Verizon? I hope that's not the case. Carrier exclusives are moronic.

Still no word from AT&T on Lumia 640 and 640XL, though Verizon taking this long to launch a phone as well is just as ridiculous.
Windows Central Newsletter
Get the best of Windows Central in in your inbox, every day!
Thank you for signing up to Windows Central. You will receive a verification email shortly.
There was a problem. Please refresh the page and try again.