Verizon Omnia Price Drops $50. That Didn't Take Long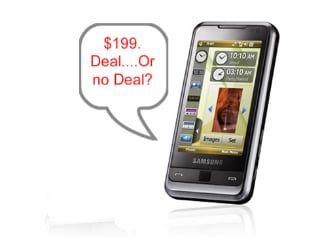 We're not quite sure if Verizon was trying to make an extra buck, but $249 for the Samsung Omnia struck some as a bit much. Apparently Verizon agreed (or decided they were done fleecing the early adopters), so the price has now dropped. As a result you can now pick up the Samsung Omnia for a cool $199.
This sounds about right considering it's competition. Personally, I would rather Verizon keep the $249 price, but have the phone live up to the price. A little higher resolution, two way video calling, or some standard charging options, say? At any rate, in the grand scheme of things $199 seems like a reasonable price, just odd that the price change came upon us so quickly after the launch.
[via engadget]
Windows Central Newsletter
Get the best of Windows Central in your inbox, every day!
Even though I'm a Windows Mobile guy I just can't see much reason to buy this phone over the Blackberry Bold. I think Verizon customers would be better off with the Bold, unless they have a whole lot of Windows Mobile apps already.

Even though I'm a Windows Mobile guy I just can't see much reason to buy this phone over the Blackberry Bold. I think Verizon customers would be better off with the Bold, unless they have a whole lot of Windows Mobile apps already.
I prefer touch screens. That to me is reason enough not to choose the bold.

I meant to say the Storm....not the bold. lol

I meant to say the Storm....not the bold. lol
That's fine, I still have a reply. :)
Have you read the forums about the Storm?
I know there were quite a few who simply love it, some even say they have no problems with it. But then there is the thing about where the phone is made Canada vs. Mexico. The ones made in Mexico seem to be having issues with the screen feedback. People are putting things inside the battery compartment in order to make the screen press correctly especially in the corners.
I do not wish to purchase a brand new phone that I have to piece together with duct tape, napkins, and/or credit cards just to make it perform as advertised.
Lots of people are also complaining about their email not working properly and the extreme slowness of the accelerometer.
I wanted the Storm really bad, not bad enough to wait in line for it, but I followed it on the forums for a while, then the vodafone release hit and they complained left and right. Then the U.S. release hit and they had many of the very same complaints.

The Samsung Omnia is the first DivX Certified cellphone available in the U.S. See http://www.divx.com/mobile/