Verizon Omnia Price Drops $50. That Didn't Take Long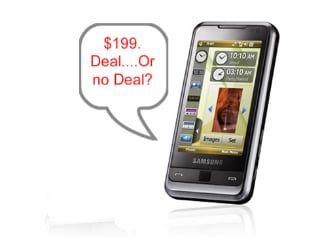 We're not quite sure if Verizon was trying to make an extra buck, but $249 for the Samsung Omnia struck some as a bit much. Apparently Verizon agreed (or decided they were done fleecing the early adopters), so the price has now dropped. As a result you can now pick up the Samsung Omnia for a cool $199.
This sounds about right considering it's competition. Personally, I would rather Verizon keep the $249 price, but have the phone live up to the price. A little higher resolution, two way video calling, or some standard charging options, say? At any rate, in the grand scheme of things $199 seems like a reasonable price, just odd that the price change came upon us so quickly after the launch.
[via engadget]
Get the Windows Central Newsletter
All the latest news, reviews, and guides for Windows and Xbox diehards.