Verizon reportedly blocking new Microsoft Lumia 950 and 950 XL phones from their network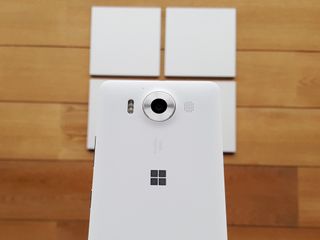 For many months now I have stated that it was only AT&T in the US picking up the Lumia 950 – not even the Lumia 950 XL – with other carriers being sidelined. Since then, there have been a few back and forth exchanges between Microsoft and T-Mobile for the blame. Verizon, so far, has remained quiet on the situation seemingly not caring either way.
On Windows Weekly #435 Paul Thurrott and Mary Jo Foley both point the finger at Verizon. The radios in the Lumia 950 and Lumia 950 XL should technically support Verizon's CDMA band for phone calls, leading many to wonder why Microsoft just doesn't sell the phone unlocked with Verizon's bands.
According to Mary Jo Foley, she heard that Verizon won't authenticate the phones to work on their network. The reason is due to the nature of CDMA, which has MEIDs (Mobile equipment identifier) that must be added to the Verizon system and network even if they are unlocked. Without Verizon adding – and in a sense blessing – these phones on their network, they would never work. (Customers typically need to call the carrier and manually enter in the MEID in order to activate the phone. However, if the phone is not listed in the database or the unique ID device code is blocked, it cannot work.).
Due to the complexities of the situation, it would make sense that a new owner of a Lumia 950 would blame Microsoft for the situation when it was Verizon's refusal to accept the phone. As a result, Microsoft has reportedly disabled the CDMA portion of the radio since Verizon would not allow it. Although there is no mention of Sprint in the conversation the same rules would apply to them as well. However, it is not clear what Sprint's position is on this matter.
Such a CDMA/MEID system does not exist for GSM carriers like AT&T and T-Mobile, and it can be considered unique to the US. Even with T-Mobile unlocked phones not sold by the carrier are unlikely to support such features as Wi-Fi calling. Having said that, these new Lumias should work on T-Mobile's GSM network for data and calls, though such a scenario still needs to be verified.
As Thurrott and Foley note, Microsoft is trying their best to these phones into user's hands, but the company is facing many obstacles. Having the largest carrier in the US shun Microsoft is a big blow, but should not be surprising. In the past, Verizon has requested exclusive phones like the Lumia 928, Lumia Icon and Lumia 735 only to promote them half-heartedly after months of delays for approval.
For what it is worth, Verizon has done similar things in the past. The Nexus 7 and Nexus 5 have also had the same issue with Verizon's network.
If true, Verizon's actions appear to be more of spite than technological. Windows Central is reaching out to Verizon for comment on the matter, and we'll update this article if we received a response on the matter.
You can fast-forward to the 1:01:18 mark to hear the full conversation on Windows Weekly.
Source: Windows Weekly; via Reddit
Daniel Rubino is the Executive Editor of Windows Central, head reviewer, podcast co-host, and analyst. He has been covering Microsoft here since 2007, back when this site was called WMExperts (and later Windows Phone Central). His interests include Windows, Microsoft Surface, laptops, next-gen computing, and arguing with people on the internet.
As I've noted many times in the past, there is more to these Lumias than just Microsoft wanting to sell them. In the US, you do need cooperation to get them on networks. For those quick to blame Microsoft, it behooves us to remember these are complicated deals and situations. FWIW, I agree with Thurrott and MJF and put the blame on Verizon.

I'm leaving Verizon once the 950 and 950XL become available.

My cousin is switching is whole family to ATT soon. Partly because of this.

I'm sure if every Windows Phone user (including ones who have switched to non-Windows devices) left Verizon today, it would barely nick their bottom line. That's not to say, as fans, you should not do so--I absolutely think you should leave Verizon at the curb. However, this is not the only thing we can do. I know you have all had this conversation with your friends or family at least once: the one where you all talk about who your carrier is and how much your plan costs. It usually comes up when people pull out their phones and only some have reception. When the topic arises, be sure to voice your opinion that Verizon is run by a bunch of petty, exclusionary fools who want to overcharge you for the "privilege" of a substandard phone experience. This might not make a difference overnight, but keep telling it to anyone who will listen. Eventually people will come to see Verizon as an outdated lame duck that overcharges for their product. That kind of uncool doesn't wash off. Good luck with that Verizon.

Your thoughts sound identical to a conversation I had with my parents recently. iPhone users, but still considering switching to ATT for the savings.

Honestly, my reception on AT&T has never been lacking compared to Verizon's. I know this isn't everyone's experience, but for me: AT&T has always been fine at much cheaper rates than Verizon. Likewise, Verizon seems to be REALLY bad about texting via MMS. I have friend on T-Mobile and Sprint whom I text no problem, but god, texting my Verizon friends is such a mess (ESPECIALLY in groups chats). No idea why, cellular infrastructure isn't my forte, but god Verizon is such a mess trying to do MMS. So is AT&T the cheapest? Not at all, but I've honestly not had any problems with them, and AT&T has always had the greatest variety of devices to chose from. I'm buying a 950 XL unlocked, so I guess AT&T's variety doesn't matter in this case, but still: I've always appreciated how many devices AT&T has to pick from. I plan on switching to T-Mobile one day, but again: AT&T has really great coverage, no problems yet (Aside from the update issue, but that's a whole other mess that universal in the US) and T-Mobile's network still isn't up to scratch yet. It's getting there, but not quite yet.

You might want to consider Cricket Wireless since it is owned by AT&T. I only pay $35 a month per line.

Well written post. I plan on trying to talk everyone I can off Verizon, and any carrier that resells Verizon's signal.

Unfortunately , Verizon does have the best network. Its the only network in my area other than ATT. With ATT , I had serious connection problems. It was hit or miss. No problems of any kind with Verizon. So not all have a choice of carrier.

Exact opposite here. Verizon has horrible coverage compared to AT&T. They may have the largest network but that doesn't equate to greater quality.

Verizon doesn't have a good network in Las Vegas. Its marginally better than Sprint..which isn't saying much. They have "commercial reputation" working for them right now. Much like Sprints "unlimited" garbage. But as far as network speed and reliability, I'll stick with AT&T all day long.

AT&T and Cricket both have great off contract family plans now.

My contract just ran out on Verizon!! My wife switched it to monthly today.I am now checking my new options. Our 928s are good for another 2 years if necessary.

I'm leaving next month when I get my project Fi service.

And as bad as they are Verizon is far more trustworthy than Google.

Now that is a ludicrous statement. Verizon is raw worse than Google Posted via the Windows Central App for Android because it's superior to the Windows Phone one

What a hilarious signature lol

But is the true.. The app for android is 1000x better than WP one

but how do you get an android app to run on the phone? an emulator?

Wrong. Verizon is not global, Verizon only has access to a fraction of the data Google has. Verizon doesn't employ Eric Schmidt. And Verizon is not this:
https://wikileaks.org/google-is-not-what-it-seems/

No , he is right. Verizon is more trustworthy than Google.

Considering google has contracts with the Department of Defense, that may be true.

Idiots arguing which is worse, the frying pan or the fire....

Yeah, no. Google does a lot of stuff that I don't like, but they're pretty transparent about it all. At least you know what you're getting into and you can opt out of most of it easily. With Verizon, they sneakily subject you to things like super cookies. Eff Verizon. They're the epitome of the "big evil corporation."

nobody is more evil than google

take the tinfoil hat off already... geez. I bet you have a facebook account, a twitter account, an instagram account and yet google is a "bad guy" ... windows 10 and bing is spying on you as much as google is.

I'm not sure why this was a reply to my comment.

@332 the windows forums here have quality equal to a windows phone app. my reply was to Prithwish, but you can't tell that because it just throws it under your main comment. He was talking about how evil google is, yet google allows you to opt out of everything very easliy. There are been 30 articles on how to find hidden menus to keep MS Win 10 (desktop) from spying on everything you do, with no easy obvious way to opt out. People are just dumb. they think one company is evil for spying while every single company out there is data farming and spying on everything you do.

spying, eh? Let me know your proof about Windows and Bing are spying at you. I can assure this one, and this has been published in WC, too: Microsoft has stated that the data sent to their server is only the anonymous data, not your personal data. If you're still unsure about that, you can stop using Windows (and its companions) and Bing, and switch to Linux/Mac and Yahoo! as a substitution.

I have a tinfoil cylinder hat

Google is beyond evil. They're insidious.
https://wikileaks.org/google-is-not-what-it-seems/

And Microsoft is spotless? The amount of crap that Microsoft has done throughout the years should scare the crap out of everyone. These are companies. They all do crap like this

Your supposed 'God of tech', the innocent Google, bought Motorola and them sold them a dummy by dumping it off to Lenovo. Lenovo worked hard and saved the popularity of Moto series. And people still blame MS for spoiling Nokia, whereas MS took the Lumia devices and made them into very good Windows Phone devices, something which Nokia failed to do by itself! For all their "we are free tech people who do anything for technology" BS talk, they still have done nothing for building Windows based Google services! Do you know why? They are scared that if they allow MS to have Goggle services" then, MS might build a significant competition out of it over the next few years!

Is that so? Tell me about all the people who had the option of 'opting out' of Wi-Spy. Google is the most evil tech company on the planet. Total hypocrites.

Everybody had the option to opt out. Don't broadcast an unsecurre WiFi signal for everybody to see. Google mining the data should be the least of your concerns at that point.

Really? So you can activate an Android phone without a gmail account?

Yes.... You silly jaded person

Obtuse to say the least. You "can" but then you lose access to services or functionality. You are, by cause and effect, forced to have such an account, even if you don't plan to use it. But thank you dwayne, your answer tells us something of your support for products.

Best thing I ever did. If Microsoft started an MVNO similar to Project Fi, I'd likely ditch Fi and make the switch to Microsoft's. I hope to never give Verizon or AT&T another dime of my money.

MVNOs pay rental fees to ATT and Verizon and whoever else towers they are using.

Yeah, I understand how it works, but at least then they're Microsoft's problem and not mine. I don't have to worry about their terrible customer service or having to wait several months for the carrier to test the software update or just decide they don't want to push it out at all for my device. If all the carriers moved toward solely being network operators, I think we'd all be better served.

I will be moving 16 lines off Verizon because of this.

I already did because I got tired of their crap. For me it was charging me extra for tethering my own data I buy every month. Tmo paid my ETF so I went with them for about 8 months or so. Then went to Cricket (uses the ATT towers, not partners though) and pay less and have better service in my area. I dont regret it one bit. I actually wonder why people use Verizon in my area and not Cricket if I am honest. Anyways, the 950 imo is worth leaving Verizon for.

My family is on AT&T currently, but looking to switch to a less expensive alternative. Narrowed it down to Pure TalkUSA and Cricket; it depends on the price of the phones on and off-contract to determine what will be less expensive in the end (and what my brother ends up choosing).

Sorry Scabrat, Cricket is a wholly-owned subsidiary, of AT&T. So, yes, "partners." Just didn't want you to be misinformed.

Switch to Cricket, I have it and never had one problem with it. Hard to beat $35/month service. The only thing is people freak when they first see just how expensive phones are. Once you get past the gut reaction the service is actually great and very affordable. It easily makes up for the price of the phone, besides people need to realize what all they are actually paying.

Cricket is the cheapest way to get ATT coverage. For the phone, get a "go" phone or BYO ATT phone. Go phones tend to be cheaper and less locked down than their Cricket counterparts (i.e. L640). Most go phones can be unlocked free if you do so prior to inserting a SIM. Also Cricket rebates have been a hassle for me.

Same here. I'm taking my family of 6 and leaving Verizon for AT&T. The reception of Verizon's network has been flawless and I will miss that when travel the intercontinental US, but I won't let a carrier dictate which device I can use on their network. Besides, traveling internationally isn't simple with Verizon phones (i.e. CDMA in Europe) so this issue with the Lumia 950 and Lumia 950XL has pushed me past the tipping point.

I did the same thing years ago for other reasons. Been using AT&T for 7 years. MUCH better company to deal with. Plus, they own DirectTV now, have Uverse internet service, and many good VOIP business services (Ring Central, etc.). They service all my needs now for these things and I save a lot of money bundling.

Yeah, ATT is best if you travel outside North America.

Does CDMA still exist in Europe? I thought the US was one of the few countries that still clung to an obsolete technology... It has been shutoff completely in Australia since 2008!

Still exists in Norway, W-cdma, but will be replaced with more LTE (4G voice) and newer. But it's still not the same lockdown as in the US (Verizon)
I can go into whatever store I want, and buy whatever phone I want, and put in sim from whatever operator I want. Doesn't quite understand the power US operators have to deny people to buy the phone they want. Doesn't remind me much of the "Land of the free..."

WCDMA is not CDMA but GSM version of 3G Posted via my Motorola Startac.

What is this crap? You don't need CDMA. Verizon sucks yea, but their phones work just fine internationally. They all have GSM and you don't need CDMA on other networks. In fact, CDMA cab be shut completely off and the phone made entirely GSM.

I left VZ back when they encrypted the GPS chip on my Atrix and tried to force everyone to use their crappy pay-per-month Verizon Navigator. Constantly screwing your customers will eventually catch up with you, ask Blockbuster. I havent missed them.

Ive been with Verizon for 20 years and i'm sick of this game. i'm moving 5 phones to at&t.

I have been too and i can't take this anymore. Having an Icon I can wait a bit but this is just like the iPhones weren't on Verizon. ATT hasn't been saintly regarding supporting the phones either. Or change to iPhone. Coworkers and most of my family have ATT, and don't have issues. And if VZ wants me back they can offer phones I want and offer some incentive plan pricing to make it worthwhile. With LTE being widely installed all over coverage will be basically equal in the next year or two. In fact Verizon will have more trouble getting the boat anchor of CDMA out of their system. For example part of the challenge in rolling out HD voice is the handoff problem when a user moves from LTE coverage to CDMA and keeping the call intact. As they try to roll out digital level improvements, Verizon is constantly faced with dealing with the legacy CDMA interaction problems. Verizon has no problem selling people's accounts to Fairpoint, so we should have no problem taking our business elsewhere too. In fact the company discount is the same on either carrier. Apparently my long loyalty to Verizon has done nothing but make them arrogant. Time to find a carrier willing to work a bit harder for me, the customer.

I'm leaving Verizon as soon as the 950 comes out! Posted via the Windows Central App for Android

Yep, pretty much this. I've put up with a lot of crap from Verizon over the years, but I'm pretty much done with their "you'll take what we give you and be happy to have it" attitude. McAdam can take his Microsoft grudge and shove it up his ass. Verizon acts all butthurt that they lost money on Kin, but that was 100% Verizon's choice to throw everything behind Droid because it was ready first and they were terrified of the iPhone. The problem is they just don't care about losing customers who want something specific. For every one of us, there's 10,000 complete morons who buy whatever the sales reps tell them to (i.e. whichever device is giving the bigger spiff at the moment) instead of researching and making their own choices. Educated customers are a pain in the ass, and I honestly doubt they'll be sad to see us go.

The Kin was design for young people, if I recall but when I saw what they were going to bill each month for usage of these phones they would have needed a forty hour work week. So, the Kin which alot of folks blamed the failure on Microsoft didn't think so see who the carrier was and it's pricing which was on Verizon.

I think I might have to do the same

hasn't this always ben a verizon issue? if the phone isn't in their database, then it's not getting on... there was a similar issue with a nexus phone being compatible, but verizon didn't allow it until some time after it launched. Hopefully people will read this an understand it's verizon's antiquated network requiring your meid to be on hand to let you get onto their network.

When the nexus 6 first came out if your sims card fit the phone it would work but if you needed a sims card and went to Verizon they wouldn't give you one

there was another before the 6... but similar result....

wouldn't be better if we just all wrote to the FCC and complained stressing lack of allowing a competitive phone on their network?

Kin is to blame here. MS wanted cheap service plans and low barrier to entry, Verizon priced the service as a full on smartphone. That move cost MS a lot of money. Perhaps Nadella can reunite the clans, as they have with Apple...

No, this is not at all how it went down. Verizon cut deals with Google (Android) and Microsoft (Kin) at the same time, because they were idiots and turned down the iPhone and were desperate for a product that could compete. Android was ready first, and so they went with that. Microsoft lost a ton of money on Kin (they would have lost even more, but they launched Kin anyway and kept it in the market for 6 weeks to fulfill contractual obligations and avoid additional penalties). But it cost Verizon a lot of money, too, because under that same contract they were required to spend money on marketing Kin -- a device they knew Microsoft would be pulling off the market because Verizon made it unsellable due to requiring a full data plan. Verizon has held an immature grudge ever since, ironically over a situation they were mostly responsible for. It's really pretty pathetic. Sharp (who manufactured Kin) actually got screwed over, too, because they got stuck holding a ton of inventory. Verizon decided to bail them out somewhat by putting Kin back on sale several months later, with updated software from Microsoft to make it a WiFi-only device.

Only in the US do you need cooperation with CDMA network providers. It doesn't work that way anywhere else in the world (CDMA carriers in Asia tie everything to C-SIM, making this kind of carrier control impossible).

EHRPD is their flavor of network until volte matures unfortunately. I dont blame them as seeing how bellus transitioned users off their cdma network alot of customers chose to leave instead of buying new hardware that had at the time alot of deadspots in the country. Would've been better off having dual mode(cdma/gsm) handsets like vzw/sprint have

You might want tostate that Bellus is Bell and Telus in Canada. As most readers outside Canada would know what you meant.

Never been on Verizon, now, never will.

Every body say's they are leaving Verizon. Does that include leaving your tv and internet service as well.

I don't use Verizon for my TV and internet.

Cable TV and internet depend on your area. Some places only Cox, Time Warner, Fios etc. in my area, I can't get fios but I can get TW or AT&T.

I left Verizon FIOS for RCN recently. I get 150+ MBs down for 1/3 rd of what I was paying Verizon for 25MBs

Yes I left Verizon Internet Service 5 years ago, then their Phones, and finally thier Cell service. Took 2 year, but Yes I was done wit them.

AT+T forced removal of Qi on the 1520 they aren't exactly saints either they just carry one of these phones and allow both on their network

and they seemed to have learned their lesson since the 830 had qi and pma :)

When did that 830 get Denim?

The 830 got Denim yesterday, or at least it started rolling out yesterday.

Exactly my point, how long has it been available?
My 1520's got it a lonnng time ago. In fact articles were written claiming it would never come to the 830 on ATT

Is it even legal for Verizon to pull these shennigans?

That's exactly what I've been thinking while reading this.
Such a procedure executed by a telecommunications company in the EU would definitely be prosecuted.

I don't believe it is legal for them to do this. I am looking into submitting a complaint to the FCC.

They didn't. The article is taking a few nuggets of semi-truth and blowing them into clickbait. I had two customers yesterday who activated chinese dual-sim phones on Verizon. How, you may ask? There's no magic fairy dust that makes CDMA work. Asian carriers have been using SIM cards in CDMA devices for years. For a SIM card that supports CDMA, the MEID is on the SIM. You do need a Verizon device ID to provision phone service on a SIM card. What you do with that SIM afterwards depends entirely on what the phone supports. Now, recently VZW has started adding IMEIs that are not from our network to our billing system's database. This does nothing to the phones. It only allows customers to change their calling plan if they happen to be using a phone that didn't come from us. The standards on what they add are pretty strict, but once again, this does not enable or disable the use of the phone on the network. It is a convenience for calling plan changes, nothing more. Now, we can't support phones we didn't provide and it is up to the customer to get them working. But it can be done, and customers do it all the time.

We understand that the meid is on the Sim card, but what happens when Verizon system doesn't have a meid code for your phone? Is there a generic meid code they use to turn on any phone? Posted via the Windows Central App for Android

On a 4G phone, the SIM supplies the MEID. On a 3G phone, the phone supplies the MEID. On a 3G phone, you put the MEID in the webpage, and the network programs the phone for you. On a 4G phone, the network programs the SIM. The MEID is in the SIM itself. You move the SIM to a new device, the MEID moves with it. It's entirely down to whether or not the phone itself supports it. Otherwise Google, Apple, and a variety of rom-cooking hobbyists wouldn't be able to do it.

I want to add one more little tidbit. You can't see the SIM's MEID on most phones. Your phone may display an MEID, but it is usually just the IMEI minus one character. That IMEI minus one is what the cell network sees, and that's how it determines what kind of phone your SIM has been placed into. If you were to ask a tech rep what the SIM's MEID was, you would get a *very* different answer.

I presume that you work for Verizon. Are you saying the MEID is not a unique quantifier for each phone and instead is actually a quantifier for a SIM? and you can move the SIM from one phone to the next. If the MEID is the IMEI minus one character, that does not make sense because the IMEI is a unique identifier of a phone. How can you move the SIM from one phone to the next then? Can you explain this inconsistency?

It's certainly illegal in the EU under competition laws

I am all over pushing the blame to VZW. I have them now, and the only reason I stayed with them 2 years ago was to get the Icon. Their customer service sucks, and the in store associates think that the iPhone is the only phone in existance. So happy that I have a legit reason (the 950XL) to move back to AT&T. That will end up being 5 accounts dropping VZW in about a month.

Is there such thing as a north american carrier that DOESN'T piss off and rip off it's customers? I'm on Rogers in Canada, only because I hate them the least, not because I like anything about them.

How on earth did Verizon become the biggest US network whilst running a niche mobile system (CDMA).
America is really backwards in having two fundamentally different mobile standards.
I definitely don't blame MS for the Verizon situation. Hopefully consumers will vote with their wallets and leave CDMA/Verizon behind!

No to mention VZW, with their antiquated system is the most expensive... Also, AT&T consistently tops the 20 largest city speed tests...

Alltel had built and catered an extensive network for rural folks. The US is spread out a lot and many of us prefer not to be jammed into a block with 100 people per acre. Verizon merged with Alltel and their combined CDMA network gives access in many remote places that the lower distance GSM carriers don't reach. When you travel, and you have a VZW phone, you'll rarely drop your signal. With AT&T and T-Mobile you tend to run into a lot of spots where they don't reach, though this is improving year after year.

You say a lot of spots, but when I travel with Tmp I rarely am without service.

You must only travel in urban areas. There are many rural areas near me where AT&T and T-Mobile are nonexistent. Posted via the Windows Central App for Android

That was the reason that here in New Zealand we went CDMA in 2000 to keep the same coverage as AMPS. CDMA was turned off here about 5 years ago and replaced with WCDMA network and not LTE. Posted via my Motorola Startac.

CDMA is going away and carrier networks will be interoperable, we are just not they yet. Once VoLTE is completely rolled out, we will be there.

Thanks for the transparency and insite into this.

I'm holding out for HTC to help us out. My m8 is wonderful and gets updates timely.

That's right. In the US. Luckily in Europe it's MUCH better. No carrier blocking what so ever. And the news so far is that in for example The Netherlands, all carriers will sell/promote the Lumia 950/950XL.

Of course carriers are free to sell what they want, but blocking a specific company phone
Is M A F I A !
Period

Thanks for your two cents. How is that relevant? No one cares about how it is in Europe.

You must be rigth, and Verizon doesn' care about You and MS. LOL

You do understand that there internet goes outside the US, don't you? We have to read your bleating all the time and sit patiently through stuff which is irrelevant to us, so cut people a bit of slack. He's not you're enemy.

About 500 million europeans care.... Don't you have consumer rights in the US? How can carriers be allowed to weild so much power? In my country carrier locked phones are illegal, contracts lasting more than a year are illegal. I am free to buy any phone I want, and use it with any contract or carrier I want (well the 5 or 6 that operate in my country). And from what I hear, our phone bills are a lot lower as well. My point is you should start voting for a goverment that can empower an organisation to keep companies from abusing their customers.

You can't pop out an already activated Verizon sim and put it in the Lumia 950? Why would the Lumia 950 even have a MEID, it is not a Verizon phone. It costs money to have an IMEI yeah? Why is Microsoft holding back with CDMA carriers?

You are apparently not a good reader/listener as this has been thoroughly explained many times. You simply can't get the phone activated because with cdma the phone/subscription is stored on Verizon's servers rather then on the sim card. This allows Verizon to block any device they don't want from their network.

You mean block any device without a valid MEID right? Can you activate a GSM phone on a carrier without an IMEI? This particular model is not being singled out lol. Could have sworn there was a SIM trick that lets you use a dark device on Verizon. My mistake

Yeah, the trick is "Stick your SIM into it". :P

Two excellent devices are becoming the victim of corproate politics and posturing. A shame, but I really hope TMobile's run and the way they forced both AT&T and Veirzon's hands will remind consumers of the power of competition and that they'll respond accordingly by supporting these devices. Hopefully that'll wake Verizon up (like TMobile did) and force them to reassess. I'm heading to AT&T either way.

I agree Daniel, it sounds like the blame lies on Verizon in this scenario. I was pretty vocal about being unhappy with the situation, but I also said that if it wasn't Microsoft's fault then they need to let people know. I'm glad they have done that. I think it is important for those of us that have hung in there with WP to know that Microsoft is legitimately trying to make the platform work. Carrier exclusives in the US is the opposite of that, so WP fans have a right to get upset. The question is who should they be upset at.

Ask Microsoft to pay for MEID registration instead of blocking CDMA radios in firmware. At the very least leave them open :(

I disagree, blame Microsoft for not making the phones with CDMA radios. That would give the customers a chance to fight the fight, have a voice, like Google did with Nexus. At least give us a chance to activate the phones...

They didn't build the phones without the radios: the radios are there but deactivated since it would never activate on verizon. The radios could be reactivated through firmware, with verizon's archaic requirement to have the meid on file however, its likely they would just turn them on on new phones, and brand them as vzw.

What makes you think the phones don't have the requisite radios. There isn't a little radio in there for each carrier/band. It is a Qualcom IC that can support it all, based on how it is programmed. Same chip that is in other 'universal' devices. I get that turning the capability off, rather than suggesting it 'should' work and having irritated customers because of someone else's petty practices, is the better alternative. I certainly don't know anything for certain, but it wouldn't surprise me if a firmware patch/update couldn't turn it on.

It IS Microsoft's fault, but they do have CDMA radios. They are turning them off instead of paying for MEID registration, when in fact these phones could work on Verizon otherwise. If you have an exisiting account and phone you could have been able to use the 950 on Verizon....... I wouldn't be surprised if they blocked T-Mobile bands too

How would they block Tmo's bands? They have them listed on their website in the "coming soon". This is all on Verizon, but keep defending them if you like.

Was being sarcastic 1 - Microsoft didn't even pitch the phone to them, how do you expect their units to have valid MEIDs? 2 - Databases at PTCRB show that the Lumia 950 has only been tested and certified for GSM compatibility. They had no plans adding CDMA specific options. Do you want Verizon to beg on their knees? Seriously, this is Microsoft's fault.

I don't buy it. VZ played games along the way and MS decided not to pay you anymore. And yes, on behalf of your customers I do expect you to beg. You should be considering what customers for decades are going to do when we leave. It's not our accounts you should worry about. It's what all the leavers are going to do to your marketplace when our tech advice to corporations, forums, friends and family all carry the same message, "choose absolutely any company BUT Verizon ". People spend the next several years passing that message around and maybe begging won't seem like such a bad option.

@ 7a2eer ...Of course you don't know No. 1. It is entirely your speculation. For No.2, why would you go through the certification if the carrier has already said the phone won't be on its network. No one know yet for sure if Verizon is the culprit. However, it is Verizon's past behaivor towards Microsoft's phone that makes people think that it is much more plausible that the one on their knees was Microsoft.

@7a2eer - you are expecting a company that had an $7B+ write off to pay verizon to put the phones on their network? Why would they continue doing that? What is the ROI?

Bye Bye Verizon, hello shiny new unlocked 95XL on AT&T

Common Sense suggested all along it is Verizon. Their treatment and spite(you said it) towards the platform is very well documented. And why on earth would MS give away 100 millions of Win10 licenses to grow their platform and then not try to get them on probably the most important carrier to insure their mobile succes?

Exactly. MS needs customers. To say they would do this with their current market share is ludicrous. In fact Verizon had to behave so badly that it wasn't worth it despite needing all the users they can get. That says a lot.

@kingjah --- how is VZ the most important carrier to insure success? It is a global market, not a US only one!

No offense but you guys are clueless... sure Verizon can block new activations meaning if you are an existing customer or new customer and want to acticvate the phone using a new nano sim, then yes it will not work because Verizon doesn't have these new phones in their system and probably will never have. But if you have an existing active nano sim and the phone supports Verizon radios (both CDMA and LTE) then you are good to go. This kind of dance is common in the android world with unlocked phones having universal radios. Sometimes people order nano sim from verizon online and then they call customer care to activate the nano sim by giving the ESN/IMEI of a diffrent verizon device. Verizon sucks and they are crap but you guys have to come up to speed on how these things work. Bottom line if the phone has the radio support you can get it working but have to do some dance.

No offence but your average Joe won't do this. Most folks will just be like "This doesn't work, screw you Microsoft, I'm getting an iPhone instead." So of course we have a right to be angry about this.

Your average Joe is not buying unlocked phones for $550/$650 ... Geeks like us buying multiple phones across various platforms know how to get around things !!!!

but will that work on the unlocked 950/XL? I don't see anything about CDMA bands, if I can take my active Icon's sim and just put it in a new 950 and have it worked then you just informed and made a fellow geek extremely happy

That's the real problem. There's actually a lot of devices floating around that will support CDMA nowadays, but aren't provided by us. In the tech support area, we're running into them more and more often. The general rule of thumb is that if we didn't provide it, we can't guarantee it'll run. That doesn't stop you from taking things into your own hands. We can't guarantee an off-network device will work, but we can give the person the info they need to do things themselves. Some reps will admittedly be more helpful than others, as this isn't something your average care rep is trained on. To most care reps who are trained to talk to customers about overage and nifty accessories, if it's not on a list it doesn't exist. I'd say store reps run into it enough to know what to try, and tech reps will at least tell you what you need on-hand to do it.

That's his point. If Microsoft did not specifically block CDMA, the hardware is inside the phone for it to work. But as it is, Microsoft has blocked CDMA. So NO, you will not be able to do it. BTW...I'm in your shoes.

It will if Microsoft hasn't blocked the radios inside. That's my point all these windows bloggers are telling Verizon is the culprit and won't activate the unlocked models on Verizon and yes they are evil and they do this for all phones not only for Microsoft. But if Microsoft is innocent as these bloggers claim it to be then putting an already active sim like yours should work as long as the phone has the necessary radios and Microsoft hasn't disabled them. If Microsoft has disabled them then we have every right to take our pitch forks to them as well. Agree that it will not be an ideal experience but they always have the option to throw a bone for people who can get it working.

I thought so... Seriously, people are saying otherwise :O Thanks bhatech, thought I was losing my mind

I don't live in the US, but Verizon can seriously suck it. I've never heard of an unlocked phone being blocked by a carrier and if that happened in the UK the carrier would get pulled into endless law suits faster than you can say #verizoncansuckit. Seems so strange that Microsoft is going so open, cross platform and making everything easy to work with, and yet other companies are pulling shit like this. It seems to me like Microsoft is one of the few companies that actually cares about their users more than petty feuds with rivals, I really wish every company would just take an example from Microsoft and grow up.

O please. No Band in The Netherlands, No Cortana in Dutch, no Surface Book in The Netherlands because MS doens't care about The Netherlands. Now Verizon is doing the same to MS. and they are right. It is their network.

Maybe your country has a bunch of laws that make it impossible for them to sell those devices there without major changes. I'm sure if it were just a matter of hiring a translator to localize the product and then shipping it to a store, they'd have already done it. No sane company would ignore a wealthy first world market if it were easy to sell their product there.

While your comment is valid MS did admit they went to ATT. That would make the other carriers angry and turn their backs to MS.

So you think it's valid for a massive company to have a jealous hissy fit because Microsoft spoke to someone else first and instead of asking Microsoft for a deal they just choose to punish their own customers instead? In my view there's no excuse for this kind of behaviour in business, it's like watching a school yard fight. "Hey Verizon, I want to give you $50 a month for a tiny chip so I can make calls on your network, I have a Lumia phone, is that OK?" "No we don't like Microsoft, they spoke to someone else first at the party and that made us cry!", why bother intentionally loosing a customer and a monthly source of revenue?

i think you should or one of the other writters do a story called "The Grudge" Microsoft/Kin/Verizon article, i could be wrong but i believe thats where it started

Unlocked phones is very annoying thing how come your government can allow this? This system is a 3rd world system on which corruption and monopoly wins. Posted via the Windows Central App for Android

Screw Verizon. Any of these idiot carriers iSHEEP that have their head all the way in CrApple's ASS, is not going to support Microsoft Windows phns, we need to cut them off. Currently I'm with T-Mobile and so far so good. However, what the truth is between MS and T-Mobile, each one point the finger at each other, I just hope they work it out and start selling these awesome phns. As far as I'm concern its Verizon's loss.

Daniel you made it sound like in the article that ATT won't be offering the 950 XL but only the plain 950. Scared the hell out of me for a minute

It is times like these I am happier being in uk

Start a boycott Verizon page on twitter :)

That a carrier can wield so much power is just not understandable, and not healthy.

This is why I have always stayed with att... I have just been taken care of no matter what phone. Service always good, accept in some Midwest remote locations, lol. No matter what GSM phone, I can easily get it going if the radios are compatible... They have never given ms trouble about adding a phone or unlocking one I want to sell or pass on. Yeah, its been tough with att having exclusives with windows phones ans iPhones foe some people, but att too care of this people foe the most part... Sorry 830 owners. It's usually beat to stay flagship. Verizon is just a butt hurt company with seemingly fan boy management... Instead trying to give the people what they want, no matter what... They would rather pass their own agenda. I hated Verizon when i had a 3g iPad... They are att he bottom ans I hopefully will never use them again... Google is just a little better than them...

An unlocked phone is an unlocked phone. If I buy a truly unlocked, unnuetererd phone then it is between me and the carriers. I am a huge microsoft supporter but I am not giving them a pass for crippling these things in firmware. That was uncalled for. All the metropoliton folks just say go with AT&T but that is not a choice some of us. If your going to sell unlocked then sell unlocked.

Clearly this is out of spite on Verizon's part. President Obama signed into law the Unlocking Consumer Choice and Wireless Competition Act, which allows consumers to take an unlocked phone to any carrier. The idea is that carriers can't keep devices or customers hostages from leaving their service. Granted Verizon can make a case about the lack of compatibility to their CDMA network but Qualcomm is the frontier owner to CDMA technology and the Lumia 950 has a Qualcomm chip. But with the recent news that Verizon will not allow the 950 on their network, it can indicate that they are simply choosing not to support this phone, which is illegal, or Microsoft chose to disable the CDMA bands on the Qualcomm chipset, which may reveal a cooperative effort with Verizon. Either way, Verizon customers get the sham. This may be a good case for a class action lawsuit from Verizon customers.

What about Sascha Seagen's reporting in PC Magazine? http://www.pcmag.com/article2/0,2817,2492850,00.asp

Come on Daniel, you are smarter than this. I hope you don't really believe what you just wrote. This is more a CDMA issue than it is a Verizon issue. Which is why it will not be on Sprint also. Or does Sprint also hate Microsoft? Very disappointing how many people actually bought into what you wrote. It shows a level of ignorance here that is alarming. People spend a second to understand how CDMA works, and how it is implemented here in the USA. I studied it. I did not like it. So, I switched to GSM a long time ago. Like you said, the deals needed to get these on carrier networks are complicated. Microsoft is large enough. MAKE IT WORK. Do not slap CDMA radios on there and then disable them and have bloggers writing your excuses for you. It is pathetic. Sorry, but I am not buying what you're selling. At some point, we have to start putting some blame on Microsoft's feet. Until we do, they are simply not motivated to change their ways. Why should they? It is never their fault.

@jbetsman, you should watch the posted video, starting at the time Daniel said (about an hour in). Verizon's reason is control. Even Google isn't big enough to force Verizon to follow their rules. Only Apple has that kind of muscle with the US carriers. I agree that it seems strange. However, it would appear there are factors at play around issues that we as consumers tend not to care about or actively dislike (inclusion of custom apps, approval process, and probably other sources of revenue).

"Only Apple has that kind of muscle with the US carriers."

And right there is the problem with this article. As big and powerful as Apple is, you still cannot buy just any unlocked iPhone and use it on Verizon's network. It is not going to work. Infact, it will work as much as an unlocked Windows Phone would work. Again, this is not a Verizon picking on Microsoft type of deal, like these bloggers would like you to believe. It is more of Verizon and Sprint, due to their use of CDMA, controlling what phones get on their network. And, I completely understand why they would do that. However, I do not like those restrictions, so I went GSM. Nothing to see here.

That is incorrect. Again, it would appear you haven't watched the video, or maybe even read the article. According to the insiders (possible they're wrong, but they are more likely to know than you or I), Verizon did specifically tell MS that they wouldn't authenticate the 950 or 950XL. You can buy an unlocked iPhone, contact Verizon, provide them with the MEID (or equivalent) and they can activate it on their network. That is what they told MS they wouldn't do with the new Lumias. Having said that, like you, I'd be happy to switch to AT&T for a GSM phone (as a physicist, I prefer the underlying TDMA technology to CDMA anyway). In fact, I'd like to dump Verizon for this and let them know I'm changing carriers because they refused to support Windows Phone. Unfortunately, no GSM/TDMA carrier has coverage within miles of my house. Verizon (or others that share their network, like Sprint and US Cellular) is my only option if I want to be able to make calls on my phone.

Shame on you, Verizon! By blocking them, you won't get any benefit, either. It's a serious thing.

I have 5 devices, 3 are off contract. The other 2 will be soon. I have to have my 950!!! Screw Verizon, I'M OUT!!!

Dan, I presume you are investigating if any of the other WPs announced by OEMs like Acer will make it to Verizon, are you?

Honestly don't know who to blame here, but I found this article. Thoughts?
http://arstechnica.com/gadgets/2015/10/if-the-lumia-950-and-950-xl-wont-...

CDMA is a dying technology. The fact that carriers are still using it is really sad. In Canada Bell and TELUS worked together to build a 3G/4G network and then moved to LTE independently. They have moved most of their customers off the CDMA network and over to GSM/HSPA/LTE network and are slowloy getting rid of the CDMA network. Manufacturers don't want to make CDMA phones because of the additional licensing required to make them. GSM doesn't require that. The sooner Verizon and Sprint realize this the better they will be, however judging by the network expansion, that's not going to happen. CDMA EV-DO(basically 3G) maximum speeds = roughly 3.1Mbps. HSPA (3g) or HSPA DC(dual cell) maximum speeds = 10 to 42 Mbps. Don't forget the surperior reception over CDMA. So the 950/950xl doesn't work with verizon...it's a dying technology. 25% of the world uses it. The other 75% is GSM. I'm just happy it supports WIND/T-Mobile AWS bands.

Daniel are there any licensing fees associated with the CDMA support on the Qualcomm chips. I am thinking this is one of the additional costs of supporting a Verizon/Sprint unique network and given a $7B writedown and low ROI, it is not justifiable to pay the additional costs.

Oh, Verizon. Never change. Their little snowflake network isn' as great as they think. In BFE Montana, I have to use my personal AT&T phone while my work Verizon iPhone struggles to connect. They can be arrogant once they earn the title. They are just being jerks at this point.

Then you must really been in a deep BFE area. I've yet to have an issue in Montana where Verizon didn't have a usable signal but AT&T did.

Weird, Verizon generally by far has the best coverage in Montana. But now that I'm in Washington, dropping big red for AT&T for sure after this news.

Yeah, Verizon works in the Midwest states like Montana, Nebraska.. And others... But I mean anywhere else I have been att kicks their tail... Especially in the metro areas. I am sad one of my brothers ans his family ia on Verizon... Only thing worse than Verizon ia Sprint.

Montana is not a Midwest state.

I've worked in Central Wisconsin and Minneapolis in the past while on Verizon to realize all their claims were BS. It was a pretty horrible experience. What made it worse was that colleagues with ATT would be just fine and I had just switched from ATT.

* grabs popcorn *
- frustrated Verizon user

BTW, if this remains the situation, I will be leaving Verizon and maybe taking 6 other lines with me

Same here.. Lots of butter too.. Dam I already struggled with att in Washington county fl.. Changing back to att is not a prime scenario for me.. But... If Verizon don't change their attitude I'll have to reconsider.

Sucks for you. Just checked ATT coverage map for that location and it seems like its very well covered. You must be in one of very few blind spots in a valley or something.

You already have an active line. If Microsoft keeps the CDMA modems active you'll be able to swap out your registered SIMs and have a connected 950. Problem is Microsoft would not have anyone to charge for carrier specific maitenence, and Verizon would have an influx of angry/confused customers. Verizon doesn't want phone, and Microsoft doesn't want to pay for MEID. Easier for Microsoft to disable CDMA and kill off Verizon altogether instead of letting the smarter than average tech savvy customer have compatbility with his/her carrier. Moreover it only can help their exclusivity deal with ATT...

I will be moving to AT&T - bye bye Verizon

Ditto. Tired of their stupid $#&%!

Sounds lime a bitch of a network. Time for everyone to leave I reckon

It's not even because it is windows phone... They are just a punk ass bitch of a network... I dont like to pay for limited access and they tell you what device you can use or what you do with your data... They sell service... Not hardware... They should be happy you are using their service... But like a but hurt fan boy, they have their agenda... I wish I could avoid google like I do version, but they have their hooks in me with srvices like YouTube... Verizon... Never stood a chance... Sorry for people who can only use them.. But if you can get att with good service... Move... Screw that idea you are paying more...i would rather have the "freedom"... Even though, we have long way to go with services ans freedom in the US...fight the power with your pockets people! Voice ia nothing when you keep thn paid... Let them go hungry and ans you get results..

not to mention ATT phones have better resale in most of the Americas due to their compatibility with foreign networks.

"I told you so." I said: "Microsoft has intentionally disabled the radios in firmware. There only 2 reasons for doing so: 1. Spite 2. Verizon is screwing with them telling them no phones at all on our network if Microsoft doesn't play ball." Yup. MS should sue Verizon under the Band 13 provisions and force them to allow the phones on their network.

Maybe an MS lawsuit could work, but unless I am mistaken the provision only says that LTE band 13 (700 MHz) can't be locked down, not that they have to approve all CDMA phones. A technicality maybe, but I believe that is what Verizon is relying on, and since CDMA is needed to authenticate on their network, well... that's where we are. This is my understanding, at least.

I think they also argue that although they do have to approve the device, there is no requirement that they do so "right away".

No, here if a carrier block my phone we will start a class Action Other comments are futile Blocking a company phones but not others is mafia
Period
.

Suing them to get the phone approved on their network wouldn't help bend their relations with Verizon. Verizon can treat this just like they've done to Sony and in some ways did to Apple: We won't have you until you're on top. Let them keep pedaling their BS Droid phones and overpriced service.

Since CDMA is also used by Sprint, I have yet to accept this as the full story. I don't doubt that Verizon would decide not to allow phones from MS for a number of reasons (the fact that they are arrogant and scummy not the least of them), but I still don't take this as a reasonable explanation why MS would disable the radio altogether.

Makes sense to me. If they didn't disable the radio, if they listed the phones as supporting CDMA, it would get the hope up of users of Verizon and Sprint up with those people thinking they can buy the phones unlocked and use them on Verizon/Sprint, when in reality it wouldn't work.

As I said, there has been no official word from sprint or given reason that it wouldn't work on sprint so far, which unless proven would rule out that theory. I think the compatibility with verizon is a separate issue from hardware features, they shouldn't rely on the presence or lack of a working CDMA radio to be the signal to customers that it is compatible with their network. The average person probably has no idea anyway. I find it hard to believe that MS's concerns about our feelings or disappointing us would be the reason for removing CDMA support. It's no secret that verizon is a pretty awful company, and it is highly doubtful that MS would let carrier gripes affect their phone compatibility, but there is simply not enough evidence to draw any conclusions at this point (ahem WC). Too many unanswered questions, no official statements.

I suspect Sprint is in the crossfire. Enable the CDMA for them and then you enable the problem with VZ to get "worse" as crafty users face a very hostile VZ environment.

You seem to be one of the few smart ones here. I read this article and almost laughed myself silly at how off it is. Yet, I am not surprised that most of the commenters here are lapping it up. Truly comical. There was a time when Windows Phone users were smart and analytical. Now, they can't even bother to do a little research or use their common sense. A few minutes of research will let you know that this is less a Verizon issue than it is a CDMA issue, which is why Sprint is in the same boat. But, whatever generates clicks.

Microsoft should definitely unlock the CDMA and point the finger at the carriers.
Let the FCC referrals, FTC and USDOJ antitrust referrals, and class action suits commence. It needs DOJ investigation.
It seems very clear that Verizon and Apple are colluding to maintain their grip in mobile to the exclusion of competition.

Prette sure Verizon loves Googlke more. :)

Well, if anyone of any status higher than a CSR contacts you, tell them for me that as soon as I can, I'm leaving and taking my four lines with me. Fuck Verizon.

That's ok, I won't be renewing my contract with them

LMAO my family in Ireland uses that one alot. Couldn't help but to read it in a Irish accent.

I realize this isn't super on-topic, but do you hear of other manufactures possibly coming to CDMA carrier's? (Sprint, Vz)? I know that HTC has an event on Monday for the One A9, but possibly a WM announcement to fill the void? Leaving Sprint isn't an option given our company's relationship with them.

Don't expect anything new from HTC, no. Sorry.

Just thinking about an alternative...I suppose I could pick up a Blu phone and go to Cricket if I really want to stay on WM.

Daniel, So have you heard of any high end WP coming to Verizon in the next six months? Thanks!

"Leaving Sprint isn't an option" is exactly why these rotten companies get away with this sort of crap; if you care enough make it an option.

The 'option' will cost me $1500/yr more, and take me from an Unlimited plan to a 15GB plan...the family uses 40GB/mo. Sure, its an option, but a very expensive option. Oh, and AT&T doesn't work in the office where I'm on call at...the bosses don't like that!!! So, no, no good options. Hoping, now that MS has the recovery images for the 8X & 8XT that I'll be able to stay on WM10. But ultimately, if I have to leave the platform so be it. I certainly don't want to.

From the store manager at Verizon directly to me: "We have no problem with people leaving because we know they will be back. And, we are getting people already from the other services. Once they experience less coverage, dropped calls, and busy signals, they come running back. So anybody who doesn't like our policy can leave. We don't care." Yeah ... I'm not exagerating, not one word. That was his reply to me about customer concerns. As for the Windows Phones: "We never try to sell them !" I even offered to arrange for staff training on the phones and there was zero interest. So leaving does not send any type of message.

Microsoft CEO Nadella has got to cut a deal with Verizon in which Micrisoft itself will sell a Verizon network capable Windows 10 mobile Flaship smart phone and all Verizon has to do is activate it as soon as the person who buys a Microsoft Windows10 mobile Verizon network smart phone gets a contract or pays for minutes. in this case good Verizon would not have buy and warehouse or sell windows smart phones for their network Microsoft would on there website or physical stores. Verizon would make money selling contacts and phone usage time. easy money for them

You miss the point completely. It's not about money, stocking product, or any of that. It's a personal issue with upper level management at Verizon and they love to rub mud in the face of Microsoft. It's immaturity at its peak. Microsoft couldn't pay Verizon enough to stock the phone ... its a very personal thing at Verizon ! It was the same thing with Pebble ! Some "leaders" have huge ego attitudes ...

I have also heard this said pretty much the same way, only that VZ truly despises all things MS and wants none of their phones or products on the VZ network. They haven't gone so far as to be truly hostile to current users of Win phone on the network but they have done everything they can to make said users feel unwelcome. That's why you don't see anyone "selling" or "demonstrating" win phones to potential customers. They are far more afraid of management than they are of some unwelcome press. This comes from the top, mind you. You can bet this action, much like the Netflix drama is going to get the attention of government. If this kills off a 3rd ecosystem by means of a CEO temper tantrum you can bet that Congress will be involved. As for now, everyone can call the cards as they see them, but I'm cancelling the tablet connections tonight and moving to ATT as soon as the XL's are ready. VZ sees fit to determine what will and will not succeed. Didn't want to pay Apple a dime way back when and users missed out on that. ATT is meanwhile quite happy to work for my business. Time to move. VZ's CEO can keep his toys all to himself if he likes. Apparently he's a spoiled brat who was never taught in business school who comes first.

The 2000s called, they wanted their CDMA back.
they called already using GSM, by the way.

There was a pretty old rumor that HTC was working on a Win10 version of the M9. I don't know when/if that'll happen.

Yep, that's from April when they all be said they'd be doing exactly that...given HTC's financial statement/stock price, I'm thinking that was an easy and expensive project to cut.

So in short, only T-Mobile customers can own these phones? How can these phones sell. I dont understand what is the problem with US carriers. Here in Europe you dont care or question what carrier you have. You just buy the phone unlocked and it works.

T-Mobile, Cricket, AT&T, and other GSM MVNOs can use these phones. Only Sprint, Verizon and their MVNOs like Boost would be unable to use these devices.

Biggest questions is when will unlocked be released so we can use at t-mobile. From what I have seen it appears MS Store not getting at launch, any news on this?

The 950 & 950XL will work on all GSM carriers. T-Mobile & AT&T (not to mention the many smaller GSM MVNO's) makeup a decent chunk of the carrier space in the US. Verizon is a loss, but it's not game over.

AT&T will actually carry one or both phones. T-Mobile, as of right now, will not carry either, but the phone will work due to being GSM instead of CDMA. Again, if you are a fan of Windows Phone, AT&T is your best overall option in the United States.

Hell freeze over yet??? no way I'd ever switch to A$$

If ATT has exclusive past year end, then probably Android. I can see exclusive...maybe for carrier but to not even sale unlocked at launch on https://www.windowscentral.com/e?link=https%3A%2F%2Fclick.linksynergy.co...

Again, this I believe is more Verizon holding their breath than Microsoft playing hardball.

They can be bought unlocked and used on any carrier other than Sprint or Verizon..

I don't think they have an exclusive.

I have att unlimited talk/text and 4gb 4glte data for 55 a month and amazing service in my area. Dont think it can get any better over here lol

And you can tether for no additional fee.

Obviously Europe does it right.

Yeah. Its frustrating to watch you guys from US being treated like this. This is the main reason of low WP marketshare in US, not the apps.

I do not think that even if all 4 carriers and their MVNO's released the 950 & 950 XL that it would really help much. The majority of sales reps just do not know enough about what they are selling to actually communicate what Windows Phones could offer the average potential buyer as opposed to what the customer sees on Apple and Samsung ads.

Well, that's about the same in Europe. So I think Blade800 has a very valid point.

I went to my local Verizon store the day before the 950s were announced. I asked the sales rep if they had a Windows Phone and she said yes, they had one. Then she noticed that they had two and was surprised. I asked why they only had two. She said that that don't have much call for Windows Phones. Apparently, reps at Verizon are not supposed to "sell" or educate a customer on the different phones available. They just rely on the customer to tell them what they want. She wasn't aware of the new phones coming out and I can safely say that she didn't know much about the two Windows Phones that she had in the store. If the store reps are not going to sell the Windows Phones to new potential customers, it is left up to Microsoft to sell it to the public. Ooops. Sorry for the rant.

I cannot imagine working as a sales representative for a carrier and not know what devices we have in store. Unfortunately it is unbelievably prevalent here in the states that reps have no idea what they are really selling. They would be better off at Walmart or some other generic retailer. Via the Windows Central app on the Nexus 6

Except its getting more expensive by the day to buy unlocked unless its hspa

I think in Europe and Asia, telco regulations seem to be tougher. Also population density makes it more cost effective to provide high coverage which means a high choice of networks in most places. But also there is a tradition of independent resellers - in the UK a lot of people don't buy their phones direct from carrier, instead they go to Carphone Warehouse. This forces the carriers to compete harder. But the carriers are trying to take more control, they recently killed off another major reseller (Phones4U) overnight simply by deciding not to renew contracts. So consumers are well served in EU/Asia but the threat is still there of degrading to a US-like experience. The only way this could be prevented is by more regulation.

Umm, here's a request: Could you edit the video to start at the point that would be interesting, so that people like me on limited connection won't burn too much data?

YouTube embeds are hit and miss with that feature.

Sounds like Google <insert product name here>.

Cost of internet is something people in US/EU take for granted with free WiFi about, unlike here in naija.

Man that's some bull.... Verizon y you gotta be like that. I might have to go to AT&T now.... Sad

I'll be leaving VZW when the 950 is available. Been with VZW for 15 years. NO MORE!

One been with them for 13 and I'm over this crap.

Yep, more than 20 for me. I've never been on anything else. Hello AT&T.

That is the reason I left Sprint after being with them for 13 years.

I am so glad I left Verizon behind last year. Was with them for over a decade, but dropped them due to their terrible support of WP.

As a consumer why cant I sue Verizon for blocking my phone? Seriously carrier should have a say in what phone I personally can use and cant use. I'm paying for their service. I hate Us carriers and their hegemony, they should be broken down like how old oil gaints were broken down by the government.

They were broken down before. ATT was actually. Read more about it here https://en.wikipedia.org/wiki/Breakup_of_the_Bell_System. It is actually a very fascinating story. Parts of the original AT&T then merged to become the current AT&T. Parts of the original AT&T became the current Verizon.

Ma bell. Time to do it again.

This isalso what I am thinking. Isn't this in a way affects people's freedom of choice or somewhat a hindrance in competition? I'm not entirely sure, but I think if this is in Europe Verizon will be in big trouble.

Indeed I am glad this sort of BS is just not tolerated in the EU. I hope someone brings Verizon to court over this. And the damn goverment should wake up and pass regulations so this sort of shit does not happen.

Well at least how it works in asia from what I read they hack the phone to provision it

The government won't do a damn thing to Verizon. Too many people with too much money will make sure of that. Then FCC would say the same thing many if us already are - pick another carrier.

No, it doesn't infringe on your right to freedom of choice... Since you still have the right to choose your carrier, and thus your devices...

Wow, it's like saying black people have the choice of the back of the bus. Posted via the Windows Central App for Android

I am a long time Verizon customer, due to the fact that AT&T, Sprint, and TMobile are horrible in my area. But I hate Verizon for not carrying any more Windows based phones...........and I am sure Windows has some blame in the situation as well. I just ordered a new ICON through the Microsoft Store because I know it will be a long time before I see another Windows phone being released from them.

Have you checked other carriers lately. Vzw used to be on top, but that's changed a lot. Seems like lately everyone else has better service.

I have several times, also my friends have AT&T and TMobile and they constantly complain about service. I have to admit that Verizon is top notch here where I live.

Time for all your friends and you to move ;). Lol, Im just kidding. But it would be funny if someone moved to get away from Verizon. :)

It is possible to get a mobile signal booster, both carriers provide them to rural customers...

Glad I left Verizon they are a joke. Outdated CDMA bands and all that just to get a unlocked phone. Pathetic

This is one of those cases where I like the way the EU does things by forcing the cariers to get out of the way completely. The shame is that carriers starting their faux "BYOD" programs seems to have hidden the fact that they still can play favorites like this if they feel like it. We just need to enable legislation that forces them to allow any capable device to have basic functionality (call/text/data) as long as it behaves in a manner similar to some industry standard baseline so the carriers don't have to hurt themselves thinking too much. Not on Verizon, I'm on the carrier ran by the court jester FYI.

Verizon is soooo! Difficult and immature smh

Wow, just wow. Fuck Verizon right up the ass. What a bunch of bullshit l, I thought in the real world companies weren't supposed to act like fucking children.

bye bye Verizon, losing 4 phones

Will seriously consider dropping all my Verizon accts including those covering home. Such arrogant bast*adds.

I have AT&T at work, so I'm merely ticked at their refusal to carry the 950 XL. But I have Verizon at home and am not happy. It's not just my 5 wireless lines. It's my landline and my FIOS internet and cable they are taking for granted.

att is going to carry the XL. heard it from both an internal msft rep and att rep. they will carry it. trust me

This is why in the UK its so good. You can get whatever phone you like and use it on any of the 4 major networks. Whether unlocked or locked. Networks have even began to sell their phones unlocked (Three) so you can put whatever network sin you pick. The US is so messed up in so many ways and not just mobile. Posted via the Windows Central App for Android

Yup I am very jealous, here in the states these carriers have the consumers on a short lease!

That is what I like also here in the Philippines. The internet speeds here though is such a joke compared to the US and EU.

Well have you seen the cost of an unlocked lte device

Look at the total of costs. An unlocked phone is probably cheaper. It is at least in Europe (95%)

I got a new 64 GB Moto X Pure Edition for $499. It works on any US carrier, including Verizon. Posted via the Windows Central App for Android

Why not leave the VZW / Sprint CDMA bands enabled in the phones, in case one or both of the carriers changes their mind in the future and would allow them? I don't see the gain in disabling the bands in the phones, unless it improves battery life or something.

Presumably, if things change, Microsoft could flash the firmware/update baseband radios to let it work on CDMA. Not much use in selling a Verizon customer a phone with the hope that maybe it will turn on suddenly.

Lol Posted via the Windows Central on Blackberry passport SE

So I guess there is still a little hope. I have true unlimited data and I can't leave that. Posted via the Windows Central App for Android

Funny thing is it's actually good for reception often penetrating walls better than GSM. This is one of the reasons why it works so well in NYC.

CDMA also has a cleaner tower handoff. That's why it drops less calls.

True, but it couldn't handle data and calls for simultaneously for the longest time. Requiring a ledger of all devices allowed on your network is an interesting approach as well.

If only cdma + wimax took off

I just threw up in my mouth a little...

Yep, we can say what we want about Verizon's business methods, but many like me have discovered that their marketing about their network performance is indeed correct. I have never been out of service with my Verizon phone, not once. That hasn't happened with any other carrier. Doesn't make them right, but it does make them reliable.


Not in my office though. Only At&T works on our island in Miami.

But with GSM I never have to dial *228 on a weekly basis to update the PRL. WTF, VZW. Was there no way to automate that process?

Sucks because different. Betamax had technical advantages too. There will never be a rainbow flag waving rally for diversity in carrier technology

Let's not sugarcoat that part of it. GREAT for reception especially in cities like NYC. NY Times just had an article the other day about poor reception in apartment buildings being a deal breaker for many. I'm mad at Verizon, no doubt, but there are practical reasons for people to stay with Verizon too, even when they treat you like crap.

never used verizon, but have been GSM only for well over a decade after leaving sprint so long ago. GSM provides ease of use. i can easily switch between phones for whatever reason without having to deal with the carrier via phone or online. what if it's 3am and i broke my phone while out? walk into walmart (or any 24 retailer) and grab a cheap, compatible pay as you go phone and pop in my sim. now i have nothing to worry about until after i get some sleep.... which if i am out at 3am, i'm not sleping anytime soon :)

Verizon sells off-contract phones like that too, and they use SIM as well. You are correct that you get a bigger selection of phones on Verizon though.

but they are still locked

First they pull the demo units from all their stores because of some 'hardware issue', now this -- not looking so good for Windows mobile stuff. Likely on par with all those previous rebranding efforts -- what are they calling it this time around, Windows Mobile 10...?

Well Microsoft needs to rebuild all their future phones from the ground up like they did with Surface line and see where they are at this point. At this stage in the game I really hope they push out a Surface Phone next year!

Mobile devices rebranded as Surface Phones would've been a great idea when the Surface first came out -- a suggestion common in tech blog reader comments then, and now. Low end 'Surface Phones' and flagship 'Surface Pro Phones'. Might've had a chance then, too late now...

No, a surface phone would have tainted the name of surface, not sold more phones. Surface is about challenging product classes. Surface Pro - Tablet that can replace your laptop. Surfacebook - The perfect laptop. Surface Pro is a tablet with the power of a laptop. Surfacebook is a laptop with the freedoms and uses of a tablet. The Surface phone cant just be a phone. I think the Surface phone needs to be a phone that can run x86 apps using continuum. Now that would change the idea of what a phone can do... That would be a Surface phone...

>opinions< are one thing. Units sold, to consumers not to retailers, will be another. Will be interesting to see how it all pans out. With luck there won't be another billion dollar write off...

This is exactly what they need to do. Make a phone everyone wants and the carriers will have it. Right now MS needs to market the crap out of the 950/XL on Att and grow interest and get the OS polished. Then release the Surface phone with an x86 processor Posted via the Windows Central App for Android

Ain't gonna happen... maybe the 1000XL

Everythinig you just said was stupid and backwards - head back to the playground (iMore), and leave these discussions to the grownups.

No need to be so negative just because facts differ from your opinions...

verizon is garbage anyway... on a decades old network and extremely selective on their devices. oh and they are upping their cost. screw vzn

I'm glad up here in Canada we don't got this issue. Cdma is being phased out across the board. I could get any unlocked phone and as long as the bands are supported I'm good to go. Such as my Lumia 930. Not officially supported but works fine because of compatible hspa bands. But I don't get lte because of incompatible lte bands

Lol I imported a l929 worked well over rogers lte worth every dollar. When they released 8.1.1 calls & data worked on lte but lte signal had to be strong moved to mw10 & lte works flawlessly and internet sharing now works on lte(or on any band 8.1 broke that) only thing that bugs me about nokia Lumia is weak Wi-Fi. I can get a better Wi-Fi signal with my sgh-t899m.(maybe one of few handsets that after mw10 upgrade gets approved for enstream's suretap)

Will we be able to access Verizon's LTE bands? Right now I use a Verizon Tablet SIM in an iPhone 6 Plus. I can't make calls but I do have data. I wonder if the same could be done with the 950 XL?

Yeah, Verizon sucks! They switched to sims, finally making upgrading with purchased hardware easy... Then the pull this crap.

Yep ill be going to AT&T, fuck Verizon. They are so full of shit, also had a smug attitude with not expanding their FIOS in Boston. Byeeeee!

Verizon Core has capped the expansion of FiOS. The training school here in Massachusetts was closed a while back. Verizon Core wants to get away from wireline delivery and go with a wireless delivery system for voice, data and TV services. I don't know if that can be done very well, but, that is what the company is moving towards.

Dump pipes (wireless carriers) should not have this level of control. FCC investigation? Class action lawsuit? What say ya'll?

CDMA sounds so ... old technology. And, this is totally illegal here in my country. No carriers can block any kind of phone.

Hold up...do Verizon develop Snapchat too? Sound like the same childish antics.

GSM, works everytime. Only fools allow a carrier to tell them what phone they are allowed to use.

I don't know how this sort of behaviour can be allowed in the US and not outlawed through antitrust or other legal regulations that try to prevent interferece with competition in the market. Maybe it's time MS takes this to the courts, they have enought cash to hire good lawyers that should be able to figure out a way to force Verizon to allow the phones on their network. It's as if your ISP said you can't connect to the internet if you use a PC manufactured by .... OEM.

Grey area. Verizon says they can basically take their time to approve phones, that there is no requirement that they approve of devices on day 1. Really using the legal loop holes with the FCC.

you're also forgetting that the new unlocked laws only apply to GSM bands lol. CDMA isnt mentioned

Nope, the laws being referenced apply to the LTE bands Verizon won in an auction a while back. Nothing to do with unlocking the device. Verizon won an auction for some OTA bandwidth, and one of the stipulations for their use of it was it had to remain "open", and they couldn't restrict customers from using whatever devices they wanted. But there are a lot of loopholes that Verizon is using to justify their shitheadedness... Them being able to protect their network from unauthorized use, and not having to approve devices on day one, apply here.

Probably a great combo of lobbiests and "security reasons" :)

Well bye Verizon... Never liked them to begin with anyways

Was wondering why I got bent!

Hate to break it to you, but if you walk into your local Verizon store, tell them that you are closing your line(s) because they aren't going to carry the new Microsoft phones, each and every rep won't bat an eye. They might look at your account and warn you that you are still under contract (if you are), or if you aren't they may try and pitch you on an Android device (they are heavily vested in Droid, after all). But what they won't do is send you to retention or shed a tear. They. Don't. Care. At all. They (company, reps, et al) hate Microsoft. Of the phone they do carry, they will ignore the fact they carry them, and on the off chance they do and a rep actually sells you one, they will get an earful after the sale becuase there is a lot more revenue tied around Android and iPhone. If you are an iPhone or Android customer and threaten to leave, they will let you walk. Your business isn't worth anything to them when they have plenty of customers that will stay, and more that will sign up after you leave. And that's really all this is about. Not your puny little feelings. Pa-shaw....

And? I could give a shit less about someone else switching to them, or them not caring. Has fuck all to do with feelings, I'm chosing to give my money to a company that supports the devices I want to use.

Such BS, if you aren't getting jerked around by one it's the other. The consumer doesn't have a choice other than to leave their carrier which for many, due to coverage isn't really a choice.

That seems like a very odd business strategy from Verizon.

It helps them push their locked down Android phones with all their Verizon bloatware :).

Haha murican seppo's..... Your carriers are all fkd... Australia does it right. Feel sorry for u guys. Wonder if any verizon big shots have seen forums and even comments here saying bye bye. Every other country sold the 930 unlocked and works on any network. Verizon wants to put tramp stamps on back and front, they are pricks... 928 anyone? 929....etc.

No love for msft - wow that is harsh. Also goes to show how little clout msft have in the mobile arena, with their measly share. If these phones do actually sell in reasonable (for msft) numbers in sure Verizon will be clamouring for the devices.

Not necessarily. It took them years to finally get the iPhone despite it's high sales on ATT.

Totally false. IPhone had an exclusive contract with At&T.

Seems that history is simply proving again that ATT is smarter about the future than Verizon.

Ya know I have 6 windows phones on Verizon and am already discussing a phone to test the AT&T network with an AT&T business rep. With all the negative verizon press the last year they are approaching "Dead to me status"

It has T-mobile's frequencies, so it'll work. Just no WiFi calling due to the lack of the WiFi calling app. I have a Latin America Lumia 1520 on T-mobile and a Asian Lumia 640 LTE Dual SIM and Lumia 640 XL LTE Dual SIM. All 3 work perfectly.

Like I said before, leaving Verizon was the best move I've ever made!

Whoever plan to leave VZW... let the customer care know that you are switching carrier because they do not support WP... even if its 1% of their customer base its still significant for VZW to do something about it.

Verizon doesn't care about the customers anymore. My signal has gotten worse where I live. I have been with Verizon for over 8 years. They told me to either buy their $250 extender or go to another carrier. There were never an argument nor even threats made by me. That was her response. They are beyond caring about the customers anymore. Posted via the Windows Central App for Android

Even as a 950/XL hopeful (coming from the Icon), I don't believe that this is such an open/shut case. People seem to forget that the new Moto X Pure Ed. works on ALL US carriers, including VZW. And if it is true that MS "blocked" the CDMA radios, did they also block the primay Verizon LTE Band (13) as well? If that IS the case (possibly) then it seems like VZW doesn't want to play and MS is taking their toys and are going home. The biggest losers are the customers IMO.

Disappointing for Windows Phone fans who use Verizon. Goes to show their disdain for Microsoft as they are willing to punch in a few numbers to allow unlocked Nexus devices on their network. The only thing that will help here is for people who are threatening to leave Verizon to actually "walk the walk" and not just "talk the talk".

shit, so now I have to leave Verizon & go back to AT&T. Damn, I owe AT&T $500 & I just recently told their collection agency that the only way they'll get it is from my cold dead hands

Better check yourself for a pulse.

Hop on one of their GoPhone plans.

Give them monthly installments in pennies.

Ya know, you shoudl really pay your bills. If you OWE it to them because you used their service, then YOU SHOULD PAY THEM. No wonder why my bills anrd service fees are higher, because of crooks like yourself.

lol @ crook, NO, screw AT&T. I'm gonna buy a 850 straight cash & hop on H20 or Net10 or somethng. They're gonna have to get it in blood

@ DavidinCT It's not always that cut and dry. Some people don't pay their bills and sometimes it's because the departments in ATT don't talk to each other. My husband and I are in a similar situation where we owe ATT money but: a) it's for something that was gross incompetence on their part and b) they actually owe us money and because their departments don't interact with each other, it became a too bad, so sad situation.

Understand 100% but, with a statement...."I owe AT&T $500 & I just recently told their collection agency that the only way they'll get it is from my cold dead hands" does not appear to have "Customer service billing issues" It seems like someone just does not want to pay their bill. You use the service, you pay the bill, that is how it works, no ? Maybe you read it different ?

What the hell did you do with AT&T owing $500? Posted via the Windows Central App for Android

that was a few years back when the ETF was $350 + the last bill, for Blackberry Bold 9000 by the way

I've been with Verizon for years. But I will leave them for this. Even if I have to get a signal booster for my home. I want this phone more than a particular provider.

You should also let them know why you're leaving them...

Yeah.. Still not worth me leaving Verizon and going to a different network where the reception is terrible. I've said it before. I'm sure at some point (hopefully soon) there will be 950/950XL variants on the Verizon network. Different naming conventions. They've done this before. 95x/95xXL..

Yeah, I REALLY hate that it comes down to a decision between Windows Phone or Verizon! But the decision for me and my family, while painful, is not exactly hard. Somewhat begrudgingly for sure, but either way, I'm sticking with Verizon.

We don't want variants that won't get updated. We want what everyone else has. Posted via the Windows Central App for Android

We do? We're on a network that is different (and better in my location) than any others. We're not going to have what everyone else has. I don't put the blame on Verizon 100%. If MS wants the masses to have this phone, why not make the SAME phone with CDMA? They know how huge Verizon is. Also this is NOT the "Surface Phone" (aka hardeare made specifically by MS like surface pro 4, surface book) So I fully expect a different flagship phone to be coming soon. WITH bands that are supported across all major networks.

I've been saying it's Verizon's fault. The US operators are a ridiculous. I thought there was a new law passed last year. Wonder if MS can find a loophole to force Verzon to comply or if there's an Antitrust angle that can be considered. Though 'harming the consumer' could be a tough sell.

It won't matter to Verizon if every single Windows phone user left. They wouldn't care.

Good, then there won't be any tearful goodbyes. :-)

I understand why Verizon is to blame, but what I don't understand is why Microsoft would choose to disable the CDMA radios in the phones. Why not leave them enabled and let people know that the radios are available if you can get your CDMA carrier to allow you to add the phone to their network. It seems at that point it would be clear it's the networks and not Microsoft who's preventing Windows Mobile users from using Verizon, Sprint, etc. If Sprint or even Verizon someday decided to allow the phones on their networks, is it a software update or firmware update that would re-endable the CDMA radios? -Skippy

I was about to ask the same question. What does it hurt to leave it enabled just in case?

Because like a lot of things in life, sometimes you have to grin and bear it in hopes the other side comes around. MS publicly shaming Verizon would provide little, if any, rewards. (Not saying I wouldn't like to see it)

Because IF they claimed it worked with CDMA (and Verizon's network), and people paid $600-650 for this phone to USE on Verizon, and VERIZON would not activate it.... Who do you think would look bad ? There could be lawsuits....it would of been safer to disable it... I agree tho, I would love them to unlock CDMA and let me fight them to activate it...Trust me, I will go all the way to the TOP if I have an issue. I have before and gotten a call from Verizon's CEO (back about 8 years ago) because of a store problem (they killed my phone and would do nothing for me)

To not make a bunch of Verizon potentials buy the phone and hold out hope for something that may not happen. I'm sure they could release an update to absolve it, if necessary. Also may save some battery to down those antennas (though I'm just being hopeful).

tbh, I say it's because even this story isn't official. We don't know the why, all we know is what can be proved. So until something comes out on the record, I'm blaming Microsoft first and then the CDMA carriers second. Yes, there are CDMA carriers other than Verizon that can't use these phones either ...

Glad I made the jump to T-Mobile when I did. Verizon used to be so cool; now, it's just awful. What a dick move.

What a frustrating situation for Verizon Windows mobile customers. :-(

So glad I'm still with AT&T! I'll never go to verizon and especially good for nothing sprint!!!

I absolutely love with Windows Mobile OS. But I'm not going through the trouble of switching networks for Microsoft who still caters to the majority of smart phone users for their own apps. Maybe after Windows 10 mobile is finalized and they show they care I'll return but I can't do it for a maybe and a promise with their track record.

I expect this is on purpose. This is the company who intentionally crippled the HTC 8X to not have MMS despite it being sold unlocked.
They deliberately blocked out the ability to modify apn settings so you wouldn't have MMS on any other carrier besides them. TL;DR: Fuck Verizon. =)

Leaving Verizon as soon as new phones are available!

Why anyone uses verizons dumb network to begin with is beyond me. They are more expensive, and they require manufacturers to make a seperate variant just for their network.

Location and reception, like me.

Where I live they are the best. Why anyone uses any other network is the real mystery.

Should still work on T-Mob

Well, that does it for me. I really hate to leave Verizon due to their second-to-none reception in my area, but this latest dick move on their part is the last straw for me. As soon as I can afford the 950, it's goodbye to my Icon and hello to ATT.

exactly. enough is enough. never gave us the 1520 variant either

What sucks for me is my company is going to change from AT&T to Verizon for all company phones. They have been letting me expense my personal phone (an Icon) which is on Verizon but only until my contract is up in April. Hopefully Verizon will come around by then and have a good windows phone to replace my Icon.

Contract ends in Feb 2016 for me but I'll wait and see what happens.

I may hang on to my Icon for a while after the 950/xl release until I can fully evaluate what carrier's are going to support the new phones before I switch. I'm not happy about potentially switching carriers. Been with Verizon for 13 plus years. I hope they will at least support the windows 10 mobile upgrade on my Icon.

This is when we all speak with our wallets. I know the Windows Phone community is relatively small compared to iOS and Android, and we may not make any discernable dent in Verizon's bottom line, but at this point, the complaints on forums/blogs/sites doesn't get anyone anywhere. If you're on Verizon and you want the 950/950xl, its time to make that switch!

They wont, for some reason people in the US actually are emotional about their wireless carrier instead of using them as a tool to serve their needs.

Verizon has the bullying power to pull such a maneuver and ARGUABLY has the right to do whatever they want. They should, however suffer the consequences of their decision, no matter how small (and make no mistake about it, its pretty small). Besides money and profit, there is also such a thing as negative PR and if enough word gets out that Verizon isn't about equal competition and parity for sake of the public, hopefully people will start to switch, not just for a device but more so for principle.

Nothing will change because people won't switch. Told a work buddy of mine who has an Icon and asked him if he would switch, he just laughed. That's the reality and its probably what Verizon is counting on.

You're somewhat backwards on this, Theefman. I'm not emotionally bound to Verizon. I'm emotionally bound to being able to go tri-platform, with as deep an immersion as I can manage in Android, in Apple, AND in Windows (including a phone from each). And of the three, the one that I'm the MOST passionate and interested in is Windows. I joined the insider program more or less right at the very beginning, and what started for me, a Mac and a Samsung Galaxy Note 3 user for my computing and mobile needs as just a curiosity and novelty has over that time sold me fully on the vision and the direction and universality of Windows 10, and perhaps especially Windows Phone. I'm passionate about Windows 10! So where I am being driven by emotions here, it's all pro Microsoft and Windows, and all anti-Verizon in this tug of war. No, Verizon for me, and I suppose for many of us, is not about emotion at all, but is all about icy cold pragmatism. In just about every market in the US, Verizon has the best reception / coverage. In many of those cases, by a long shot, and in a great many more places it is the ONLY viable act in town. Yes I know they're the evil empire, and they are led by a thin mustachioed pirate with a namesake curved, pointed prosthetic tip to one of his major appendages, who is terrified of alligators, and obsesses over clocks. And I'm sure he laughs maniacally in his private lair to the backdrop of a Hollywood choreographed lightning bolt out the window over this whole situation and the fact that well more than half of us will choose big red over MS, and may he burn in hell for it. We're simpatico here. But you yourself said that the carrier choice should be about a being a tool to serve our needs, and yet you work against your own advice by implicitly encouraging people to leave the best "tool" in town so that they can have the best "toy" in town. Do you not see how you're undercutting your own position, man? I don't "need" a flashy Continuum equipped Windows 10 flagship. I "want" one - badly. But I don't "need" one. Especially given that according to my plans it would be only one of three phones anyway! HOWEVER, I do "need" exceptional cellular service, and reliable, dependable coverage. While Verizon may not exactly be the ONLY viable carrier here in the Des Moines metro (Des Moines is big enough that all the majors have at least a quasi-decent infrastructure here), it's by far the best - by far! And it IS the only one with decent penetration into my large office building in West Des Moines. And lastly, while I don't exactly leave the metro all that often for greater (read: rural) Iowa, when I do, once again, it's Verizon or bust. That it's built on out of date technology while others are built on much newer, more global tech is nothing but academic when the schnazzy new one leaves me with no bars, "stranded in Iowa", as it were, while on the old, supposedly decrepit tech, I can catch the Hawkeye game in any remote corner of the Hawkeye state! So, there you have it. You have bound me, Theefman, by the very same standard you put us under to reject your own proposal. It's self-refuting. And please don't change your argument mid-game now to argue on principle. That's cheating! You argued pragmatism, practicality, and that argument, it seems to me, has fallen flat. As much as it galls me to say this, and I do think you'll at least believe me that it does, in my current situation, as it concerns the tug of war between Verizon and Microsoft, Verizon wins - hands down....well, hand, and hook down. ;-) Cheers, Theefman!

Is US really a developed country from mobile point of view? Sounds like China 20 years back.

I currently own the "Unicorn" 1520.3 unlocked on T-Mobile and I get everything T-Mobile has to offer besides Wi-Fi calling. Based off this, I'm assuming an unlocked 950/950xl will give me similar usability with added benefit I the 700mhz frequency band that T-Mobile is pushing. Does anyone have any insight on the enabling of Wi-Fi calling by T-Mobile? Is it a software enable? Is it as easy as flipping a switch to allow it?

Man, I hate this. I switched to Verizon partially to get my Icon, which I really like. Hopefully, something will change by the time my contract is done in February '16. I don't really want to switch to AT&T, but I just don't want Android or Apple... sigh...

Verizon has no logic. They spurned Nokia Lumia owners by delaying the 8.1 update for months, discontinuing the Icon (they say it was low inventory, sure, probably by design), and little support. It's laughable that they are trying to sell the 735, and LG Lancet. Why bother? Same old thing will happen again.

As a Costa Rican with only three carriers, we have unlimited data here, but I trade faster download speeds (Only 10mb for 4G LTE here) with freedom anytime to choose our devices. You guys at the US tolerate so much bullshit from your carriers It's time to step up! You know what your carrier should bring you? read this: https://www.pepephone.com/movil/nuestros_principios and use Bing translate for english, this is the kind of carrier I want.

C-ya Verizon! Fukoff 'n die you pricks!

So happy I left Verizon long ago. Their cooperate arrogance outweighs their good network. SMH.

While this does not matter much for Verizons bottom line, it is perhaps a sign of them missing the signs of the times on how business models are changing. Posted via the Windows Central App for Android

"Promote them half-heartedly" is being extremely generous to Verizon.

Att is no better I practically had to beg the sales people to sell me my windows phone my 920s and 1520s

Such a move in a civilized country should be considered a crime and verizon prosecuted by antitrust law
But i see Usa is still in the Jurassic era as country and laws a real shame

Verizon just sucks on Samsung and apples tits... such bullshit.

And another problem is that Usa laws do not force carriers to respect standards, this is incredible to believe in 2015 Or manufacturers Like Apple that use or used not standard plugs for their chargers... I've a 635 bought in NY by a friend of mine and it Works perfectly on european carriers
Lucklily here do not have such s??t problems

Seriously though, is anyone actually surprised by this development? I love my Icon, but as soon as I feel it is starting to age dramatically, I am leaving Verizon.

I hope everyone who is leaving Verizon mentions this when they cancel! Good for you guys. Make a little noise!

Regarding T-Mobile, I found something interesting on the 950/950 XL specifications page that I'm unsure of. Under the Wi-Fi specs it states "WLAN IEEE 802.11 a/b/g/n/ac, MIMO, Wi-Fi call" I am not aware if this is carrier specific, but I am hoping that this enables use of Wi-Fi Calling on T-Mobile. When I was at the Microsoft Store near me, I put my SIM card into the 950 XL and did not see anything (since it was running preview software this doesn't really mean much, though).

This is why im leaving Verizon. I have 2 lines and one tablet. I have an Iphone and a windows phone, need the iphone for the Square app, ive moved the iphone and as soon as the new lumias are released ill move the other one. IMO, Verizon network requirements suck.....try forwarding calls fromhonw to phone what a terrible experience.

Your (USA's) carrier situation is severely messed up. How did the people let it become this way?

Yup agree. Smh Posted via the Windows Central App for Android because it's superior to the Windows Phone one

In the USA...We the People has little to do with being able to influence a multibillion dollar corporation with lobbyists, etc...

Bell telus and Verizon, use the same towers in Canada. Cdma and the companies above should be avoided.
Customer Service is terrible.
CDMA was antiqued years ago.
Time to move on..
All major carriers in Canada are terrible.
The ones above are the worst. Bell being top of the list.

Seriously? Do you all actually believe a U.S. carrier is intentionally putting itself in a position NOT to SELL service? Somebody please explain how this helps Verizon.

There's probably more hands at play here.

Someone should open a complait with the FCC....let's get them to investigate this and let's get this STUPID policy from Verizon to end... FORCE them to activate and allow any compatable phone on their network.

I don't know why anyone would be with Verizon anyway.

Incredible the way verizon is acting as against Microsoft products. BUT... the thing I like the most is how you US people affront this situation as leaving this company as I saw in many comments, think a few people cant make changes, but many people make changes for sure. I'd also leave that company but I cant because I belong telcel here in Tequila, Mexico. The power must be in the side of customers, not company, please!!! Bad for that company, good for you people, keep that work.

That is why after 9 years with Verizon..I am now a very happy AT&T customer.

Give them a break.. They get jeolous with the AT&T

Been almost two years ago that I moved 9 lines from Verizon to T-Mobile. Have zero regrets.

As a Canadian (with our own fair share of mobility related nightmares and horror stories) the American carriers just boggle my mind. They are so actively into impeding one another that the customer clearly loses. Here at least we are just all fed off of by our vampiric providers, but nobody would go as far as to block phones from activation, at least to my knowledge.

Why not include T-Mobile? They are GSM.

Hope Verizon read these comments

Message to anyone switching or thinking about switching to ATT: My family used ATT for 20+ (I didn't even know they were around that long!) years and we didn't have one single issue. Unfortunately now we are with Verizon (very disappointed) due to financial issues but if you can get ATT do it. Their customer service is amazing and their coverage is great, I had coverage everywhere in went and I go camping a lot. There in-store employees are also more knowledgeable and at least here in New York they really like Windows Phone and don't kiss iPhone's a**. So I highly recommend ATT. My Dads phone was stolen once and someone used it to call Bangladesh (pretty sure it was Bangladesh) and it cost us over $1500 in international calls. Luckily ATT was great and told us don't worry about it and got rid of all charges. They're also great about late bills (assuming it doesn't happen too much). They'll waive any fees if it's less than a few days late. So yeah I loved them and I hope we'll be back there soon but here in NY they're more expensive than Verizon so that's unfortunate.

Aw hell, I knew this was gonna happen. Time to drop my VZ lines in turn for ATT. Problem is they don't care, they know the WP fans are just a blip on the map. They'd rather just sell iPhones.

Quite an interesting read (both the article and comments) and these relationships with carriers do say a lot about the sore state of Windows Phone in the US compared to Europe! For instance, over here​ too, sales representatives will push for Android or iPhone (even if things are improving) but Windows Phone still weights for 13+% in my country (iOS at 15%) and 11% in the EU5 (Europe's five biggest markets)... Moreover, these low marketshares in the US does impact sales in the old continent too. ​Anyway, if I'm not mistaken, a few years ago carriers wanted a third platform to compete against Android and the iPhone and now they are happy with just two? Maybe US carriers need more... 'incentives' from the regulators...

Will WiFi calling work on AT&T with the 950 XL when purchased unlocked? Seems like no?

Ahh CDMA the pinnacle of yesterday's tech for the phones of tomorrow! For once I am happy to be living in Yurp.

I am not familiar with the telecommunications laws in the US. But is it legal for a carrier to block a particular phone model even if the phone supports their network technically? I think every company has the right to produce phone. As long as it meets certain standards of mobile technologies, the unlocked phone should be used on any carrier. It's ultimately the choice of users. It is the users who choose their favourite carrier but not the carrier choosing their users, right?

It's time we express our comments to Verizon tweeter..

I left Verizon long ago due to their lack of phones.. They are always last to get the latest phones.... Haven't looked back since...

From a business standpoint, you can't blame any carrier for not wanting to carry windows phones when they are not really in demand. As such, it is not even a big issue for Microsoft, they are no way expecting to drive mass market with 1st party hardware, from now on it is a slow uphill battle to wait for developers and other OEMs support for the platform, until then Microsoft will keep on refining software and using their 1st party hardware as a showcase. But it surely is a problem for windows fans on Verizon or lack of support on top four carriers. They maybe few but they have rights since switching carriers is not as easy as it sounds. Maybe FCC should do something about it to standardize the radios and activation processes. Even that seems a long way off since Verizon is the largest carrier, they must have a pretty strong lobbying of their own. As for T mobile, I just think they are trying to save some grace for themselves by blaming Microsoft, they are as much interested in these phones as Verizon is.

Business standpoint? A monthly fee is a monthly fee, u support more phones, you collect more fees... If iphone brings in 10million, android 15million and windows phone 2million, 27 million dollars is still more than $25 in profits...

There is a cost associated with getting devices with a not well known OS to the mass market. Staff need to be trained about Window 10 Mobile devices when customers ask questions, marketing costs to create demand, hiring more tech ppl keep to track and add new WP devices to their ok list, inventory space value also needs to be accounted when compared to well established players which dont need much marketing to do well. It's going to be an uphill battle for MS, but I like more competition as consumers win for the most part (assuming MS doesnt pull out and burn fans again). I don't mean to be negative, but MS's history on mobile has not been the best due to multiple framwork rewrites...

I'm brazilian, but I'm really frustated to Verizon! If a company tried to rule my life like that, I won't think too much. I'd left it, certainly! That's what I did to Google since that episode involving Windows Phone's Youtube app. Now my Gmail is only useful to keep spams.

Verizon is just plain evil. This is such a ridiculously stupid move.

I just left AT&T and took my phones over to cricket. I lost some features but still on a strong network because Cricket is owned by AT&T. I have actually been pleased with the service and especially the cost. It will cost me more of course to purchase one of the 950's but in the long run its worth it. I wouldn't ever want to be on a Verizon network.

Verizon is clearly making a push to not support Windows Phone, and it makes me angry

Well I'm not leaving Verizon... I'll just got my iPhone after waiting on app developer's to update or release apps for Windows phone... I don't like my iPhone and I do miss the how easily I was able to do things on my Windows phone without leaving one app and jumping into another like I am doing now with my iPhone, but the lack of updated apps and Snapchat made me move to a iOS so I could enjoy what my friends are already enjoying.... Well this maybe the end for windows phone mobile,but it was one hell of a ride... I did enjoy it while it lasted...... And as for Windo10 for phone damn this new release is amazing and y'all will love it!!!!... As the my wife also gets the new iPhone next week, this family as far as mobile phones goes, will be iOS..... Thanks MS

Goodbye Verizon, I will get the Lumia 950xl

It was clear to me this is Verizon's fault but if you look at the AdDuplex stats, Verizon users don't really want high end Windows Phones. If the Icon was selling a lot more, both Verizon and Microsoft would have made an effort to get the new phones on that network

How can a lot more sell if they (verizon) aren't promoting it.

-5 As in, five lines leaving Verizon. I went to a Verizon store one time to get a screen protector for my icon. I am as passive as they come, but the manager was such a jerk I was yelling at the guy (after he greeted me and then left me waiting for 25 minutes while he pranced around the iPhone customers). The "costumed" security guy was sort of eyeballing me. Grr. Good riddance.

You know, I will be REALLY glad when all the dust settles on this one. It's all becoming so very "he said/she said". And I am not astute enough on the tech geekerie of mobile antennas to be able to sort through the mullarky on my own! When this whole situation first broke, I was so upset that I was making noise about not following Windows anymore. But now that I've had time to calm down, I'm not giving up on Microsoft. They still have by far the most compelling "vision" of the three, and some seriously killer products - probably the coolest of the bunch! However, I am on Verizon, and for "too-long-to-get-into" / "available-upon-request" reasons, I'm not leaving them anytime soon. So what this HAS done for me is to defer the whole Windows Phone thing for at least (and hopefully no more than) one more round. Gotta sit this one out, folks! I'll use the meantime to double down on Android with a Nexus 6p, Pixel C, and Nexus TV for 1st party, and Shield TV (or handheld if they release the new one) and JiDe Remix mini desktop for 3rd party. I'm already doubled down on Apple with a Mac, an iPad, and this iPhone. I may or may not ever mess around with watches, but I probably will get an Apple TV. I need a new Mac as mine is approaching the viability threshold, but that can probably wait for another year or two if it has to, and probably will. So that'd leave me all freed up to focus my entire attention afterwards on Windows stuff. A serious gaming PC (I already have XBoxOne, and 360, and heck, the ORIGINAL XBox, but no PCs that even begin to approach gamer classification) a REAL Surface, rather than the cheapie Nextbook Flexx 11 I'm currently using to "simulate" / "approximate" one....and of course - once Microsoft and Verizon can play nice, the crown jewel of it all: Windows Phone, by then, maybe "Surface Phone". Who knows? I've decided I'm willing to wait. I'll be ready for them when they're ready for me. But wait I shall. I'm not gonna do something radical, and turn my whole digital life upside down just for a phone that would only be one of three for me. So I'll keep my fingers to the pulse, and will be quite happy when "action day" finally does come! Meanwhile, let's all start making a serious stink to Verizon customer service over the matter - yes, even you non-Verizon peeps! The more people using these things the better it'll motivate the devs to close the app gap, and VZW accounts for about a whopping 50% of us US users. So this thing matters to every Windows lover, not just VZW customers. Cheers!

This is illegal. Microsoft just has to sue them or assist fans with a class action lawsuit. You now legally have to support an unlocked device if it supports your network. You can't just block things based off corporate politics. Glad my Verizon contract is up. I'll make sure to tell the supervisor to expect legal action at some point over this:) Posted via the Windows Central App for Android

I left Verizon last year. I was tired of getting the smart ass smirk whenever I went into a store And they asked what phone I had. They hate Windows phone And it's always been evident from the top down in that company. I was done waiting for updates and new hardware. Went to ATT And got my 1520 and, like most, never looked back. I travel and lack of coverage has not been a problem. That's yesterday's news. Networks have all grown past the "can you hear me now?" days. I hope Windows 10 and the ensuing hardware catches on like wildfire and makes Verizon MIS out on potential business. Great or small, a customer is a customer And it doesn't take long to fall from the top. If ATT and other GSM have exclusive to Microsoft products when a Surface phone comes out... Oh, I'd like to see how Verizon justifies that.

Ha..feel even better about our move away from VZW when the 920 came out. Gave up unlimited data, but truth is haven't missed it at all. Have been enjoying a much better selection of WP on ATT.

When I see how ridiculous this carrier story in the US is, I am really glad I live in Brazil...

Don't get me started on Brazilian carriers. Went to pay an old phone bill at the Vivo store in Brasilia Shopping and they told me I had to pay the bill somewhere else, I asked where and they said the nearest place was the suit shop a few doors down, so I said, "Right, so I need to go to the suit shop over there to pay my phone bill with your company?" Such terrible prices for "4G" in Brasilia.

I only love my Verizon service at this point because of the fact that I still unlimited, unthrottled data. And I can tether it to my Surface Pro 3, but this really blows that I can't get the new Lumia phones!

Damn too bad! But understandable!

This is the problem with continuum people will use more internet and will slow theirs network

Can't believe people use Verizon! I mean I understand if that's the only service where you live but other then dat I dnt know. Apple and Verizon are 2 cocky, arrogant, over charging companies. I left both years ago and I advise you to do the same

verizon sucks. everyone should dump them. even if you aren't buying a 950

I'm not surprised at all. The only way Verizon and Sprint are going to change their minds is if the new W10M devices sell like iphones or Galaxy devices. If not, all the switching and whining in the world isn't going to change a thing.

I am on a monthly plan on Verizon and if it is I get the same package at AT&T $55.00 a month, 2G, unlimited I am leaving Verizon.

#verizonsucks What a load of horse shit!!

I give a belated apology to the U.S. Lumia marketing team. I guess I never figure a carrier would want such overwhelming power and control over someone else's phone. Verizon has no place to go but down!

No one here should care, this is two giant corporation battling with each other. We should care when we learn a carrier (T-Mobile) wants to carry something and Microsoft didn't even try or simply don't want them to carry the phone, that a bigger problem. Posted via Spaceship One

Maybe They are scared about continuum because it will use a lot of internet bandwidth if people use the of as a desktop.

Surely that would be a good thing for them since they can just charge customers more money for using more data....

Here is the sad thing about this. The new 950 and 950XL and great phones. I went to see them at the Microsoft store and I was very pleased with the product. Unfortunately, they are dead before launch. It's truly a shame. They have gained so much momentum with W10 and have done such a great job with the devices. I would love to see this phone and have this phone but they are dead. I can't wait until my contract with Verizon is over.

I am a software engineer working in an Indian MNC. My client is AT&T. What I have seen is that the company is trying really hard to provide best services. Acquiring of Direct TV etc prove the same. Go for AT&T. They are more positive minded when it comes to competitions.
Note haters blow me away and others enjoy the services. ;-) Posted via the Windows Central App for Android

Sick and tired of all this crap.

If I can get the XL on ATT it may be time for a switch. I gave up my unlimited data about a year ago for a price subsidy on a Note 4 and I hate this phone. I hate Android. WP10 with a Continuum adaptor is in my future. Posted via the Windows Central App for Android

Lumia 735 deserved MUCH more in the US. I'm totally with MS in this situation.

You entitlement types crack me up. :) Where is it written that a carrier MUST cater to your silly asses? It's not like anyone is denying you phone service or other choices. There are other options. No need to get big daddy "FTC" or any other part of the government to make your decisions for you. All this because Thurott and Foley stuttered a few phrases. Now the sky is falling. (Watch it again... even they wonder what the hell they're talking about). The bottom line is... NOBODY of any consequence wants a Windows Phone. Why should any government entity be "forced" to work with it? And yes... I left the clutches of Verizon a long time ago for other reasons. Me and my unlocked 640 are doing just fine with Cricket (AT&T).

It follows that someone with a 640 on cricket is of no consequence. Welcome to the club. Schmuck.

Haha, Schmuck. My thoughts exactly.

Windows phone has a feature call "Workspace". Features are for security and antivirus:
1. Disable unnecessary apps.
2. Correct personal information.
3. Disable unnecessary features.
4. Prevent resetting. That of cause need operation department to process the work. For this require budget from enterprise out government.

That's why I love to live in Europe. We get all the phones.works on all carriers. Posted via the Windows Central App for Android

Telecoms strike again. Wouldn't surprise me if Apple had input on this decision. Not as if the 950 is a threat to the 6s, just for the sake of keeping verizon under their boot.

Reading all of this from a European perspective is mind boggling... We have none of these issues with our carriers, even across national borders! I simply don't understand why you put up with it?!?

Verizon's CDMA is 2G EV-DO. AT&T and T-Mobile is WCDMA which is 3G but can be 2G also. WCDMA is newer technology and faster speed with internet and email. There's also other services that CDMA doesn't have. The "W" of WCDMA actually stands for Wideband.

At&T and T-Mobile network band and MHz are different between them also. T-Mobile LTE is worldwide compatible as At&T is not. Lumia 950 and 950XL have some different with band & MHz. One of them cover both companies' network or worldwide LTE. There other can cover only one.

Verizon greedy iPhone ass licker!!

Another US carriers / networks troubles.
Here in France we don't have those and I'm glad to realize that.
Most of the time the users buy a phone unlocked in a classic shop / supermarket / internet and you can choose your carrier freely, without any minimum of months of contract at a cheap price.
You can change whenever you want your carrier and keep your phone number as you wish.
We are no longer carrier dependant as we were in the past.
The US are still in this old business model and don't want to change the rules because they don't want to lose their big money.
The US need another operator to break the rules!

Switched a long time ago to AT&T because Verizon sucks at WP. 920 to now. Suck it Verizon.

Sounds like a arse move on Verizon's part then

No one well at least me personally dont care at all. We all know Verizon doesnt push to sale any Windows Phone they have or ever had. I have sold 2 year Contracts and Device Payment Contracts plans and very seldom they marketed or promoted any Windows devices. Verizon only cares about top selling smartphones, devices, wearables and tablets. Typically Samsung, LG, iPhone and Motorola. AT&T has always sold Windows Phone devices through their mother and subsidiary companies. While Verizon still had other manufactures like Sony and HTC Verizon still catered to the top 3 manufacturers. AT&T has been and always will have open hands with Lumia devices by Nokia and Microsoft. Example the Lumia 640 and 640 XL only found at AT&T first until shortly after for prepaid and subsidiary carriers. Even other manufactures like Sony, ZTE, Blackberry,etc. But no one thought before bashing AT&T and Microsoft think to consider maybe the following. - Microsoft Lumia 955 or 952
- Microsoft Lumia 955 XL or 952 XL
- Timed Exclusive PEOPLE and consumers can rant about Verizon but im 100% certain being a former Verizon, AT&T and Sprint Sales associate its all about the contract, market and sales. "Verizon want whats hot and common" thats it. Microsoft can consider the optional Lumia versions like prior Lumia devices.

Only in the US u have sh*t like this, why don't they just go with the standards like the rest of the world. They are so high and mighty and still use outdated CDMA and even metric systems and AM/PM lol. Wake up and join the rest of the world and UNITE.

Well it's murica! If they're wrong they keep doing wrong thing until it's right! :D

Funny these american phone companies :D in Finland "unlocked" phone as they sell them in stores works with whatever finnish phone company.

I guess this is a good reason why Windows mobile will never take off in the Usa and probably also the reason why its relatively popular in europe. In europe we can buy any Phone we like and it will work on All providers throughout the entire continent. We can switch phones any moment and we are not locked in by Phone companies or manufacturers. This sheds an entirely different light on the chance of Windows mobile ever becoming a success in the USA. If i were microsoft I would give up on that market and focus on meeting the needs of non usa Windows Phone users. That is a huge market and both ios and android are all USA centered. Use this opportunity to open up this markets rather than keep flogging the dead horse of the us-market.

I disagree, i don't understand why ms as all those antitrust problems while apple and google not..... I guess there is a lot of corruption in Usa and law Close eyes on such things Also here in european (ridicolous) uninon ms faced a lot of untotrust rules, but governments seems to Close their eyes now with google... It seems again that law is not the same for everyone and this is what we call mafia

The carrier system shouldn't be at all. Citizens of USA should protest against this system.

Usa citizens should do severe class Action against carriers mafia

Tomorrow in USA you can drive your car if it's a bmw, but not a Toyota This is the point It's simply absurd in 2015

Left Verizon for cricket 5 months ago and haven't looked back. I saw the writing on the wall, Verizon is hostile towards windows phone. No true WP fan should stay on vzw after this.

How the hell can a shit company like Verizon be in the market again after all the scandals ??? Are you mad to go them money ? Aren t other providers in us....?

Denying its customers to use handsets of their own choice!!!!! aha-a! here you pay 100% (no any subsidy) for any handset of your choice on any network of your choice without any hiccup. its only your pocket which limits you.

I feel real sorry for my US brothers and sisters. You often pay less for your device but pay much more for data. I live in Germany and because of the population density I have the choice of many providers. I go prepaid and have a fate rate data only plan that cost my only €4 a month. Because its prepaid I have no contract and can walk any time. I very seldom phone but that cost 9 cents a minute. you guys are getting ripped off in so many ways. The FCC should step in and force them to carry any unlocked phone.

I left Verizon when Windows Phone 7 came out. Not only did they have no phones, but I was sick of dealing with their employees. I ran Windows Mobile prior and every I would get a new phone, they would basically call me stupid, telling me I didn't know what I was doing and that I should get something different. They did this every time. I even considered going back but they did the same thing when I mentioned my interest in Windows Phone. Meanwhile, the customer service that I get with T-Mobile is excellent. They treat me with respect. While I'm disappointed that T-Mobile won't carry the 950XL any time soon, I'm glad that I can get one unlocked and they're more than happy to support me in that.

Thank god I don't live in the US. Rocking my Swisscom with unlimited data, sms and call within Switzerland

I don't live in the US but I hate Verizon and told them so on there FB page of course they get to review all posting before being posted but at least someone got the message

Same here, I'm so done with Verizons baby ass shir

Such practice would be illegal in the UK under competition laws, any phone sold unlocked in the EU must be compatible with all networks, carriers cannot block any model of phone from working.

I said this on WMPU's article, the government needs to break the backs of these wireless carriers the way they did the Bell System in '84. They have too much control over consumer choice. We should get what we want, when we want, where we want, we're the ones giving them our money after all.

And before anyone says it's not the government's responsibility, they are supposed to be working on behalf of the people they represent, not the corporations, so yeah, it should be their responsibility.

This is one reason why im happy i dont live in U.S. But i do hope all Windows Mobile users find a way to get a phone working with W10 mobile on-board.

I'm not in the US. Can someone tell me whether there is any big advantage of using Verizon? If not, why is it a big deal they block the 950? Just use the other carriers...

We just switched 300 corporate phones because of this. Join us.

I love my 640. With there great support for micro SD cards I might not go back to android.

Why would anyone want cdma its way outdated...

So Daniel what about Telus? Does this apply to them as well?

Has anyone thought that Verizon's issues with the 950 and 950XL might have to do with the DUAL SIM configuration? No US carrier offers a phone with dual SIM, yet they are abundant internationally. I'm thinking Verizon doesn't want an AT&T SIM in the same phone next to a Verizon SIM. That would allow the customer to ACTUALLY COMPARE service quality, which probably scare the crap out of the carriers! Anyone ditching Verizon for AT&T will be finally able to enjoy great prices, the ability to use data while on a call, and DUAL SIM's!!

Props to At&t on this. They are uber slow at rolling out updates, but they carry products. Verizon can you hear me now? You are a sketchy company.

Verizon is such a laughing stock!

ATT and Cricket are best if you have a chubby.

I talked with a couple reps in both of the AT&T stores in my area and they said they'll be carrying both the 950 and 950XL.

Other then Apple; nobody controls Verizon power to punish phone manufacturers! Apple has it own stores that take Verizon's influence away! People go to Apple to get problems resolve and learn how tos from Apple Genius! Verizon does not have such service or personnel! They are the second choice if their want iPhone!

I will be leaving Verizon.

GOODBYE Verizon.... as you are fool we are leaving... soon you will not be the first OPERATOR... ATT and others are serving better... GOODBYE!

Everyday i thank God i am an europen and i do not need to be an idiot, to buy a phone.... That's all i have to say...!

If true, yet another example of corporate pettiness, to the detriment of customers. Maybe MS should advertise this blockage. If nothing else, people would be curious.

I think America is not a democratic country where people can't buy phones they like coz of operators

Now what? The sad reality is that this might very well be the end of it unless users magically leave Verizon for AT&T in droves to get the Lumia phones. I don't see that happen. I will get the 950 and I hope that those phones will do great outside of the US. But it seems to me that the US market died for Windows Mobile...

Seriously, I am so glad I don't live in the US. In Europe such practices are against the law. No carrier can block any device from registering in the network, so you can use any device produced at any time in the history of mobile telephony.

I wasn't familiar with the different phone network technologies until I decided to leave Sprint 4 yrs ago. I had a LG Lotus feature phone that I loved, but it was CDMA locked to Sprint and couldn't even be ported to their prepaid Boost service. I bought a cheap phone and did a prepaid with TMo for a month or two, but the coverage in metro Orange County Calif was sporadic. I couldn't even make a call inside my house. Then I switched to prepaid ATT for a few months to make sure I'd have coverage where I need it. ATT works well for me so I signed up, got my Lumia 920 and then 2 more 920s for my daughter and husband. They bumped our data from 1 GB to 10 GB with no additional charge, and since we're all running on Wifi for data most of the time, we've never gone over the limit. The only time we've used more than 3 GB is when my daughter and I took a 10-day road trip, tethered my ASUS Eeebook to watch 2 hrs of Netflix every evening and her laptop for 3-4 hrs of Steam gaming. ATT has been great. If you want to go contract and need multiple lines, watch for their periodic deals. First line is at a premium, but additional lines are about usually $15/ea. GSM vs. CDMA? No brainer.

I cannot believe Microsoft didn't just make these phones support everything like the iPhone and just put it on every Network. Such an idiotic move from Microsoft that'll only cost them sales, Verizon and Sprint people will have to wait until next year I'm guess and there will be two versions of their phones which isn't good for consumers if they want to switch at a later date.

Ex devices MS VP Mr Elop had Nokia make special smart phones for Verizon like the Nokia Lumia 822, 928, 735 and the icon. maybe Verizon wants a special Microsoft Lumia flagship made for them. once they get that we will see a Verizon 955 which will be a 950 in a differrent case. if Verizon does get a special variation of the MS 950. a verizon windows smart phone fan had better and buy it fast because verizon may not keep it in stock very long

If a carrier blocks the ability for me to use a device of my choosing on their network. Then they're not worth my time, or money. Anytime somebody asks me what device they should use, I tell them to buy what you're comfortable with. Don't let a salesman tell you otherwise. Posted via the Windows Central App for Android

I am such a fan of WP I don't care which carrier has it or why. Currently have an Icon on Verizon and as soon as the 950 is available I'm buying it from the MSFT store and activating it through ATT or whoever. Verizon's half hearted efforts on behalf of the Icon leads me to believe they would not be an ideal partner for WP anyway. Where the Lumias go, there go I.

You'd be more likely to see an Amish family driving around in a new Cadillac talking on WP's than Verizon is to support WP.!!Hey Verizon getting crap phones just so you can keep telling your customers you support a platform is bs. Stop lying to yourselves & everyone else . IT IS NOT SUPPORT when you get a crap phone just so you can lie & say WE TOLD YOU WE CARED ABOUT YOU.

I just can't believe this...I really don't want to have to get an IPhone or an android

Verizon is known to exert excessive control on the handsets they allow on their network. I'm not surprised and always assumed it to be the reason why they were not on-board. They only want what they think a phone should be like on their network. While it is their right to decline equipment that does not meet their needs, it would be quite foolish to do so while evoking the wrath of their customers. Then again...."wrath" could be an overstatement of the consumer reaction to their actions.

Forget net neutrality, we need cellular neutrality. The cell phone companies need to get out of the hardware business. They need to only sell their services. Then, and only then, will they attempt to welcome any and all phone hardware.

Verizon solidifies itself again as the carrier with the worst phone selection. I left them years ago and never looked back (at their old phones).

Regardless of who you place the blame on for Verizon blocking the phone (Maybe Verizon just hates windows phones I don't know) but, it does make the decision to skip the 950XL an easy one for me. Maybe next year when you launch the Surface phone I'll jump in.