Verizon Touch Pro: Out of Stock, Out of Memory?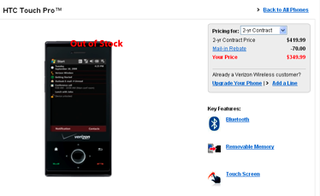 Aram pinged us to let us know that the Verizon Touch Pro is already out of stock at the Verizon Wireless site and sure enough, that looks to be the case (opens in new tab). Strangely it seems to be showing as available for certain zip codes (like WMExperts home town of Inverness, FL) while it's definitely listed as out of stock in others (like Boston, MA).
Is it out of stock for you? Bottom line: if you were assuming you'd be able to wait until Black Friday to pick up a Verizon Touch Pro, assume no more. They appear to be flying off the shelves.
One side note: it does seem pretty clear that the Verizon Touch Pro has 192mb of RAM, not the 128 listed on the specs page at Verizon. wmpoweruser brings the screenshot with the proof and it looks like TouchFlo 3D leaves a paltry 45mb of Program Memory free after a reset. Verizon Touch Pro: Out of Stock in some places and apparently likely to be Out of Memory quite often.
Thanks, Aram!
Windows Central Newsletter
Get the best of Windows Central in your inbox, every day!