Verizon Trophy now $99 on Newegg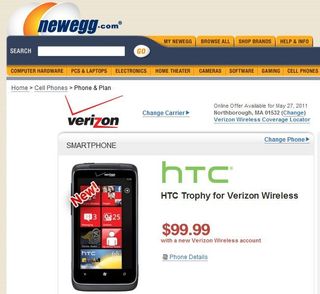 The Verizon HTC Trophy has made its way on to Newegg. Customers looking to renew their contract or open up a new line of service can get it for a measley $99.99. If you want to purchase without a contract it will run you $489.99. Free shipping via FedEx is included.
Source: NewEgg; Thanks go out to Thomas-Moffitt Stage for the tip!
the Trophy is also $99 on Amazon Wireless

Yeah, and according to the earlier posted article, if we wait till Monday, we can take advantage of that $25 Amazon gift card promo.

Sure would be nice to see some better off-contract prices ...

$429 (or $419) at Verizon. That's the beat you are going to see. Got my Surround from AT&T for $399 off contract (regular $499) which included a $100 loyalty discount. Maybe you need to ask. Can't hurt.

welcome to our website:------- http://www.chic-goods.com/ --------if you like to order anything you like.More details,please just browse our website Quality is our Dignity;Service is our Lift.enjoy yourself.thank you!!------- http://www.chic-goods.com/ -----
Windows Central Newsletter
Thank you for signing up to Windows Central. You will receive a verification email shortly.
There was a problem. Please refresh the page and try again.