Viber for Windows 10 Mobile starts rolling out to beta testers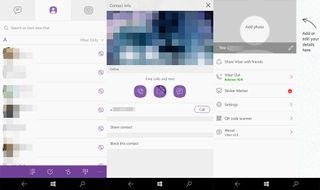 Viber has started making the Windows 10 Mobile version of its popular messaging app available for beta testers who previously signed up to try it out.
Members of the Windows Central forums have reported receiving the new Viber app, which has the version number of 6.0. They also report that some features, such as video calling, are not yet implemented in this beta build. One forum member, "maya77" included a screenshot of Viber 6.0.
Another Viber tester in the forums, "Replicant01", stated:
It appears that the beta version is just for Windows 10 Mobile; Viber has yet to make the app available for Windows 10 PC testers. The company said it would release a universal app for both platforms a year ago.
Thanks again to our forum members for the tips!
I applied for beta but didnt get any email.. Store link plz :/

The Viber Beta it's only available for registered users who register for Viber Beta Program. So who didn't registered to beta program, you cannot see any update in store .

Ok so they updated the existing app?

Absolutely, it's the same Store ID of Viber for Windows Phone.

I also did register on their closed group but didn't get any email either so the other person above must have applies too. Maybe there was only a selected number of spots available Posted via the Windows Central App for Android

No email was sent. If you were able to sign up through the registration form, all you need to do is update the app on the Windows store.

Same way i did and got the update yesterday evening. Windows Central app for Windows 10 on mobile on Lumia 830

WhatsApp, Spotify should go UWP.

Rumors are WhatsApp is working on windows and osx apps. Sent from an alien space ship with a Lumia 950

Those are desktop apps.. Not UWP

No you don't know what they are. Sent from an alien space ship with a Lumia 950

The UI look pretty decent....

Awesome. I use Viber daily!

Nice.. Hope they add video calling on official release.

Sometime in future or in next 1 or 2 updates will be available video call support.

Just out of curiosity, who uses Viber? I've never known anyone that uses it.

I've never seen anybody user it either.

a lot people, in Europe and japan Posted from Windows Central for Windows 10

+ People use both Viber and Whatsapp here but mostly Viber.

In Europe Viber is really strong . I personaly know nobody who would use whatsapp.

My group of friends and family use it every day

Viber is very popular all over Europe and Asia. I use or daily I'm in the UK as do my friends. I also communicate with friends who are in European countries or countries in Asia to talk and message them. Posted via the Windows Central App for Android

I even applied for the beta testing program but i didn't got any email same here ankit gondalia bro

You wont get email directly download from store and you should get a beta build.Thats how I got it

All of is who registered to Viber Beta Program (including me too) didn't received email.

Actually, Viber team communicated the new build and Store link on Facebook group called "Windows Phone Beta Tester". I joined since last year. Sadly, I didn't sign-up UWP version. So, I can't get it.

Looks Super Cool....thanks viber

I sent in a tip about this yesterday and I also mentioned that viber contacts are integrated into the People Hub app, so you can call directly from a contact in the People Hub app, as opposed to having to open Viber to call someone.
​You alse see missed calls and outgoing/incoming calls in the Phone App feed. The app is looking great and much snappier.

How can I download the beta app

About time ! Btw looks beautiful on those screens, uncomparable to that current junk we have.

Also hope they include "Quick replies" and the ability to share files !

The store listing for the non mobile build has been updated as well. Says built for windows 10 with new pc screenshots. Still the same crappy nom existent app when you open it though

Viber said that there's a problem with Store that can't push update to PC/Tablet (for now). They are contacting to Microsoft to fix that.

This is one of the most fluid apps I have ever seen. Kudos indeed to the devs, especially with respect to the People app integration. It's also a very pretty app, and on my 950 XL with scaling set to lowest, it gets a tablet/desktop like interface which is quite slick. The new app is indeed so much better than the old one. Also, I had signed up for the beta but did not get any updates in the Store until I realized that I had the old WP8.1 Viber Beta installed, while the updated one is the actual Viber app. Send from Bikini Bottom via my ShellPhone 950 XL

If only WhatsApp had a total redesign as a UWP app.

I would love it off WhatsApp releases a Windows 10 app

Wait, are we still able to apply? I'm not sure if I did or not. Can't find a form or anything. Sent from Narnia

How it possible to register for Viber Beta Program? I cannot find this option.

how to get into the beta testing?

I don't understand how this is taking so long when they had a perfectly working WP8 app.

Why are people still hanging on to this failed WP platform, makes no logical sense. Posted via the Windows Central App for Android

Hey, guys! Just wanted to chime in here and let you know how excited we all are here at Viber for the upcoming release for Windows 10. If you didn't register for the beta before registration closed then we won't be able to add you, but market release is coming very soon. It has been a real challenge developing from scratch but our team has been going at it for over a year now and we're looking forward to getting it to you! -Sarah, Viber beta team

Good luck Posted via the Windows Central App for Android

Please give us a release date for new app. Cant wait, the old one is a nightmare, especially when all my contacts use viber on android or IOS and expect the same response from me.

app works nice but speaker/bluetooth functionality does not work properly. And in the first realese of the beta app you have audio video settings but in later realeases it was removed. This menu allowed to get around teh no speaker/bluetooth bug and should be kept in the public release of the app. Also idk why the app speaker and bluetooth buttons within calls arent working but i have uninstalled reinstalled and tried it on both a stable build of windows 10 and the redstone preivew build. it does not work at all.

Can someone give me the link where I can register for Viber Beta program?

I don't think they allow new testers now..i searched but no luck ...just have to wait

Please add to store for everyone test

today i recived an update and now we can use video call facility with viber Windows mobile 10

Any news when will they release it for update for the rest of us

the funny thing is the viber says build for windows 10 and stuff xD on pc but will still download the old version that sends you to their link for the app previus desktop app :3
Cant w8 to see it on phone and pc tho :D since if i remember we willl get a new mobile for windows 10 too

For those who want new Viber now - folow THIS simple guide

Placed my post in wrong thread. Moved HERE.
Windows Central Newsletter
Thank you for signing up to Windows Central. You will receive a verification email shortly.
There was a problem. Please refresh the page and try again.