Video reportedly shows Xiaomi Mi 4 running on Windows 10 for phone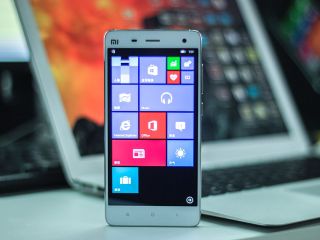 A recently uncovered video shows a Xiaomi Mi 4 smartphone running on Windows 10 for phone during the 2015 WinHEC hardware conference held in China in March.
Microsoft and Xiaomi first announced their plans to offer a select group of Chinese Mi 4 owners a way to flash their Android-based phones with the new Windows 10 for phones operating system during WinHEC. This new Xiaomi-branded video, narrated in Chinese, shows the OS running on the smartphone, including running its versions of Office, the Windows Phone Store and more.
Neither Microsoft nor Xiaomi have revealed when this experimental program will begin, but if it is successful we could see more Android-based smartphones flashed to run Windows 10 for phones in the future.
Some more images of the Mi 4 running Windows 10 were posted a few days ago in the Xiaomi forums, sourced below.
Source: Xiaomi forums; Via: Windowsblogitalia
Looks lame on a totally non-unique android.

Agreed. And do the hardware buttons work accordingly..?

There's a mapping setting, I forget where I read that though :(

MSFT is desperate to get android users to use WP... instead of these tricks ... talks to community why we prefer android over WP

Easy, apps. Nothing more.

True story. If the app support was equal on Windows Phone it would make it a much easier sell and harder to leave.

Plus that Microsoft initially missed the boat. Everyone already made a choice between Android and iOs and many people are reluctant to change, especially when their current OS fits their needs.

Android counts more years of development, but WP made larger steps in order to cope with IOS and Android. It is just that simple! There is little distance between 3 OSes,and WP is not #3. Plus that, more and more wideky used apps are coming to WP, so, peope must find other excuses or reasins not to prefer WP...

I want one for my oneplus one Posted via the Windows Central App for Android on my Oneplus One

That's 8.1, nothing I see resembles 10 at all.

Thousand of Droids would be defeated in a 'flash'.

Amazing pun. But thousands wouldn't affect the over 1 billion active devices. Posted via the Windows Central App for Android

Meh, while a billion is huge, 70% of those are through aways and the vast majority install less than 7 apps from the millions in the store. As well in a year windows has the potential to push 1.5billion devices with win10upgrade free. So things will get very interesting. Does windows want those hundreds of millions of throw away devices? Yes but not for hardware, for software services.

But its not running windows 10. Is it?

8.1 Update 1
Who has made WP 10..?

You can see the keyboard in the messaging app has the new nub/pointer.

The title specifically says that its running Windows 10

Not the final Windows 10, it is only the same build that some people has,.

If we have to be guessing if he's using wp8 or w10...it's not a good sign of change.

It looks.... the same as wp8

And how does it get me missing apps?

Glad to see you starting to ask questions, and raise good points...
.......
Everything isn't peaches and cream around here, and issues need to be addressed...

WP MarketShare by 2016=15%max
WP MarketShare by 2017=25%max

Those are extremely moderate estimates... That's looking at the glass overflowing❗
.....
If WP was looking at those kinds of numbers in that amount of time, MS would be doing really good.... So good that at that rate the world would take notice, and WP would continue to grow exponentially off pure popularity, and being the next big thing, alone.... Marketing wouldn't even be as critical at that point because word of mouth, and perception would sell devices all by themselves, and the people will follow... A 10% increase in market share in the next 8 months would be extraordinary, remarkable, game changing...
.......
It's wishful thinking, but man would it be awesome..... Do you know how many times I would say "I told you so" in 2017❓

Hey if we're just making up numbers let's say 137% by October 2015

@NIST
Atleast our made up numbers make sense. 137%....?
Ye smoking or drinking....?

Agreed. If WP gets going it goes on going.

Because it is only the tehnical preview and not the final build?

That's actually a good thing though. W10 looks like ass.

I feel like letting android users put in like a temporary license of WP would really be a good thing. Give them the chance to try it. I believe anyone that would flash their phone would be interested in giving this a shot, as long as there is no cost other than a little time.

But then they wouldn't be able to access the Google Play store and notice that a lot of the apps they used are no longer available. Then back to Android they go.

I miss exactly one app. I fell like I'm pretty much a power user. The ones that truly feel the crunch of the "app-gap" are the ones that care if they can't play clash of clans or something else goofy and can't be bothered to find a 3rd party alternative.

It doesn't bother you that our version of most apps have less features or in some cases just suck.

I don't live in apps, my android bank app is a web wrapper joke. I don't play to many games I have an Xbox and PC to do that work, spending upwards of hundreds on clash of clans does not sound appealing at all. I rather pay 20 for a game and be done with it. As well I have over 150 apps well beyond vast majority of android users. The, facebook post and reads, 6tah does the same, my Xbox music app has over 5k songs synced, my one drive has 300gb of movies on it for playing on all my devices including phone. The biggest one I get for customers is their bank of choice not there. Or some games. Do I want more? Of course.

What is it with you and Clash of Clans?

"I don't live in apps..." Then you proceed to tell me you have" over 150 apps well beyond vast majority of Android users". SMH. How did you get here?

Whatsapp voice call...snapchat...non beta instagram...and many more plus lack of features in all apps compared to android...it's not just games.

whats with these kids and whatsapp calling ?? I think its about having way too much free time ...lol

Windows 10 for phones is locked up and won't support dual boot and "test driving". It's permanent

Might be the opportunity to get the higher end hardware a lot of people are screaming about for Windows Phone.

Why its slow ?
The mi4 specs is awesome , and there is some lag :/

Because... Idk... Maybe its a... Alpha? Maybe...

Unfinished software will result in heating , lagging or some other problems in phone

The lag you see in this video is caused by the video's framerate, not the phone.. You can clearly see the video isn't even recorded in 30fps so i don't believe the video material is something you can rely on when looking at the performance of the os on such a powerful device.

Have you used the preview of W10 yet? Because it's pretty slow and horrible on my phone.

It is not supposed to be "fast" and bug-free, it is an alpha build.

They better hurry up...not much time left.

It's no Lumia, so pass for me :P but good to see. Hopefully they will support better than HTC and Samsung crap.

Samsung is only doing it to save on licensing fee to Microsoft.

Yeah, because for Samsung, it is cheaper to make a few Samsung phones with Windows than pay royalties to Microsoft.

Haven't seen a Samsung WP over a year.

touch doesn't seem so smooth.

Alpha ROM Posted via the Windows Central App for Android

I already ordered a galaxy s6 edge, if android still sucks I'm flashing that bad boy.

They're not gonna flash WP to it because of the edge screen thing

Does the S6 have unlocked boatloader? If not that I think would stop any chance of flashing WP.

That's not windows 10.....

Of course not, it is Windows 10 technical preview.

Shouldn't the title say windows 10 running in Mi4 and not the other way around?

Yes it should be! But... Oh well the title is obvious enough to understand it... ;-)

I think the title is appropriate, cuz without an OS, phone won't have anything to run on :P

The 'on' just needs removing.

i can now picture Google telling OEMs that they cannot include Google services if they even consider allowing this...

Gud for MS then. Everyone will use their services

Sadly, yes. It is W10 although in technical preview build

Too bad my 1020 can't yet.

For me the oem matters too. Lumia is always the best windows phone. Now only if htc makes mid range windows phones then it may be good for Windows phones growth. The quality of Windows phone shouldn't degrade. Devices like htc, Lumia or Sony xperia devices are the best where windows phone can excel as the OEMs have good hardware

Looks like WP7... NOT Win10...

Because Windows 10 is in developing.

"Great".... My Lumia 930 can't.... I've bought this flagship product, because i thought that it will receive firstly the new updates, but it was a mistake :(, but fortunately the device is perfect.. :)

What update are you missing? Windows 10 is not an official update yet.

I understand, but I expect the new updates firstly to the flagship :), when I had a Lumia 620 I got the updates too late. This is the same situation with the 930 :))

Still don't know what update you're referring to. What are you missing that everyone else has?

I mean the Win 10 preview (not update)

There is not preview for most phones, and I think you are the kind of user that don't must install a technical preview. Think twice before installing that software.

I would like to (have to!) present the Windows 10 news and Win10 phone/W10 integration to my colleagues at IT dept, so this is the reason that I'm waiting for the win10 technical preview to my 930. My company uses iOS and android unfortunately. I'm responsible for the cell phone system of the company.

That's Windows 8.1. Does no one check before posting?

see the keyboard on the video, there is a blue pointer, it's win 10

You are the one who need to check before posting. It is W10 technical preview.

Address bar is in the bottom..

Because that is how it is in IE, which is what that is, not Spartan.

I think WindowsCentral guys are enough smart to check what they are posting before clicking on "publish" button.

Successfully installed on my Ativ S, finally. Took 4hour. But worth it;) (first TP) its gonna be amazing, great, love it on PC and phone.(Win10)

Now try rolling back to Windows Phone 8.1 Update 1, ah right that option is only available on Microsoft Mobile devices.

If that is windows 10 I'm sorry to say that it look a lot like 8.1 aka dissapointing

Probably just a really early build that hasn't got the updated apps yet but it is Windows 10 if you look at the keyboard.

Lets hope so for Ms's sake

Because it is not the final Windows 10? Just wait until the final build release and you can talk about disappointing.

I can only imagine this on my Nexus 5. It would be a dream come true

Wp10 doesn't look any different than wp8.1.

Good news but hopefully phones will eventually move up to be featured on phones alongside their android debuts

The download link is on Xiaomi forum since the news. Anyone with mi4 phone can download it.

Strange the msn apps are still bing apps. How old is this build?

Those apps might be preloaded and not updated while flashing the rom..

If we can create multi boot, then its a good option.. Posted via the Windows Central App for Android

Random question, but what's that song playing in the background? It's so familiar. Is it from a video game or anime?

I hope everybody switch to awesome windows 10. I can't wait to see what happens next. All I know ppl are getting sick and tired of Android (and hopefully the Overrated CrApple too and ba able to switch as well). ​

That is not Win10. That's wp 8.1.1 or maybe older. just look at the bing apps, normally they remove the bing tag from those apps. but those apps have bing tag in its name.

How about the ability to flash Windows Phone OS to Android? I'd love to do it to my 1520!

That's cool and all, but what blew me away was the music from Kikujiro they used! Talk about a surprise!

If this matures before my 1520 getting Windows mobile 10 TP am ditching my 1520 as it would show that MS dont know what should be priority and would be a slap in the face for Users who bought wp8 devices

I need call recorder so bad

Microsoft trying to go back to just being a software company. Why waste money on producing their own handsets when they can just put Windows on Android phones?