Xiaomi Mi NoteBook 14 Horizon Edition hands-on: It's all about that value
By Harish Jonnalagadda published
With exciting features and an affordable price tag, the Mi NoteBook 14 Horizon Edition has a lot going for it.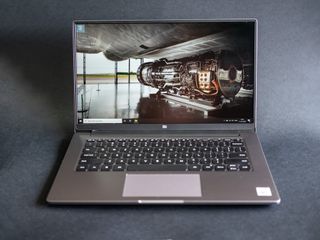 (Image credit: Apoorva Bhardwaj / Windows Central)
Xiaomi has finally launched its Mi Notebook series in India. The Chinese manufacturer has introduced the Mi NoteBook 14 Horizon Edition, a new model that's making its debut in India. As the name suggests, the Indian variant has thin bezels around the screen, and you get an aluminum alloy chassis along with robust internal hardware, including a 512GB M.2 SSD and an NVIDIA GeForce MX350 video card.
I've been using the Mi NoteBook 14 Horizon Edition for just a day, and here are my initial thoughts on the machine. For some added context, I've used all generations of the Mi Notebook Pro and the first-gen Mi Notebook Air, so I have a pretty decent idea of what Xiaomi has to offer in this category.
Mi NoteBook 14 Horizon Edition Pricing in India
Before we get started, I know you're keen on learning how much the Mi NoteBook 14 Horizon Edition costs in India. Xiaomi is offering two variants of the notebook in the country, and there's also a more affordable Mi NoteBook 14 version that has an MX250 video card instead.
Here's the full breakdown:
Mi NoteBook 14 Horizon Edition (Core i7-10510U/8GB RAM/512GB SSD/NVIDIA MX350): ₹59,999 ($790)
Mi NoteBook 14 Horizon Edition (Core i5-10210U/8GB RAM/512GB SSD/NVIDIA MX350): ₹54,999 ($725)
Mi NoteBook 14 (Core i5-10210U/8GB RAM/512GB SSD/NVIDIA MX250): ₹47,999 ($633)
Mi NoteBook 14 (Core i5-10210U/8GB RAM/512GB SSD): ₹44,999 ($593)
Mi NoteBook 14 (Core i5-10210U/8GB RAM/256GB SSD): ₹41,999 ($554)
Xiaomi is calling these inaugural prices, with the pricing valid until July 16. There will be a slight price hike after that, so if you're interested in the Mi NoteBook 14, you should get your order in before July 16. Customers banking with HDFC will also get an additional ₹2,000 off.
Mi NoteBook 14 Horizon Edition Aluminum design with thin bezels
The Mi NoteBook 14 has a chassis made out of an aluminum and magnesium alloy, and Xiaomi trimmed the bezels around the screen to just 3mm to accommodate a 14-inch FHD (1920 x 1080) panel in the form factor of a 13.3-inch notebook. There's a matte coating on the panel to prevent glare, and the screen itself is decent enough. The Mi NoteBook 14 weighs 1.35 kilos (2.97lb), putting it in the same league as the XPS 13.
There's no branding on the front, and the only Xiaomi logo you'll find is the Mi label below the display. Xiaomi says it wanted to deliver a clean design aesthetic, but the Mi NoteBook 14 ends up looking plain. There's no visual flair here, and while the notebook has decent enough build quality, it definitely does not feel as robust as the Mi Notebook Pro series. I can't quite put my finger on it, but the chassis doesn't feel as durable as my Mi Notebook Pro 2019 — there's even a little flex.
The keyboard has chiclet keys with a scissor mechanism, and while there's decent 1.3mm key travel, the keys don't feel particularly great, and there's no backlight option — a big omission. You get a large trackpad with multi-touch gestures, and Xiaomi is bundling two utilities out of the box: Mi Smart Share lets you share files between devices, and Mi Blaze Unlock allows you to unlock the Mi NoteBook with your Mi Band 3 or Mi Band 4.
Mi NoteBook 14 Horizon Edition All the specs you want
The Mi NoteBook 14 is powered by a 10th-gen Comet Lake Core i7-10510U CPU, and it is one of the first notebooks in India to feature NVIDIA's MX350. For those interested, the MX350 sits one tier below the likes of the GTX 1660 Ti and other full-fledged GTX cards, and is meant for casual gaming.
You'll still be able to play games like Rocket League, CS:GO, and Fortnite at medium settings, but it will not run PUBG — you'll have to run PUBG Lite instead. The Core i7 chipset should be adequate for most day-to-day tasks, but there's no variant with 16GB of RAM in India. I'll put the notebook through its paces in my review, but for now what you need to know is that the Mi NoteBook 14 is more a productivity workhorse than a gaming machine.
The Mi NoteBook 14 comes with Windows 10 Home Edition, and you get a 30-day trial to Office 365. There's stereo sound via two 2W speakers, a 3.5mm jack, an HDMI 1.4b port, two USB 3.1, one USB 2.0, and a USB-C port. Xiaomi says the 46Wh battery delivers up to ten hours of usage.
You can only get the Mi NoteBook 14 with 8GB of RAM, and as the module itself is soldered to the motherboard, meaning you won't be able to upgrade it to a 16GB module at a later date should you wish to do so. Thankfully, the notebook comes with 512GB of storage via an NVMe M.2 SSD, and the drive can be switched out if you want to add 1TB (or more) of storage. Here's the hardware on offer:
| Category | Spec |
| --- | --- |
| Display | 14-inch FHD (1920x1080) |
| CPU | 10th-gen Intel Core i7-10510U (Comet Lake) |
| GPU | NVIDIA GeForce MX350 |
| RAM | 8GB DDR4 (2666MHz) |
| Storage | 512GB NVME M.2 SSD |
| Connectivity | 2x2 Wi-Fi ac, Bluetooth 5.0 |
| Ports | HDMI 1.4b, USB 3.1 (x2), USB 2.0, USB-C |
| Audio | 2 x 2W speakers, 3.5mm jack |
| Battery | 46Wh, 65W charger |
| Dimensions | 321.3 x 206.8mm |
| Weight | 1.35kg (2.97lb) |
Mi NoteBook 14 Horizon Edition There's no webcam here
For all that the Mi NoteBook 14 gets right, there are a few glaring omissions here. The first is that you won't find a webcam on the notebook; Xiaomi says it got rid of the module to create a more seamless design. But with the new reality involving never-ending Zoom calls, Xiaomi is throwing in an external webcam that you have to plug in. It's definitely not an elegant solution, and the quality of the webcam is average at best. But the fact that you have to plug in an unwieldy webcam is a potential dealbreaker.
Mi NoteBook 14 Horizon Edition As for charging ...
The Mi NoteBook 14 has a USB-C port, but unlike global variants it isn't the primary charging port. For unfathomable reasons, Xiaomi is using its own charging brick in favor of USB-C, and that means you'll have to carry yet another charger with the Mi NoteBook 14. You can use the USB-C port on the Mi NoteBook 14 to charge other devices — like your phone — but you cannot use the port to charge the notebook itself.
Mi NoteBook 14 Horizon Edition A decent start
Ultimately, the Mi NoteBook 14 is closer to the Mi Notebook Air than the Mi Notebook Pro. It doesn't feel as premium as Xiaomi's high-end notebook series, but with prices starting off at just ₹54,999 ($725), it offers incredible value.
The Mi NoteBook 14 will go up for sale in India starting June 17 across Amazon India, Mi.com and retail stores across the country.
What are your thoughts on the Mi NoteBook 14? Let me know in the comments below.
Windows Central Newsletter
Get the best of Windows Central in in your inbox, every day!
Thank you for signing up to Windows Central. You will receive a verification email shortly.
There was a problem. Please refresh the page and try again.