Hands on with Windows 10 for phone build 10051: Spartan, Outlook, Messaging and more!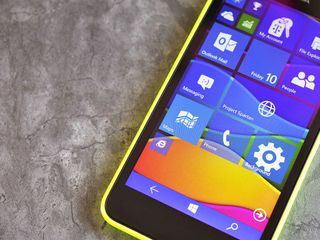 Today, Microsoft started to release the latest build of Windows 10 for the phone. Build 10051 of the Technical Preview is going out for some users, as Microsoft fixes their server issues.
Our Lumia 635 managed to get the update early, so we cobbled together this 14 minute video tour of the latest version. We will do a more thorough video walk through of individual new features later, when we have more time.
For now, consider this a quick pass after using the new OS for 15 minutes. We know many of you are excited to see what's new, but there is a lot going on in this update.
Quick thoughts
Between snapping photos, shooting video, sending screenshots, and managing the site, I have not had much time with the new OS. However, I can offer some initial impressions:
I would not use this on my main phone/daily driver. Grab a budget Lumia instead.
The OS feels a bit smoother, but this is still very 'beta' software
The OS is very different, yet the same. It can be a bit jarring.
Windows 10 for phone has a ton of potential and you can see it here, but there is much work left to be done
Using this build, you very much feel like what it is to be an alpha or beta tester: You get what you wished for, which is good and bad
Lots of hamburger menus, but they are not all bad on a smaller display
Project Spartan is interesting, but it is still very rough to use
Outlook Email looks great although the icons without labels can be confusing
So there you have it. Watch the video and give us some time to go through and parse everything that is new and worth covering. Many details were missed here e.g. the new email editor, but we will get to that soon enough.
Are you using the new build? Let us know what you think and share with us any new discoveries!
Daniel Rubino is the Editor-in-chief of Windows Central, head reviewer, podcast co-host, and analyst. He has been here covering Microsoft since 2007 when this site was called WMExperts (and later Windows Phone Central). His interests include Windows, Microsoft Surface, laptops, next-gen computing, and for some reason, watches. Before all this tech stuff, he worked on a Ph.D. in linguistics and ran the projectors at movie theaters, which has done absolutely nothing for his career.
When its almost here, it fails once again, but still i can wait a bit more.

It fails because it's for testing purpose only and months away from done. It's possible they have gotten a lot more work than we get to download to. They can't throw all their cards like that, the need to keep a level of secrecy to. :)

I'm thinking about whether to update to WP 10 at all, since they've killed all the metro feel. I'll stay on 8.1 until anything major changes my mind.

Same here. I'll be sticking with 8.1 until forced to go to 10..

Yeah, we'll be left with no option when all the developers start developing their apps for wp10 and ignore 8.1

Why not just switch to Android? If you are going to be stuck with a ugly, clunky OS it might as well be one with apps.

WP 8.1 is a near perfect for me, i'd rather have it than lagdroid. WP10 also will be great, but it's just that its not visually appealing to me.

When was the last time you used Android? 2012? 2011? It's really smooth now. You just need a phone with stock Android on KitKat or Lollipop. Posted via the Windows Central App for Android

I agree with you here. I use HTC one m8 without stock android and it is really smooth. V5 destroyed it a little bit though Posted via the Windows Central App for Android

That's exactly what I've been thinking too! If I'm going to use an OS that feels like Android, I might as well use the real one....... With a more refined and consistent Material Design and tons more apps to choose from!

True. God this looks ugly. WTF happened to the team that designed wp7? Were they all fired??

Exactly. Microsoft has entirely changed windows phone to please their users who shouldn't have been using windows phone to begin with. Complaints are overwhelmingly of the "missing features" available on android. If I wanted a phone loaded with too many apps and settings, etc, I would've gotten one. Now I'm frustratingly stuck with one instead. C'mon, Microsoft, bring back some of the great features and stop removing everything. Remove the People hub and there'll be nothing left.

Ahhh, where to even begin with your comment.
...
Yesterday, after returning home from a lovely, high class box seats at an Orlando Magic game (my first pro basketball game I ever watched in person), I thought "well this day has gone well, why not top ot off with 10." You can imagine my surprise, as you might expect, when the realization dawned on me that 10 fucked my world up, at least that of my 1520. I sit here now, the next morning, watching the PC download recovery tools and my 1520 is whimpering away. Sophie, my beloved 1520 is repeatedly cursing the day I was born, has become a connisour at derogatory connotations, most of which I cannot mention here, and promises tobfuck me over the next time I need directions. I don't think Sophie will ever feel safe in my hands again...Ten combined with my infinite wisdom have pained her, nay scarred her.
...
While I wait here at the WP Hospital in the critical care unit that is Windows Phone Recovery Tools, I am using my very much despised work phone: an LG Optimus...while there is nothing useful or Optimal about this phone except letting my neighbors dog chew it when it is extraordinarily bored, I have discovered that the WC app, which is free on Android is superior in many ways. For one..I can actually see the images or avatars of users which lends a bit of humanism to the jagged, mixed bag of shit we get on the WP version...which is the typical plight of the, botched abortion of a red headed step child thrice removed otherwise known as WP fan.
..
I must go, Sophie is asking for me to be by her side while she begins the recovery process of installing and updating her apps. The poor thing. It is going to take hours of recovery to bring her back to her former glory. I am confident she will pull through.
..
As Mr.Rubino had written, don't put 10 on your main phone unless you want to go out of your way to cause your reliable friend to seek urgent medical attention or need to show him/her who is boss. Regarding the latter, having my name as Master sets the tone. Ten was like beating a dead horse as they say. Posted via the Windows Central App for Android

I never really got to test it on my 920 since it failed to register my sim card. So I've also had to go through the recovery process. Microsofts recovery tool also failed for some reason, it did recognize my phone but an error occured when it was time to install. Luckily Nokias revory tool worked like a charm. And, btw, I really liked the way you wrote your assesment, very nice use of language =) Also, you're absolutely right about the WC app. I had to resort to using an android phone for 2weeks last fall, and I was disappointed to see how much better it was.

Hi, had the same problem removed SIM PIN lock on the SIM card and now the phone works. But yes there are lots of features missing or not completed in this build.

I don't think Microsoft decided to redesign Windows Phone like this to please anybody. I think they decided that supporting a seperate phone OS was not worth it, especially considering it's low marketshare. So they decided to see if they could have their desktop and tablet apps scale all the way down to a phone screen, and call that Windows Phone. That is what we see now.

Am I the only one who doesn't like the wire frame icons?

The round toggles look out of place too. Everything else is square. Why are they round/oval? It looks old-fashioned... just like the wire frame icons. They look out of date.

I like the wire frame icons. Even toggles are ok even though I prefer the old ones. What I really don't like are the round "avatars" in messaging and people hub

You know what the more The more I think about it, the more I'm convinced that a lot of the UI in 10 is just placeholder to get the functionality down. I guess they could've just evolved 8.1, but I have a gut feeling it'll look a lot more like 8.1 when they're done. There's still a long way to go. Just look at 10 on PC. It's not a million miles away from 8 right now. Just my 10 cents. I hope I'm right, as 8.1 rocks.

I sure hope you're right as well, but it really makes you wonder why they would experiment with all this in the first place. By your logic it would seem a lot more convincing if they simply stuck with the current design language to test out technical issues first, don't you think? That being said, I do think they will consolidate they UI into one single direction: After all, there currently is round elements, square elements, elliptical elements, UI elements being off-centre, centered, top left corner, top right corner or at the bottom, font-centric ideas, image-centric ideas, hamburgers, pivots, white backgrounds, black backgrounds - if they now add some skeuomorphism they will officially have the messiest design on earth! No one with half a brain can be that bad at design to try to have it all in one single setup (I hope...)

Yeah I would've stuck to enhancing 8.1 UI elements and adding new features like bluetooth keyboard support, but what can you do.

Gut feeling....the famous last words of all gamblers...

Same here too, no metro UI=holdout or just simply swap to android and load a Zune/modern ui launcher

Lol. Wtf is wrong with you people. Smh.

I just updated to 8.1 GDR2, so far so good.

I've rolled back to 8.1 then updated to 8.1.1 and now I got Denim on board. However, W10 is pretty rough right now. I'm not planning to update again. Once it's finished and final I'll update then.

months? Want to bet WP10 comes out in Dec and no where near the release date of Win 10.

Keep in mind that windows 10 is written for next gen hardware. The future low end phones will run like the 830, the midrange phones will run like the 930, and the future flagships will be a different beast entirely. So on top of the bugs that have to be worked out.... dont worry about the fluidity of Windows 10 come release

Actually, it's written to work on old hardware to. Sure it's probably a bit amputated, but it's still support.

Lets hope and pray MS would not earn new names like "Lagindows".

Hey no changes after update all windows 10 features are same as that of the previous build can anybody help..???

This build broke my 920. When SIM card is in i can't get past SIM pin. Only when i rip the card out I'm able to get to start screen

Same here! Nokia Lumia 920 and when I am asked to enter my PIN code, while I enter it nothing is written (those dots) and when I hit "enter" nothing happens. My phone hangs. I have to pull my SIM out for the phone to work again. Then of course it is not a "phone"...

Go to settings and change your Sim code, then it will start to work.

The sim pin prevents you signing in to the phone.
The only solution is to unlock the pin using a different phone (I used my 1020 to unlock the pin before putting the sim in my 820).
Of course, this was all a waste of time given that Windows 10 is a horrible pig of an OS. Someone in MS should be fired for messing about with the UI (those wireframe icons, those grey boxes, the strange little toggles etc. It all just looks horrible!)

Same here, Lumia 920 - everything else looks good but cannot unlock sim card.... Any workarounds so far?

Microsoft's acquisition of Acompli & Sunrise is bringing some beautiful & much needed features to WP Outlook & Calendar apps. Excellent move Microsoft.

I highly doubt either acquisition has any effect on Outlook at this point. This is a mobile version of Outlook 2016, which has likely been in development for a while now.

They bought Accompli and Sunrise to turn it into what we are seeing

I was hoping to see some of Sunrise Calenders influence in this build. Because it is amazing on iPhone. Even Outlook is top notch on Apple devices.

I think some of the design elements were taken from Acompli because looking at the iOS Outlook app while watching the video, they're pretty much identical. And there are photos to show the new iOS Outlook app barely changed anything from Acompli.

Outlook Calendar has definately got the Sunrise Calendar UI. I've used Sunrise Calendar on iOS and it's exactly the same UI.

Yes, outlook mail & calendar apps are looking beautiful and more productive. Good job by ms

What i hate about Outlook app is that i cannot pin various email folders to start screen now. Ot completely butchered it.

This was one of the features that set the windows phone apart from other's. That feature alone kept me super happy with all the email folders I had. I hope they return that ability, as it makes it impossible to work my email from my phone. I am also beyond bummed they took the rooms out, i used that so much with the family. It worked very well and was amazing for sharing things between us all.

Finally the "hands-on video wanted" comments shall stop...

Task switcher would be one of the highlights of the build which would have been great to see in the video, but really not usable with office goinig out of the picture.

I agree. I'm happy that Microsoft has improved the task switcher on WP 10. This is an important feature.

How have they improved it?

It looks exactly the same on my 635

All ready downloading it!!

Took me 5 retries and download appeared,

Took me 50 retries then finally downloaded, installed, set things up... and borked. Full phone reset and it's now working and I'm... underwhelmed?

Yep...I'm completely underwhelmed.
Has 4 years of OS progression REALLY resulted in this disjointed/ugly OS?!
The elegance of WP8.1 is one of the main reasons for me sticking with this platform. Destroy that, and what are we left with?!
They simply must revert back to the 8.1 UI....it wasn't broken, so why try and fix it in such an Android kind of fashion?!

I can't get it. Says I don't have any new updates. I have the 928.

Same here. Insider Fast was installed, but no further update...

Same thing happened to me. A soft reset fixes the problem

Don't get it. It's really horrible...and definitely not worth the hassle.

Yikes. It's a good thing I was having server issues earlier. I think I'll wait.

If u are not in the US change your time zone to US. I just tricked mine

Mine was Kuwait/Riyadh by auto update from carrier, it kept telling me to set time/date. I turned off auto update and choose my location which is Nairobi, it worked!

Same....thank god for the WC...

I just got another update after the new build. Anyone? "Insider Fast Configuration" update. EDIT: and when you turn your phone off you receives a message warning about upcoming events :))) Nice :)))))
EDIT: and my 930 just received an update too ... What a day! Seems to be the same update some users got last week. Probably not Update 2.

In 75 minutes and 13 seconds.

On the blog it says they fixed the problem. At least it did when I looked 5 minutes ago.

Now you have to use 2 hands because you have to reach the hamburger menu which is on top. Sucks really bad.

Totally agree. Was thinking the same in the outlook app - what a stupid idea to get rid of pivots instead this less useable, ugly and dumb way of switching categories. If they don't significantly step up their game when it comes to design language I'm gone for good.

4 hours and still error. Ok oh well enough said

Downloading on my old Lumia 810 :3

If it's still that rough, I'll continue to wait for the dev preview.

I had the same thought but just bought a nl930. So my 920 is gonna be a Guiney pig.

It's pretty bad. I uninstalled within about 12 hours. I've been beta testing software sine Win 95 and do software QA testing for my job and this is by far the worst software beta/alpha ive ever seen.

Those app bars at the top are no good... No more swiping.

The new People app also have an app bar on top, and yet you still can swipe to navigate. Maybe it will be default for others app.

Hope they will remove that crappy top bar

Gabe just tweeted the server issues are fixed but there will be timeouts as they bring more resources online to handle the load

waitng for a more stable build

okay thanks installing the Turkish

I installed it and after it was done I LOST THE COMPLETE OFFICE APP...

You should read things before using a beta software :))

That was known before it came online..

Yup. You will have to wait for the Office apps to come out to get that functionality back.