Windows 10 Technical Preview update for Windows Phone is now available!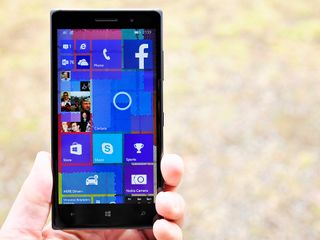 Just as Microsoft has promised, the update for Windows 10 Technical Preview for phones is now ready to be downloaded. Okay, so they are an hour plus late due to server issues, but we can confirm that the update is NOW LIVE. At least for SOME phones (our Lumia 635, for example, is getting the update).
Users who are part of the Windows Insider program can now head to their device Setting > Phone Update and check for a new OS update. Make sure your phone is charged up and preferably you are on Wi-Fi to download the bits (the update is 450 MB).
Not familiar with the Windows 10 Technical Preview and how to enroll or what to do? Just read our how-to article to get started, or our big page with all the important links about this update.
The list of changes in Build 10051 is quite long, including Project Spartan, new Mail and People apps, and more! Read the full changes here.
We will follow this post with details about the update, some hands-on videos, and numerous other articles about the update, so stay tuned.
Note: _If you are REGISTERING a phone for the Insider program, you may still have an error doing so. Microsoft is aware of the issue and trying to fix. For users already on Build 9941 (old build) you can just go to Settings and hit Phone Update > Check for Updates.
In the meantime, you can jump into our Windows 10 forums if you are having problems or want to see what other people are sharing!
Happy downloading!
Daniel Rubino is the Executive Editor of Windows Central, head reviewer, podcast co-host, and analyst. He has been covering Microsoft here since 2007, back when this site was called WMExperts (and later Windows Phone Central). His interests include Windows, Microsoft Surface, laptops, next-gen computing, and arguing with people on the internet.
Mission abort .!!! Download delayed to next update .!!!!!! Well to users still waiting to dow load hope you have read the list showing a number of errors .!!! Take decision wisely :)

Nevermind, I'm not putting it on my 1520 even if it's available which I doubt it, I wouldn't take the chance as being able to open office documents on my mobile phone is a critical part of my day. Honestly, Gabe Aul is beginning to be annoying like Joe B; they announce all of these great things along with ETA's then fail to deliver. I know it's a TP, but don't they test these builds internally? If so, when they discover certain features don't work, why not just announce delays or not even mention the upcoming builds until the major wrinkles are ironed out?

The delivery is the problem, not the build. What are you worried about anyway? The reason office won't work is because WP10 doesn't have the office hub installed. They're releasing the standalone apps soon. Just wait. If there are "citical" things you do with your phone every day, the TP isn't for you. Personally I'd rather them put the build out. Get it out to as many people as fast as they can.

So you want them to beta test the beta test you're supposed to be beta testing? Have we really come to the point where we complain about Microsoft not testing the stuff WE WILLINGLY AGREED TO TEST FOR THEM?

What, an hour delay on an absolutely massive rollout and you are all annoyed? These things take a bit of time, have some realistic expectations. They announced that the update will hit today, and it seems to be hitting today. If it was a day or two late then you can start whining.
And yes, they do test internally, which is why there is a HUGE list of known issues and work-arounds (when applicable), to help people make good decisions on if they should or should not update. This is obviously not a full-feature build, and as WP is getting a lot more changes than Windows proper the transition is going to be a bit more painful at the beginning. This is not a build to put on your main device at all unless you are exceptionally adventurous... or a little lacking in the grey-matter department. But if you have a spare device, then throw it on there and try it out so that MS can get some good feedback.

Are you kidding me? They gave the time. They gave the date. This is something which could be avoided.

They test the build. And they do not fail to deliver anything. This is a TP. In this build your are supposed to do the following: Test the TP to check for the "cool" stuff and provide feedback. THAT ALL! Your are not entitled to anything dude, and if the build is having problems with some apps THAT IS OK.

Hey, at least Gabe's hair style is better than Joe's.

Hey Dhruv Manchanda, where you from? I m Kanav Manchanda from Punjab.

I guess Dhruv is your long lost brother from 'kumbh ka mela' lol!!! Glad you met each other..

M from Chandigarh :D.!!! Where you are specifically from Punjab.?

Stop checking the builds.. Gab Aul said they are having problems because were checking it every sec

I will check it every dang second and they will like it!

Me tooo check check and recheck!!! I'm still getting the freakin 9941 build over and over which wont install on my 920. Please delete that freakin build

if you got build 9941 you're going have to do a rollback than update to the lates build

Can't they simply remove that useless build??? Fck

Thats a part of beta testing the headaches

I'm with you guys too, lol. Phone is on the charging plate, password and screen timout off, I've been clicking since 11245pm EST. w00t!

On a different note,this wallpaper style is ugly.wp8.1 has the best wallpaper style ever. Hope there is a way to get it on win 10

I agree, I too hate it, this could be the last nail in the coffin for metro design, if they don't provide both the options of in the tile wallpaper and behind the tile wallpaper..

There is live tile option coming in windows 10

Server Error A connection error prevented us from downloading programs for you. Please check date/time of your device and it's network connection and try again........ My wifi is working fine... Posted via the Windows Phone Central App for QWBASIC :|

Me too.... How to fix it.

That's his fault. Instead of telling us the exact time of the release he could have said the day or a timeframe. Now it's logical that everyone checks for the build at the same time

I am going to launch a DOS attack with my bare finger and lumia 925 phone by repeatedly pressing "get preview builds" until it detects the update. Couldn't they get a bigger pipeline for their internet? I am putting a uservoice suggestion to ask microsoft to get google fibre. Wait. I'm drunk.

2hrs delay to fix the issue.

Still no hands on video of windows mobile 10 from DANIEL RUBINO , please release it soon atleast we users can see what's new :-p

today i install wp 10 preview in lumia 520. everything is fine but no mobile network. please help///

I am having the same issue. For a while there was network and then it went. Lumia 520.

Same problem with Lumia 920

Yesterday i Installed wp10 on my 720. I feel it is slow with other apps, as it might need more RAM. But after that when i checked the network connection, it says no service. Even after try playing with the settings, no help. Finally today i revert it back to 8.1. It feel bad no service issue is not solved any how. does anyone had solved it?

Error!! Where are the strong Microsoft servers?

"Where are the strong Microsoft servers?" Pushing out Office Lens to ios and Office Remote to android. Priorities!

We discovered this morning that there was an error in the database for provisioning record data, which is required for new phones to join the Fast Ring through the Windows Insider app. The team has been working to correct it but the load on the provisioning data servers has made all operations extremely slow. To fix the issue, we are taking the service offline and updating the provisioning record data for all 5100 phone POPs. It will take approximately 2 hours for us to make the update, and validate that everything is working. This is a different service from Windows Update, so Insiders who are currently on 9941 should be able to update their phones if they are already in the Fast ring. If they are in the Slow ring they will encounter the same issue with provisioning data. We apologize for the delay on this and are working to ensure it never happens again. From MS

I already download windows 10 ......nd when I check for new updates it shows ur phone Is up to date

Cookies in the oven still..i guess


We're still trying to update the provisioning records, but the servers are getting hammered by people checking every 2 sec :-) LOL!!

Trying to keep the positivity here... WOOOOO!!! Although I'm not downloading it because I'm scared of errors!
...cue complaint comments.

I know the feeling! Some of the know bugs are big hits. Hopefully more builds come out quickly to fix them.

I am getting date network error

Is it available for Lumia 520

Lumia 620, Lumia 535, Lumia 520.
Greece

What???? Its avilable !!!!

No, they are just joking with you.

The data connection problem is not acceptable , the battery will be drained so fast

Try data sense and restrict the background data. This only one workaround I could think of.

This is really a nice trick...set data limit to 0 m.b.

Isn't the data still on and draining your battery fast? If not that is a briljant one. I'm on a prepay sim and don't want all my minutes to cosume my minutes so if it works it should be briljant

I always used this trick in Lumia 520. It basically turns off the data usage until you open the app. This way I could use 30 MB for at least three to four days (yeah, desperate times).

No you can't set limit to zero.

If data sense is working in this build

So you going to whine about this on each and every article.

I waited all day for this. It's past 7 in the evening here. Ah well, I'll only have to wait another month right?

93... Okay forget it already ;-)

I check for update but it shows ur phone is up to date ( India )

U hav to be in windows insider programe..just download the app nd sign in wid ur microsoft account nd accept the terms...after dat u will get option for downloading...after that check for updates

The most used Things are not available to use.. Like office hub. ..data connection..flight mode .. Call block.. .. These things were needed.. But guys see from the point of view of Microsoft... They are giving builds for testing n developing apps.. N not for daily uses... ... But m still disappointed.. Didn't expect this form Microsoft its toooo buggy

You said yourself its a test build so why the disappointment?

At the end its a phone.. We developers..still expect it to be best

If you're using this on a development phone, none of those features are required. If you install on your primary phone (against recommendations) then the blame falls squarely on you for installing the preview software.

That's what the "Preview for Developers" builds are for. These "Insider" builds are for early feedback and beta testing purposes. They're going to be borderline unusable for a reason. ;)

Only if MSFT wouldn't spend all their time and energy updating their set of apps on android and apple day in and day out, we first class citizen using windows and msft products could have dreamt of a less buggy and faster developed technical preview then what we got today..

so agree with u there on that comment

Office preview apps are coming man....they said it...and are you on flight with a phone having technical preview installed On that

Data connection and call block are meh, as long as they are fixed I next preview, but yes Office not being available in this build means they should have waited.

Waht do you mean by data connection? You mean you can't access the web via LTE and only via WiFi? Also what phone did you upgrade?

You cant turn data connection off

Don't forget you cant get your text messagesa read to you over bluetooth either.

No its not. Nothing but server errors for the last hour...

Error still maybe after some few hours i should come back

Ooo my gawwwd!!! An exclamatory mark in the headlines of the article :) what a pleasent surprise, we didn't know it was coming today!!!!!

Connectivity error mr editor

Error Error Error Error Error Error Error Error Error Error Error Error Error Error Error Error Error Error Error Error Error Error Error Error.............

I got solution for Data Problem check out Forms

So you cant turn off data. Why dont people just connect to Wifi? Something I'm missing?

Do you all seriously turn your data off all the time? I really never do and my battery is fine.

I don't get this either. My data never turned off even though I connected to Wi-Fi. Background data connection doesn't really consume much battery in my testing due to platform restrictions.

So much for Azure scaling

What if my region is USA ??

Still the same....South Calif......

after 1 hour still server error

Me too?? I hope, it downloaded in lilke 2 minutes though... so i hope its the right one

Waitin for the hands on video...upload it fast WC

They are unable to get the video cause of overload of bugs bot letting them do that...

Getting: Server error A connection error prevented us from downloading programs for you. Please check the date/time of your device and its network connection and try again. L928 Will keep trying.

Same. Been trying for about an hour.

Cant even install insider app on my L620

Downloading update on L730 Now.

I am going to phone update its showing your phone is up to date.. Using Lumia 730 windows 10 tp build 1

Its technical preview available
in Lumia 920

Yeah that articles title is wrong... Cause it ain't available for quite a few people who are trying to get it...

Update for older phones is ready but fresh installs are still stuck.

Is it available for all countries???

Yes. But for the supported phones only.

Which phone do you have? I cannot log in insider hub with my Lumia 830. Looks like they haven't fixerd the issue until now, 8PM in Portugal. My Windows Insider was crashing so I did uninstall and install again, but still cannot log in and my settings update doesn't have any new updates.

Lumia 520 :(
Error connection
What happened?!?
Im waiting

Where's for the 1520??? Pffft

Is it available for the 1520

Not yet.. But will be in sometimes

No build is available for l1520 .... Don't know what are the ms doing.....

it should be its on the list http://www.windowscentral.com/next-windows-10-phones-build-will-expand-m...

Thanks for this article, I was waiting for it to see if it was worth it. And why are people wasting time and comment space telling us if they are upgrading or not.

It says... Insider can't download the program.. Might check the device connections.. Wew

928 error for over an hour and a half now.

India lumia 525 plss help guyzz

Its a server error. Bhai tu so ja.. Kal subha download karle

Are kya bhai use to khujli hai phone kharab karne Ki...soyega nahi abhi

Lol! Sahi hai bhai :) soo jaao Sab ipl dekh kar, kal kaam pe bhi Jana hai naa..

Restart the phone 10 times ;)

LED notification for lumia 730!!! hopefully

France, lumia 830, error. I'm stopping to check for the update for the next 20min. I suggest you all do the same.

Nothing big issues rather than 512 mb phones issue...this build is to prevent those who did previews for fun....they need real ones

What if we all wait for 15 minutes and they have time to fix it!? Or you can push the "the button" every second and get always the lovely error.

Loading loading,loading,loading,loading,loading

Guess I'm the only one not having any fun yet today. Denim where are you? :(

One question...is this for Lumia 520,or not???

Yes...it is....but suggest not to go for this one...wait 2 months more

Lumia 520 also eligible for this TP for windows phones. Try to downloading through windows phone insider

I quit trying after seond attempt. L1520. I guess today is not the day for it. As usual some server was overloaded...common issue around many companies last days....

No build available for Nokia Lumia 1520 .... I got the message ...

It's listed in their list of supported phones... http://www.windowscentral.com/next-windows-10-phones-build-will-expand-m...

Will this update work for Lumia 920? Has anybody tried this on L920? I remember reading an article about expanding the list of supported phones for the WP TP 10.

Can anyone tell, Did they got the gapless media playback feature in technical preview? Any changes in Xbox Music or Video?

Server error, server error... I think I'll wait till you guys go to sleep...

Ugh. Server error on the Tech Prev. Thos Fan(ny) Boyz over at BGR will be all over this bad news like white on rice.

...and this is why they should never pre-announce the exact publish date of an update. It will keep everyone from slamming their servers and if there is a problem like this time, it will give them more time to fix it. They should just keep it to "this week" or "next week".

This is their responsibility to make the update available on said date or time as they have exact data of how many people are registered for developer preview. They have published it recently very proudly and see what happened today... Example of Show off. but no ability to fulfill the promise.

still downloading and waiting... *.*

I hate to say it, but come on, server errors? This is not a good thing to start so many hungry nerds. This is literally like Disney Land breaking down on the first day...come on MS. Not to mention you pulled office out of this build?

Its not a technical preview... It's a bug preview :D :D

You know that as long as people keep trying to get build from insider app the longer it'll take for Microsoft to fix server issue :|

Is it available for Lumia 620?

But its saying your phone is up to date!

Install "windows insider" app and check there

Oh yes i did but that damm server error.

Downloading on our 635. Still nothing for the 1020.

Hi! How about for Lumia 1520? Can this phone update for windows phone 10 now?

You can only get preview version now

Yes, it is available, however you will have to get registered through windows insider app and not to forget all the bugs in this build.

I'll wait for a more stable build. It's a shame the mobile OS has been rewritten from the ground up so many times. That alone has hurt growth. However, I'm anxious to see where WM10 takes us.

Gab: Okay folks, sorry but this is going to take us longer to fix. We've updated the blog with more info: http://t.co/INDzkA3YXy HUGE apologies

Gabe Aul is such a good and calm man even in these situations... imagine if he has Daniel Rubino's temper instead LOL

All these pictures you guys post with the backgrounds and the transparent tiles look really really bad. Are those your personal backgrounds?

All I get is sever error :P

It is available for lumia 735?

Looks like it's going to be awhile if you're new to the WPTP. http://blogs.windows.com/bloggingwindows/2015/04/10/new-windows-10-techn...

They finally had to pull the servers to refresh the provisioning record POPs. Looks like too many people were trying to download it every 2 seconds and clogging up the pipes. Here's to another two hours of waiting! Via Gabe on the Windows Blog: UPDATE: We discovered this morning that there was an error in the database for provisioning record data, which is required for new phones to join the Fast Ring through the Windows Insider app. The team has been working to correct it but the load on the provisioning data servers has made all operations extremely slow. To fix the issue, we are taking the service offline and updating the provisioning record data for all 5100 phone POPs. It will take approximately 2 hours for us to make the update, and validate that everything is working. This is a different service from Windows Update, so Insiders who are currently on 9941 should be able to update their phones if they are already in the Fast ring. If they are in the Slow ring they will encounter the same issue with provisioning data. We apologize for the delay on this and are working to ensure it never happens again.

I think this is why they usually don't do Friday roll-outs

Yup, I'd do Tueday's personally...

I am going to wait for 2months to get the official build on my lumia 730...why dont you guys just wait for an hour...???...;)

Downloading on my Lumia 1020 :) Yay!!

For lumia 620 it is available?

It doesn't show the update, and yes im a register DP.
Att 920 usa

Is it available for Lumia 925?

Lumia 930 running first w10tp through Chinese hack is now downloading the new w10tp. Hmmm

Jesus, so many entitled fucking neckbeards. Go wank yourself then check back later you losers.

Take a deep breath, dude. It's just a phone build.

thanks god i bought New Moto E 2nd Gen. phone. Windows Phone is getting too boring...

That's okay we were getting bored with you.

I hope that's the Droid you're looking for, have fun!

How long will we get this server error ???

eveyone sleep ... :-@ .. i need to install the update

Still the same thing so no, the windows 10 preview for phones is still not live...

I have a Lumia 635 & it keeps telling me it's up to date !

Check in "Windows insider" app

Already did, "server error" will try again

A connection error....bla bla bla whatever ! Lol

Nepal 820 same server error... Why?

Cranking fast right now. 5 minutes ago, was server error. Preparing to install 55%

Does double tap to wake up works in windows 10?

2 more hours guys. Provisioning errors need to be fixed

What's wrong trying about an hour.not working..

Don't try it on your only phone..
Remember No office and no data turnoff make you feel bad about Windowsphone..So wait for another 2 months for public beta.

My god there's a lot of stupid people in this world...it's just unfortunate that most of them always have something against Microsoft, and for the stupidest reasons as well. I always thought most Apple fans were morons, but now I'm having second thoughts.

I have a question about what's in this Windows 10 for phones preview... I use 8.1's Podcast app all the time, is there a similar built-in podcast app in the tech preview? Thanks! Posted via the Windows Central App for Android

Ok this is gettiing really frustrating looking at a lot of these comments. Rolling back your device in order to update is a pain but thats apart of beta testing & thats exactly what the Technical Preview is and for people to get upset about things breaking or not working or losing data or resetting phones is mind blowing to me because you obviously should not be in the program. This is the time where you figure out whats wrong what works what doesnt work what users want and enjoy using. So if you are using this on your main phone & are having a tough time its your own fault dont complain roll your device back to 8.1 and wait for the final 10 release later this year but for tech sakes please shut up with the complaining. If you see room for improvmement voice your constructive opinion on the user voice forum.

Finally, a voice of reason! Sleepy gets it.

Server error, but what's a few more hours when I've been waiting for a month for a more stable build :) Be patient, people.

Is it available for Lumia 925?

Dang, I can't believe Microsoft let 343 Industries roll out this windows 10 for phones release...

Windows Central is like an episode of 'Real Housewives' today. A lot of bitching and nothing to show for it.

Can I download it using mobile data? Or is Wifi the only option? #Lumia520 #india

Can I download it using mobile data (3G)? or is Wifi my only option? #Lumia520 #India

Is 450mb. Pretty sure anything over 80-100 needs wifi.

I cant get it on my 925,... Guess just gonna have to wait until the Lumia 940 comes out in July..:D

Portugal, Lumia 830, 8:30 PM and still no preview nor cannot login in Insider. Just got a message that said "server error";. Is this the codename for this update?
Anyway, I really hope to see the battery saver issue fixed in this update. That is my biggest problem now.

Where do you guys get these wallpapers of the posts about windows 10 (mobile)? They're awesome.


I want to have the TP, but I want it perfect!!! I want to hear myself complain and bitch about nothing important at all!!! I want, I want, I want.....man, can you imagine these people in line in front of you at Starbucks?!?! Yikes!!!!

Any sign of update for Lumia 920 in India,I too checked once but no insider login,nor update available......!

Surprised that there appear to be no videos of it up yet at least here, WMPU, NokiaPU, WinBeta..

Downloaded, installed and now migrating data step 15 of 21 on my L435 in India. Showed the date and time error on first try but went through with the next one :-)

Edit: It first downloaded 8.1 update 2. Windows Insider notified that the phone will restart and now I am getting another update. Hoping this is it!

Well that's why we have these tests people. I'm still getting an error with my 1520 sim or no sim. Hopefully its bot carrier related.

Work on 930? I tryed but ... ERROOORRR!

didnthey fix microsoft band is yet??

Hi did u all update ur apps and firmware to the latest version before getting the TP

I think I'll pass on with this update... waitng for a more stable build

Updating my 820 to first stage of Windows 10 update has given me "UPDATE 2" May continue onto Windows 10 tomorrow. Too late now.

The error is Gone Guys Give it a Try

i'm installing it right now on lumia 625

I got 8.1 update 2 why not window 10?

"Your phone is up to date." NO ITS NOT!!!!!!!!!!!!!!!!!!!!!!!! AGGHHHHHHHHHHHHHHHHHH!!!!!!!!!

The iOS/Android switches sadden me. As do the hamburgers. The whole OS is "Modern" square, and then they throw in one rounded control. Makes no sense. What was wrong with the rectangular switch that fit the Modern design. The rounded switches feel out of place. And the hamburgers. Why? Just why? This is Windows isn't it? How about sticking to Windows design? Yes, I've provided the same feedback for Win10TP.

when i saw the rounded buttons, i was like WHT THE FUCK?! MS is trying to make it into an iOS.

I hear ya...it a total mess of a mix up of iOS and Android with a dash of WP

Phone restarts instead of updated. Whenever I go to the Windows Insider app, and go through the options - pick fast, then it goes to a screen confirming my choice and restarts the phone.. then nothing happens. Anyone else having this happen to them?

Same happened to me. Now go to Settings, Phone Update and see that it's downloading.

Anyone tried this on non-Lumia device?

Phone Rebooted first and Updates are being downloaded in the Settings > Phone update. Waiting :) on my Lumia 520

Sim card is not detecting

Why is settings not listed in app lists and clixking on the all settings in notif center does nothing and redirecta only to start? Help please!

Anyone else having issues unlocking the screen after timeout on a Lumia 1020? I've had to soft reset every time.

Anyone know if the HTC 8x or Lumia 925 are capable of running it? They're my old backups and I can't test it nor want to on my 930.

Where are albums ? All pics are in hub. Not getting option for removing live photos from tiles on start screen. I don't like pictures floating on tiles. Secondly, can not switch on data connection and roaming. Though my 3g is working fine however its showing off in settings. Data connection in Roaming is also off....no name and pic is comming while incomming call though contacts are saved in my phonebook. Pls help me with this problems.

Installing now on my 1520. Wish me luck guys!

the download was downloaded but couldn't be opened 800b010a
maybe because of space issue i freed the space and trying again. the worst part is i have to download again.

Updated my 520 to W10TP, Screwed. The phone has entered airplane mode and the airplane mode option is missing from the settings. Maybe returning to 8.1

What's up everyone? I'm having a problem where the Windows Insider app will not open on my Lumia 1520 I uninstalled it reinstalled it all it does is make it to the key and lock screen and closes. My phone meets all the requirements and I'm still able to use the Preview for Developers app. Just can't figure it out any help would be much appreciated. Thanks Peace ✌

Just put this update on my 925. What the hell are Microsoft thinking with this shit. Yes I know its a preview of the new OS but this is the worst looking thing I have ever seen it just looks like a bad copy of what Android rejected..will not be updating my 1020

No sim. No service. On my Lumia 521. Rolling back to 8.1

I cannot get it to download to my 920. Once I choose the fast ring, and accept, it reboots the phone.

No default background images

I update but i can't play my games... I open AND is Black screen... Lumia 630

trying to select background from other location. but return to previous option

Try to Change Lock Screen when trying to select from dropdown screen goes white Lumia 822 WP10T Previews

Go to all apps then press back button not working

How do you roll it back to 8.1? Won't read my sim and crashes all the time

http://www.windowscentral.com/roll-back-windows-phone-81-windows-10-preview

Downloaded, was installing.. But battery drained in the middle. so now every time i try again, installation starts from the very beginning. Again battery drains completely. on my L620. Any suggestions guys? ??

Ok thanks for the in info

After updating to Windows 10 Technical Preview update for Windows Phone, my 1020's camare is no longer working. Anybody have the same problem?

Allowed battery to cool for some time. Now installed successfully.. BUt W10 is slow..

The update automatically starts downloading on my SD card and I want it to download on my phone memory. What to do? L535

Can't download It... Lumia 735 in Belgium! I have insider and I can Connect, select Fast or slow, tried slow but I can't update My Phone, it is already up to date..

Getting error update stuck at 5% pls help

Same here. Then it says that I need to connect to wifi to download the update, even though I am connected to wifi.

There is a bug where if you put a password on your phone then you try to take it off it will say it is off, but it is still on there. This is from my Lumia 1020

I m from india , recently updated my lumia 625 to windows 10 tecnical preview from windows 8.1. its so buggy. no sim network, no theme customization. n now i m unable to do call. in network it says mobile phone is switch off. why i did this update, i almost bricked my phone, guys be carefull to update to 10 tecnical preview. other then u have other phone for use.

Is notification bar is hidable on windows 10

I have faced issue with 720 and 920 device. After installing wp10, mobile show no service i.e. no network. Tried sim settings but not solution. Does anyone solved it? please let me know how also?

after update . i cant switch on.its just on and suddenly it's switch off .its continues.i can't even switch off my phone. hard reset is also not working ....any solutions

can someone please help me, i seem to cant open my phone because its not accepting the pin or password, also known as security code. it turns on perfectly and all but i cant go beyond the notifications bar and lock screen. what should i do?

hi i am using lumia 520 and windows 10 (technical preiew) , and i am trying to upgrade to latest version ie 10166 but it is not geting downloaded , eery time it show the message "your mobile on battery saver mode please turn it off and download will start" and if somehow it get start then it stop at 4% i tried all the way but it is not working pls help me out here
Windows Central Newsletter
Get the best of Windows Central in in your inbox, every day!
Thank you for signing up to Windows Central. You will receive a verification email shortly.
There was a problem. Please refresh the page and try again.