This is the Vinsic 20,000 mAh ultra-slim power bank
This power bank is slim, and provides power to more than one mobile device — Windows or not.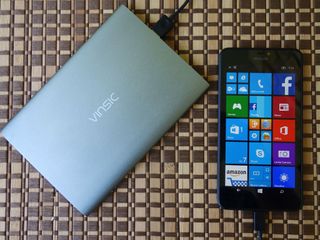 Power banks are a great accessory to have on hand for any phone or tablet, especially when they grant the ability to push power to multiple devices. This particular power bank from Vinsic may not be the smallest portable battery on the market, but its sleek design looks sharp, and 2 USB ports are certainly better than one. Measuring a mere half-inch in thickness, you can slip it in a bag or carry-on without crowding it up. It's definitely too wide to store in your pocket though, which isn't ideal for a grab and go solution.
It's mostly made up of an aluminum alloy with plastic on the top and bottom. The top features 2 USB ports (2.1A and 1A), next to a single microUSB port used for charging the power bank. And yes, Vinsic includes a dainty 28-inch microUSB cable, but no charging block. To the left is the LED battery indicator that can always be checked by simply tapping the display. As soon as you plug in a device, it lights up immediately to show remaining battery life.
Since the Vinsic ultra-slim power bank packs an impressive 20000mAh, this thing can be a real life saver for any number of bad situations. While I would normally bring a couple backup batteries with me for some weekend camping, this one provides enough juice when fully charged to handle my Lumia 640 XL and my wife's Galaxy S6 — leaving plenty of life for additional boosts if needed. With 2 devices connected there doesn't seem to be a drop in charging speeds, which is sometimes the case with aftermarket power banks. For extra security, it also features over-charge, over-voltage, short circuit, and over-current protection for anything you end up plugging in.
Image 1 of 3
Our take
The Vinsic 20000mAh ultra-slim power bank is a good accessory to bring with you for any lengthy trip. Its LED battery indicator is a cool addition next to having a couple USB ports for charging your devices simultaneously. Even though it seems to be built fairly well, I don't see this one surviving many spills without some kind of thin bumper. I'd also prefer it to be a bit more compact rather than just slim for the sake of pocketing. If you're interested in giving this one a try, it's available in dark grey (as pictured), pink, silver, and gold right now for $49.90 from Amazon.
Buy from Amazon ($49.90) (opens in new tab)
Windows Central Newsletter
Get the best of Windows Central in in your inbox, every day!
I have an anker 14,400 mah...so helpful...

Feels like 7 inch tablet in hand.....

Wow... Gonna get me one on payday

Is this thing really 20,000 mAh?? If so, that is unbelievable. It's also the nicest looking power bank I have ever seen! Color me impressed haha. I will order one asap.

I thought my 10,000 mah was impressive. Time to sell.

Nice Advertisment, but $30 too much. Unless this is made in the USA, it's not worth $50. Amazon sells similar Asian made products for $15-$20.

Yeah riiight, because these ultra cheap Chinese products are so trustworthy and follow strict inspection rules during production.

they are propably made in the same factory on the same assembly lines. everyone is making their products in china. you pay the biggest chunk for brand names, thats just it.

i want it now :D gonna catch one up soon

I have corseca 20000 with LiPo battery and aluminum body, looks same like this one... Almost same size

Checkout this battery, http://allaboutwindowsphone.com/reviews/item/20841_Superspot_20800mAh_Ex.... I've ordered one but it hasn't come yet.

Ive bought into a mugen case for my l929 should be here within a week here's hoping.
Im looking for one that has a 120v outlet though it seems most are limited to 85w

What you probably need to understand also is it a genuine 20,000mah or not. Some of the cheap power banks claim to be 20,000mah but when tested are in reality half of that figure.

Wow, do people REALLY need to keep their mobile devices charged this bad? Can it not wait for an outlet to be available?

Aluminum? Never heard of it!!!

This is 22400 and cost less, I have the first generation model, this is 2nd: http://www.amazon.com/EC-TechnologyAE-22400mAh-Capacity-Flashlight/d...

Does this charge surface 3?

Qi chargeable would have been a slam dunk.

Not really when the power efficiency for wireless charging still isn't there you'd lose more capacity just for the sake of convince

28-inch ain't dainty. More like unweildy.
Windows Central Newsletter
Thank you for signing up to Windows Central. You will receive a verification email shortly.
There was a problem. Please refresh the page and try again.