Virgin Atlantic, Microsoft and Santa teamed up to give passengers Windows tablets and more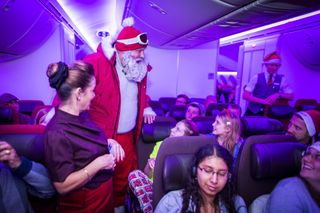 Passengers on a Virgin Atlantic 787 Dreamliner flight VS11 got a special treat from Santa and Microsoft yesterday, December 21. Starting at boarding, the passengers were given brand new Windows tablets from Santa.
Once on board the flight to follow Santa's flight around the Atlantic via NORAD's Track Santa. Every so often during the flight, Santa would radio in with a holiday message for the passengers. The elaborate set up included Santa "landing" on top of the plane during flight, coming into the cabin through a special "Santa hatch".
During the flight, Virgin also gave away several Microsoft prizes. Passengers had a chance to win a number of Xbox prizes, as well as Windows devices from Dell, Lenovo, and Microsoft if they won competitions during the flight.
Windows Central Newsletter
Get the best of Windows Central in in your inbox, every day!
That's Santa baby! The coolest guy there is! *barf*

And here I was, stuck on terra firma.

The pandering of the consumerist age. Gotta love it.

You would take it in a heartbeat.

Damn I was just on a virgin flight last Monday...:(

I feel like I've been on a virgin flight ever since I got married. Am I right? Who's with me?

Better head to some counseling then

The steward in the background really looks like he doesn't want to be there right now

He wants to be there.. It's his job and he wouldn't have chosen it if he didn't want to do it. If I was a steward, I'd be happy to have such a thing going onboard, break the monotony of the usual flight scenarios..

What tablets were those? Were they Venue pros? That would be awesome!

They do look more like Venue Pro 8s actually.. About the right size and the button placement looks right.

0:21 looks like an HP logo.

When I first tea the article I thought it sounded lovely, kids getting toys etc. But, then it dawned on me that this must have been some of the least in need kids on the planet. Anyone that can spend cash on a plane ride to see Santa, has minimal need to be given free electronic devices.

Yeah, it's not about giving something to people who need it and can't afford it. Its about getting publicity to promote product. The airline gets promoted, Microsoft gets promoted, and Santa gets a nice paycheck so he can afford to pay the elves this year. I hear they were about to go on strike on pay issues.

Apparently Obama had to force Santa to start taking elf care more seriously.

Do we even have a virgin Atlantic app yet

Man.. Give me.., very much needed

Parents are on one tomorrow from Orlando to Uk.

I flew back from the US on Friday, would have been awesome to get this flight!

lol i was sure it said "virgin galactic" and was like "wtf are they flying already?"

The iPhones in the passangers hand made me sick

If you want to stay well, don't ever go out in public. Or just look at tech pictures.

i prefer the jet blue one. i think it was them.

Lucky them. Stuff like this never happens to me.
Windows Central Newsletter
Thank you for signing up to Windows Central. You will receive a verification email shortly.
There was a problem. Please refresh the page and try again.