VLC for Windows RT is finally available for Surface RT and Surface 2 users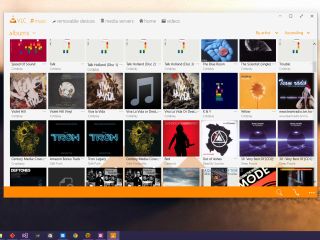 Two days after a revamped version of the VLC Windows 8.1 app went live in the Windows Store, a new update to that app finally adds support for Windows RT. That means owners of the Surface RT and Surface 2 tablets, among other Windows RT-based products, can check out the popular media player for the first time.
The announcement was made today by Thomas Nigro, the main developer of the universal VLC app for Windows 8.1, Windows RT and Windows Phone, via his Twitter account. Keep in mind that this update just went live in the Windows Store, so it may take several hours for the Windows RT version to become available for everyone.
Nigro has already stated that the shared code for the universal app means that updates for all of the Windows versions should go out quicker from now on, with the goal of getting out one update a week.
Source: Thomas Nigro (Twitter)
Windows Central Newsletter
Get the best of Windows Central in in your inbox, every day!
Thank you sweet baby Jesus.

His name is Thomas. Moron

Are you telling me I've been lied to my whole life?

And lo, did Thomas Christ walk among them, herald of the glory of heaven and the angels did sing.

No Thomas is the day we celebrate that he was born... He is called Tho. Not sure if Moron was his last name though, but perhaps Mor'mons are followers of the Moron or just a typographical error that they stuck with.

His name was Robert Paulson

Since we are way off of the fringe of the topic, its nice to see Lumias' in house of cards, season 3, along with Apple, but still, they are there.

They're just trying to be accurate. For government officials BlackBerry is out and Windows phone is in.

Thanks For Founding Electricity Thomas

Based on scripture, Jesus is no longer a baby.

The part of scripture I'd object to is the whole rising from the dead bit...

All The Walking Dead fans have gathered outside your house right now. Not saying Jesus was a zombie.

I can't wait foe win10 on my Asus RT tablet.

win10 is not coming to winRT

Hopefully the browser and the start menu come to RT.

Why the start menu? Seems rather redundant in such a small device without desktop apps. Even if it was included I wouldn't take mine out of tablet mode, it would be an inferior experience. I would much rather see touch office on RT. Heck, it would've been nice if they had updated Windows 10 (for phones) so it would also run landscape. Than I'd rather have seen that run on RT tablets. It would make the tablets much faster and keep them updated in the future too. Now I know my dear RT is going to be outdated in a few years.

I hope we are able to run W10 apps. Touch office, Spartan browser. Also need to keep support for flash.

How about hey Cortana on surface rt? Hope that this will come for win rt later.

Great news! It was well worth the wait!

And suddenly I can watch movies properly on my tablet.

Does this mean I can finally play mkv files on my RT tablet with subtitles and all?

Subtitles dont show up still in MKV files. I already tweeted Nigro about this, no response.

He's aware and working on it.

He need vacation after getting bullied by wp user

No. VLC sucks and it will not stop sucking like in 1 year more. when they finally can do things right and stop being silly about how they develop this vlc player

You can do that by using GOM player. It's very very very good. I've been using for a while & they often update their app.

GOM player for Windows RT? I don't think it's available. GOM player and KMplayer. They both are pretty much same.

And Lumia 2520 why is it ignored. Posted via the Nexus 1520!

Its working on Lumia 2520 also !! Just tested. Played some music on it

Because listing all products in a category is impractical. So just the "flag ship" or most well known ones are stated. Surface accounts for the vast majority of RT devices.

Has somebody tested mkv performance with this VLC for RT app already?

I played a 1080p mkv on my 8.1 925 and it went mostly flawlessly. There maybe was a crash but that was it.

Congrats Surface RT/2 owners. Vivotab users rejoice

Why not just say WinRt users? Lots of WinRT users without Surface's.

Because the Surface is more iconic, I guess.

I don't know that I would say "lots" of them... mostly Surface.

You are confusing WinRT with Windows RT

Happy to hear this, though the VLC app on my 925 does not play the videos I shot with the phone.

Nice work. Looks like VLC finally sat up and gave Thomas the support he needed!

Finallyyyy thank you!!!!
But I can't find it in the store..
Only able to find it via this link.
Why is the store so bad?

It takes about 24 hours to populate to the store.

The power of universal apps!
This technically means Windows RT isn't 100% dead... The apps will still be supported in a sense. Maybe they'll push out an update to make Windows RT look similar? Kind of like what they did with Windows Phone 7.8

WinRT is still the runtime. It is whether it is compiled for ARM or not. There will be plenty of windows 10 ARM devices.

Windows RT is getting an update with Windows 10, just not all Windows 10 features. Thats far from dead. Kind of like when Apple rolls out a new iOS version and the older phones dont get all the new features.

There will still be ARM devices. Windows 10 does not change that.

Nothing with the amount of freedom that rt had since largely wp is still gimped

Nigro(and vlc's studio) is a hell of a developer. Glad to see it true universal

Yes.....btw, I can download about 4-4.5mb on average via my phone...sometimes faster or slower. Point is, I never got near that on PC...vpn can slow things down, but you get my point.

Tried playing a mkv from a portable hard drive on my surface rt and it was unwatchable played about a second at a time probably will have to play straight from my tablet

Also impossible from a network...

Guess I'll just keep using Xbox video

It doesn't play over the network. Extremely slow.

Looking good on Windows 10 on the header picture of this article. :-)

Not overly smooth yet on Surface 2 (1080p mp4 file on SD card) but it's a good start for an universal app.

It's working on 2520, although not quite ok. No DTS support and the processor usage seems higher than the other one I am using. Waiting for a better version... :)
Anyway, it seems to be on the right track :)

Anyone tried using hdhomerun dual(non dlna version) with the wp app?

I made some benches with the universal app version versus the native media player. VLC universal app uses 2.9 more CPU and the battery of my PC lasts almost 2 times less... Clearly NOT optimized!

Still no .srt support for MKV files, I see no use to this better off with desktop app for now.

So what's happening with these RT devices? Is it worth to get one now? Because I would love to have a 2520, also considering the price right now, but if they won't receive updates anymore in a short time, they are practically dead

I'm loving my Surface 2. Been using it without any problems for a year.

RT devices are a lot more stable. Definitely worth it if you're just going to use it to browse and light tasks

I love mine and think RT was a great idea, but I dont know that I can recommend one now that MS seems to be walking away from the platform. My fear is that devs will not bofher compiling apps for RT in the future. I hope I am wrong about that.

Devs don't need to do nothig special to make apps available for Windows RT. They only need to use Windows Runtime APIs, it is very easy. But there are very few special cases, where the thing are slight complicated, most of these cases concern about the porting of old desktop code to Windows Runtime. VLC not only is one of this special case but is a more special case becouse its code is also based on Unix! So the engine of VLC had some code that for some technical reason need to be update to use more new libraries and APIs

@eddieDOTexe thats what I want it for, mainly for web based tasks, but as @pallentex states too, I am afraid if developers will bother to develop for it anymore... I am still in a dilema

Its a shame they are effectively killing RT or rather Surface RT as a supported platform.

Great news! Thanks VLC team!

Don't know about RT version, but VLC app for W8.1 has a serious bug where it messes up folder permissions on my music library.

Thanks but I cannot get away from Media Center already on those platforms. It looks great too.

Look it up tjarren. Windows store. Download it and see what I'm talking about. Eh??

Just downloading now in my surface

This app is horrible. It destroys my whole surface RT. I don't know what the technical cause is but it fucks everything up. I have to restart the thing to be able to play videos again, even through other apps. Crazy. How can this can ever be approved by MS?

Yeah something is very screwy with the VLC. It completely removed my own user permission to various folders in my own local media library and I had to manually restore them by logging in as admin. After several several attempts I gave up and just uninstalled it. Will wait for updates.

Been playing all kinds of files with Plex for two years with no problem.

Cool. Of course I noticed I can't pin these to the start screen either. Losing that in the WP8.1 update for my Icon has really frustrated me and this is no different.

Hope its better than the windows phone app

When I add subtitles file In vlc media player downloaded from store in windows 8.1 pro the subtitles doesn't works if I use that subtitles in normal vlc it works why is that so help me :/

They need to buy up vlc and make it their default player along with Firefox or opera lol

Finally, VLC has come to WinRT. Hip hip, hooray!
And in typical VLC fashion, it digests obscure formats (e.g. .flv and .mkv files) playing them back with ease - a particular rarity on RT.
However, it seems to struggle playing back network media of whatever sort - be it on the LAN or OneDrive. Playback is jerky to the point of being unwatchable - but beautifully smooth for local files!

Also depends on the mkv. Some play and some do not at all.
This app feels like an alpha version..

There is a WinRT version of VLC from about a year

Did you guys ever opened settings tab in VLC player while playing video? Once you go to settings tab, you can't go back to because there is no back button, it stays there and I have to close the app and start the video again. Anyone can try and report this bug?

It's a bit unusual but you can still tap the navigation buttons at the top left...

Don't forget the Lumia 2520

Great timing was waiting forever for this but now its to late. Giving away my 2 Surface RT to anyone in the family that wants them. Waiting for windows 10 then upgrading, ;) until then i will keep using my LG G tab.

Glad to see its a true universal app, including RT. They had me worried there at first. I knew they had RT versions working - I was going to be annoyed if they just decided not to bother supporting RT.

Opera to unveil a new user experience for windows phone In opera mini browser in #MWC2015

I am WinRT's developer, I wanted to fix some issues, but couldn't because of the "read-only" policy they have. I can't even suggest new translations. They should open up. The only thing I can do, is clone. Nothing more.
Windows Central Newsletter
Thank you for signing up to Windows Central. You will receive a verification email shortly.
There was a problem. Please refresh the page and try again.