Solve crosswords with normal people words in Vocabulary Crosswords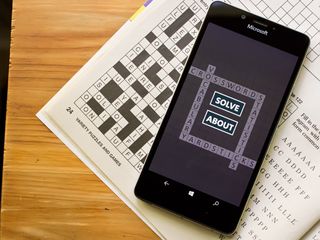 If you find crossword puzzles too difficult because they incorporate obscure and seldom used words, check out Vocabulary Crosswords. The Windows 10 game includes 200 puzzles that incorporate everyday words. While the challenge is still present, in using the more common words Vocabulary Crosswords eliminates a lot of the stress your standard crosswords puzzle can have.
The free game is available for Windows 10 PC and Mobile and is playable offline. If you need a little help, there is a hint button available to get you started in the right direction and if you are completely stumped, a solve button is also available. Vocabulary Crosswords may come across as a little water downed when compared to the New York Times Crosswords, but even in using everyday words the challenge is still there.
Simplicity is key with Vocabulary Crosswords' primary menu with two options present. You can begin working on a crosswords puzzle or view the About screen that details the sources of the words used in the puzzles and the developer credits.
Tapping on the Solve Button launches gameplay. If you have already started a puzzle, Vocabulary Crosswords remembers where you left the game and returns you to that spot. Otherwise, you begin gameplay with puzzle number one. Vocabulary Crosswords includes 200 puzzles with no repeating words.
The layout of the game screen is minimalist but does require a little trial and error to sort out some of the features. The main body of the game display is your crossword puzzle with your clue running along the top of the screen. A Solve Button sits next to the clue that completes the word.
The lower third of the screen is filled with an on-screen keyboard and your game statistics. Statistics include the number of characters solved and the current puzzle number. Vocabulary Crosswords' keyboard has two special buttons: SL and CC. The SL button solves a single letter of the word and the CC button clears the puzzle completely. There are no limits with either the SL or Solve hints.
Puzzles are presented with a few letters of the words already in place and to solve a word, tap on the first letter block to pull up the clue and type in the answer. Just keep in mind that you have to type the complete word, including those letters already present. Alternatively, you can tap on each individual space, type the letter and repeat the process until the word is complete. If you are used to entering crosswords solutions beginning at the first empty space, this is a feature that may take a little time to get used to.
To switch between Across and Down words you just tap the first letter a second time. Any incorrect letters appear in red and the correct letters are in black. If you leave the Windows 10 game before you complete a puzzle, Vocabulary Crosswords saves your responses.
The only slight annoyance with Vocabulary Crosswords rests with the ad support. It is a free game and ads display full screen as you transition between puzzles . While I didn't care for the frequency of these ads, there is a nice the big X button you can tap to close them out as soon as they appear.
While Vocabulary Crosswords utilizes common, everyday words in its puzzles, the game remains challenging. The clues can be a little on the vague side, but not impossible to solve. The difficulty level is suitable for a wide range of gamers, probably late Elementary School and older and can be a fun time waster of a game. There is also an educational quality to Vocabulary Crosswords — it not only tests your knowledge of definitions but also on the spelling of words you use daily.
Available for Windows 10 Mobile and PC, you also have the value of mobility with Vocabulary Crosswords. I can see it being a handy game for road trips or to help pass the time when you face longer than expected waits.
Download Vocabulary Crosswords from the Windows Store (opens in new tab)
George is the Reviews Editor at Windows Central, concentrating on Windows 10 PC and Mobile apps. He's been a supporter of the platform since the days of Windows CE and uses his current Windows 10 Mobile phone daily to keep up with life and enjoy a game during down time.
Can I write in the letters with my Surface Pen, instead of using the keyboard?

Tried it, immediately didn't like it, at least not compared to the New York Times' app. Too easy, not enough word intersecting. Maybe good for your kids, but no adult who likes a good crossword puzzle will be satisfied with this app.

The point of a challenging crossword is all the obscure words you seldom come across. Otherwise it's just a word search. That's how your vocabulary improves, which is ironic, given this app title.

How does your vocabulary improve when you never find out what the word is let along spell it. Oh yeah, have the app solve it for you, then read the questions clues again and then look at the word. I keep improving my vocabulary the old fashion way be reading and using contextual clues from reading. I want my crosswords to be fun and enjoyable, you know kind of like a word search...lol

I've been looking for a good crossword puzzle app since World's Biggest stopped their Windows Phone App.

Easy words defeat the very purpose of a crossword : Improving vocab. Whats going on ?
Windows Central Newsletter
Get the best of Windows Central in in your inbox, every day!
Thank you for signing up to Windows Central. You will receive a verification email shortly.
There was a problem. Please refresh the page and try again.