Vote for your favorite Xbox game on Windows Phone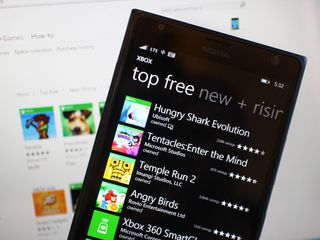 A few days ago we asked you to nominate your favorite Xbox game on Windows Phone. We had a few hundred suggestions, so we gathered up the most popular into a poll. Now it's your turn to vote for your favorite Xbox game on Windows Phone.
We picked out the top seven games that kept getting nominated. Here they are:
Vote for your favorite Xbox game!
We'll announce the community favorite later this week!
Not seeing the poll? That's probably because you're reading this in our app. Hit up the article in Internet Explorer (or your browser of choice) to see and participate in the poll.
Windows Central Newsletter
Get the best of Windows Central in in your inbox, every day!
Intellectual so Wordament.

I played wordament like a lunatic until I cracked to top 10 then had to retire to save my sanity

Age of empires castle siege

You guys now have the voting button :)

Maybe he/she was using the phone to comment. The app hasn't received the like/unlike buttons yet. (I MAY BE WRONG, haven't used my phone for quite some time)

Even after three years, I still really like Hexic Rush. I doubt it came out on top though haha

Thank you! Yes! Hexic Rush is the best puzzle game on Windows Phone. It's challenging, fair, and rewarding to anybody who has the patience and prudence to 100% the achievements. This game was released back in an era before IAP ruined mobile gaming.

Along with Mirror's Edge and Survivalcraft, it's my favorite.

Isn't Survival craft just a blatant rip-off of Minecraft? I'm surprised it is allowed in the store.

It is a similar game, doesn't mean it is a blatant rip off. It is actually excellent, the focus is on survival, and it has its own style and feel. Much more animals than minecraft. Besides, Minecraft isn't in the store anyway, so why are you complaining? Minecraft don't have the exclusive rights to all sandbox block games.

Similar would be an understatement. The focus in Minecraft is on survival as well and the basic game mechanics were filched straight from Minecraft. Minecraft was announced to be coming to Windows Phone before the end of the year, so I'll wait for that. Why am I complaining? Because I value intellectual property rights and originality, rather than make-a-quick-buck knockoffs.

Pretty much all newer games then which is silly. GeoDefense for me. Awesome game.

Tentacles: enter the mind

I don't think that Hungry Shark Evolution should win. It's a very fun game but it bears bunch of bugs. Don't have much interaction with Xbox Live whatsoever.

Hungry shark evolution is the best I believe! I enjoy eating people, is that bad? :P

Age of Empires: Castle Siege

Given the options, AoE, definitely.
But I like AC Pirates a lot and doesn't have the annoying waiting times of AoE.

Wordament, and specially Snap Attack

what...? no place for Istunt 2 .....strange!!!

I would say Halo. But one that didn't make the list that I definitely would've voted for is Mass Effect Infiltration. Halo is better on surface tablets.

Yep, I love halo on my xps12. Its a bit easier control wise.

Age of empires and Spartan assault. Funny how they're both big MS franchises. one being bigger than the other of course. And they're both exclusive.

I wish Terraria would be universal so I could continue to play on my Surface using touch and an Xbox controller.

Age of Empire: Castle Siege

Mirror's Edge is the best WP game, but since that wasn't on the list, I'd rank those that were listed as follows:
1. Skulls of the Shogun, 2. Halo: Spartan Assault, 3. Wordament, 4. Age of Empires: Castle Siege, 5. Tentacles, 6. Terraria, 7. Hungry Shark. My actual list would be 1. Mirror's Edge, 2. Shoot 1UP, 3. Hexic Rush, 4. Zuma's Revenge, 5. Mush

How is zumas on a phone? Can't imagine... It got hard as #$%@ on Xbox with a controller...

I think it's easier on a touch screen, actually, because you can aim exactly where you want. I 100%'ed the game. It was fun.

Age of empire ! (Had it not been outed, Wordament). The WP Central alliance is doing quite well btw !

The UltraFriendClub is coming for the number one spot.

I just dropped WPCentral2 and joined UltraFriendClub!

I've spent more time playing Wordament than all my other phone games put together, so that gets my vote.

Have you had wordament dreams yet?

Age of Empires is definitely the top Xbox game, if not I'll stop using WPCentral app anymore.

WOW, all games I either hate or genuinely dislike. Except Hungry Shark, that one was fun for a few mins. Lol! So I guess if I were to vote it'd be that one.

Skulls of the shogun all the way!! Its the only game I play on my HTC radar. Btw now that 7.8 support has ended MS should make the xbox games on 7.8 free :P

Well I vote 1-Assassins Creed Pirates
2-Halo Spartan Assault
3-Modern Combat 4
4-Age Of Empire
5-Temple Run 2

Age of empires! For the WIN!

It was between Halo and AoE for me but in the end, AoE got my vote.

Of that group, definitely Wordament. It's the only of those that kept my attention for a lengthy period of time.

Of these choices, Wordament for me. That's the only one of these games I even have on any of my phones.

At this time, age of empires , but also I love shark evolution and halo

REAL FOOTBALL
REAL FOOTBALL
REAL FOOTBALL
NO ONE MENTION OUR FOOTBALL GAME.... Y????? FOOOOOOOOOOOOT BALLLLLLLLLLLLLL

Hungry shark evolution and tentacles: Enter the mind

How come Plants Vs Zombies 2 isn't on the poll?

Temple Run 2 was my fav ever

I really miss Rayman in this list... That's my favorite.

Has anyone else have the bug in Age of empires, that you cant see how many resources do you have?

Yesterday I saw bugs in my pants. Well, this doesn't bothers me anymore. -_-

That bug only showed up on systems set to other languages than the game supports. But it has now been fixed to work with the latest update.

Yeah, now it finally works, and it is an awesome game!

I wish I could vote for Candy Crush Saga. If i could, then this game would probably be available in Windows store. Anyone got my point? No? You're not alone, neither do I got what I just said. :/

Age Of Empires Castle Siege

Hungry shark evolution for me. The sharks in the beginning can be a little boring and it is a grind to get to the great white. However, the great white and megalodon are really fun to play with. Note: the fastest way to unlock the great white is to not waste money on upgrading the smaller sharks as you don't need the upgrades.

Used to be Halo, but AoE is insanely good on both phone and RT

FIFA FIFTEEN!!! but really....terraria even though I don't play it anymore.

Hungry shark evolution, because my niece (five an a half years) and nephew (3 years) love it!
To be honest, i enjoy playing it also!

Wordament (SNAP ATTACK)!!!

Age of Empires: Castle Siege

Jetpack Joyride, Hexic, Hexic Rush, Doidle God. I've completed/unlocked all achievments. Add me: Rielsir

Halo : Spartan assault......

Y cant see hungry shark evolution on my store

Wait, Sam. So you were serious? When you asked for Xbox live games to nominate for the poll, you really wanted Xbox live-titles ONLY? But isn't that unfair?

My fav is Hungry shark evolution

Take all those freemium away from me; Terraria for the win ! Man this game fantastic, almost endless, I've been spending hours and days on it and I'm still discovering new things..

Very difficult choice between halo sa and skulls of the shogun.

Hungry Shark should be taken off the list due to its constant crashing issues. Terraria or AC Pirates for me, although I haven't started Tentacles or AoE yet.

Tentacles
Awesome game. Sent from somewhere. Don't worry I ain't illegal.

Bow man hd (best online game)

Hungry Shark is so laggy game... But it runs smoothly on my IOS device.

My favorite games would be:
1. Mass Effect: Infiltrator
2. Tentacles (Original)
3. Tentacles: Enter the Mind
4. Mirrors Edge
5. Splinter Cell Conviction Some honorable mentions: Mush, Max and the Magic Marker, Rayman Fiesta Run
Windows Central Newsletter
Thank you for signing up to Windows Central. You will receive a verification email shortly.
There was a problem. Please refresh the page and try again.