What's your favorite Xbox game on Windows Phone?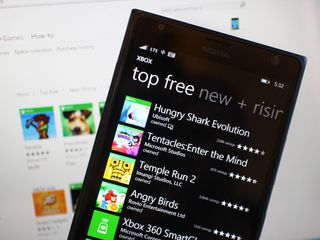 It's Friday, so we should have some fun. What's more fun than talking about your favorite Windows Phone game with Xbox? Earlier this week Microsoft released Age of Empires: Castle Siege for Windows Phone (and Windows 8.1). It's an awesome new game that plays similar to mobile games Clash of Clans and Cloud Raiders. Unlike those two games, you can directly control your troops during attacks AND you get Xbox Live integration.
Go wild in the comments below. List your favorite game (or games) with Xbox support on Windows Phone. We'll then round up the most popular for a poll in a few days to see which Xbox game on Windows Phone is the king.
Personally I'm really liking Age of Empires: Castle Siege and have always had a soft spot for Halo: Spartan Assault.
So, what's your favorite Xbox game on Windows Phone?
Uno with Friends is crazy fun.
... but I can't honestly answer this because my Dodonpachi Resurrection never got a WP8 update :'(

Yeah dodonpachi on windows phone would be awesome

Guys, what is your opinion about ubisoft's Babel rising 3d? On my store it had one bad review but it seems as an interesting game

Omg. Just realized what you did. You're the real MVP

Age of Empires: Castle Siege is my current favorite. I like how I can pick up and Windows device and be able to control it.

Age of empires would be good if we didn't have to be online to play. Don't have an internet connection? Sorry, no game.

Then they attack while you sleep at night.

AoE:CS have frequently connection error even on good wifi. It is frustating when you deploy a troops then have the error. Maybe only me on my 1320, anyone?

That's happened to me twice. I don't get why. The error doesn't happen on Star Wars commander. Hopefully an update can fix it.

Yeah that dc error need some fixing..quite annoying when you knew you're about to win a raid and suddenly %$#*&!

It's not the game it's the Xbox server

Same here. That's why I can still say that Cloud Raiders is better as it works over 2g speeds also.

Always lost connection when play..

Ditto, Age of Empires is great.

if you don't have alliance... join mine!!! aznraven

iStunt 2. Wish there was an istunt 3 :(

Currently it's a tie between AoE and AC Pirates.

Join my alliance in AoE. Look up 'UltraFriendClub' lol Anyone can join, but only real playboys can keep up

I'd like to but can't play the game right now because I failed to sign in

I joined the UltraFriendClub lol

I joined! Lel
My nick name is DeltaCriminal07 :3

Hm-m-m... I'd say Terraria but I don't play in it on phone, only on PC... So let's It'll be Fruit Ninja for now :D

Also I can't afford new games for now lel... Supporting army is now a top priority :)

Terraria for me too but I'm playing it on my 939

Temple run 2 is all time favorite.

Sad it refuses to keep the progress thou :(

Civilizations Revolution! :)

Any game that doesn't have to be online to play (like age of empires), doesn't have mercenary in app purchases (like hexic), don't have an exagerated price (like final fantasy) and that works on 512 ram (unlike modern combat) Are there any games left?

Rayman Jungle/Fiesta Run, Terraria, Tentacles: Enter the Mind, Final Fantasy(not III), Hexic Rush, Bejeweled Live +, and Minesweeper/Mahjong/Solitaire, Halo: Spartan Assault, that's just what I have on my phone...

Damn it. I did it again. Sorry.

No case is hopeless... ;-)

Hungry shark evolution! That passes all your requirements. :D

Age of Empires is being played a ton right now, still messing around with Terraria.

Age of Empires is beast! I'm in the wpcentral clan and my GT is voleheartmecraz (prolly will change soon). Halo: Spartan Assault and Asphalt 7 are really good. FIFA 14 is fun but a bit boring after a while. If I had more space on my Asus T100 I'd have all my XBL games on there.

Age of empires needs internet to play. No internet connection no logon on xbox no game. This is shit.

What did you expect? It's supposed to be experienced online like any Age of Empires game.

No. 1 racing game for me. ;)

Asphalt 8 isn't Xbox live-enabled.

Asphalt 8 os am Arcade Racing game. But still good

Mmmm AOE is now my new favorite Xbox game ! :3

Age of Empires has me hooked!

Oldie but a goodie... Loved the GeoDefense series.

This. It's better than AoE

Hungry Shark Evolution , I'd say!

Spartan assault hungry shark e aoecastle siege but lately there is problem with my Xbox live account. Can't connect so some of the game doesn't work

Hungry Shark Evo, Terraria, Halo SA, Tentacles Enter the Mind, and Tetris Blitz are all pretty good...

Mine is SongArc. But unfortunately I constantly need to use phones to play to avoid get my wife bored. More than that I play a lot Royal Revolt 2, and they are bringing same day updates with others platforms.

This thread was supposed to be about Xbox live-enabled games.

Skulls of the shogun's my all time favorite, hope they put out a second installment.

For me it's:
Wordament
Snap Attack
Contre Jour
Terraria
Age of Empires: Castle Siege
Hexic
Jetpack Joyride
Asphalt 8
FIFA 14
Microsoft Mahajong
Microsoft Minesweeper


Asphalt 8 isn't Xbox live-enabled.

Hungry Shark Evolution FTW!!!

Solitaire. At least it is until my phone turns into a raging inferno and the battery drops dead.

+Icon
And for me other issues like settings wiping and bad performance. I believe I need Cyan to resolve the performance issue.

The Harvest, but its not available anymore.

Cut the rope, Mirror's Edge and Jet Car Stunts.

Jetpack joyride and armed!

I'm a sucker for Subway Surfers.

Do people today skip not just the article but even it's headline? This was supposed to be about Xbox live-enabled games, not about throwing in random names.

I like Ice cream with skittles mixed in..

You sir or madam got a chuckle out of me. ;)

To be honest, I've come realize I don't like touch screen phone games no matter what platform it is. I deleted almost all of them.

Well, well, well... It's hard to say, but currently I am playing Terraria and it is a fantastic game

I always end up re-playing Halo: SA and Skulls of Shogun after getting bored with the latest fad game. Haven't tried Terreria and AC: Pirates yet, honourable mentions Contre Jour, Dark Knight Rises and Ilomilo( I don't like the new freemium IAP games like Hexic, Throne together , Tentacles and Age of Empires)

"ilomilo" was an early, lovely favorite.

super crossfighter, rayman.

All time favorite was Orbital. Really wish they would bring it to WP8...
Current most played is Hungry Shark Evo.

Orbital was my favorite also. +920 on bringing that one back. Was hoping it was on the recent list of the games they brought back but it wasn't.

Mobile games always get boring after a while for me. The only one that i'm still playing is godville.

Rayman fiesta run and rayman jungle run

Rocket riot... Oh wait I can't ever install it again... FU Microsoft... Posted via the Windows Phone Central App for Android

Hungry shark evolution and Rayman fiesta run. Also really enjoy AC Pirates.

The games which are free,lol

Since I can't install any of them, I hate them all equally.

LOL! Why can't you install any of them?

"Tentacles: Enter The Mind" is growing on me, already have a fully maxed out character and I'm not very far into the game lol but AoE is also up there. Then Terraria is.. Well creeping up, not quickly though.

I love ilomilo, and Halo Spartan Assault. I loved The Harvest though!

As I came to windows phone from WP8 I have never played Harvest, such a shame that it never got WP8 release.

"Bejeweled live +" a great Xbox game that we can play anytime. My personal favourite.

But really "pop cap" please do provide an update to this classic. After all its a paid game.

One thing everyone hates about Xbox titles - "They will take ages to update."

I didn't play too many games due to ram limitation.....I like asphalt 7 most.....

Terraria. But before that it was Fable Coin Golf.

hungry shark but it sticks too much battery so I've deleted

Same reason for me. Hungry shark evolution is a really nice game but it lags sometimes and drains battery so much.

I always play with the charger on so no problem there

Kingdoms & Lords my favourite.

Hungry Shark Evolution... Love eating people!

Forza & formula 1 & mortal kombat & Grand turismo & ninja gaiden & prince of pershia

Tentacles enter the mind is a good one

Jetpack joyride kept me busy on 1020 and on Surface, but it has to be Final Fantasy for me, such a big named company to care about Windows Phone makes me happy :)

Shuffle party was fun & frustrating(in later levels to get achveiments), collapse was nice to play(a realarcade classic), uno/&friends(stores gameplay in cloud) both good games, ice age village good when the game booted up, monopoly/millionaire great to play(to bad none of these games had multiplatorm wifi play support), rabbids big bang, tetris/blitz(blitz had a frustrating glitch the happened after every title update making achievement progress impossible until reinstall), & aoe castle siege has been great so far

My favorite Xbox game on Windows Phone is Age of Empires: Castle Siege.

AGE OF EMPIRES: CASTLE SIEGE. PERIOD.

Clash of clans please! :(

Fifa 14, tentacles,uno ,age of empires ,temple run 2,real football,
Shuffle party,ice age village ,kingdom and lords, etc

Age of Empires Castle Siege, Tentacles: Enter the Mind

Hungry shark is my go-to game right now on WP. So fun haha

Mirror's Edge. Trust me, everyone. The answer is Mirror's Edge.

It was one of the first game I bought and still has such replay value.

I am just addicted to age of empire nowadays

mirrors edge,contre jour,istunt 2

Cartridge is my favorite. :)

I current like aoe cs. My team name is "raiders.". Anyone can join.

want Injustice gods among us.

Gravity Guy ! It has awesome 4 player local multiplayer !!! And ramps up the tension on small screens for local multiplayer ! Superb fun

I like REAL FOOTBALL the most but its not free. I have downloaded trial version and play 36 times in a day. I m not getting boarded till. I have no credit card bcz i m a student. So i cant buy the full version. Many users like me facing the same problem bcz of credit card.
And for lumia 512 ram no full version football game. For 1 gb its free.
512 not free. What is this??
Pls do something..

I've been enjoying AoE, but Skulls of the Shogun is still my favourite. Although, my most played games are Wordament and Wordament Snap Attack.

I think AoE is my favorite, I'm addicted. Uno, Spartan Assault are good too.

MASS EFFECT INFILTRATOR!
Too bad it doesn't sync with ME3, like Android or iOS versions d :'(

Tentacles the best Xbox game

Not able to install AOE through sdcard anyone can help please?

http://www.wpcentral.com/commenting-guidelines

AC Pirates, Uno, or Final Fantasy. (I've played alot of Final Fantasy games, first time I BEAT one was on a windows phone).

Crimson Dragon Side Story.

Wow very unusual, I never played it as it got very bad reviews in my store(region) so never came to downloading it.

What region are you in? It has some good reviews in the USA. And I was a big fan of the Panzer Dragoon games. Believe it or not several people, including the game director all worked on previous Panzer Dragoon games.

Tentacles: Enter the mind

Hungry shark evolution....

I'm playing plants vs zombies again recently, together with hungry shark evolution. Gonna download age of empires today if I find some Wi-Fi..

Age of empires!! God damn addicted!

Hungry shark evolution of course!

Guys, what is your opinion about ubisoft's Babel rising 3d? On my store it had one bad review but it seems as an interesting game

Age of Empires: Castle Siege

Halo: Spartan Assault without a doubt!!!

Hydro Thunder Posted via the Windows Phone Central App for Android

Don't really have one favorite but primarily stay in my genres of endless runner, strategy, match three, platform and action/adventure. Currently playing: Hungry Shark Evolution Rayman Fiesta Run Subway Surfers

Spiderman Unlimited, Asphalt 8.

Xbox Live enabled games please though I agree both of them are highly addictive.

Rayman fiesta n jungle, sparkle, zuma revenge, asphalt 7, geo defense n swarm....which I have passed all of its.

Rabbids Big Bang is my current favourite. I have yet to try Age of Empires

Tentacles enter the mind and plants vs zombies and of course halo Spartan assault

Tentacles for now and modern combat 4.Haven't played mc5.And ms should add an option to restore cloud saves.I lost my Hungry Shark Evolution saves when I formatted my phone was really pissed.

Rayman Jungle Run and Assassin's Creed™ - Altaïr's Chronicles HD (http://www.windowsphone.com/it-it/store/app/assassin-creed-altaïr-chronicles-hd/40d77c09-c1e6-df11-a844-00237de2db9e)

Xbox Live games:
Mirror's Edge
Little Acorns
Skulls of the Shogun
Farm Frenzy 2
Ghostscape
Yahtzee
Battlewagon
Puzzle Quest 2
I Dig It
Glow Artisan
Terraria
Halo: Spartan Assault
Hungry Shark Evolution
Jetpack Joyride
ilomio
Royal Revolt 2
Non-Xbox games:
Doom & Destiny
Dragon's Blade 2
Treasure Face
Acedia Indie Horror
Advanced 21 Blackjack
AE Bingo
Bugs Defense
Create Your Game
Dungeon of Slyn
Minicraft
Orbiter
Physi Bricks
Physi Nibbler
Toilet People
Survivalcraft
2048 (just about any)
Tuning Cars Racing Olnine
there are tons more i like but these are the main ones.
also forgot about Asphalt 8

So why aren't games like HALO and Age of Empires being used when people complain about the app gap?

err playing the Halo phone game is imho a waste of time, the control stinks, it could have been so much better

Not x box enabled but playstation snes and gbc emulators

Tentacles: Enter the Mind
Jetpack Joyride
* Actually, I recently uninstalled both, for now, after realizing how much I was addicted to each of these games (and to using the phone in general), and how much I would be playing them when on a bus or subway instead of simply, say, reading. :)

Alphajax is the only Xbox game I play every day. Hungry shark is also getting a lot of playtime. Spartan assault looks great but the controls make it a lot harder than it should be.

I go with Dodonpachi, that was great fun and very challenging back then on my awesome Htc Titan.
Just comes to my mind first, but I enjoyed a lot of those Xbox titles, both geo defense games for example. Most recently Tentacles was fun and hungry shark.
I own and played every Xbox game so it's quite difficult to name just a few games. Xbox Grande!

age of empires and the one with rabbits in universe :D

Star wars Commander, better than aoe!

Alphajax. Wordament, loderunner classic

Age of Empires
Skulls of Shogun
Hexic
Rayman Fiesta Run
Jetpack Joyride.

Hmmm....AoE I'd say.... But the online requirement will turn some away Posted via the Windows Phone Central App for Android...but often when my WP #Lumia520 is charging :-)

I really like all of the green-xbox-live-title. My top 10 green Xbox live title are:
1. Age of Empire
2. Asphalt 7 Heat
3. Cut the Rope Experience
4. Halo Spartan Assault
5. Hungry Shark Evolution
6. Mirror's Edge
7. Rayman Jungle Run
8. Shoot 1UP
9. Skull of the Shogun
10. The Sims Freeplay

Hungry shark evolution, and her pack joyride are my favorites

I dont think this should be about fav game, a better articale would be what xbox phone games have you yet to play. Given that new releases are so slow now (has xbox phone games been given up on ?), if you are an xbox and achievments nut then surely you must have play all the phone games by now and need new, fresh input. MS really need to promote xbox phone games more and get some more arriving..

Radiant defense for me! :D

Dont get why ppl care about xbox functionality.. Whats the point besides meaningless achievments?

Spartan Runner of course! Everything indie Windows Phone gaming should be.

Halo Spartan Assault por supuesto!

Rayman fiesta run and Hungry shark evolution.

We need more multiplayer Xbox games on windows phone frreal

Right now, it would have to be "Hungry Shark Evolution." It's a little repetitive but it is fun. My all-time favorites are "Zuma's Revenge," "Wordament" and "Bejeweled Live."

I'm loving Assassin's Creed Pirates, now that's it's stable. Fun game!

I have to say SNAP ATTACK!

Damn it Microsoft, what happened to the Xbox.com I can't play any of the game online . This is totally bullshit

Undoubtedly.. Age of Empires : Castle Siege :) I simply love it.. But have to accept it requires fixes in stability :)

Mass effect infiltrator and Spartan assault

Does anyone facing possible with aap store

Alphajax is mine. I'm not really into playing FPS or Racing games on a phone. I prefer the puzzley games on a touch screen device. I wish CtoS and BF4 Commander were available as Xbox Games for my Windows tablet. Would be cool for them to unlock achievements. Even like the PvZ:GW companion through smart glass I kinda cool. Trials Frontier would also be a welcome addition to the WP platform. Other than that, Jetpack Joyride has seen quite a bit of my fingerprints.

Hill Climb Racing ( and Age of Empires)

I've logged more hours in Snap Attack and Wordament than any other game...ever, most likely. Absolutely fantasic games!

Definitly Age of Empires Castle Siege....
Windows Central Newsletter
Get the best of Windows Central in in your inbox, every day!
Thank you for signing up to Windows Central. You will receive a verification email shortly.
There was a problem. Please refresh the page and try again.