Vote for your favourite app in Nokia's App Madness competition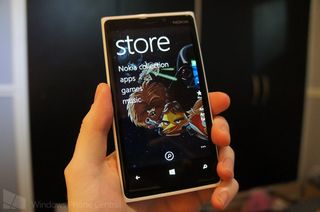 Nokia isn't quite bringing sexy back, but we'll take the Apps Madness competition. The company is launching the contest to establish the best app, voted by the community. An article has been published on the official blog detailing the entries, all 32 of them. The apps have been selected and divided into four categories: games, social, news & entertainment and utilities & productivity.
So who's in the line-up?
We know what you're thinking, "Where's Windows Phone Central?" Unfortunately, while we sent Nokia boxes of champagne and chocolate, it seems our bribes have failed and our app hasn't been included. Alas, be a jolly good sport and head on over to vote for your favourite apps. The first round will cover the entries in the games category.
The article also urges consumers to remain tuned for future rounds when the main prize will be announced. There's also the Windows Phone Next App Star contest, so be sure to also vote for your favourite apps there to.
Source: Nokia
Windows Central Newsletter
Get the best of Windows Central in in your inbox, every day!
Rich Edmonds was formerly a Senior Editor of PC hardware at Windows Central, covering everything related to PC components and NAS. He's been involved in technology for more than a decade and knows a thing or two about the magic inside a PC chassis. You can follow him on Twitter at @RichEdmonds.
This really makes the Windows Phone app line-up look bad.

Its a shame that Jay Bennett's masterpiece is missing in the competition. :)

This! How did AAWP get in??

My guesses for winners in each category:
Games: Asphalt 7 Heat
News & Entertainment: Amazing Weather HD (@Nokia, no WPCentral, really?!)
Social: WhatsApp
Utilities & Productivity: Connectivity Shortcuts

And the Champion: Amazing Weather HD?

yep! thats what I think too!


Some of these choices are dumb. Whoever picked these apps have no clue.

I'm sooo voting against Skype.

Oh my life, I just watched a blatant Skype-on-a-Lumia920 product placement in the latest ep of House of Lies. It would like it if I didn't knew how shit Skype on WP is.

Nokia may know how to build the world's best smartphones but they kind of suck at contests like these. WPCentral should show them how it is done and either pick better apps or have some preliminary rounds to select the qualifiers. No WPCentral, Skydrive, Photosynth, Package Tracker? Are they also ommitting Nokia exclusives because City Lens is not there.

They can't really run a promo and include their own apps..

Shame on Nokia for not including WPCentral.

Whats all the criticism about. Cry me a river. At least they aren't sitting on there Ass. It's the apps they chose, deal with it.

Nice suprice to se Flow Free there. Superb game that can easily developed further. I like it as it is now because even I can finally finish a game :P

Not worth checking out if they left WPCentral off the list. It's probably the most utilized app on the platform.

You do not realize that millions of Lumia 610 owners don't even know what wpcentral is.

"...millions of Lumia 610 owners" ROTFLMAO, don't you mean, BILLIONS! Seriously, the Lumia 610 did not sell very well.

It sold really well worldwide. Don't be so US-centric, Dan.

I know of two people with them... and I personally don't know any other WP owners. They were knocking them out for like £60 here in the UK, so you might be surprised how many 610 owners there are.

I should really check out Amazing Weather HD since it's getting praised all over the place. I'm pretty happy with Weather Flow right now, though.

It is really nice, and getting routine updates, so very good developer response on it as well.

But seriously, there isn't even one Liquid Daffodil app selected, and they have 6 or 7 that are Top Rated and Top Downloaded, and at least 3 won Best of 2012 Awards. I wonder if the folks a Nokia running this actually use Windows Phone?

Maybe you put one of their friends in the Who Not To Follow section? ;)

And the winner is...
Mehdoh

and they chose Flashlight-X! over Flashlight XT!?

While I agree XT is superior from the standpoint of no nonsense flashlight apps, X is nice if you want/need the compass functions while lighting your way.

One thing about this contest over the MS one:

Organized into categories instead of random, oddball matchups.

Maybe my work pc is blocking it, but I can't figure out how to vote. I don't see a vote option anywhere.

Aawp app is not comparable to wpcentral app. What a fix!

The MS one currently has WPC app against the game armed. WPC app is leading on that... this one is on the windows phone page on Facebook..windows phone next app bracket
Windows Central Newsletter
Thank you for signing up to Windows Central. You will receive a verification email shortly.
There was a problem. Please refresh the page and try again.