VRV is a new video subscription service that's coming to the Xbox One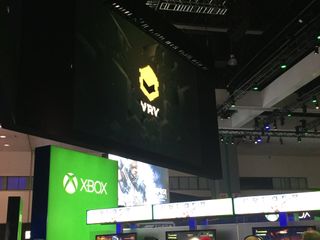 During E3 2016 this week, Microsoft helped to announce VRV, an upcoming video streaming subscription service with a number of content partners. It will launch later this fall on the Xbox One and other platforms.
Microsoft announced the Xbox One's involvement with VRV via Twitter:
So what is VRV? Well, despite what its name suggests, it has nothing to do with virtual reality. The Wall Street Journal reports that the service is being launched by Ellation Media and will offer video content from partners like Rooster Teeth, Nerdist, CrunchyRoll, Geek & Sundry and others:
The involvement of G&S is enough for me to stay away from this.

I'm assuming you are talking about Geek & Sundry. I don't know anything about them. Are they that bad?

I don't think I will ever be able to pay for what is essentially well produced Youtube videos. I've seen videos from some of these groups, and they are not worth paying for like you would TV series or movies.

Another thought: Some of these groups already have their own subscription services to view exclusive videos and to see new videos early. I wonder how that will mix with another subscription cost.

So reading through RoosterTeeth.com, If you currently sponser (pay) them, you will get to watch all Rooster Teeth videos on VRV using their login. This makes it sound like you can/will subscribe to individual websites still instead of all of them at once. This makes it even less of a good idea. EDIT: Just read on another site that, at least at the beginning, you will still be subscribing to individual companies.

So they want us to pay for video services that have been free? Nope.

At least some of these sites have pay services already to view exclusive content or to view content early. I think all of these sites want to off load the troubles of creating and maintaining apps for a bunch of different platforms. All of them want to progressively move away from Youtube so they can control their finances better.

Any info on availability? US only or other regions too?

This smells like YouTube Red which is a huge flop. No one is willing to pay for YouTube quality videos.

Speak for yourself please, thanks...

Also guys, don't think you are supporting the little guy with this service. Otter Media has a majority stake in Ellation. Ellation owns Crunchyroll and is the company starting VRV. Now, who owns Otter Media? AT&T and Chernin Group. AT&T is trying to create a cable tv like setup except you pay for individual channels and maybe all of them later on. EDIT: Apparently Otter Media also owns Fullscreen which owns Rooster Teeth.

Another metoo service that just carries content you can get on yt fee
Windows Central Newsletter
Get the best of Windows Central in in your inbox, every day!
Thank you for signing up to Windows Central. You will receive a verification email shortly.
There was a problem. Please refresh the page and try again.