Warframe: Echoes of the Sentient update impressions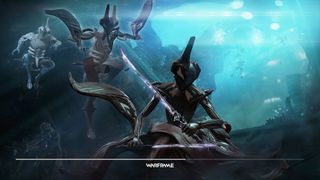 Warframe is one of the best free to play Xbox One games around. Players team up as Warframes, super-powered armored ninjas, and take on co-op missions across the galaxy. With quality third-person shooting and melee combat and plenty of co-op missions to complete, Warframe is a great value for both free and paying players.
Today Warframe received a massive update called 'Echoes of the Sentient.' The 2.6 GB update brings a new playable character, revamped movement and parkour, a new level and boss, tons of items, and much more. If that's not enough to get you playing, we also have 50 codes to give away to our excellent readers. Don't miss our update impressions with video, plus giveaway details!
Echoes of the Sentient
The 'Echoes of the Sentient' update adds a ton of new free content for Warframe players:
NEW WARFRAME: Split between day and night, Equinox manifests aggressive and defensive forms at will.
PLAYER MOVEMENT OVERHAUL: Experience a complete overhaul to movement in the game. Changes include the addition of Double Jump, Bullet Jump, Wall Latch, Wall Dash and Aim Gliding.
ARCHWING SUBMERSIBLE: Explore new depths in the oceans of Uranus, smoothly transitioning from on-foot to submersible Archwing mode! Encounter new and deadly Grineer enemies in unique environments and enjoy various game modes including Defense, Survival, Capture, Rescue, Mobile Defense, Exterminate, and Sabotage!
NEW BOSS BATTLE: Tyl Regor is back and is stronger than ever. Assassinate this skilled threat amidst the oceans of Titania, Uranus!
NEW QUEST: Is the strange drone scanning Tenno just an upgraded piece of Corpus technology or are there more sinister things stirring in the Origin System?
NEW TILESET: Delve into the depths of the Grineer Ocean with a new underwater Tileset.
NEW UTILITY MOD SLOT: Prepping your Mod Build just got easier! The new Exilus Utility Slot frees up space by offering a place for a Utility Mod.
And more! See the full list at Warframe.com.
Bonus codes giveaway [Ended]
This week only, we're giving away 50 Booster codes for Warframe on Xbox One or PC! This new-and-improved code provides two significant benefits:
7 day Resource booster: Doubles the amount of resources earned from pickups.
7 day Affinity pack: Doubles the rate at which you earn affinity. Upgrade your weapons and Warframes faster. Affinity Boosters also increase Syndicate Standing gain.
To win a 7-day Booster code, all you have to do is tell us:
Your favorite location to visit in Warframe (planet, moon, etc.)
Your Xbox Live Gamertag
We'll give out the codes via Xbox message, so be sure to watch your messages on Xbox One or the Windows 10 Xbox app to get your code. These codes don't expire, so you can redeem them later if you want. Giveaway starts now and ends Saturday, September 5 – while code supplies last.
Redemption instructions
If you win a code, you'll redeem it at Warframe.com, not Xbox.com. To redeem:
Visit Warframe.com
Log in to your console or PC Warframe account at the top-right corner of the screen
Select Account Management
Enter your code in the Redeem Code field
Quick Echoes of the Sentient impressions
One of the update's most significant changes is the new movement system. Basically, players now have a variety of additional moves at their disposal. A new tutorial (pictured above and in the video) will teach players the following moves:
Double jump
Bullet jump
Aim glide
Attacking aim glide
Wall dash (up)
Wall dash (across)
Wall latch (timed)
Bullet jump (air direction)
Wall dash
Zipline
Learning the controls for the new moves and tweaked controls for existing moves certainly adds a learning curve. These moves feel good overall, but Digital Extremes really needs to settle on them permanently rather than revising the core gameplay every so often. Nobody wants to have to relearn the basic mechanics multiple times throughout a game's lifespan.
On the plus side, the new Equinox Warframe (pictured in most of this story's screenshots) is quite a looker. And all players get a trio of bonus items to mark the game's latest anniversary: Jade Calibur Noggle Statue, Jade color palette, and Seal of Honoring (a wearable logo). I haven't unlocked Uranus yet, but I look forward to the new Archwing missions and boss found there.
Warframe was one of my picks for best Xbox One games of 2014. See our review for more details. Get the game now and let's tackle the new Uranus mission together!
Warframe – Xbox One – ~24 GB – Free – Xbox.com Link

(opens in new tab)
Paul Acevedo is the Games Editor at Windows Central. A lifelong gamer, he has written about videogames for over 15 years and reviewed over 350 games for our site. Follow him on Twitter @PaulRAcevedo. Don't hate. Appreciate!
"Unlocked Uranus" kek, lol

My favorite location is Mercury, my Gamertag is "Glibous Laycos"

My favorite location is the void. Only place to get prime parts/blueprints. Gamer tag AC1DMAN

I am fond of Jupiter, but hardly anybody plays Jupiter! GT: nanowerx

I love playing the Void.
My gamer tag "Breezzzyyy Viky"

I like the Void, too. I'm UncleFester1970.

Corpus freezing ice planet is my favorite. My GT: vdavid70619

My favorite location is Earth! Im STILL trying to gather components. No x Regrets

The Void =)
GT : XEPlushMedal697

Jupiter is awesome and GT: Hayabusa Fury21

Never heard of this game before going to get it a try.

Fan of Jupiter, but I would be a bigger fan if they allowed the transfer from PC to Xbone again so i could play on there. My GT: BlindandCynical

Definitely the Void, but Jupiter is not as bad :-)
My gamertag is NuecNac

I love to go in the void! My gamertag is: Yan Qc79

Subject to change but atm for me my favorite planet is Saturn, gamertag: MarineDawg

The training grounds of Coba, Earth. Gamer tag: technologist

My favorite planet to visit is SATURN! the best planet i can wish for hands down. Gamertag: BTangin

Fave place is Pluto. Gamertag The Nutty Prof Posted via the Windows Central App for Android

My favourite world in Warframe would be the void. It looks cool and I always find myself there a lot more than the other planets. My gamertag is Greycloud7

Void for farming Prime parts, forma and cores. G.T: Sir An1mal

Europa. I love the look of it and how it plays since they added the Ice Planet Tileset GT: Hybridchld

Void is favorite location to visit in Warframe for prime parts and my Gamertag is manobillaa

This article needs a huge "Warframe for XBOX" at the top of the article, we already have this update on PC since July.

True, but the giveaway works for PC players too!

You know me. Im not big into warframe.. To many games so little time.

The Void
GT: Bushybro81 Posted via.........deez nutz!!!!!!

I kinda like Mars actually. GT: BatmanApproves

My only problem with Warframe (As you may or may not remember Paul) was the "Lack of single player". Yes, you could try to solo things, but more often than not (And by "more often" I mea "Always") I was swarmed by the enemy. My issue was my ISP, they sucked and I was unable to join anyone or people was unable to join my games. Now that I switched, I will try to play it again. Hopefully they ahve addressed some animation bugs that were annoying (Parkour was sometimes shoddy and walrun not always performed as expected (I expected PoP smoothness) and sometimes... jumps felt weird (try jumping in an area with a ow ceiling. Your character floats for the duration of the jump. He should hit the ceiling and drop)

Earth obviously XD.
Thunderingjoel

The void for all the delicious parts Gamertag: farhadb1

The void for the drops. GT: SparkleSan

This game was really fun for the short time I played it, but I can never seem to get back around to it, even though I always say I will. I hope someday I will be able to change that.

Mercury, my Gamertag Alkamist XBOX one

Earth, gamertag: ZombieJonDixon Thanks!

The void GT ​GT: PerpetualSnow53

Venus. I've got to get back into this game. GT: DEADP00L1391

I like Jupiter most, at least until I try the new DLC GT: "F TANK"

Warframe is my favourite game on PC (I'm crap with controller for this game and FPS on XBox) Saturn is a good planet love the gas clouds. GT: StefEBear

its too bad i stopped playing this, no time =(

I like the void a lot.
GT: aguakt3

The best is the void
Gt: j3su3l

Jupiter, Themisto. Assasinate Alad V grinding neural sensor is fun .. i know. Gamertag: DaiaX MK2.

My favorite place to visit is the Orokin Derelict! Love the Tileset in that map, looks amazing! Gamertag: Naso Gomez

Favorite Location: Kappa, Sedna Gamertag: Darkseed12

Favorite location is the void and my gamer tag is HexEditHD

I Love The void. My Gamertag Devil ODS

Earth is my favorite! I'm always there farming materials to make health restores. GT: Spartan D286

I am just starting to play the game with my brother, so haven't seen much of the game yet, but I would like to visit Earth - been told it looks great in the game (been lied to?).
My Xbox gamertag is Kminek.

I'm currently enjoying earth..... GT- L1 SyCo L1

I like to play in Jupiter My GT: Belzarena

My favorite location is Jupiter! Gamertag: Drovoseek

The void. GT: Iamkobayashi

My favorite location is E prime on earth. Gamertag: hotheadtxt

At mastery Rank 10 my Frames typically live in the void hunting loot and Prime Gear. Gamer tag CelticDraigon, add me and lets run some missions!

My favourite at the moment is Jupiter :) My gamertag is : Warejon9. Ps, if anyone is playing on the PC and looking to squad up at some point add me :)

Jupiter / Helene. Great play to level up your stuff because it's a medium-level defense mission and there's plenty of space so you have time and distance to keep the enemy at bay with no high vantage point to cover. Xbox GT: onlysublime

Favorite place to visit; Pluto tilesets.
Gamertag: P.Knucklez

I love to play in the Void and Eris Gamertag: Olliegon

The Void :3. GT TYRANTxLEGIONx

Favorite place: the Void GT: toerenteller

Honestly, my favorite location is the Liset, my ship. It's customizable and Ordis is always there to greet me. Gamertag = Virtuous Lumox

The void for the loots.
Gamer tag: MW123878

Probably Jupiter or void it's hard to pick a favorite. Gt aim 4 ur head

Really like the Void My GT: SGT Torrente

I like the look of Mars with its abandon ruins. Reminds me of a 50's sci-fi movie. GT: Thudd de Dence

Saturn, well because its always great to kill infinite numbers of cloned soldiers! Die grineers DIE GT: Million A
Windows Central Newsletter
Thank you for signing up to Windows Central. You will receive a verification email shortly.
There was a problem. Please refresh the page and try again.