Enter our Warframe: Proxy Rebellion code giveaway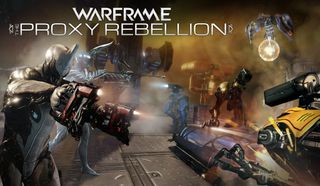 You might have heard that a King was Taken recently. It was his Destiny! And sure, the latest Destiny expansion is pretty cool. But it also costs a mean forty bucks. It just so happens that there is a free to play alternative called Warframe that packs tons of sweet co-op missions and a constant stream of updates, all for no charge. Warframe is one of the best free to play games on Xbox One, Windows PC, and PlayStation 4.
This weekend, the proxy robots of Warframe are rising up against the good guys. Players can participate in limited time events for huge rewards, pick up premium weapons at big discounts, and earn double credits just for playing. If that's not enough to get you playing, we also have 50 codes to give away to our super cool viewers. Read on for the event and giveaway details!
Proxy Rebellion Bonus Weekend
Double Credits Weekend:
All Tenno acquire credits at double rate!
Weapon Sales: Get the following weapons for half off.
Primary: Amprex (112 Platinum), Opticor (112 Platinum), and Quanta (75 Platinum)
Secondary: Angstrum (95 Platinum), Cestra (87 Platinum), and Dual Cestra (112 Platinum)
Melee: Lecta (87 Platinum) and Obex (62 Platinum)
Friday Alert: September 18 at 2 p.m. EDT until September 19 at 2 p.m. EDT
(Martialis) Mars: The Proxy Rebellion. Reward: Orokin Reactor + 10,000 Credits
Saturday Alert: September 19 at 2 p.m. EDT until September 20 at 2 p.m. EDT
Palus (Pluto) The Proxy Rebellion. Reward: Wraith Twin Vipers with Weapon Slot + 50,000 Credits
Sunday Alert: September 20 at 2 p.m. EDT until September 21 at 2 p.m. EDT
Io (Jupiter) The Proxy Rebellion. Reward: 25 Rare Mod Cores + 10,000 Credits
Dragon Mod code giveaway
This weekend only, we're giving away 50 Dragon Mod Pack codes for all versions of Warframe! The Dragon Mod Pack includes five mods (character upgrades), two of which are guaranteed to be of rare quality. The Dragon Mod pack normally sells for 90 Platinum – that's a $5.50 value!
To win a Dragon Mod Pack code for Xbox One, all you have to do is tell us:
Your melee weapon of choice
Your Xbox Live Gamertag
We'll give out the codes via Xbox message, so be sure to watch your messages on Xbox One or the Windows 10 Xbox app to get your code. These codes don't expire, so you can redeem them later if you want. Giveaway starts now and ends Monday, September 21st – while code supplies last.
Redemption instructions
If you win a code, you'll redeem it at Warframe.com, not Xbox.com. To redeem:
Visit Warframe.com
Log in to your console or PC Warframe account at the top-right corner of the screen
Enter your code in the Promo Code field
Get Warframe now
Warframe takes place within the same universe as cult classic Xbox 360 actioner Dark Sector, only thousands of years in the future. The story begins with the player waking from cryosleep as a member of the Tenno, an ancient race of warriors (space ninjas). The Tenno are at war with three evil factions, including the Grineer (ghastly cybernetic clones), the Corpus (a militarized mega-corporation), and the Infested, monstrous victims of a virus originating in Dark Sector.
With over 30 distinctive Warframes to collect, countless weapons, parts, pets, and helper characters to collect, and more than fourteen planets and planetoids filled with missions, Warframe is a huge game that you can enjoy for free. Team up with up to four online players cooperatively to take on missions and hunt for resources. If you enjoy third-person shooters or action games, Warframe is a must-play.
Warframe was one of my picks for best Xbox One games of 2014. See our review and recent update impressions for more details.
Get the Windows Central Newsletter
All the latest news, reviews, and guides for Windows and Xbox diehards.
Paul Acevedo is the Games Editor at Windows Central. A lifelong gamer, he has written about videogames for over 15 years and reviewed over 350 games for our site. Follow him on Twitter @PaulRAcevedo. Don't hate. Appreciate!