Watch this Microsoft 365 for consumers deep dive to see what's new
Office 365 is now Microsoft 365, and this official video from Microsoft can show you what's new.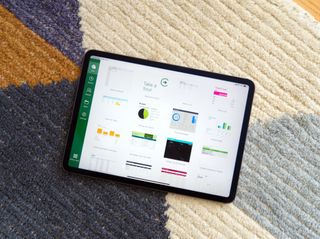 (Image credit: Dan Thorp-Lancaster / Windows Central)
What you need to know
Microsoft 365 for consumers is here, and Microsoft released a deep dive into what's new.
The video covers Microsoft Editor, what's new in Excel, and more.
Microsoft 365 Personal

(opens in new tab)

costs $70/year and Microsoft 365 Family

(opens in new tab)

costs $100 per year.
Microsoft 365 for consumers began its rollout this week, bringing not only a new name, but new features to the fore. To cover what's new, Microsoft released a deep-dive briefing going over all of the fresh features that subscribers will eventually be able to check out, in addition to the current crop of Office apps.
The Microsoft 365 subscription carries forward the same Office apps and OneDrive storage that Office 365 subscribers already had access to, but adds in some extras that will continue to roll out to everyone in the coming weeks and months. Already, we've seen Microsoft release the Microsoft Editor extension for browsers. However, over time, Microsoft 365 consumer subscribers will get access to the consumer version of Microsoft Teams, Money in Excel, and more.
If you want some more info on what's available with the new Microsoft 365 subscription, check out our full guide to what's new and included as well.
Productivity Suite
(opens in new tab)
Productivity across work and life

The new, personal Microsoft 365 subscription is here with plenty of new tools for subscribers to check out. The service brings the best of Office, along with Outlook, Teams, and more for a monthly price.
Dan Thorp-Lancaster is the former Editor-in-Chief of Windows Central. He began working with Windows Central, Android Central, and iMore as a news writer in 2014 and is obsessed with tech of all sorts. You can follow Dan on Twitter @DthorpL and Instagram @heyitsdtl.
What is consumer ❓❓❓ Amazon Google and apple, they are building an ecosystem of everything a person needs.
What is Enterprise ❓❓❓ IBM and Microsoft. The consumer era of those two companies......⚰️

Good luck using Amazon Google and apple ecosystems and being happy at the same time hahahaha

What an absolutely dreadful stilted set of presentations. "Fantastic! I love what..." got very boring. That is a lot of solutions to problems that we don't really have.

The custom email domain has piqued my interest but I'm not sure if it's worth it.

Verbal presentation aside...I am interested in the school calendar integration with Outlook as well as money in excel functionality. For families I think these are actually practical as well as the family centric apps.

I'm interested in that wearable band/watch at 0:34!

1. Outlook School Calendars is probably just pulling iCals, so this will work in any service that supports subscribing to public internet calendars. It's a better UX, and a bit easier for the tech illiterate, though. 2. I prefer to do Food Tracking in a Database Application, because you can design cool reports and it's just more user friendly than a spreadsheet. I am not liking how they're trying to turn Excel into Access-Lite. They really should have updated Access with these data types, and a template, as well (it's PC-only, but whatever). 3. I would never manage my finances in a spreadsheet. I know this is borderline industry standard in finance (and it's caused some major issues in the past), but I cannot. That being said, I don't use credit [cards] and pay cash for everything, so I have little to no need to even use any app or spreadsheet for this. I just use my bank's app. 4. Microsoft Teams is basically DoA in the consumer market, because that is dominated by Facebook Groups. Would I prefer to use Teams? Yes. No Data Selling, no Advertisements, no random order of posts displayed, etc. However, it will be almost impossible to get people to install this - especially people who either aren't paying for Microsoft 365 (there are hoards of them) or don't even have a Microsoft Account. Many "consumers" don't use Microsoft apps or services because the default services/apps they use (Apple and Google, often, including iWork and Google Docs) work more than well for them. They don't want to clutter their lives with MORE internet accounts that they have to "monitor." It's hard to sell a privacy angle to anyone while asking them to create yet another online account. They aren't going to leave Apple or Google. Also, Apple + Google is just the most convenient combo. Since you need a "recovery" email for these accounts, you kind of need two... and both major mobile platforms use one of each of these addresses. Microsoft is kind of an outlier, which basically forces you to bloat up your phone with third party (and redundant) apps and services if you insist on keeping it. Consumers simply aren't concerned with the type of enterprise-level group organization that Teams is designed for. If they needed this stuff, GroupMe would have been a LOT bigger than it currently is ;-) ----- Right now, I'm not seeing much value in Microsoft's software or services as a consumer. On PC I can just use Google Services and buy WordPerfect Home & Student for dirt cheap (or just use Apple's stuff if I'm on macOS/iOS). Office is more useful in education (high school and college, as well as for educators), and the rest of that stuff is just... not that exciting or worth switching over from 1st party solutions for. The only thing consumer that Microsoft has, which is worth caring about (for me), is Xbox... if you own an Xbox (I don't... PS4).

Go and use Apple and Google software... go go XD

Good points iN8ter, but I think Microsoft's target audience is people who already use Office at work and are heavy Windows users at home. I agree it won't have much appeal for those who spend virtually all their computing time on a smartphone or are already wedded to Apple or Google productivity ecosystems.

I like the Grammar and Spelling checker for Edge Addon. It is the little things I like.
Windows Central Newsletter
Thank you for signing up to Windows Central. You will receive a verification email shortly.
There was a problem. Please refresh the page and try again.