Watch the Surface Duo 2 get scratched, put under fire, and bent in this durability test
The Surface Duo 2 proved surprisingly durable in the latest video from JerryRigEverything.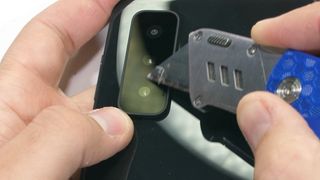 (Image credit: JerryRigEverything)
What you need to know
Zack Nelson from JerryRigEverything performed durability tests on the Surface Duo 2 in a recent video.
Nelson scratches the displays of the phone, tries to break the phone in half, and tests out other aspects of the device.
Testing shows that the Surface Duo 2 is the most scratch-resistant foldable that Nelson tested in 2021.
Microsoft's Surface Duo 2 is many things. It's a foldable device built for productivity. It's an Android phone made by Microsoft. It's a $1,500 piece of hardware that received mixed reviews. But is it fireproof? Is it durable enough to withstand a bend test? These are questions that can only be answered by Zack Nelson from JerryRigEverything. In his latest video, Nelson scratches the Surface Duo 2 with a box cutter, burns its screen with a lighter, and attempts to break it in half with his thumbs.
These are all standard tests from Nelson, who runs many flagship devices through their paces. His tests illustrate how durable the materials of the Surface Duo 2 are, including its Corning Victus glass displays. Because the Surface Duo 2 has two displays on a hinge rather than a foldable display, it is much more scratch-resistant than the Galaxy Z Fold 3.
Nelson often jokes that his lighter test doesn't mean much, but for what it's worth, the Surface Duo 2 proved quite resistant to an open flame.
Near the end of the video, Nelson tries to break the Surface Duo 2 by bending it from both directions. While pushing from the same side as the camera bump led to flexing, the device didn't break in either attempt. The Surface Duo 2 benefits from its folding design with it comes to surviving the bend test.
Windows Central Newsletter
Get the best of Windows Central in in your inbox, every day!
News Writer and apps editor
Sean Endicott brings nearly a decade of experience covering Microsoft and Windows news to Windows Central. He joined our team in 2017 as an app reviewer and now heads up our day-to-day news coverage. If you have a news tip or an app to review, hit him up at sean.endicott@futurenet.com (opens in new tab).
IMO the only thing holding the Surface Duo 2 back is Microsoft. Buggy, unpolished, incomplete software has always been the staple of Microsoft and devices they put out.
If they only put as much effort into the end user experience as Apple did I feel Microsoft could kill it in this market.

Indeed, their lack of software support AND communication has been really poor with the Duo--both iterations. Over a y ear without any real feature updates to the first-gen Duo and the launcher has basically gone unchanged from the first Duo to the second. They've been totally reliant on Google and Android 12L to fix software issues, but they've not released A11 to the first Duo, even though the device (and A11) are over a year old. So, even if A12L fixes things, we're left to wonder if Microsoft will actually deploy it to the Duo 2 before a third-gen version is released (and I couldn't imagine how long it'll take to get A12L on the first Duo, if it were to ever happen). There's basically nothing remotely close to software support for these devices so far. It's really disappointing. As much as I want the thing to succeed, I can't blame anyone who looks at the Duo and says "Microsoft won't support it." When the thing was announced and released, there were jokes about Microsoft's inconsistent, half-hearted commitment to mobile and how people wouldn't trust it. The Duo's probably been the LEAST-supported mobile effort Microsoft's ever released. It sucks, but it's the reality we've been left to experience.

Ignorant comments like this make it obvious that you don't own own a duo 2... I do and I can atest that it's a joy to use. The few bugs present are far, very far from the first duo. It is also sad that windows central readers, who should know better, are still clamoring for windows on a duo 2...

Two screens held together with a hinge makes for an awkward device, especially since each screen is so wide. There are basically no good reviews, WC was the best and even they struggled with it. Other reviews were not kind at all. One even said they wanted to throw it in the ocean it was so annoying.

It makes for a great device, wide screens are superior to basically anything you do on a phone, watching media, browsing the web, messaging, viewing photos etc. Narrow screens is worse at everything other than for video in landscape.

He really hits the nail on the head when he said the one thing really holding back this device is Android. Windows Core OS needs to be on the Duo (even though they keep pushing it off). They need to keep the work going on Core OS for when pandemic is managed and there is a return to normal. We need a light OS that functions better than Android/Chrome OS.

If what Zac and Dan have talked about before is to be believed, it seems like there was a hope/plan for the Duo to maybe run Windows (at least back in the Andromeda days). Instead, they abandoned those OS efforts and redirected them into an Android-powered device. It doesn't seem like there's any significant interest by Microsoft to go back to those software aspirations, but Android's all we can reasonably hope to get. Windows on ARM seems to be the only alternative, but its development (both in terms of software and hardware support) doesn't seem to be moving at a good pace. There just isn't a Windows platform fleshed-out enough to work for smartphones. Even sadder is that Android IS that kind of feature-complete alternative, but Microsoft's indifference/lack of resource commitment has managed to make Android an unreliable experience for users as well.

Microsoft failed to put Windows on it. They missed deadlines and finally just gave up. There is no potential for a Windows version in many ways.

Even non-Google Android failed; Blackberry shipped the Amazon store on the Passport but very few applications were ever published there, and if Amazon doesn't have enough leverage who does? Let's not even think about the Fire phones. There's slim to no technical reason for 99% of applications to not be a website these days but until users start punishing companies who force an application, anything other than an iOS or Google-licensed Android device will be frustratingly limited.

I would love to see a version of Windows on the Duo. Having owned the Duo 2 for the last couple of weeks, it's nowhere nere as buggy as some reviews make it out to be. Yes, it has a couple of issues, mostly the touch response. It sometimes isn't as responsive in single screen mode. I belive this has a lot to do with the curved screen, because a finger or some part of your hand will be touching the screen. This causes touch to be a bit finicky, if you aren't mindful. But, this is something that could be tweeked with an update. The other issue I've noticed most, some apps close, when you open them. It's not frequent enough to cause a bad experience, but enough to notice. After reopening the app, all is normal. This was a great durability test video. While you're at it, see what damage water would actually do and a drop test from 3 or 4 feet to a hard surface.

Welp, I've dropped my Duo 2. Good and bad news. The bad news, I have an ugly crack near the bottom hinge. My left screen is cracked. The good news is, outside of the impact area, the cracks aren't noticeable, while viewing the screen. It's barely noticeable, even with the screen off. I can feel the hairline cracks near the curve of the screen and the bottom part of the screen, within the boarder area. While I'm disappointed that I dropped this thing, in glad that it held up and still very usable and not an eyesore. In hindsight, I now believe the bumpers my have reduced or prevented damages, even with them being as minimal and expensive as the are.

I like the part where he calls it "this $700 phone in 6 months"! haha!
Windows Central Newsletter
Thank you for signing up to Windows Central. You will receive a verification email shortly.
There was a problem. Please refresh the page and try again.