We finally got a first look at the Halo TV series at The Game Awards 2021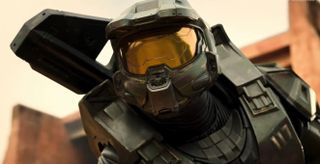 (Image credit: Paramount )
What you need to know
The first official trailer for Paramount's Halo released.
The series stars Pablo Schreiber as Master Chief.
Steven Spielberg will be producing the series in association with Showtime, Microsoft, and 343 Industries.
During The Game Awards 2021, the first official look at Paramount+'s upcoming Halo television series received its first trailer, showcasing Pablo Schreiber as Master Chief.
In a brief look at the series, we're introduced to a variety of locations, including what looks to be a giant space station. Throughout, we're also treated to looks at some ODST soldiers, as well as a series of Spartans running through a hangar before things end with Pablo Schreiber's Master Chief arriving on a battlefield.
You can check out the Halo trailer below:
Alongside Schreiber, Halo also stars Natascha McElhone, Charlie Murphy, Jen Taylor (the voice of Cortana), Shabana Azmi, Bokeem Woodbine, and Kate Kennedy. Not too much is known about the exact story of the Halo television series, but it is said to explore the conflict between humanity and the alien threat known as the Covenant.
It's unclear whether or not it will follow any of the games' storyline or creat its own narrative. The series will be produced by Showtime in association with Microsoft and 343 Industries, with legendary director Steven Spielberg also producing the series through his Amblin Television production company.
Filming on the series wrapped earlier this year, with a release set for 2022 on the Paramount+ streaming service.
Anthony Nash has been writing about games and the gaming industry for nearly a decade. When he's not writing about games, he's usually playing them. You can find him on Twitter talking about games or sports at @_anthonynash.
I wonder what Paramount+ will translate to in Australia because I don't think we can get that one.

It is available in Australia via Amazon Prime... A subscription within a subscription.. Scriptception.... Or VPN

I have Amazon Prime, so do you mean I need to get a secondary subscription to Paramount through Amazon? I'll wait for reviews of the show before I do that (as I did not enjoy the last Halo series at all), although Pablo Schreiber has me very interested.

Yes, that is what they have setup for us in Australia. Sub to prime, then to Paramount+ Or there is VPN or Streamo or Similar.. Not that I endorse that sort of thing.

I miss the days when trailers would actually hint at the story. Not be just a random selection of 2 seconds clips from the show.

It looks to me like they might be diving a bit into the Chief's backstory. Kind of like Infinite is doing in the beginning.
Windows Central Newsletter
Thank you for signing up to Windows Central. You will receive a verification email shortly.
There was a problem. Please refresh the page and try again.