This week in ID@Xbox: Outcasts, road rage, and turtle racing
Welcome to our column that looks back at the week's ID@Xbox releases for Xbox One!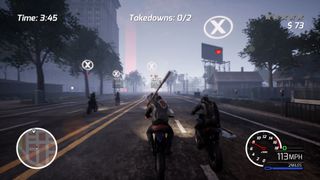 This week saw seven new ID@Xbox games come to Xbox One. These include a remastering of an open-world classic, a brutal motorcycle combat game, a horror-themed adventure game, a colorful 3D platformer, a licensed beat 'em up, and a classic fighting game.
ACA NeoGeo Karnov's Revenge
Japanese publisher Hamster's ACA series is a collection of emulated NeoGeo arcade classics – we reviewed one-on-one fighter ACA World Heroes 2 and found it pretty solid and well-emulated.
The NeoGeo arcade system was home to countless fighting games back in the nineties. One of these was Karnov's Revenge from Data East, starring the fire-breathing Russian strongman of NES and arcade platformer fame. While pretty much a run-of-the-mill fighter, this one features a day-night cycle for backgrounds, destructible clothing, and even lets you fight a rampaging Ox. Throw in some (hopefully) easy achievements, and you've got a fun and obscure piece of fighting game history.
ACA NeoGeo Karnov's Revenge costs $7.99 on Xbox One, PlayStation 4, and Switch.
See on the Xbox Store (opens in new tab)
Akuatica: Turtle Racing
This game from Tianyu Studio Software Ltd features surprisingly little racing, and not as many turtles as you'd think. Instead, Akuatica is a puzzle game in which players help a fish navigate dangerous underwater environments, shoot enemies, and solve puzzles. It also features a two-player split-screen mode in which both players try to help a gigantic turtle reach the finish before the other player's turtle.
The first thing you'll notice from Akuatica's store screenshots is that this game doesn't look like anything. The screenshots they picked for the store just do a terrible job of conveying the actual gameplay. That said, in motion it looks okay and features some well-drawn gigantic fish bosses. Just be warned that this is a tough-as-nails game in which you'll die a lot, and the time between respawns is reportedly long enough to become frustrating. Do you have what it takes to swim with the turtles?
Akuatica: Turtle Racing sells for $6.99 on Xbox One and Steam.
Ben 10
Ben 10 is Cartoon Network's longest-running animated franchise, with a total of five TV series and multiple live-action films produced to date. There have also been several videogame adaptations, some of which were pretty good. Now Torus Games and Outright Games have released a game based on the current rebooted series.
This Ben 10 is a single-player 3D beat 'em up/action game in which you play as Ben, a young boy who wields a device called the Omnitrix. Using the Omnitrix, Ben can transform into various (mostly cool) alien forms. He starts with three forms but gains more by progressing through levels. You can change at any time, and each form has both a standard power and a cinematic Ultimate move.
The production values for Ben 10 are pretty good, with cel-shaded, fully-voiced cinematics that capture the style of the show. But the overarching story is practically nonexistent, alas. Levels consist mainly of beating up random objects to get green energy used to buy character upgrades. You also fight some bad guys now and then, but inanimate objects are the main enemy.
The levels go on way too long – the first one took me twenty minutes to beat and I had seen everything by the five-minute mark. The lack of co-op is also a shame. Kids who love the show will probably enjoy this game, but it's way too boring for the rest of us.
Ben 10 costs $29.99 on Xbox One, PlayStation 4, Switch, and Steam.
Xbox One review copy provided by the publisher.
de Blob
Once upon a time, the de Blob series was pretty popular – it even got a Windows Phone version during those innocent times. Following a PC port earlier this year, THQ Nordic has now unleashed the original de Blob on Xbox One and PlayStation 4 as well.
The goal in de Blob is to help your titular blob restore a world that has been stripped of its color by an evil corporation. To do this, he'll have to collect lots of paint and then splatter it all over the environment. The hero bounces around, spreading color wherever he lands. But this depletes his paint supply, so you'll need to discover more pools of color to help him on his journey. There's also a four-player multiplayer mode with several game types to keep the young'uns engaged. If you're looking for a fun and creative 3D platformer, de Blob won't leave you dry.
de Blob sells for $19.99 on Xbox One, PlayStation 4, and Steam.
Outcast: Second Contact
The original Outcast for Windows was one of the first open-world 3D games back in 1999. Now Big Ben Interactive has remastered the game as Outcast: Second Contact. With improved graphics and a fascinating sci-fi world to explore, Outcast is a huge game – but some of its elements are badly in need of updating.
While Outcast's simple mouse-based controls have been updated for modern consoles, they haven't been updated as much as you'd expect. Cutter's movement is stiff and awkward, his jumps slow and plodding. He can't climb most hills, which forces the player to navigate around and find steps to climb. These issues should have been fixed when reviving the game for modern audiences. Outcast is far from unplayable, but you need the patience for a game that still plays like it's from 1999.
Thankfully, Outcast looks great on Xbox One. All of the character models have been fully updated, all of the environments remastered to modern standards. You'll have to put up with some clunky controls and mechanics to enjoy this game, but it's worth it. Stay tuned for our full review for more details!
Outcast: Second Contact costs $39.99 on Xbox One and PlayStation 4, and $34.99 on Steam.
Xbox One review copy provided by the publisher.
Road Rage
Since the long-awaited Road Redemption is still nowhere to be seen on consoles, Road Rage from Team6 Game Studios and Maximum Games has become the first Road Rash-style motorcycle combat game on Xbox One.
The game begins with an absurdly serious dystopian introduction that's so unintentionally bad it becomes hilarious, and then you're thrust onto a motorbike for your first event. Road Rage takes place in an open-world city environment, although it's sparsely populated and light on side activities. Between missions, you'll receive calls that offer you new races.
Head to your destination and you'll participate in numerous types of events, sometimes with the objective of knocking out competing riders. You can swing a bat or other weapon in either direction to attack, and the game even goes into slow motion when downing pedestrians. The production values are a bit low, but Road Rage runs smoothly, plays great, and even offers four-player split-screen. See our full review for lots more details!
Road Rage sells for $29.99 on Xbox One, PlayStation 4, and Steam.
Xbox One review copy provided by the publisher.
Your Toy
Your Toy comes from developer Viva Games and Chinese publisher E-Home Entertainment, a joint venture between Microsoft and Oriental Pearl Group, who published Lilith-M and Dying: Reborn.
Like Dying: Reborn, Your Toy is a first-person adventure game with horror themes. Ostensibly, the concept is about what happens when childhood toys become the things of nightmares. The game begins with the player trapped in a messy bathroom stall. You'll have to collect items and do lots of experimenting to get out of the stall.
From there, you're still stuck in the larger public restroom. I found lots of little knickknacks there, but I couldn't figure out what to do next. Some puzzles are randomly generated, which might make it difficult to create or follow a guide. Your Toy is certainly an intriguing adventure game, but it will take sharp puzzle solving skills to get anywhere in it.
Your Toy is exclusive to Xbox One. It regularly sells for $14.99 but is on sale for $11.99 during launch week.
See on the Xbox Store (opens in new tab)
Xbox One review copy provided by the publisher.
Over to you…
Which ID@Xbox games are you getting this week? Let us know in the comments!
Paul Acevedo is the Games Editor at Windows Central. A lifelong gamer, he has written about videogames for over 15 years and reviewed over 350 games for our site. Follow him on Twitter @PaulRAcevedo. Don't hate. Appreciate!
Possibly Typoman... On sale at the minute.

All of these sound fun. Your Toy sounds especially creepy

Outcast Second Contact sounds interesting. If nothing else, it's sounds like a good view into seeing how game controls evolved in the past 20 years. Of all of these games, Your Toy defiinitely is the one that intrigues me the most.

I like the look of de Blob! I remember it on Wii, also have de Blob 2 already from years back.

Road rage looks good, not sure if it's as good as road rash back then?

They do not understand the ne