New Surface Pro with Snapdragon 8cx would be HUGE for Microsoft #WeekInMicrosoft No. 12
A lot can happen with Microsoft in a short period of time, so we started a new program on YouTube to give you a quick-fix news summary.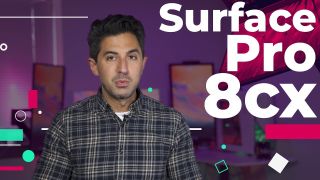 Microsoft is making Cortana more accessible by turning it into an app from the Microsoft Store, OneDrive is finally getting an option for up to 2TB (along with a nifty vault area), and looks like things are heating up for dual-screen and foldable-screen PCs as the Surface 'Centaurus' is getting more details, including size and something about Android apps.
If you missed all the news in the last week, grab a drink and check out our recap with commentary on what it means, and why it's a big deal.
The #WeekInMicrosoft episode No. 12
More on Windows Lite and WCOS:
Subscribe to our Youtube channel!
Windows Central Newsletter
Get the best of Windows Central in in your inbox, every day!
Daniel Rubino is the Editor-in-chief of Windows Central, head reviewer, podcast co-host, and analyst. He has been covering Microsoft since 2007 when this site was called WMExperts (and later Windows Phone Central). His interests include Windows, laptops, next-gen computing, and for some reason, watches. Before all this tech stuff, he worked on a Ph.D. in linguistics, watched people sleep (for medical purposes!), and ran the projectors at movie theaters because it was fun.
If the Android apps are going to be run in conjunction with Bluestacks and not natively then that is a relief. Can't wait for ARM based Surface Pros and a Surface Go Gen 2 running on ARM with windows lite would be perfect for many. The next phase would be to get mediatek onboard for even more lower price point ARM based laptops, that would completely shake up the market. If only Microsoft fixed up tablet mode, we'd also get a hell of lot cheap windows based tablets.

Mediatek should have some pretty good stuff coming up. I don't like to rule out companies, and the ARM processors will definitely give more in relation to work on the go.
I truly hope that we succeed with this :)

Interesting, haven't looked at Mediatek recent offerings. WoA with Mediatek... that is a tantalising prospect for budget friendly WoA devices - I just hope they just have at least 64 gigs of free storage lol.

I still want Microsoft to offer the Windows 8.x Start experience as an option. Multiple vertically scrolling stacks of tiles are great for a phone but not for a PC/monitor in landscape orientation.

You can use the start screen in landscape orientation on a PC / Monitor. As I use a 40"+ TV as a monitor lol. However tablet mode in Windows 10 is quite poor compared to the Windows 8.0 tablet experience, although it's gotten somewhat better but still needs to be improved.

Why does it matter what ARM processor they use? Android has no limitations. Manufacturers can use whatever ARM chip they want. Why are Microsoft's platforms so limited?

Chatting (via keyboard) with Cortana is much preferred to voice when working on a PC. And means we would probably even enable it in the enterprise. So glad a chat centric version of Cortana is happening.

I love using voice; it shouldn't be an either-or.

Not sure if you meant "shouldn't" or "should", but either way Zac and Dac have both said you can still use voice if you wish. It just defaults to type chat. On a PC this makes sense for most (not all) but most ppl. And it especially makes more sense in an office, where there's enough noise and distraction already, without ppl having verbal conversations with their computers all day long. I think that most IT shops will be a lot more comfortable enabling Group Policy for this new Cortana.

To answer your question, yes, definitely, there should be a Surface Pro 8cx version. In fact it would be shameful for Microsoft to let another year pass without a Surface branded ACPC. And this is the perfect opportunity for them to lead by example (which was supposed to be the whole point of the Surface line) in the 8cx arena. I do think they need to be careful in naming it clearly enough so that ppl can easily differentiate between the Intel and WoA versions though. In fact I wouldn't mind if they made it a variant of the "Go" line instead, but still give it a larger screen. Something like Surface Go+. "Go" to me implies mobile. And that way the "Pro" line could remain their true laptop replacement. Also... I don't think Surface Pro is quite yet a perfected device. Thinner bezels? Other than that yeah, it's pretty perfect. Although... I would also like a garage, on both the Go and Pro, for a pen, rather than just the magnets.

Thinner bezels and overall thinness. I would love a Go with this processor, but I think it will be too expensive for a go. Perhaps the 7cx would make sense. I don't think it needs to be pointed out that it is ARM if it performs as well as an m3 processor. That's the entry level pro anyway

If they went the "Go" direction I'd prefer to see a 7cx in the smaller 10 inch version and an 8cx in the 12 inch Go+ version. The Go line should have been WoA ACPC all along anyway. To me it seems like a "Pro" flagship version should do everything any other laptop is capable of... even x64. Currently 64 bit emulation is not possible on WoA, and some apps wouldn't be available therefore unless developers recompile for ARM 64. 64 bit Photoshop is one example. But heck, whatever they call it, I'd probably buy it anyway. Would just be easier to explain to friends... family... and "upper management" with some clear lines of differentiation.

What about a 7" version, I'm currently using a 7" phone (Mi Max 3), a 7" Surface Mini would make a nice replacement.

I am glad Windows 10 on ARMS CPU's is progressing. I am curious what screen size will the
Surface Windows 10 on ARMS CPU's Microsoft devices be A Surface Go or Surface Laptop
Windows 10 on ARMS device would be great because they would be easy to carry. true Mobile
devices. I hope that Microsoft debuts it's dual touch screen Foldable PC Centaurus device.
I wish they had made it a 7 or 8 inch 4 by 3 aspect ratio instead of the rumored 9 inch model
because a 8 inch screen would be smaller easier to carry around a vastly more mobile device.
they could also sell one wit a built in feature 4/5 G cell phone accessed through a blue tooth
headset sold with telephony models of the Surface "Courier" type device. this would shock
the industry and make the Centaurus devices Stand out

Tried the Cortana beta last night. Nothing but a "Thanks for taking an interest!" message. (By the way, I got WoA working on my Lumia 950 XL; it's a little sluggish at times and not a complete Phone replacement (yet), but it's really cool and the potential is huge!)

I don't really see the point of running Android apps on Windows. On mobile I could totally see it, but on desktop?

Really disappointed the foldable will be running Intel chips. I'm writing this on an HP Elite X3 that works fine, but could use a bit more power. I also have a Surface Go that I find unusably slow, just awful. To me, the price savings they may be getting on the Intel chips isn't worth it for the consumer (too slow), and the terrible performance and/or battery life could permanently damage the reputation of Microsoft's foldable ambitions. If the chip used actually performs with great battery life, it would be the first.

I am quite sure this ARM processor is like 1/4 the cost of the Pentium in the Surface Go. Price isn't the issue.

The Intel chip was actually the #1 reason I passed on Surface Go, and am hesitant to recommend it to friends, family, and "upper management". I really want to love it. It's great... in theory. But it should have been an always connected, instant on, battery sipping, Qualcomm 850 ACPC. Instead of making it a "mobile" device though they basically turned it into a mini, slightly underpowered, laptop with mediocre battery life. The Surface Pro... on the other hand... I have no qualms whatsoever recommending. It's a masterpiece. But hey Surface Go has a chance this year to redeem itself.
Windows Central Newsletter
Thank you for signing up to Windows Central. You will receive a verification email shortly.
There was a problem. Please refresh the page and try again.