This week in Xbox One News - Gamescom summaries, Final Fantasy XIV on Xbox One, new Fallout 4 details and more! (August 9th 2015)
This week, we're looking at all the news from Gamescom 2015, fresh Fallout 4 details, a potential port of Final Fantasy XIV to Xbox One and more!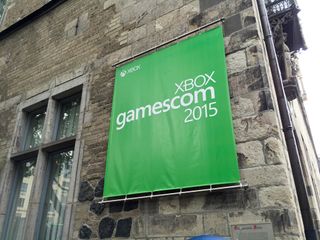 Welcome to our weekly ICYMI for Xbox news!
We'll still be posting major Xbox announcements in the main feed, but I'll be collecting some of the more nuanced news, rumors and talking points into one handy post every weekend!
So without further ado, here's the latest edition of This Week in Xbox One News.
Microsoft reveals 2016 line-up at Gamescom: Scalebound, Crackdown 3, Quantum Break
Gamescom 2015 was a total blow-out for Xbox One news. The team from Redmond revealed tons of new information about the 2016 line-up, here's a handy summary for those playing catch up.
Scalebound gameplay revealed, complete with RPG systems
Scalebound gameplay was revealed in full, shown above. The game takes place on the alien open-world of Draconis, featuring a 20-year-old Drew from modern-day Earth.
Drew's fate is bound to Thuban, a huge bipedal dragon that forms a significant pillar in the game's combat.
You can direct Thuban to locations, but he'll use attacks based on his own A.I. This makes him feel less like a tool and more like a character.
Thuban can be customized. His play style (defensive/damage/utility), his looks, skin, armor, and even breath element can all be altered by the player.
The game features 4-player co-op, but the details are still being worked out.
Behind closed doors, we were shown RPG systems, including inventory management, several different weapon types, NPC cities, in-game economies, weapon durability and more.
Scalebound is part of the 2016 line-up.
Click here for our full Scalebound preview.
Quantum Break's TV segments detailed, star-studded cast revealed
Quantum Break is the next game from Remedy Entertainment, best known for Alan Wake and Max Payne.
For those who don't know, Quantum Break is a time-warping action shooter in which the protagonists try to prevent the end of time.
Quantum Break's live-action sections got detailed in full. At the end of each level, players get presented with choices that not only affect the world in-game but change scenes in the TV show.
Quantum Break's TV show ships on disk and episodes play out between levels as a result of player's choices.
The game's cast was revealed: Shawn Ashmore (X-Men: Days of Future Past) as Jack Joyce, Dominic Monaghan (Lost) as William Joyce, Aidan Gillen (Game of Thrones) as Paul Serene, Lance Reddick (Fringe) as Martin Hatch, Marshall Allman (True Blood) as Charlie Wincott, Patrick Heusinger (Black Swan) as Liam Burke, Mimi Michaels (The Ugly Truth) as Fiona Miller, Amelia Rose Blaire (True Blood) as Amy Ferraro. Brooke Nevin as Emily Burke, Courtney Hope as Beth Wilder, Jacqueline Pinol as Sofia Amaral, Jeannie Bolet as Kate Ogawa, Sean Durrie as Nick Marsters.
Sam Lake describes the project as a "dream come true", in the video above.
The game received a new trailer called "Time is Power," which you can view here.
Quantum Break will launch in April 2016.
Click here for our full Quantum Break preview.
Crackdown 3 blows the lid on Xbox One's cloud compute
Crackdown 3 gameplay got its big reveal.
Azure powered virtual machines give your Xbox One up to 20x extra computational power.
Every chunk of debris in Crackdown 3 is a physical object. The physics calculations are off-loaded to the cloud, which scales up dynamically to meet demand.
The bandwidth required is no greater than 4-5 MB/s.
Full-blown cloud destruction is limited to multiplayer. This is so the game can still be enjoyed offline, and "you're meant to be saving the city", not destroying it.
A multiplayer beta will take place in summer 2016 ahead of a planned holiday launch.
In Crackdown, you play as police working to save a city riddled with a corrupt criminal underworld.
Click here for our full Crackdown 3 preview.
Be sure to check out the full breadth of our Gamescom 2015 coverage by clicking here.
Final Fantasy XIV MMO negotiations for an Xbox One version are "ongoing"
One of the only PS4 console exclusives I'm personally cut up about is Final Fantasy XIV. Square Enix's bold MMO is currently playable only on PC, PS3 and PS4, complete with cross-platform play.
Final Fantasy XIV launched a few years back, laden with bugs and various design problems. The team at Square Enix took it back to the drawing board and launched as Final Fantasy XIV: Realm Reborn. The new game repaired a lot of complaints about the previous one and is enjoying a solid subscription base of over 5 million players. Taking into account World of Warcraft's decline, Final Fantasy XIV could soon be in a position to overtake Blizzard's aging MMO. There is one thing that could undoubtedly push it beyond WoW, and that is an Xbox One version.
Speaking to Dualshockers, FFXIV's Naoki Yoshida offered an update on the situation for an Xbox One version. Sony has no deal in place keeping FFXIV from Xbox One. Simply put, Microsoft has "concerns" about Xbox One users sharing a space with Playstation 4 users. I find the situation a tad annoying, if for no reason other than Final Fantasy XI, Square Enix's previous MMO, was completely playable across Xbox 360, PC, PS3 and even PS2, all sharing the same servers.
We've reached out to Microsoft for comment.
Frontier announces "Horizons," a series of Elite Dangerous expansions
When I picked up Elite Dangerous, I found myself hopelessly addicted to its no-frills realism. Traveling across the galaxy could take literally weeks, as it's designed to mimic the scale of the real world Milky Way. The game's systems are grindy, but feel as real as you can get, right down to manual space-station docking. I wrote up my experiences here.
Frontier announced the "Horizons" expansion at Gamescom 2015, which will include planetary landings, exploration of wrecks, outposts, and fortresses. You'll be able to undertake these activities solo or in groups, using a new vehicle called a 'Scarab,' which is essentially the Mass Effect Mako buggy. Additional features will be revealed throughout 2016, but some fans have voiced concerns about the pricing.
The expansion comes at a cost of $60 and includes the base game. Fans who purchased Elite Dangerous will find themselves unable to buy Horizons separately. Elite: Dangerous owners who picked up the original game on PC will have spent $105~ (including a discount) to enjoy Horizons. New players who pick up Horizons will receive the expansion and base game for $60 when it launches sometime during this holiday season. A full explanation of Horizon's pricing can be found in the flow chart below.
Fans across Reddit and Elite Dangerous' own forums are split whether the expansion pricing is fair - how do you feel? Hit the comments!
Fallout 4 S.P.E.C.I.A.L. and perks system detailed
Fallout 4 is coming out this November, and there's no shortage of excitement for Bethesda's signature post-apocalyptic RPG. At Gamescom 2015, Bethesda VP Pete Hines discussed changes to Fallout's S.P.E.C.I.A.L. mechanics. S.P.E.C.I.A.L. stands for strength, perception, endurance, charisma, intelligent, agility and luck - they are the statistics that help you design your character. While discussing the system with IGN, Pete Hines described Bethesda's intentions for Fallout 4:
Perks are abilities unlocked as you level up. In Fallout 3, those abilities were separate from your S.P.E.C.I.A.L. stats, but in Fallout 4, certain abilities are only available if you have the corresponding amount of stats in a certain attribute.
In Fallout 4, each level of S.P.E.C.I.A.L. has perks tied to it. The perks also have their own levels, giving you a total of 275 to choose from. There's nothing stopping you from combining stealth and melee to create a wasteland ninja, something I did with enthusiasm in Fallout 3.
Fallout four launches on November 10th for PS4, Xbox One, and PC.
ICYMI - Some of Windows Central's biggest Xbox articles of the week
Windows 10 for Xbox One coming to preview members in September
Ori and the Blind Forest Definitive Edition coming in late 2015 to Xbox One and Windows 10
Xbox One Chat Pad now available for pre-order from Microsoft and Amazon
New Xbox One game releases for the week ending Aug 9th, 2015
Beatbuddy: Tale Of The Guardians (opens in new tab) - Action & Adventure, Platformer - THREAKS
"Experience an action-adventure game in a whole new way, which incorporates music into every aspect of the beautiful world. Players interact with the environment and a variety of creatures to open paths and solve puzzles throughout their journey."
Submerged (opens in new tab) - Action & Adventure, Platformer - Uppercut Games Pty Ltd
"Submerged is a third-person combat-free game in which you explore a mysterious flooded city and discover the beauty of desolation in vast outdoor environments."
The Swindle (opens in new tab) - Action & Adventure - Curve Digital
"The Swindle is a steampunk cybercrime caper about breaking into buildings, hacking their systems, stealing all their cash, and quickly running away again before the police show up. London, 1849."
Sheltered (Game Preview) (opens in new tab) - Strategy & Simulation - Unicube / Team17 Digital Ltd
"Please purchase only if you are comfortable with the current state of the game. Sheltered is a deep and emotional survival strategy game. After a huge global apocalypse, a small and frightened family find their way to a deserted underground shelter."
Beyond Eyes (opens in new tab) - Adventure - Tiger & Squid / Team17 Digital Ltd
"Beyond Eyes is a modern fairy tale about finding courage and friendship as you carefully guide young Rae on a life-changing journey, uncovering an incredible world, step by step."
Rare Replay (opens in new tab) - Action & Adventure, Classics, Fighting, Platformer, Shooter - Rare / Microsoft Studios
"To celebrate its 30th anniversary, Rare brings together the adventures of its iconic characters in a collection that spans the decades."
Boggle (opens in new tab) - Board Game - Ubisoft
"So you think you're fast at finding words? Prove it! Challenge yourself or up to 3 friends online in a refreshed, updated Boggle experience. There's still the same Boggle you like."
And that's a wrap!
I'm still sifting through all the announcements from Gamescom 2015. I'm preparing a write-up of my hands-on experiences with Gigantic, Cuphead, Super Hot and various others. Stay tuned to WindowsCentral.com for all the latest and greatest Xbox One news. What Gamescom 2015 announcement excited you the most? Let us know below.
Jez Corden is a Senior Editor for Windows Central, focusing primarily on all things Xbox and gaming. Jez is known for breaking exclusive news and analysis as relates to the Microsoft ecosystem while being powered by caffeine. Follow on Twitter @JezCorden and listen to his Xbox Two podcast, all about, you guessed it, Xbox!
I want Quantum Break now! ;)

Quantum Break was impressive when they first revealed it last year, but it has gotten exponentially more impressive ever since. It has potential to be Game of the Year 2016--and that's saying something, because 2016 is a crowded field of AAA games. Does Microsoft own the Quantum Break IP? I don't know why they haven't tried to buy Remedy and bring them into Microsoft Studios as a first-party.

I've been wanting FFXIV since its release... If MS is "concerned" about sharing space with the PS4 users they are just hurting the gamers... Come on Phil..

They problem is they want multiplayer to stay Gold members only. So to play FFXIV you would would have to pay two subscription fees. Hopefully they can work something out to remove subscription or offer a discount for Gold membere

Aye, Sony kinda pulled a fast one by allowing FFXIV to go through PSN without a PS Plus subscription. I hope they can work it out, policy issues blocking good games is super annoying as a fan.

No, Sony stated from the very beginning that PlayStation Plus isn't required for "free to play" games or games that already have a subscription. Microsoft charges for both. It looks like Microsoft is the one who pulled a fast one and is bending their customers over as they allways do. Microsoft doesn't let you play FFXlV because they don't want you using Windows 7 or 8. They want you to use their Xbox app. Microsoft is looking after their greed first and foremost, not their fans. Not sure why anyone would be a "fan" of Microsoft without making yourself a "fanboy".

How exactly is Microsoft pulling a fast one by not giving preferential treatment to those two types of games? Games with online play on Xbox = a subscription through Gold. Nothing hidden about that. I'm not going to say whether it's fair or not but you're acting like this is some sort of secret conspiracy to steal from people.
Also "Microsoft doesn't let you play FFXlV because they don't want you using Windows 7 or 8 ",​ do you realize how little sense this statement works when MS owns those platforms? It's pretty obvious that MS has chosen to funnel FFXIV players to the desktop instead of making concessions for a specific company/game on the console.
P.S. Microsoft, Sony, and Nintendo have all made ludicrous decisions and mistakes within the last five years. Singling out MS and saying their fans are fanboys (while silently implying it isn't so for the others) is silly.

Microsoft really needs to stop being concerned about PSN and Xbox Live sharing the same space. They should make the news and bring FFXIV to Xbox One. I will be one of those players playing on Xbox One. Certain games should be cross platform play between all platforms and a MMO game is definitely one of those game that should be created with this mindset. If anyone wants and will make this happen is Phil Spencer.

Agreed, I have high hopes. Some of these policies have probably been in place for a long time though.

I want more news about windows phone or I will truck my 1520 into the garbage. So useless, except calls and texting.

Hmm.... I'm not sure who's side I take in the FF debate. On one hand, they could just mean that they don't want to "devalue" Xbox Live by letting FF users play online without a subscription (even though they're oddly letting Windows 10 users do it, so that would make no sense). On the other hand, the gaming community has become a lot more hostile and "toxic" (that term is stupid btw), so Phil may just be too PC when thinking about how fans will react together. Idk, I've never really played a single FF and don't plan to, but if I did, I would be pretty annoyed.

My biggest concern would be security. I just don't trust PSN in any way and want nothing to do with it. I don't know how cross-platform play works, but I assume that, even if it's Square Enix's servers, it would still have to go through Xbox Live on one end and PSN in the other end, at least in some fashion. And once the door is cracked open like that, anything goes. I'd rather see Microsoft promote cross-play between Xbox One and Xbox on Windows 10--at least then it's all on Xbox Live.

PSN is only used to get into the client,after that you need to login with SE account to SE servers,which btw can be used without being online on PSN after you login (when there's maintenance you can keep playing if you don't log off).

That's interesting, but even if it were just a split-second of PSN time, I still wouldn't buy such a game on my Xbox One. All it takes is a crack in the door. Sony has been hacked far too many times for me to want anything to do with them.

Well, at least you were right about one thing... You don't know how cross-play between platforms works.

A Realm Reborn is probably the best MMORPG I've played, absolutely loved the game on PC and it would fit right in on Xbox One. Shame Microsoft policies are once again interfering with Xbox players having access to games. Sounds like a similar situation with ID@Xbox.

Re:Elite, $60 is fair for players without the base game, but there should be a cheaper price for those that already own it. I'm glad I've given up buying games before or on release day, so I can happily avoid being gouged for more money. I'll pick up Elite in a year or so, with more DLC bundled in.

I'll be doing the same I think.
Windows Central Newsletter
Get the best of Windows Central in in your inbox, every day!
Thank you for signing up to Windows Central. You will receive a verification email shortly.
There was a problem. Please refresh the page and try again.