Weekly photo contest: Black and white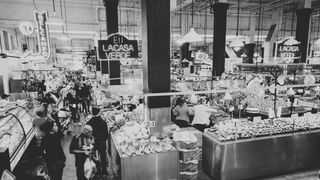 Let's get another Weekly Photo Contest going! How about black and white as a theme this week? Sounds good to me. Last week we had our theme set to silhouette so we could get some interesting photos. Wow. Check out the thread from that contest and you'll see some seriously amazing photos captured on Windows Phone. It was tough, but we did pick one winner.
Winner from last week
There were a ton of good entries into last week's silhouette contest, but I had to settle on the one I liked the most. Congrats to aaa6112 for winning! And congrats to everyone else who entered you're all very talented! Head to the forums to check out all entries.
Congrats to aaa6112 on the above photo. It's a beautiful shot captured by his Lumia 920. Here's how he described the photo:
B/W
This week we're going to make things a little monochromatic. Black and white was originally the only form of photography available to the early pioneers. So we're going to give a nod to them this week with our black and white theme.
Subject can be anything you want, so long as your photo is black and white. You can use a lot of apps to get images like this, but we highly recommend Black for Windows Phone. Black is a black and white film emulator app for Windows Phone that produces some of the best images we've seen. It's also a free app, so try out it out this week when you shoot.
The above photo was shot by me with a Lumia 1520 and later edited with Black and using the Lady Grey 400 emulator. I then used the curves tool inside Black to ever so slightly raise the mids.
The photo is of the Grand Central Market in downtown Los Angeles where many different vendors come together in one spot. Highly recommended if you want to get some farmer's market type produce or grab some gourmet bites at various restaurants. Especially try Eggslut if you want to get the best egg-based dishes in California.
Rules
Rules are going to be just like last week. Here they are:
Picture must be taken with a Windows Phone
Picture must be uploaded to the contest thread (linked below)
You have to tell us what device you used to take the picture, and any special software or apps you might have used. Editing your pictures is fine, this is art
Feel free to add a little back story, we want to know how the picture came to be
You must have used a valid email address to register here at Windows Phone Central, so I know how to contact the winner
Only ONE entry per week per person
Social
We're going to continue our social experiment from last week. Share any pictures you take for the contest on Instagram and Twitter using the following hashtags. It's a fun way to at a glance check out your competition and get inspiration. Plus we're building a community of Windows Phone mobile photographers!
Here's how it looks this week.
This doesn't count as your entry; it's just a fun way to track the photos on social media. Your entry still needs to be in the forums!
Prize
One winner will get a $25 gift card to the Windows Phone Store. You can use it to buy apps and games in the Windows Phone Store, Windows Store or Xbox Store.
We'll pick a winner Tuesday night (September 9) at 11:59 PM ET. Winners will be announced in a blog post for the contest next week.
Quick PSA: We've set up dedicated sub-forum in the Windows Phone Central forums to keep the photo contests in one location going forward. You should bookmark this page, so you never miss a contest.
Windows Phone Central – Photo Contests
Windows Central Newsletter
Get the best of Windows Central in in your inbox, every day!
Such sweet photos; such hunger looking at that little mercadito Posted via Windows Phone Central App

Agreed. The community is so talented!

Would it cost too much to ship 1020s to the winners? Even refurbished ones? Haha Posted via Windows Phone Central App

Congrats aaa6112...it was an awesome click..one of my favourites too.

A well deserving winner! Loving these contests, thanks Sam!

Love the weekly photo contests, and congratulations to the winner!

Congrats aaa6112,it's a really nice picture :)

Kind of OFF-Topic but I still haven't got my prize yet lol. Anyway congrats to the winner :)

Hey. I got your email, but will check in with our team to see what the status is for sending out the prizes. Coming up! :)

Is there an easy way to upload from Windows phone? I'm trying with tapatalk app, but it keeps giving me the error "file size too big".

There are two options in tapatalk for attachments, one works for big files. Best way is to reduce file size, with Fhotoroom for example. Or use a PC ...

Wow, what a pleasant surprise!! Much respect to the community for submitting awesome photos week after week. And a big THANK YOU, Sam!

Congratulations, very nice shoot.

How did you get that silky effect? Using shutter speed?

Is this contest open worldwide or just US?

Congrats to the aaa6112! It's a stunning photo!

Im sure the forum will get some colored photos during the contest. will be looking for that one.

Hello, do we have to click a new pic after the theme is released or can we choose and post some old photos shot by Nokia lumia?

I think using old photos which you have had take before the theme is fine, the rules don't mention it so I think it's Ok.

How to attach picture in forum?

I like black and white. I will join this time. :)

I am dreaming that I am the winner in silhouette but no, congrats aaa6112. This time I won't let it go of my hands in black and white.

yay! i can now join! haha! i just need to turn all my saved photos to B&W

But remember you can only enter one ;)

true true, btw, how will you know if the images posted really came from lumia phones? if someone uses an editing app, the image filename will be renamed under the app's identity regardless if it came from outside source or taken by the phone itself(?)

I have the same question as yours, Force2Reckon. I can still see the detail of the photos after using Adobe Photoshop express to edit but when I use Black apps as Sam adviced to edit, the detail of the photos was disappeared.So how can you know it has been taken with a windowsphone, Sam?

Not gonna participate but sweet app, downloading right away for better black n white photos

Come on... enter something. It's fun and painless. I'm using the Weekly Contest as a motivation to exercise my creativity and practive photography and editing skills. The more the merrier.

How to upload photos here pls somebody help.. If I open the web link I don't see any option to upload photo

Download and install 'tapatalk' to upload pics to this forum directly from your phone.

You don't upload them here (in case you are trying). You have to go to the actual forum thread (posted in the main article above) and post them there. ALSO... new members are not able to post links or attachments. You have to have at least 10 meaningful/helpful posts in the forums for that priviledge. Join the forums, help some folks out with questions (not junk posts) and you will be able to post pics. :)

I see lots of first posts in the photo contest threads. (I follow the contests, look at all pics and try my hand... LOVE the Weekly Photo Contest). Point is; I think they allow even first time posters to upload a pic in the contest threads. Many manage to do so. Join the site, post your pic in the contest and stay for the great, fun, helpful community at WPCentral Forums. Read the Contest thread FIRST POST for all the rules and regulations. http://forums.wpcentral.com/photo-contests/308588-weekly-photo-contest-b...
Windows Central Newsletter
Thank you for signing up to Windows Central. You will receive a verification email shortly.
There was a problem. Please refresh the page and try again.