Weekly photo contest: Black and white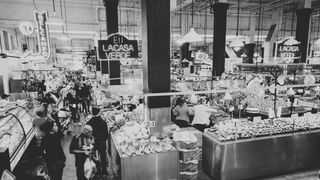 Let's get another Weekly Photo Contest going! How about black and white as a theme this week? Sounds good to me. Last week we had our theme set to silhouette so we could get some interesting photos. Wow. Check out the thread from that contest and you'll see some seriously amazing photos captured on Windows Phone. It was tough, but we did pick one winner.
Winner from last week
There were a ton of good entries into last week's silhouette contest, but I had to settle on the one I liked the most. Congrats to aaa6112 for winning! And congrats to everyone else who entered you're all very talented! Head to the forums to check out all entries.
Congrats to aaa6112 on the above photo. It's a beautiful shot captured by his Lumia 920. Here's how he described the photo:
B/W
This week we're going to make things a little monochromatic. Black and white was originally the only form of photography available to the early pioneers. So we're going to give a nod to them this week with our black and white theme.
Subject can be anything you want, so long as your photo is black and white. You can use a lot of apps to get images like this, but we highly recommend Black for Windows Phone. Black is a black and white film emulator app for Windows Phone that produces some of the best images we've seen. It's also a free app, so try out it out this week when you shoot.
The above photo was shot by me with a Lumia 1520 and later edited with Black and using the Lady Grey 400 emulator. I then used the curves tool inside Black to ever so slightly raise the mids.
The photo is of the Grand Central Market in downtown Los Angeles where many different vendors come together in one spot. Highly recommended if you want to get some farmer's market type produce or grab some gourmet bites at various restaurants. Especially try Eggslut if you want to get the best egg-based dishes in California.
Rules
Rules are going to be just like last week. Here they are:
Picture must be taken with a Windows Phone
Picture must be uploaded to the contest thread (linked below)
You have to tell us what device you used to take the picture, and any special software or apps you might have used. Editing your pictures is fine, this is art
Feel free to add a little back story, we want to know how the picture came to be
You must have used a valid email address to register here at Windows Phone Central, so I know how to contact the winner
Only ONE entry per week per person
Social
We're going to continue our social experiment from last week. Share any pictures you take for the contest on Instagram and Twitter using the following hashtags. It's a fun way to at a glance check out your competition and get inspiration. Plus we're building a community of Windows Phone mobile photographers!
Here's how it looks this week.
This doesn't count as your entry; it's just a fun way to track the photos on social media. Your entry still needs to be in the forums!
Prize
One winner will get a $25 gift card to the Windows Phone Store. You can use it to buy apps and games in the Windows Phone Store, Windows Store or Xbox Store.
We'll pick a winner Tuesday night (September 9) at 11:59 PM ET. Winners will be announced in a blog post for the contest next week.
Quick PSA: We've set up dedicated sub-forum in the Windows Phone Central forums to keep the photo contests in one location going forward. You should bookmark this page, so you never miss a contest.
Windows Phone Central – Photo Contests
Get the Windows Central Newsletter
All the latest news, reviews, and guides for Windows and Xbox diehards.