Weekly photo contest: Green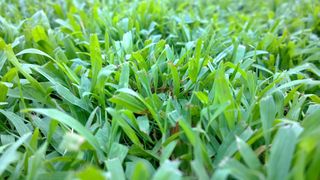 Another week, another photo contest. This week you're going to take the camera on your Windows Phone and capture anything you want - so long as it's green.
Winner from last week
We had a ton of good entries into last week's autumn contest, but I had to settle on the one I liked the most. Thanks to all who entered, you're all very talented! Head to the forums to check out all the other entries. This week's winner is...
Congrats to nxg125 for his winning picture of the end of his driveway. He shot it using his Lumia 920 and edited using Creative Studio.
Green
We'll be doing some color themed contests every now and then and we're kicking it off with green. Just head out and capture something really green.
Up above is some sweet grass I captured using the Lumia 1020. No editing with this pic.
Rules
Rules are going to be just like last week. Here they are:
Picture must be taken with a Windows Phone
Picture must be uploaded to the contest thread (linked below)
You have to tell us what device you used to take the picture, and any special software or apps you might have used. Editing your pictures is fine, this is art
Feel free to add a little back story, we want to know how the picture came to be
You must have used a valid email address to register here at Windows Phone Central, so I know how to contact the winner
Only ONE entry per week per person
Social
We're going to continue our social experiment from last week. Share any pictures you take for the contest on Instagram, Twitter and Fhotoroom using the following hashtags. It's a fun way to at a glance check out your competition and get inspiration. Plus we're building a community of Windows Phone mobile photographers!
Here's how it looks this week.
This doesn't count as your entry; it's just a fun way to track the photos on social media. Your entry still needs to be in the forums!
Prize
One winner will get a $25 gift card to the Windows Phone Store. You can use it to buy apps and games in the Windows Phone Store, Windows Store or Xbox Store.
We'll pick a winner Tuesday night (November 18) at 11:59 PM ET. Winners will be announced in a blog post for the contest next week.
Quick PSA: We've set up dedicated sub-forum in the Windows Phone Central forums to keep the photo contests in one location going forward. You should bookmark this page, so you never miss a contest.
Windows Phone Central – Photo Contests
Good luck and have fun!
*insert 10000000 weed pictures here*

Need to get an open brain surgery and ask the doctor to take a picture of ma brain ;)

Exactly what I was thinking, and I just picked up an eighth for the weekend... And it's some potent stuff... And LEGAL! Posted via the Windows Phone Central App for Android

Living in apartments made to fail for last participation......... Have a tons of images of plants to show off....... Let me do great piece of editing and post it around 2 pm GMT-5:30

>inb4 pics of marijuana and kids being "deep"

After the WP8.1.1 14203 developer update, do 3rd party apps finally have the ability for real time live tile???

http://windowscentral.com/commenting-guidelines

Where is the organic cannabis?????

It's a plant. They are organic. Plain and simple.

What's the file size limit on the forums anyone?

Go ask someone who uses the forums.

High Res won't upload. Reduce file size to about 2800 pixels max on the longest edge and you'll be fine. I just cropped my high res file and reduced for upload. Still looks great, IMHO. http://forums.windowscentral.com/photo-contests/323030-5.htm#post2858816

Kind of cool how many pics with the L1020 are not edited. This phone has spoiled us too much. Hopefully its future replacement is worthy of such great unit as a predecessor.

No replacement will ever come. Ever.

We just got lake effect snow wtf lol

Sam, do a yellow theme also please. I have a yellow Lumia, and now of the wallpapers I have suits the yellow accent colour.

I'll do every color, except burgundy. Because nobody likes burgundy.

Hey! I'm wearing a burgundy shirt right now! Why you no like? Me sad now...

Yeah, here in New Orleans we prefer Bourbon (St.). :-)

Please update the windows central app with photo posting feature into the forums..

They are working on a new universal app

Too much extra steps but I use tapatalk for that (only)

I don't think I can win, but I'll give it a shot, good luck to everyone

Hey, that's my picture up there! Thanks Sam!

congrats buddy, that's an awesome work..

Thanks for the kind words guys!

yup..send those GC to charity

Congratulations. Beautiful Shot.

Beautiful pic! Michelle will be contacting you shortly (via your Mobile Nations) email to send you your prize. Congrats and thanks for playing!

Congrats... It's a very evocative shot.

Amazing capture by the winner...congratulations

Green? Its winter outside in Canada!

I'm sure they didn't only want this limited to plant life. I know you have SOMETHING green in your house.

What about those beautiful evergreen trees you all have?

I got weed pics, does that count?

Yes Posted via the Windows Phone Central App for Android

Absolutely... And the authorities count on your phone including Geotagging in the meta-data.

It's November and not as green as it once was..

How to post pics giy cant find the link to upload on the forum , pls help me out

I have some fab pics I wanna post but not able to locate the link....!!

How to upload photo for the photo contest

It was a nice enough effort... but no. http://forums.windowscentral.com/photo-contests/321708-2.htm#post2848821

Haha. Impossible. It's icy here in Gresham, OR.

I see that someone at windowscentral has changed my username from DanielRubinoSucksDustDaily To SucksDustDaily. This is a wrong step by windowscentral team. They are not respecing every individual and showing like Daniel Rubino name is patented. It is like hacking my account. They also changed the timezone of my account. This is really bad show by windowscentral team. Here someone from WindowsCentral doing this because my name is same as Daniel Rubino. This is wrong as they are taking my online identity and modifying without my consent.

Well it made me laugh while it lasted. And you can't be surprised... He doesn't really appear to have a sense of humor.

What the hell do you expect when you're bashing someone??? Get over yourself!

And who is that someone, your beloved fake Daniel Rubino

I bathe in your tears, lol Also, pretty sure the "my name is also Daniel Rubino" thing is not true since you have 'Matt' in your damn email address.

email address can be anything, it is not necessary to have same email address as your name, and same apply for usernames. By changing my username without my consent, you are doing wrong. If you have so much of concern, you could have sent an email to me, or disable the account or block it and give me the option to change it. Anyways, i have asked account team to close my account but they haven't replied back in 2 days. I will continue to read windowscentral. Thx,

How to & were to upload photos plz rply

Read the whole article. The instructions are all there. Including the link to the contest thread. http://forums.windowscentral.com/photo-contests/323030-weekly-photo-cont...

I'm in Egypt :D nothing good to take a pic of it :D

Call me when there's a real prize

Dammit there is no green here anymore, winter is coming, the only green i see right now is the led on of my amp !!!

Take a pic of the LED then...

How do i post a picture? Where is the link on page?

? I need help.. How do I post.. There is no link there to post a picture

There are PEOPLE....WP users who are constantly asking how do we post photos to participate in the Contest....but no one.....not even the admin seems to be acknowledging them... HOW DO WE POST PHOTOS ONTO THE FORUM FOR THE COMPETITION????!!!!

You click on the link provided. For this one its "Weekly photo contest - Green" & you upload your photo. BUT posting it on social networks leaves me out I can't figure out Twitter for the life of me. Guess I'm just too old!! I have entered photos easily for the non-social network postings

Thanx for responding AlliGe will check

The Social Media is not required for entry... It's just trying to stir up interest and promote the contest.

RumoredNow....the link only allows me to post text but not to attach any photos from my phone

Right right... attach from PC not phone.

I've never tried from the phone, only the computer

Good to know, now I can enter more contests!

AlliGe the link only allows me to post text but not to attach any photos from my phone

OK when you click on the "Weekly Photo Contest - Green" scroll all the way to the bottom and you will see what looks like a reply form. There are two rows of icons. On the 2nd row choose the one that is about the 3rd from the right. When you hover over it, it will say "Insert Image" click on that & it brings up an option for upload. Upload from computer or URL. If you have the photo in your computer choose computer & it will go to your pictures. You double click on your picture. When you do that, the photo will not show up right away, you will see what looks like code. that is OK. The photo will show up after you post. PS: Sorry for the delay

Wouldn't go as far to say the second one is green. Maybe death of green. LOL

The seond one? You mean the pic that won last week with the theme of Autumn? Yeah, not so green on purpose.

cant wait for a christmas theme!!!

This is crap. It's winter where am I supposed to find anything green lol.

Green? That's grerat. It is a more wide topic and I am pretty sure I can participate in this one! :D

green in autumn, good luck with that

You don't have ANYYYYTHING Green in your house? Doesn't have to be Grass or plant life.......

I might snap a photo of my green and upload it to this contest. Ghost Train Haze FTW folks.

Holy Guacamole... Sam got so much guff last week for the autumn thing. Now the only thing people can think of for green is spring and new plants? Give the guy a break. It's a great contest he's hosting here. Your picture does not need to be from right this second. Your picture does not need to be such a literal interpretation. Your picture need not emulate his example closely. Get your heads out of the box, submit an entry and have fun. That's the real prize anyway. Fun and sharing your pictures, plus looking at all the entries without worrying about your own preeminence so much. I already saw a couple of pics that I know I have little to no chance of beating before I posted my entry, yet I posted anyway. If YOU can't have fun with it, please don't ruin Sam's fun or he'll take his contest and go home.

I shot a lime scooter not long time ago, however the picture is plain crap since it hasn't the greatest focus, neither the right light.

how did you uploaded Photo.

Congratz nxg. I took almost similar photo yesterday :-)

I have Lumia 520 can i participate in weekly photo contest and how?

How I can upload photos. I checked other link but couldn't figure it out how to upload the photo.

How to upload photos. I didn't find any option to attach photos.

sam, sorry to say that but I'm feeling you and your team not paying enough attention to the new member's problems they facing during uploading the photo using thier phone. Probably you should think about it and make it easy to understand or provide proper instructions (step by step). thanks

How to upload my pics in this contest
Windows Central Newsletter
Get the best of Windows Central in in your inbox, every day!
Thank you for signing up to Windows Central. You will receive a verification email shortly.
There was a problem. Please refresh the page and try again.