Weekly photo contest: HDR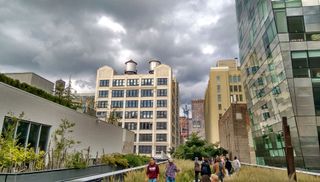 HDR! It's the category in photography that everyone loves to hate. There probably isn't a subject more polarizing in photography than HDR. Which is why it's going to be our theme for the weekly photo contest. Think you have an eye to capture a scene where HDR works? Then you best be entering!
Winner from last week
There were a ton of good entries into last week's nightlife contest, but I had to settle on the one I liked the most. Congrats to insomniakadri for winning! And congrats to everyone else who entered you're all very talented! Head to the forums to check out all entries.
Congrats to insomniakadri on the above photo. It's a beautiful shot captured by his Lumia 1520 at a concert and edited with Lumia Creative Studio.
HDR
HDR (High-dynamic-range) is a technique in photography where you produce a greater dynamic range than possible with normal photography methods. It often works by capturing and then combining different exposures of the same subject matter into one photo. When done right HDR can produce beautiful, realistic images. But more often than not, HDR goes terribly wrong.
Which is why I thought it would be fun to have as our theme this week. I want to see what you can do with HDR on Windows Phone. Will you go overboard? Will your HDR be tasteful? We're going to find out.
We've covered a handful of HDR apps on Windows Phone in the past, but feel free to use whichever you want. Don't forget to recommend your favorite below.
The above photo doesn't come from me, but from Daniel. He took the photo recently in NYC while testing our the new built-in HDR features in the HTC One (M8) camera. Check out the rest of the photos and read why he really likes the Duo Ultrapixel camera.
Rules
Rules are going to be just like last week. Here they are:
Picture must be taken with a Windows Phone
Picture must be uploaded to the contest thread (linked below)
You have to tell us what device you used to take the picture, and any special software or apps you might have used. Editing your pictures is fine, this is art
Feel free to add a little back story, we want to know how the picture came to be
You must have used a valid email address to register here at Windows Phone Central, so I know how to contact the winner
Only ONE entry per week per person
Social
We're going to continue our social experiment from last week. Share any pictures you take for the contest on Instagram, Twitter and Fhotoroom using the following hashtags. It's a fun way to at a glance check out your competition and get inspiration. Plus we're building a community of Windows Phone mobile photographers!
Here's how it looks this week.
This doesn't count as your entry; it's just a fun way to track the photos on social media. Your entry still needs to be in the forums!
Prize
One winner will get a $25 gift card to the Windows Phone Store. You can use it to buy apps and games in the Windows Phone Store, Windows Store or Xbox Store.
We'll pick a winner Tuesday night (September 23) at 11:59 PM ET. Winners will be announced in a blog post for the contest next week.
Quick PSA: We've set up dedicated sub-forum in the Windows Phone Central forums to keep the photo contests in one location going forward. You should bookmark this page, so you never miss a contest.
Windows Phone Central – Photo Contests
Good luck and have fun!
Windows Central Newsletter
Get the best of Windows Central in in your inbox, every day!
There weren't a ton of black and white photos submitted in THIS contest, Sam ;)
Edit: Congrats to the winner!!

Good, because that thread should be closed ;) Fixed lol

Hehe. :) Very interesting theme this week btw. Looking forward to seeing the submissions. Just submitted mine, btw. :)

Ya eh. Can you post I win?

It is a weekly prize dude, they don't have to be doing this...

And all you have to do is take a photo..

True. And if you don't like it get out of here!

Actually I think its good enough, around INR 1500 worth of paid apps for free, where one app is around INR 55... Getting approx 25 paid Apps and Games is like dayummm... I don't even have 10 Apps on my wishlist.

Oh it is on. HDR is my specialty.

Don't think I have any chance at this, but will definitely try out these apps, thanks!

Congrats insomniakadri...great topic this week...hope to see some amazing entries.

Waiting for a real HDR experience in the Lumia Denim update... 820.

Dude....that's not a "real" experience! A "true" hdr experience your Lumia can already do with bracketing...you people...smh

But didn't you saw how it was implemented? it's beyond awesome. Did you watch the video demonstration here in WPcentral?

I wouldn't count on you getting it on the 820... Honestly I wouldn't count on the x20 series getting anything with Denim by the looks of it. They won't even get improved speed ...

The 1520 will, but not any other x20 series Lumia.

How to post my pocs , i am new

How to post my pics , i am new

Please read the end of the article again.

Hdr images are big in size, isn't there a size limit on images?

Whoa! I don't usually do HDR, it should be a good challenge.

I feel a lot of people dont really understand hdr and think that because an app offers an "effect" that they actually know what it is or understand it. True hdr doesn't look like what a bunch of these photos are about to be, but whatever.

Idk if I'm wrong, but from what I understand, cameras, at least basic cameras have a hard time focusing on different lighting within the same pics. For example having a light source on one side while having a dark side on the other. The point of hdr would be to take various pics, each focusing on the different lightning, then combining the best from each pic into one superior pic. Am I right or wrong?

Yeah... But instead of different "focus points" it's different exposures: Short exposure times capture more detail on bright spots like the sky, long exposures captures more detail on dark parts like shadows or backlighted subjects. Ps: I'm no expert so correct me if I'm wrong. :)

You're right.. Ev levels are adjusted(usually +/- 1-3)to capture and combine light levels...makes for a crisp photo where everything is visible rather than say, the sun over taking a picture with its rays. What I'm talking about is grunge hdr tho...basically crap. No talent needed. You basically take a photo and crank the clarity all the way up and tweak a few more settings...its a da excuse for photography.

Everyone loves to hate this but for me, I hate to love this.

This pic actually looks good!

I didn't even know that I could shoot HDR on my phone

Too bad sprint doesn't have any lumias. I'd love to get in on the camera phone scene, but can't really compete with an 8xt.

I'm sorry Sam, but IMO a week is too short for me, people tend to look for old stocked photos rather than get motivated to get out there to capture some photos.

Congrats! Have a nice feel to it. HDR is going to be challenging! I think.

Is HDR simulation on fantasia painter can be consider as a valid tool for this entry? :D

Taken with Lumia 925 edited with PicsArt (HDR effect)

Postet on Twitter but there are just 5 More lol did i so sth wrong ?

Just a note: In photography it is called High Dynamic Range Imaging (HDRI) and in computer graphics High Dynamic Range Rendering (HDRR).

Never took an HDR photo, this is the perfect excuse for doing it!haha

There should be another rule though it depends upon the honesty of those who are taking part in the contest: All pictures should be new and should have been taken after the announcement of the contest.

Sam, please include Fhotoroom in the hashtag experiment. There is a great WinPhontography community there and it sucks being left out.

Ok. I'll add it to the post above and mention them in future contests. Thanks for reaching out!

How to post a photo? Im new. Please tell!!!

http://forums.wpcentral.com/photo-contests/ Post your reply here on this link... Good Luck

Hello
New here. Using Lumia 1020 and UC browser to access site. I am not seeing how to upload photos for the contest? Sorry if I am daft and missing something obvious. Any help? Thecozz

How does one upload a pic.. Been struggling for hours..

11:59 PM ET? I am sorry for being stupid, but lol when the results will be announced for Mumbai?
Windows Central Newsletter
Thank you for signing up to Windows Central. You will receive a verification email shortly.
There was a problem. Please refresh the page and try again.