This week's Xbox Deals with Gold feature Quantum Break and The Surge
Every week Microsoft and certain publishers discount numerous games for Xbox Live users. Some deals are available only to Xbox Live Gold members and others are available to anyone who utilizes the service.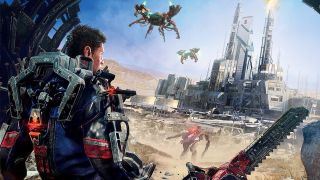 A wide variety of titles, ranging from small experiences to massive blockbusters, are available for substantially less. This week, prominent games like Deadpool and The Surge are on sale. This has to be one of the better sales, so be sure to take a look at the Xbox One and Xbox 360 deals below. Hopefully, you'll find something you like in the selection.
Xbox One
Swipe to scroll horizontally
Xbox 360
Swipe to scroll horizontally
*Backward Compatible
Which games are you interested in? Let us know! Be sure to check out games like Quantum Break and The Surge because they're intriguing experiences. Quantum Break is a third-person shooter which tackles the concept of time travel. There are a lot of twists and turns in that one. The Surge is a Dark Souls-like game which puts you in the shoes of a new employee named Warren as everything in the factory wants to kill him.
Keep an eye on WindowsCentral.com/Gaming for all the latest in Xbox and Windows 10 gaming, accessories, news, and reviews!
Windows Central Newsletter
Get the best of Windows Central in in your inbox, every day!
Asher Madan handles gaming news for Windows Central. Before joining Windows Central in 2017, Asher worked for a number of different gaming outlets. He has a background in medical science and is passionate about all forms of entertainment, cooking, and antiquing.
Quantum Break is still more expensive digital at half off than getting a new disc. That's insane.

It's one of the many reasons I still buy a vast majority of my games on disc.

I don't think the difference is that huge, but it depends on how many games you buy a year. I probably get a few games a year, so maybe I'm overspending by £40 over the year by getting digital - But for me it's worth it. If I bought 50 games a year I'd have to think longer and harder about it. P.S The game is easily worth the $20, especially for those who got an Xbox One X and want a good deal on an enhanced game which already looked pretty great on release

I understand that it might be worth that much, but it doesn't make me want to spend 5 dollars (or more) more just to be lazy and not have to change discs. For this reason alone I would love to buy digital, but make the price comparable (at least during a sale).

Thanks for starting to put in the price. It is a very nice addition to these weekly posts.

now we just need a way to sort them by discount, that way we can easily see where the biggest savings are

Copy the whole table to the clipboard... paste into Excel... click the paste option to choose text only... click Data -> Filter... Discount dropdown -> Sort descending... enjoy! Game Price Discount
Team17 Indie Heroes Pack $12.90 80%
Castles $1.25 75%
Deadpool $12.50 75%
Forza Motorsport 6 VIP Pass $5.00 75%
Forza Motorsport 6 Platinum Edition Bundle $41.25 67%
Baila Latino $7.80 60%
Homefront: The Revolution $12.00 60%
Homefront: The Revolution Freedom Fighter Bundle $16.00 60%
The Surge $24.00 60%
Enter the Gungeon $7.49 50%
Forza Horizon 3: Blizzard Mountain $9.99 50%
Forza Motorsport 6 and Forza Horizon 2 Bundle $45.00 50%
Killer Instinct: Definitive Edition $20.00 50%
Quantum Break $20.00 50%
Sword Coast Legends $5.00 50%
The Bunker $10.00 50%
Blood Bowl 2: Legendary Starter Pack $29.99 40%
Blood Bowl 2: Team Pack $16.74 33%
Homefront: The Revolution Expansion Pass $10.04 33%
The Metronomicon: Slay the Dance Floor $13.39 33%
We Are The Dwarves $10.04 33%
Blood Bowl 2: Legendary Edition $33.74 25%
Bridge Constructor Bundle $14.99 25%
Ken Follett's The Pillars Of The Earth $31.99 20%
Blood Bowl 2: Official Expansion $21.24 15%
Blood Bowl 2: Official Expansion and Team Pack $33.99 15%

yeah... that's why I wait for majornelson, which I can just click on the column and sort it, downside is that he doesn't have the prices like they do here

Quantum Break is underrated.

The surge has been in my radar for some time. I look forward to the challenging gameplay + Sci Fi setting. This looks like a game I would enjoy playing with my brother... if only he were into RPG games. He mostly likes shooters with no RPG elements, basically the "shoot then ask" games (except for The Witcher 3) I haven't been able to make him go past lvl 26 in The Division :( and I'm getting bored of roaming the streets of Manhattan by my own unable to complete tier 4 missions (yes, I know I can try and play with randoms, it's just not the same) *EDIT* I just read it's single player only... so it seems like I will have to play solo anyways :(

I'm interested in The Surge but not sure I'll like it since it's Dark Souls hard. I guess I should get it since it's 60% off I mean who knows....
Windows Central Newsletter
Thank you for signing up to Windows Central. You will receive a verification email shortly.
There was a problem. Please refresh the page and try again.