Weight Challenge, a simple Windows Phone app to track your diet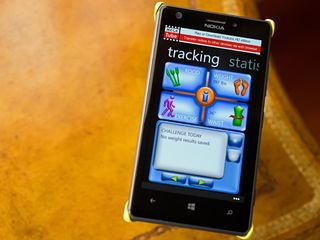 For many, one of fitness goals to work towards is to lose weight. Whether it's five pounds or fifty, you can accomplish this through exercise and eating healthier meals. To help you keep track of your weight loss goal there is the Windows Phone app Weight Challenge.
Weight Challenge is a popular Health and Fitness app that fits in nicely with Fitness Month. The app lets you set your target weight and the date you plan to achieve your slimmer, lighter physique. The app has features to track your daily calories, exercise and waist measurements.
The app does have a certain amount of appeal with a user-friendly design and motivational feedback. If you are looking for a uncomplicated app to help you track your weight loss project, Weight Challenge is worth a peek.
Counting calories and watching the inches fade away
Weight Challenge operates off three main pages that includes a Tracking Page, a Statistics Page and a Graph Page.
Your three-dot menu that is found throughout the main pages will pull up four control buttons that will give you access to the app's settings, set your target weight, view your results and backup your data on OneDrive. Settings for Weight Challenge covers:
Height
Calorie Budget
Gender
Reminders On/Off
Hide Facebook/OneDrive Buttons
I did find a small bug in entering your height. You do have the options to use Imperial or Metric units and your height is required to calculate your BMI (Body Mass Index). However, when I entered 6.0 for six feet or 72 for seventy-two inches the app wouldn't recognize it as a correct height. Even tried 1.8 for meters but that didn't work. I ended up giving myself an inch and the app accepted 6.1 as my height.
Breaking down the main pages is as follows.
Tracking Page
This page serves as your data entry page. You have four tiles that will send you to pages for food, weight, exercise and waist measurement entry. The bottom half of the page will display your daily challenge and calorie count (budgeted, consumed and burned) for the day.
Navigation isn't clear-cut with this window but the bottom arrows navigate through the days of the week and the side buttons toggle between challenges and calorie counts. You will also see motivational messages pop-up here as well.
Statistics Page
Here is where you can see how far you have progressed with your weight loss challenge.
The Statistics Page will display your current weight and how much weight you have lost, your target weight and days remaining to reach your target and your current/target BMI.
Tapping the weight statistic will send you to the weight tracking entry page. In tapping the target weight statistic will pull up a more detailed page that has your start weight, current weight, target weight and target speed to achieve your desired weight.
The BMI also pulls up a more detailed page that provides some background on the ideal BMI. Quick access buttons are available at the bottom of the page to share your progress on Facebook or back things up to OneDrive.
Graph Page
If you're more of a visual person, the Graph Page will chart out your progress. You can chart your waist size, calories, exercise and weight stats.
As with the Statistics Page, you have quick access buttons for Facebook and OneDrive. If you don't care for these buttons, you can always hide them in the settings.
Overall Impression
If you are looking for a simple, bare bones app to track your weight loss Weight Challenge is an option worth trying. I think the one missing feature that is the most noticeable is the lack of a calorie database. It's not a major omission but does require that you research how many calories each meal has independent of the app. It may hurt the success of Weight Challenge in that other alternatives have this feature.
Overall, I think Weight Challenge will have appeal to those mainly interested in setting a target weight and tracking your progress as you work towards that goal. The layout is clean and save the quirk with entering your height, the app ran smooth and performed as advertised.
Weight Challenge - Windows Phone 8.x and 7.x - Free (Ad Supported) - Store Link
Weight Challenge - Windows Phone 8.x and 7.x - $.99 (Ad-Free) - Store Link
Windows Central Newsletter
Get the best of Windows Central in your inbox, every day!
George is the Reviews Editor at Windows Central, concentrating on Windows 10 PC and Mobile apps. He's been a supporter of the platform since the days of Windows CE and uses his current Windows 10 Mobile phone daily to keep up with life and enjoy a game during down time.
Oh my! Can an app get any uglier? Not to disrespct but come on

Never seen that much chrome in UI since pre-iOS7

An app that uses the BMI? How... archaic! The Body Mass Index was invented in 1832 and is the least accurate metric in medicine. If you want to find our how much you should weigh you have three choices. The waist-to-hips ratio and waist-to-height ratio both give good indications of whether or not you are obese. Www.weightzonefactor.com gives a scientific analysis of how much you should weigh.

And yet it continues to be used in the health insurance industry and even top hospitals. The first because it is an easy way to adjust premiums, and the second because it is familiar to patients. I would argue that wait-to-height is an equally poor indicator, given that it only works for "average" people.

About invading increasing the weight??

Yikes. Someone needs to have the 'Bevel and Emboss' Photoshop feature taken away from them. You'd want to lose Weight quick so you could stop looking at the App.

I think that I tend to like the idea of having challenges. I think that they can help with motivation. Perhaps, this app will make the weight loss experience a more interesting one. The long term result is what seems to really matter. I have read not long ago that a significant portion of people who lost weight gained weight later. Thus, it is clear that following a plan that is not overburdening you or creating sadness in your life may be better. I share a bit more on this topic on the page: specialfatloss.com There is also a link there to a video that taught me about differences in weight loss between genders. It was a phenomenon I did not know about. It is true that losing weight healthily may help a person have a certain look. However, the benefits may go beyond, because I have read that weight loss may be beneficial for conditions such as diabetes, painful knees, and of course obesity. However, I don't believe in completely depriving oneself of great delicious lawful food to lose weight. If it is just too hard to be followed over the long term, then is there really a benefit?

The UI is really ugly but I've been looking for an app that can register weight and waist measurement for a very long time. This is the fist one I can find so I will use it

Alternative to BMI and more features like waist to height ratio and support for teens could make this app better. Keep developing developers.

The apps Icon is beautiful. Great to have graphic "designers" building apps.

Yeah, the icon is nice. I need this to link to my scale though, and a wrist band.