Welcome, MrMobile
Please welcome Michael Fisher to the Windows Central and Mobile Nations family!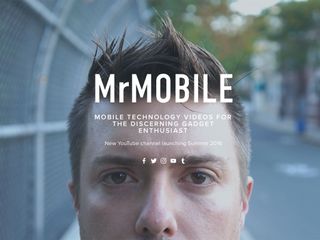 If you have been listening to our recently relaunched Windows Central Podcast, you may recall one Michael Fisher joining the ranks for our weekly discussions. Fisher is no stranger to technology, and many of you have been following him now for years and watching his delightfully insightful reviews of mobile technology.
Michael has now officially joined the Mobile Nations family and today is launching his new persona MrMobile. He'll still be on the Windows Central Podcast, of course, but Michael will also be doing his own thing including reviews of all sorts of mobile tech (and more importantly, trying to define 'mobile' in 2016).
You'll want to subscribe and follow all his channels because he's just an awesome person and he's sure to say something worth hearing.
What makes Fisher's entrance to our family here unique is he won't be the head of any of our focused sites like iMore, Android Central, or Windows Central. Instead, he'll remain neutral as always and give his take on what makes technology useful, and where companies missed the mark.
Watch his launch video above, follow him on all the socials, and give him a big warm welcome (he is, after all, a fan of Windows phone and Live Tiles).
We're all super excited to see what he does next. Don't forget to catch him, me, and Daniel Bader on the Windows Central Podcast each week!
Windows Central Newsletter
Get the best of Windows Central in your inbox, every day!
Daniel Rubino is the Editor-in-chief of Windows Central, head reviewer, podcast co-host, and analyst. He has been covering Microsoft since 2007 when this site was called WMExperts (and later Windows Phone Central). His interests include Windows, laptops, next-gen computing, and for some reason, watches. Before all this tech stuff, he worked on a Ph.D. in linguistics, watched people sleep (for medical purposes!), and ran the projectors at movie theaters because it was fun.
I was wondering where Michael Fisher went.

Me too! He left Pocketnow because he said he want to move on something else. Glad he come back for tech discussions again, he is very insightful and neutral when it comes to technology and I find him always on point.

The only news that could be more exciting than this is if Bill Gates started working for Mobile Nations! Michael Fisher is AMAZING!!!

lol...man Why Bill gets need to work instead simply Buy Entire Mobile Nations!! :) with Money in his Right Pocket....

Soooo good to hear your voice again Michael. Glad you're her at windows central.

Agreed. I have long enjoyed Michael's mobile reviews on PocketNOW's Youtube channel. Great stuff, and glad to have him on board here!

Me too! His reviews regardless of what devices is on point! I really like his perspective on tech.

IMO I always thought he's the best reviewer on YouTube

He also has RC channel together with his father called Rapidnadion.. Posted via the Windows Central App for Android

Welcome Michael!
You for sure are a great addition to the team! Hope to see you a lot at WC. You're a big fan os these damn Live Tiles, so I think so... ;)

Great promo video! Really looking forward to seeing what he brings.

Huge news. So good to see Michael Fisher do his thing. He is the best gadget reviewer I've ever watched. He does it so professionally, effortlessly and without bias (aka CNET, The Verge). I know I'm gonna enjoy watch him again take this to the next level.

Personally I've found The Verge to be more biased towards Apple stuff

Because Apple is a better source for news and stuff for them to cover.

Well their team is mostly composed of Apple users, which can really affects their perspective, even their chief editor said to be an Apple fan, doesn't sound good if you're looking for more neutral or objective views on tech. I think the problem of The Verge is the lack of large amount diversity that specialize for Microsoft things and others, at least when it comes to Google they rather okay, but they also been accused of only favoring big names products (Nexus, Samsung, HTC). They're good on some things generally. It's really their leaning too much into something bothers me. Except if your name already tells that they only covers specific company/ecosystem (Android Central, Crackberry, iMore, Windows Central) which is understandable.

I got my interest in following Mobile tech by stumbling upon Michael's 1020 review. At the time the phone was already 1 1/2 years old so I thought I would wait for when Microsoft/Nokia/Lumia released a follow up to the phone. Its now 3 years later and I am wondering why Microsoft has dropped the ball on this. Such a shame.

Sweet, with Zac and now Michael that's 2 great recent additions! Michael in PocketNow was fun to watch so I'm sure that won't change here. Welcome, Michael. :)

All Pockect now team are fun to watch... I'm addicted to WC news, I download reviews from pocketnow and I visit mspoweruser for additional news...

Who's Zac? Posted via my Nexus 7 2013 using the Windows Central App for Android

Zac Bowden which joined us right after leaving WinBeta last week :)

Michael fisher, Zac, dave lee and Jason of WC. ... 4 of my favourites.... Glad to see Michael back after leaving pocketnow

Oh GOOD, someone new to tell me how much windows mobile sucks and how little Microsoft cares about it compared to ios/android.

Clearly, you haver never heard or watched Michael. He's a big fan of Windows Phone and likes Continuum (I think he's used it more than I have). Don't be so close-minded and give him a listen, he's extremely fair to all points of view.

Agreed, his reviews were pretty unbiased making them one of the best in their respective categories. Now we need a "After the Buzz" video for the Lumia 950XL...oh wait..

LOL, yeah. I loved the "After the Buzz" series. Michael's build up some serious tech cred. When he's excited about something, or disapointed when something falls short, it's legit. He brings some great pragmatic and unbiased perspective. Even when he has praised Windows Phone, he has been realistic about it's shortcommings.

He is one of the rare gem in this modern tech news and discussions. Glad that is now on the bigger stage, beyond reviewing phones, where he did best and built his serious credibility while he is on Pocketnow. I find him to be really "On Point" when he reviews stuff. In his reviews on Lumia for example, he really knows what's the pros and the cons, and its point that he tells what's really need to tell. He really informs the people about tech without secretly trying to be biased. He only admits what he personally likes, but he doesn't let it skew his reviews and it's not even safe from being criticized by him if it needs to. The new format he's now got is legitimately interesting. He really have this cool vibe that would attract general audiences, hopefully away from biased/close-minded tech news. His viewpoint is worthy to be known by mainstream.

If you go MrMobile FB page you will see Lumia 950XL with Continuum up and running from MF workstation Posted via the Windows Central App for Android

Why did he leave Pocketnow?

Because we hired him. He's been in planning and recording mode for weeks now.

Lol so u guys just steal people like that? Lol I like u guys. * giggles*

You know that best people, jobs come to them. MF is one of the best. So naturally.... Posted via the Windows Central App for Android

Why did he leave pocket now?

He left on good terms. He talked about it on one of 'em YouTube channel.

Yup, he admitted that is ACTUALLY use Windows phones (Lumia to be exact) in the past until...well. I think Lumia 1020 seems to be his most favorite. But yeah, he's very balanced and knows what's needs to tell and the shortcomings when he detects one.

True. Michael has always been a fan. He's been a fan since WP7! What a great addition!

I don't know, I always felt like he severely down talked windows.....not excited by this move, but lets see where it goes.

I agree. But is there anymore windows phones left for Michael to review now. Even Microsoft gave up on Windows phone. Isn't it too late for Michael..

Glad you are back in the game. Looking forward to your input on all things mobile.

Welcome Mr. Fisher.
Always enjoyed your work on YouTube.

Awesome. Dude is on point with his reviews.

He really is! :D Now he will reviews more than phones.

First Zac Bowden, now Michael Fisher. Awesome! We demand Joe Belfiore to be next!

I guess first Michael then Zac, not the other way round.

Captain 2..... er, um Mr. Mobile! A great addition indeed!

I can listen his voice all day long....

Oh god! I left pocketnow when m.fisher left. You may actually bring me back to wpcentral. Glad to see you here captain! Posted via the Windows Central App for Android

PocketNow new member Juan Bagnell is great reviewer as well.. Posted via the Windows Central App for Android

Welcome! I liked the videos you did for Pocketnow! Honest and well-supported opinions on tech.

Welcome Michael! Glad to have your skills here.

Sounds interesting. I'm looking forward to seeing what Michael brings to the table.

Welcome aboard Mr. Fisher, my absolute favorite dude from Pocketnow! Looking forward to your videos once again.

hey what happened to "Ask Dan" weekly?

Great news! He's been my favorite reviewer on PocketNow in the past. Fair reviews always. No bias ever detected from me.

I've watched many of his reviews awhile ago

Captain2phones!!!
​Awesome!

Michael will be a fantastic addition to the mobile nations team. I thoroughly enjoyed his work on pocketnow.

Dude, welcome. Stopped with pocket now when you left lol.

Micheal Fisher is my favorite reviewer! I watched tons of his videos on Pocketnow. So glad he's joined Mobile Nations! Posted via the Windows Central App for Android

Hey, welcome MrMobile! Posted via the Windows Central App for Android.. But waiting for the HP Elite so I can get rid of this junkie Galaxy S5...

Welcome friendly Joe "Michael"

Welcome aboard Michael, great to have you here at windows central!

A wild Sam Sabri appeared! ;D Posted via the Windows Central App for Android

Oh WoW
This man is Awesome
Really Awesome at mobile phones
Welcome Mr. Fisher
Glad to see you

Welcome Michael! Love your voice

Welcome to Mobile Nations

Welcome Mobile Nations Mr. Mobile I enjoyed you at your old digs and I'm happy to see you here.

This guy came too late to Windows Central from PocketNow.... Windows Mobile devices are just DEAD! and his reviews are top notch. What a waste of talent!

It's like...you didn't even read the post or comprehend a single word written. He doesn't work for Windows Central, or iMore, or Android Central. He's at large with his own YouTube channel, but he'll get on all our sites and be a regular on our podcast. Also, Windows is more than just phones, even more for mobile. Michael uses a Surface Pro 3 regularly and that is mobile.

One uninformed guy who only reads the negative blogs about Windows and there he was clapping his hands everytime iVerge ridicule Windows. Now he even thinks Michael Fisher could have turned the fate of Windows Phone had he came earlier to MN. LOLs! Seriously dude, find time to read more and wider not only from one source.

Excelent news!!! I will be eager to read/watch/listen to what MrMobile write/do/record.

"he is, after all, a fan of Windows phone and Live Tiles" Truth be told, Michael was at a point the ONLY Windows Phone fan at PocketNow.
Which is why I found it amusing when WP fans went berserk just because he gave the Lumia 950XL a deserved bad review. And I don't expect anything other of him than to keep his impartiality at MN.
Aaaand I'm also hoping he actually gets to visit the automated ocean liners we both love. Posted via the Windows Central App for Android

Adam Lein from Pocketnow is also Windows Phone fan as well.. Posted via the Windows Central App for Android

Adam lein is microsoft fan, he's been with pocketnow since 2003 covering pocket pc

Damn bruh, you're on a roll today. I've given you 2 +1s already. Probably the only time you'll ever get them from moi.

I can respect a man who wears purple.

Wow, welcome Michael Fisher, love your reviews of phone especially windows phone previously in pocketnow, love how the way you put your words into your articles, looking forward to read all your stuff in Windows central. Nice to have you hear.

Congratulations Michael and Mobile Nations. Good move.

"Welcome michael.....i like your style man....my best wishes...." अब तेरा क्या होगा Daniel.....!!

He always gives great and honest reviews. Have listened to him several times at PocketNow. Welcome

Oh, the only person I want from Pocketnow. But its been a long time since I have not visited Pocketnow. Because I believe Pocketnow caters mostly to iOS and Android fans. They have poeple talking about Microsoft but most of the time is to ridicule it. The difference between Mobile Nations and Pocketnow is that Mobile Nations have different departments that caters every one whether you are an Android fan there's Android Central, or a fan of Windows then you can go to Windows Central, there is another department for Blackberry, iOS, Wearables and others. So everyone are happy. So, of course Mobile Nations will be more successful than one-sided or duo-sided sites.

First Zac and now Michael Fisher! Awesome! These guys know their stuff.

Woot! Welcome Michael. :D

Micheal Fisher! Always love his sense of humor~ So he left Pockernow~

This is a great catch for Mobile Nations. Michael Fisher was always my favourite on PocketNow especially in his love for multi-platforms (a love that I share) and his neutrality. For Windows Phone/W10m, when it was good, he said it and when it was bad he also said it. In other words, he's a perfect fit for Mobile Nations! Welcome!

Neutral, come on!
We have heard him in the past.

Daniel and Michael, now if you could pull Tom Warren away from those hipster peasants "the Verge". That would be my Windows/Microsoft dream team.

Great to hear! His reviews on YouTube are informative and fun.

Windows central is going to rock Dani and Michael good combination

I was not sure, on his name but, that voice, I could not miss it, saw a few of his reviews of items on youtube....Glad to see he will be here...

Always liked Michael Fisher's reviews on pocketnow as I found them informative and balanced. Can't wait to see more!

Missed this fella. Glad he's back.

You guys assembling the windows avengers or something? First Zac, now Mike? If you guys come next week with Mehedi Hassan, I'll be damn sure this is Windows Avengers and the Age of Tim Cook

Before there was WPCentral, I was at Pocketnow listening to Michael and Jaime. The only reason I spent most of my time here was due to being a big fan of Windows phone, but I always kept an eye on Michael's reviews. His reviews help me decide whether to get something or not and reading the comments, I'm glad to see I'm not the only one that doesn't consider him biased. Welcome aboard Michael. Happy to have you here.

OMG!! I was so worried about his whereabouts. I didn't even know he had left Pocketnow, I thought he was on vacation or something. Anyhow, I'm glad he's at Mobile Nations now. Hopefully he'll write some articles for Windows Central as he's a Windows user. Great loss for Pocketnow; great addition to Mobile Nations. Love his reviews!! Posted via the Windows Central App for Android

Why!? All he does is talk badly about windows mobile. Poor decision bringing him on board.

I love this guy. Always had a critical but educated perspective of Windows phone Posted via the Windows Central App for Android

Brandon Minima - PocketNow

This is super shocking! I love Michael Fisher so this is good news for all of us! I almost thought he was gonna say "This is Pocketnow" hahahha man I have followed this dude since he joined pocketnow. Glad to see him back around!

your Nokia Lumia 925 - After the buzz episode was awesome to watch. welcome (:

Eetha ee photoyil kanuna pundachi ? Eee sayippamarellam pokanalllo ..onu paranju randinu oomban nokki irikuva ....

I never anticipated that this guy left pocketnow, I thought he was just vacationing or something. Such a loss to Pocketnow, the main reason I watch their channel is because of this guy's reviews.

As long as he doesnt do reviews like this again :( https://www.youtube.com/watch?v=XMNgfEVk8oo

The "Nope" guy! Will he review Windows phone again?

This is awesome, welcome Michael :) missed you at pocketnow

When Windows Central is gonna welcome him with prank???

Welcome, Michael. Neutral view points are always needed in this day and age and look forward to your posts.

Welcome Michael, you're a great addition to the team... Been following you since pocketnow. Posted via the Windows Central App for Android

Kind of peeved with his super dry style sometimes, but he's very knowledgable. Welcome, Mr. Mobile...

A big welcome to MF who I've always looked forward to hearing when he was with Pocketnow. Him and Adam Lein were always the WP people that you can count on giving an honest opinion about. It's too bad he's joining this site just when WP/W10M is going down the toilet.