Activity tracker Wellograph companion app now available for Windows Phone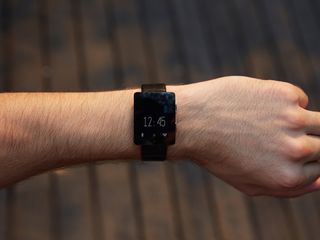 The official Wellograph app for Windows Phone is available for you to download. It looks like the app quietly snuck into the Windows Phone Store. Wellograph is an activity tracker that we first talked about in May. Fast forward to today and you can download the app for Windows Phone and buy the tracker at your local Microsoft Store or on the Microsoft Store website.
Sapphire crystal, stainless steel and aluminum all combine to produce the Wellograph watch. You get seven days on a single charge, so you won't be reaching for the outlet that often.
Here are some of the features you get with Wellograph:
Digital clock
Idle time tracker
Pedometer to count steps
Activity summary: Idle time vs. Active time
Heart rate sensor
All this data is then displayed to the synced Windows Phone app. The data within the app is presented in a beautiful layout. We'll admit, it looks nice.
The Wellograph isn't for everyone, it's a pricey watch coming in at $349. We'll work on getting one this week so we can do a hands-on for you all.
Anyone interested?
Windows Central Newsletter
Get the best of Windows Central in your inbox, every day!
Can you do a comparision of all the fitness trackers available for windows phone? Seems like a market MS should jump into.

I would appreciate that. To see what widowed phone trackers are available, compare prices, etc. Maybe a smartwatch comparison with the ones compatible with windows phone could work too:)

Smartwatches compatible with WP will be a short article.

I want a smart watch, not a fit band

I want a smart watch with a fit band that doesn't cost the same price as a new phone

I guess this is me, all this wellness info is good and useful, but for me, personally, it would always be Secondary function. I really want to get texts, phone calls and notifications, and be able to place calls via smart device (watch). This is Primary function for me. So despite those watches, been so nice, they can't replace cheap Mota Pro ones I've been using (works for WP)

Received. It two hours ago ;)

I have a Withings pulse o2 and I use the wife's iPad to sync it. $350 seems steep. Garmin, Nike and Samsung, the top fitband/watches all top out at about $150

Garmin does not top out at $150

Not at all interested, I use Garmin products and would like to see them integrated into the health app from MSN.

Once functionality of these devices improve and cost to make them goes down, that's when I will consider a wearable. $350 too steep for very little functionality when I can just strap my phone to my arm and utilize GPS functionality to track how far I have run/walked. Arm bands on eBay for like $15 average last time I checked.

Looks interesting but pricey. Hoping Garmin will offer a Windows Phone version of their Connect app with the VivoSmart looking very enticing.

Do we actually have smartwatches compatible with Windows phone?

Now apple will sue.... Don't u know apple invented the digital watch/fitness tracker... Look out if u make a phone with a glass front and rectangular shape as apple invented the smartphone too. Everyone is getting sued

I'm sure Samsung is already being dragged into court over the Galaxy Gear 1 looking just like the Apple Watch.

Might as well just get a Moto 360

LOL. Maybe the fruit markets and apple orchards are next

It looked like a good watch for fitness....until I was like "WTH....IT'S $349? The Fitbit is cheaper."So much for a good buy...Yawn*

350? I don't think so. If I got to spend 350 for a watch, it'll be an Invicta.

When is Microsoft releasing smartwatch?

Hope they announce something by surprise this coming holiday season.

Interested but wanted to see hands on review's before I spend 350. I am skeptical if it can function as it says it can. But it is a nice looking watch. I am still waiting to hear about a Microsoft watch and its proposed fitness tools

I hope it gains the ability to display notifications.

Itching for a MS smartwatch/band.

MS are *suppose* to be announcing a wearable / fitness band this month (October). 7 day battery?? Now THAT is damn good.

And of course it is totally useless for US Verizon Lumia owners until the Cyan update is released.

What Im really confused about it.... why bother making this "LOOK" like a "NICE" watch when its supposed to be a sports watch??? IF... IF it also received text message and notifications... ok.. dual purpose, lets make it look functional (which it fails at). However... this is supposed to be a sports watch... why not make it look like one instead of this block of glass?

Yes...as many have mentioned here, when you consider other activity trackers on the market and also the various low end sport watches, $ 350 is a little too steep. But it does seem to be aimed at the high end of the market. and another "But" it has a Windows App which a lot of other companies don't have or are not considering.