What does the perfect Windows phone look like?
Despite the struggles that Windows phones have endured, there are millions of consumers who are still using, loving and hanging onto the platform.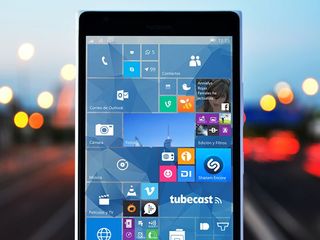 Unfortunately, there are precious few Windows phones on the market for fans with aging devices to move on to when these devices inevitably need to be replaced. As a result, users of Windows phones with broken screens, failing batteries and an assortment of other wear-and-tear and age-related ailments find themselves sniffing around the iPhone and Android looking for a new mobile companion.
This predicament and other factors got me thinking. Fellow Windows Central writers Jez Corden and Zac Bowden recently wrote pieces reflecting their passion for Windows phones and asking you, the community, why you are committed to the platform. Combined with my analyis of the state of the platform and commitment as a fan, the response from other fans has been tremendous.
This suggests that despite the challenges the Windows phone platform has and is currently enduring, there is a sizable core of fans that are in it for the long haul. You just want a new phone, that you can afford that takes full advantage of the features of Windows 10 Mobile, right?
What are the choices for Windows phone fans?
Most of us agree that there are far too few options available to a passionate community that simply loves the platform. Few they may be, but there are options. For instance, the HP Elite x3 is currently the best representative of Microsoft's Windows-on-phone-with-Continuum vision that can be found.
Most hard-core Windows phone fans see this device, and like Pavlov's dogs, begin to salivate. The price tag of $599 for a base offering up and to $1,298 for the full bundle quickly modifies that response to reflect the sobering reality that at those prices, it is simply out of reach for many people.
The Alcatel Idol 4S is also one of the newer Windows phones. It is not on par with the HP 3-in-1 beast. However, the bundled VR goggles, a premium build and decent specs that include a 21 MP camera, 64GB of expandable storage, 4GB of RAM, a 5.5-inch 1920 x 1280 display, and Continuum, are more than enough to satisfy the lusts of most Windows phone fans. But at $470 out of pocket, the price tag is still out of reach for many fans, especially when you candidly consider the compromises associated with the app gap that many fans endure.
T-Mobile is offering the Idol for $288 to customers with "awesome credit." But if we're, honest we must acknowledge that many people don't fall into that category. And there are many more people around the world who use a compatible GSM network but are not on T-Mobile. These individuals are likely stuck wanting a nearly-$500 smartphone that they too cannot afford.
Beyond those two devices, there are older Lumia's that can be purchased from the Microsoft Store website and Amazon, but those devices are already in the hands of most fans who can afford them. Even at currently discounted prices, most of those phones are $400 or more.
The most affordable devices, like the Lumia 735 at $129, run Windows Phone 8.1 and are a step back for fans who may want features of Windows 10 Mobile, such as Continuum. At $298 on the Microsoft Store site, the Lumia 950 likely fits a price fans would consider, but again, many fans who wanted a Lumia 950 may likely already have an aging one. They want something different to replace it with, something new.
But what type of phone has the best likelihood of fulfilling that need?
Low- and mid-range Windows phones have sustained the platform
Most Windows phone fans that frequent this site know that high-end phones such as the Lumia 950XL, 950, 1520, 1020 and even the popular 920 were not the most popular nor bestselling Windows phones.
But they were likely the most talked about in certain contexts. And when it came time for the inevitable phone war comparisons that bloggers like to write about, and fans like to argue about, we put the best representatives of our beloved platform in the ring with the iPhones and Androids that dominated the market each year. Yes, the flagships were often in the spotlight.
In truth, however, though those high-end flagships represented Windows phones well, they did not represent what most of us were using. Most of the Windows phone community over the years, despite the cries for high-end flagships, has thrived on low- and mid-range smartphones. You know, the affordable options.
Though sporting great specs, nice displays and unique camera technology, high-end devices never sustained, though they were important to the platform.
The long-term effects of Microsoft's low-end mobile push
The Lumia 520 with a 4-inch 480 x 800 display, dual-core 1GHz processor, a 5MP camera and other unimpressive specs, even for the time it was in the market, was the bestselling Windows phone. Like the low-end 520, other low-end and mid-range devices that demonstrated the smooth and fluid nature of the Windows Phone OS are what sustained the platform.
Do Windows phone fans really need a high-end phone?
There was a cost to Microsoft's low-end push. Due to the pervasive nature of low-end Windows phones, most consumers, and even sales associates were woefully unaware of the high-end Windows phones that better represented the platform and competed with rival flagships. I created the following Sway presentation a few years ago, in which I detailed an encounter where the impact of low-end phones was seen in a sales environment.
The popularity of low-end Windows phones painted a poor picture of what a Windows phone was in the minds of many people. They saw it as a low-end smartphone. This perception was likely exasperated by the fact that many low-end devices with just a 1GHz chip could not optimally run certain apps or could not run some apps at all.
Are low-end Windows phones hurting Microsoft's smartphone brand?
Given the platform's history, most Windows phone fans would likely be content with an affordable phone with decent specs. Is it possible to build a Windows phone that is both affordable and represents the platform well? Microsoft tried with the Lumia 830, its "affordable flagship."
But with a price tag of about $450, it missed the affordable mark for many consumers.
Balance between specs and price
What are the basic features that you are looking for in a new Windows phone? Does it need to be a price pushing high-end device? Maybe, you'd be satisfied with a low-end device that can't take advantage of Continuum but gives you the Live Tile UI and OS you have come to love.
Or maybe like Goldilocks, something "just right" is more your flavor. Maybe you don't need something too spec'd out, where the price is in orbit, or so basic that Continuum is not an option.
Maybe a mid-range phone, that does all that a Windows 10 Mobile phone is supposed to, including supporting Continuum, is what the community is hankering for. Then again, maybe not. Given the evidence of price consciousness, I think that's exactly what many of us may be content with carrying, however, as long as the phone has a sturdy and attractive build.
For a point of reference, the following chart shows the minimum requirements for Continuum for phone:
Given the fact that there is a core of users still dedicated to Windows phone that passionately wants a new device, but an affordable option does not seem to exist, is there a balance of features and price that would satisfy that core?
If you could build an affordable phone that didn't compromise on important features, like some of the low- and mid-range Windows phones of the past, what would it look like and how much would you be willing to pay for it?
Remember, this isn't about converting iPhone and Android fans. This is about what type of device would meet the cost and features needs of Windows phone fans.
Let's hear your ideas. You never know who might be reading ...
Following the story
Windows phone isn't dead
Smartphones are dead
The untold app gap story
Windows Mobile and the enterprise
The Surface Phone
Get the Windows Central Newsletter
All the latest news, reviews, and guides for Windows and Xbox diehards.
Jason L Ward is a columnist at Windows Central. He provides unique big picture analysis of the complex world of Microsoft. Jason takes the small clues and gives you an insightful big picture perspective through storytelling that you won't find *anywhere* else. Seriously, this dude thinks outside the box. Follow him on Twitter at @JLTechWord. He's doing the "write" thing!