Here's a list of what's broken and fixed in Windows 10 build 14946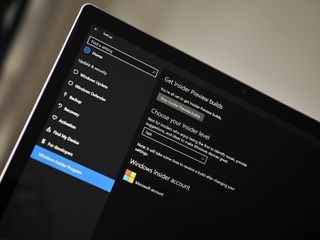 Microsoft has released a new Insider Preview build for Insiders on the fast ring, for both PC and mobile which is excellent news. But, with all Insider Preview builds, there's a list of things you should watch out for. Here's everything you need to know regarding issues and fixes in build 14946.
Improvements and fixes for PC
Optional components such as Hyper-V and Bash should remain installed after updating to this build.
We have fixed the issue where signing into games that use Xbox Live would not work. You should be able to sign-in to Xbox Live in games in this build.
We fixed the issue causing Microsoft Edge to sometimes crash on launch, or when you type in address bar or try to open a new tab. You no longer need to run the PowerShell script.
We fixed the issue causing touch scrolling to be too sensitive in Windows 10 apps, such as Microsoft Edge.
We fixed an issue where Explorer.exe would hang when attempting to open considerably large .MOV files.
We fixed an issue that could result in the network icon occasionally getting into a state where a red X would display in the taskbar despite an active internet connection, until the device had been restarted.
We fixed an issue where if the device's brightness was automatically adjusted after being woken from sleep, the brightness level shown in the Action Center's Brightness Quick Action might not reflect the current brightness of the device.
We fixed an issue leading to Narrator not tracking focus on the Start Menu All apps list or tiles.
We fixed an issue potentially resulting in the "Open with…" dialog displaying with two entries for Calculator after tapping the Calculator key on a keyboard or running the Calculator app.
Improvements and fixes for Mobile
We fixed the issue causing you to get into a state where text messages will fail to send.
When your phone is connected to your PC, long lists of captured photos will now load significantly faster in File Explorer.
We've updated Narrator's reading order for Windows 10 apps which display an app bar on the bottom of the app, for example OneDrive, so now the contents of the page will be read before the contents of the app bar
We fixed an issue resulting in video thumbnails sometimes not being shown in WhatsApp – videos received from this build onwards will display a thumbnail.
We fixed an issue resulting in Camera app video recordings having a slight crackle to their audio in recent builds.
Known issues for PC
If you have 3rd party antivirus products such as Bitdefender, Kaspersky Antivirus, F-Secure Antivirus and Malwarebytes installed on your PC – your PC might not be able to complete the update to this build and roll-back to the previous build.
Larger Windows Store games such as ReCore, Gears of War 4, Forza Horizon 3, Killer Instinct and Rise of the Tomb Raider may fail to launch.
Known issues for Mobile
If your phone has additional speech packs installed – this build will fail to install on your phone with an 0x80188319 error. This is why we polled Insiders about language pack usage this week. Based on the response, we decided to push forward and send the latest bits. This issue will be fixed in the next build we release. NOTE: Removing speech packs will not correct the issue. Your device will continue to try and download and install the update and fail. It is recommended you move to the Slow ring until this issue is fixed. This has been mitigated and fixed
That's everything you should watch out for in build 14946 for PC and mobile, for a list of what's new, check out our main Windows 10 Build 14946 post!
Zac Bowden is a Senior Editor at Windows Central. Bringing you exclusive coverage into the world of Windows 10 on PCs, tablets, phones, and more. Also an avid collector of rare Microsoft prototype devices! Keep in touch on Twitter: @zacbowden.
Only those fixes for Windows 10 mobile?

Again no new big improvements for mobiles (But pc got many great new features every week). Really i'm waiting for surprise since sept. And now wifi disconnecting issue started once again & lot of apps hanging and stucked on starting especially skype, windows central, group me, outlook apps(live tiles not refreshing) and more. Excitingly I spent lot of time to improve mobile os by giving feedback. But mostly no use . May be they are not much interested in windows on mobile compared to pc (like recently lenovo corp said "we are not convinced with the microsoft windows mobile os strategy"). Now i'm feeling that may be its better to leave insider program. I'm a very big fan of windows. Its hard to comment like this. Sorry guys if anyone gets angry. But seriously guys, if microsoft not support more for mobile os "ios" and "android" is going to be much better than windows forever.☹

If you can't be bothered to test until there is something shiny, then the insider program is not for you.

If you "test" on your phone, then you are an idiot.

Look at all those butthurt little fanboys down-voting me. Yes, click that dislike button little boy, do it! Now!

Can someone tell the village down the road that we have found their idiot...

http://m.quickmeme.com/img/32/328f13a15b8cd5d63d02302f2b32fde92964a9d2ab...

I never argue with idiots. They always win due to their vast experience.

If you think about it, by us being in the Insider Program, we're actually helping expedite new features & OS progress. Just think about how immature this OS would be without Insiders. I'm thankful for all the Insiders who are willing to deal with bugs & give constructive feedback so we can get this OS to the level we know its capable of

Insiders are the reason for current mess. There is no substitute for proper QA. Quality does not come cheap.

If you think Microsoft doesn't have a QA group then you're not paying attention. Did you not notice when they've held builds back because of "show stopping" issues?

I really hope you're being sarcastic. Ever since Microsoft has come up with the "insider" program, the quality of their software has been ****. By participating in the "insider" program you're voiding the warranty for your phone, and should anything happen to it because of a bug, you're screwed. I really don't know would anyone do that to themselves, unless they're curious (I guess?), but then again, they're also an idiot who risks ruining their phone.

There's a reason Microsoft says in the *very clear* disclaimer when opting into the program "DO NOT use this on your Primary Device". People who are willing to test the preview builds, should really be doing so on a secondary (Spare) device. That way, if something goes wrong, they won't be sacrificing their main phone. If somebody used it on their Primary device, they should know full well of the risks. And if they do, (or don't), and ruin their Primary device, they really can't complain. So yes, quality can sometimes be bad on insider software. That's because its testing software. You can't blame MS for starting the insider programme, due to the possibility that a few people ignored the obvious risks explained to them. The insider programme has had a lot more benefits to the OS than you make out.

Oh and by the way, what has the insider program brought us so far? Did they actually implement any new features to mobile based on the feedback? I'm not counting the double tap to wake function in the x50 Lumias, because, seriously, that should have been there from the beginning.

Microsoft seriously need to make the insider program now exclusive.

When you argue with an idiot, other people can't tell the difference between who's who.

Actually, you are correct (without actually trying to be). If you "test" your primary phone, then indeed you are an idiot. Microsoft basically calls you one because they tell you that it CAN BREAK YOUR PHONE.

Maybe not an idiot, maybe just desperate for a phone that resembels a phone from this century. W10 needs a ton of polish just to reach what android and iphone were doing a year ago. W10 mobile is a joke. If you disagree, you havent spent much time with a Samsung or iPhone. I have been through every build for the last 2 years, the amount of bugs and fixes is absolutely ridiculous. They dont have time for improvements, polish and new features because they are contantly breaking and fixing the same things over and over. I waitied a year for Windows to release the 950 firmware to fix an issue with camera on my phone, its unacceptable. The phone and OS are slow, it crashes, it cant sync photos to your PC, it has a hard time rendering emails for the last 2 years, texting is antiquated, maybe they will integrate skype and messaging while there is still life left on earth. Its only recently that the phone dialer or dial pad can keep up with me, normally the keypad beeps are so far behind it gets confusing while dialing a number. I can complain about this phone forever and I'm sick of listening to my wife complain about her 830. Done.

What does any of that have to do with putting your primary phone into an insider program when you are told not to do so several times.
I think you misunderstood my point entirely.

Read the first sentence. I am desperate for an OS that feels like its from this century so I try out a preview.

I still dont understand the point of your post. It sounded like you wanted to use a different OS and not Windows. I do understand however, the frustration of being stuck with WP8.1 because I had a L925 that wasn't getting upgraded. Also, none of what you said disputed the fact that it is idiotic to use your primary phone on a program that warns you not to. Especially when you have the option of just buying a 40 dollar L640 GoPhone and unlock it. Then you will be on an official build and not so desperate. That's the cheapest option of you want Windows 10 mobile and don't have a supported phone.

I'll try explaining in english this time. You said you would be an idiot to try a preview on your primary phone. Why is that? I've never bricked a phone when trying a beta version? Been doing this a long time and tried just about everything from beta Win2000 to early iOS10. I've tried every Win7,8,10 build I've come across and have yet to brick a phone so I dont see the danger. Its an inconvenience when you get stuck with subpar builds and need to revert back to a production build, oh well. Im not crying about a preview build breaking my phone. Im still waiting for you to make a point. I try preview builds out of desperation because I get tired of dealing with: choppy video recording and blurry pictures
awful sound quality
so many problems with maps
An unreliable alarm, can you imagine they cant figure out an alarm clock
low res video thumbnails in video app
pause in video recording results in poor playback
live tile for calendar displaying wrong date
dictation issue, stops listening prematurely, barely works in one note

If you feel that I didn't have a point, I guess I didn't have one then.

My advice to you is move over to android until the Windows os is to the level of your satisfaction. This os is not for everyone. Not now at least.

Believe me, I've tried all these 3 OSes and I'll tell you that. No OS is perfect. I've dealt with lags,slowness etc with every OS I've played with.

I have a 950XL with none of those problems. I just run on the release version. Maybe you should do a reset.

I'm the same hoppman. My 950XL is running very nicely. I use all the Mobile OSes on a daily basis (thanks to my job) and W10M is by far the best of the lot. Every OS had It's issues.

We have to get out of beta first. There are a lot of things broken and features yet to be implemented.

The continuum update is very welcome, though I'm not about to put the early builds on my primary, I'm glad that will be fixed up.

The wifi problem is due to viber being installed on sdcard, move viber to internal memory and wifi disconnecting problem is more than solved

There are improvements for autocorrect, wifi settings and continuum working with screen locked, as reported by mspoweruser.

Just a single issue for mobile that too of installation shows that the build has not been worked out before pushing. MS banking on insiders to do more and more. I guess why they pay their internal testers then? or all have been removed?

It seems to be that they were deciding if the should push the update out.
They did a poll to work out just how many people will be affected, and decided they still should push it out to test it asap. The fact they knew about the update issue before they released the update, shows there is internal testing. Anyways, not every build they make, goes to insider's. A lot of builds they make, first goes through internal, and only goes to insiders after its stable "enough" for Fast ring insider's. The fact there's only one *huge* known issue, and its not to do with the actual update, (rather the installation) is actually quite good for a fast ring build at such early stages of RS2

Well considering MS employees don't use WPs, there can't be much testing going on internally. =P

The internal testers will still have to test the OS/updates due to their job description. Regardless of what phone they use outside of work. Even if they used iPhone/Android, Win10m will still be their Work phone :p

Shows how much of an understanding you have of the test process ;-)

Shows how good MS developers are with the kind of build they are delivering in RS2.

TBH, I will always go for Regressive testing before pushing a build assuming fast ring insiders are lot in numbers not just few.

What about the problem involving the lockscreen on mobile where you had to reset the device? Any word on that?

Was fixed before last build.

Cool. I must have skipped reading the list of what's fixed for the last mobile build since I opted out of the Insider Program for a bit.

I have single language but multiple speeches installed. Does that mean it will not install on my device?

"If your phone has additional Speech packs installed" I think the update will fail for you for now unfortunately

Any comments for windows 10 on 512mb ram's

There are still phones with less than a GB of RAM?

Hmmmmmm.... Was that a legit genuine question. Or a troll attempt.

Ermmm. If it was legit I would like to know how he makes it through the day without hurting himself!

Never gunna happen. MS had made it perfectly clear that it is impossible to support 512mb phones. Then phones just can't handle the OS.

Really wish the 920 updated. Not gonna lie. Still kind of mad about that one.

Windows 10 looks fab but not experienced yet coz of 512mb ram

Dude. Get a new phone with 1 GB of RAM at least. 512 MB RAM is a joke nowadays :D

Was hoping for more. Performance is someway behind TH2. Edge is quite rough, and apps, particularly WC, feel noticeabley slower.

The line below tells me I won't be playing Gears before I leave for vacation next week. Sigh. "Larger Windows Store games such as ReCore, Gears of War 4, Forza Horizon 3, Killer Instinct and Rise of the Tomb Raider may fail to launch."

In Edge, I cant use verify by visa password which is showing no place to enter my otp for validation. Which I'm suffered and suffering more times since and now in my window's 10 latest up to date update but no repair

What about adding a task bar to mobile ???? Posted via the Windows Central App for Android

Why are you asking for a taskbar for mobile when you are using Android?

Because I want a bar/App drawer on Windows phone. Clearly ! Posted via the Windows Central App for Android

Swipe left from your home screen. BAM, app drawer :)

First Fast-ring Insider build that I will skip on mobile. Anyways, how do I remove speech packs anyways from Mobile? I have for some reasons besides German and English also France and Spanish on this phone that I absolutely not need.

You can't remove speech packs once installed. I left feedback about this long ago, still hoping they will give the option to remove it.

Interesting.
The article states: "NOTE: Removing speech packs will not correct the issue"
So someone seems to think it is possible. However, it seems now to be fixed. Fast ring here I come.

So what about gadgets being absolutely useless now and msn weather a dead dud on some phones (can't update, can't uninstall, can't install)? And camera at times restarting phone? Andandand......

What about the problem where my Surface Pro 3 gets stuck on the Surface spash screen, does anyone else have this problem?.

I have the same problem on my SP3. Need to Hold power down to reset every time i fire it up on 14942.

Couldn't get 14942 installed on laptop as it would lock up @ 81% every time. Hope this one succeeds once I try later today.

I'm not in any of the Preview Builds anymore, but noticed that I no longer get an audible alert for text messages anymore. Anyone else have this issue? 950XL.

Same thing with my Lumia 650 :/

P.S. Found a solution. You need to change default app for SMS to Messaging app from Skype (they probably move default SMS app to Skype) in Settings.

I just have Skype Preview installed on my phone and I checked Messaging settings, but I don't see anything about default app. How did you navigate to that? I checked system settings and Skype settings.

Nope. Get full notifications on 950 & XL

what about the problem with blank and blankety and blank? I'm working on being extra descriptive in my second issue there. all I see above for the most part are people complaining about their choice to be part of a program. You made the CHOICE, now live with it or leave but make a choice and stick to it. I've had my share of issues with the preview builds but look forward to what is coming up for continuum so I live with a couple of issues. Well have fun all or try:)

hey there, as reported by mspoweruser https://mspoweruser.com/microsoft-takes-first-step-towards-making-continuum-actually-useful-windows-10-mobile/ the feature where continuum can be used with the screen locked is introduced. that's one out of many features, but probably the one standout that would make me use continuum again (i had to buy a new phone battery for my lumia 950 xl because the original one became unusable, probably from getting so hot from all the continuum usage).

Anyone tryed this build on mobile yet ?? Im a bit curious with the problem its saying about the speech pack

I've got English, German, French and Spanish packs pre installed.
Device updated successfully.

I have English, French, Spanish, and Klingon on mine and no probs whatsoever.

So glad they fixed the text message issue! Soft reset would fix it for awhile but got annoying after while.

This, I thought that is was due to skype preview so I stopped using it as default sms. Now I know it wasn't the culprit, going to resume usage once more.

And they fixed the startup? Because my laptop is start twice when I turn it on. Loading, and say "please wait" . After that, my laptop restart again. Why? Sorry for my english

What about failing in install some apps

Anyone with a surface pro 4 have they fixed:
Personalize handwriting bug?
.
Surface pen pointer issue?
.
Wi-Fi icon in task bar always displaying full signal.
.
I experience these on non insider. 14393.321

Really hoping that true caller integration has been fixed. Man I miss the functionality of that app.

I've completed the update on my 830, and Truecaller integration is still broken. :(

Yeah, I have already seen that sad fact. To top it off, seems that call recording is also out for me at least.

The true caller integration finally works correctly in the latest Redstone 1 build .321.

Yes it worked for a while and was in earlier rs2 builds but something changed in build 14936 in the API and broke the integration. Apparently TrueCaller knows of the issue and are working with MS on a fix.

Come on guys / gals, we all know what we signed up for and yet every release gets the same old comments, but mostly about other issues, or those not fixed. Strangely enough though, not everyone experiences the same thing. I guess if we all had 'vanilla' devices, we'd all have the same issues. But we don't, so experiences will be different on different devices etc. I have to admit, my coffee shot across the room when I saw the 512 comment. Lol ;-)

You just made my day. Thank you.

MMS/group messaging still broken. I really hope this gets fixed soon.

Both of those things still work in the Messaging app (thankfully), so at least there's a relatively painless workaround for now. I'm hoping that they bring that functionality over to the Skype app soon, too, but from using the Skype app as my primary SMS app since they added that functionality, I would say they have some bigger fish to fry than bringing MMS to the party just yet. For me, I'm glad to see that they fixed the non-sending messages issue. Next up, they need to get name and number matching fixed. Once they get the names and linked conversations fixed, then bring MMS into the fold. I *totally* hear you on the group messaging issues in Skype Preview, though—it's a mess.

I stopped using the Skype Preview app awhile back. I am referring to the regular messaging app. It doesn't work for me.

Still no fix for the SD cards issue? I think previous build had issues with SD cards are second sim card. Just installed the build on my 640 and it doesn't show the full size of the SD card.

I knew when I got the poll on language packs that we wouldn't get it. I have decided to stay on RP anyhow until closer to new year.

Microsoft should have also said that this build is a bug and that it is not smooth. There is nothing impressive in this build. Nothing is working. My camera app is buggy and will not work. Feedback hub won't open. This build is regretful.

If id remember to feedback the bugs.... The brightness one happened often on my alcatel

why is calendar live tile is still broken?
doesn't show correct info.

"We fixed the issue causing touch scrolling to be too sensitive in Windows 10 apps, such as Microsoft Edge"
Oh, Praise the sun! This has been exceedingly annoying.

The thing I see, after close to three years with my 1520 and being an Insider from the start, is that these Insider builds are not adding up in any way to the much vaunted paradigm shift I keep reading that Microsoft is going to somehow lead us all to. This little tinkering around the edges with bug fixes here and bug creation there, it's nothing. Nothing. There were so many things that lured me away from iPhone to the Nokia, but iOS has just marched away and left Windows Phone in the dust. I try every single build on the Fast Ring hoping maybe one day it will have something worth hanging on to. I'm not even complaining about the bugs, I'd love me some nice juicy bugs if they came with some special features on the side. Todays is no exception. What do I really have in this build that is better than the regular production build? I'm just not seeing it anymore. Please take this as coming from somebody who really wanted to see this all succeed.

After update, msgs,phone,contact apps not open they crash !

Dell laptop still stuck on 80 for hours. What gives?

when will the proximity sensor issue be rectified, during calls makes me feel so dumb in front of everyone, phone completely goes into dark state...removed tempered glass too

Edge will not start on Lumia 950XL after successful install of this update

hey there, okay im not the only one experiencing this then. my phone goes from the blue windows logo to glance screen. first time its ever happened. thankfully its the weekend and I dont work saturday so i guess hard reseting will be my weekend project.

Edge keeps crashing on my 950 after the update

Almost every 3rd party app on my 950 is crashing and not starting at all!

Finally I will be able to send text again... this issue was the most annoyng one in last buils...

950 users: After installation the phone will need several minutes for itself "to do something". Apps will force close when started in this time. Just wait, it will fix itself and then the phone is usable.

not for me. i waited 1hour and still force closing. but not on the system apps, only on apps which where installed manually.only uninstall / reinstall has helped...

That is a huge improvement for mobile. Both myselef and wife have had to reboot our phones multiple times a day because SMS would not send Getting this release ASAP to fix that, it has been a real pain. So happy it is fixed now :)

great update with many new features for my phone!!! it completely bricked my 1520 and i had to return to win 8.1 !! thanks M$!!!

hey everyone thats using a lumia 950 xl. were any of you able to install this build? im going from production (non-insider) to fast ring, and now my phone wont install this build. its stuck on the blue windows logo screen, and after about a minute the phone screen goes on standby. if I press the power button, the blue windows logo comes back on. is anyone else experiencing this problem? edit: wtf, now the screen goes from blue windows logo to glance screen. no idea whats going on. edit 2: after about an hour, my phone finally started becoming usable. it didn't show the "we"re migrating your data" screen, but i guess it was installing build 14946 anyways.

So. It looks like MS broke Syamntec Endpoint protection...AGAIN!. I had to uninstall it to get this build to install. After the update, I reinstalled SEP 12.1 MP6. It is now stuck at the login screen. I had to do a system restore by holding the shift key down and clicking on Restart from the power icon. Once I restored it to the state before it was reinstalled, it works fine. FAB. I'm also not having any luck on our other machine. I am unable to go from 14393.187 to .321. I have tried WU and the Cumulative patch file, and it aborts while saying "Undoing Changes." I do not know what to try on that one. Any suggestions?

Windows Phone...always a lot of bugs...make me so furious.

Besides Symantec Endpoint, add MalwareBytes to the list that this build has broken.

Windows hello and edge are definitey two times faster before. But hotspot shield no longer working. I tried other vpn's but no luck.Maybe i am the only one facing it, so will try soft reset.

Even sonft reset did not worked for my lumia 950. VPN no longer works. They fixed something and broke something already working again. Impressive.

So many apps not launching! Trying to decern cause and not related to local or SD installation as far as I'm seeing. Even moved from SD to Local Media and no change in function. Tap icon, can come back to start screen. Not all apps which is what's weird and what I can't understand. Only thing I can think of is some change in API and app calls, but so many seems weird that they would release OS before letting Developers fix/update.

So it looks like reinstalling those apps that don't properly launch fixes the problem, or may mean that a Hard Reset is required for this update. Debating the lesser of the evils, but from testing it is possible to get the apps working again.

had the same ISSUE; almost all 3rd party software and edge werent working, Soft reset didnt help; a hard reset fixed it; however the phone is still very slow to boot (Blue logo take very long); and randomely the brightness drop you cannot see anything and only reboot will fix it temproarly. not to mention the phone delaied response when clicking on power button to wake it up.

One thing I noticed on w10M of this build is continuum mode the phone screen will turn off automatically while the ext. monitor/display can still function

The only impact I saw on my 640xl is an annoying fake notification about my monthly data usage on cell network...

True caller live caller ID does not work with this build

I recently suffered with the 14946 Bitdefender issue myself. I did manage to find a fix to the issue! Hope this helps. https://blog.kloud.com.au/2016/10/15/fixing-the-windows-10-insider-14946... Cheers, Shane.

14946.rs x64 fast ring for desktop here on a Haskell core i5 w/ SSD and 8 GB PC 1600 Ram dual booting with 14393,rs AU on metal. Edge works for a day or so then it wont open and I tried the usual power shell remedy's to re register Edge but nothing worked , then I clean installed 14946 from media I made from an ESD download copy I made and same outcome ,Edge worked for a day and then not and the power shell fix did nothing again . No big deal I have 14943 AU on the other drive and Chrome is my default browser and Firefox a strong alternative and ofc ...IE 11 anyway maybe the next build will fix this on my desktop and wherever else this happens and on 14946 mobile .
Windows Central Newsletter
Get the best of Windows Central in in your inbox, every day!
Thank you for signing up to Windows Central. You will receive a verification email shortly.
There was a problem. Please refresh the page and try again.