Windows 10 build 14946 for PC and Mobile is live for Fast Ring Insiders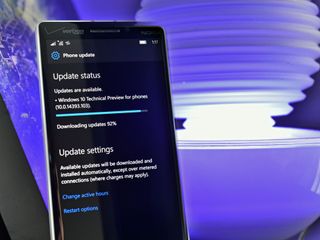 Today, Microsoft is releasing 14946 to Windows Insiders on the Fast Ring. The release is for both PC and Mobile, which is a nice realignment that had been missing for the last few weeks.
The big improvements for PC including more customizations for devices with a Precision Touch Pad, including more options for gestures.
Another big fix for Mobile is in regards to Continuum. Users can now turn off either display that you are not using to prevent screen burn in or just unwanted visual distractions. Microsoft gave some details about the feature in their blog post:
Another returned feature for the new Wi-Fi settings is the 'time to turn back on' setting, which lets users set the device to flip Wi-Fi on after 1 hour, 4 hours, one day, or manually.
There are also significant changes to auto correction for mobile that users have wanted for a long time:
Other improvements and fixes for PC
Optional components such as Hyper-V and Bash should remain installed after updating to this build.
We have fixed the issue where signing into games that use Xbox Live would not work. You should be able to sign-in to Xbox Live in games in this build.
We fixed the issue causing Microsoft Edge to sometimes crash on launch, or when you type in address bar or try to open a new tab. You no longer need to run the PowerShell script.
We fixed the issue causing touch scrolling to be too sensitive in Windows 10 apps, such as Microsoft Edge.
We fixed an issue where Explorer.exe would hang when attempting to open considerably large .MOV files.
We fixed an issue that could result in the network icon occasionally getting into a state where a red X would display in the taskbar despite an active internet connection, until the device had been restarted.
We fixed an issue where if the device's brightness was automatically adjusted after being woken from sleep, the brightness level shown in the Action Center's Brightness Quick Action might not reflect the current brightness of the device.
We fixed an issue leading to Narrator not tracking focus on the Start Menu All apps list or tiles.
We fixed an issue potentially resulting in the "Open with…" dialog displaying with two entries for Calculator after tapping the Calculator key on a keyboard or running the Calculator app.
Other improvements and fixes for Mobile
We fixed the issue causing you to get into a state where text messages will fail to send.
When your phone is connected to your PC, long lists of captured photos will now load significantly faster in File Explorer.
We've updated Narrator's reading order for Windows 10 apps which display an app bar on the bottom of the app, for example, OneDrive, so now the contents of the page will be read before the contents of the app bar
We fixed an issue resulting in video thumbnails sometimes not being shown in WhatsApp – videos received from this build onwards will display a thumbnail.
We fixed an issue resulting in Camera app video recordings having a slight crackle to their audio in recent builds.
Overall, this seems to be a solid Fast Ring build. Stay tuned as of course, we'll do some deeper dives into these changes later today.
Windows Central Newsletter
Get the best of Windows Central in in your inbox, every day!
Daniel Rubino is the Editor-in-chief of Windows Central, head reviewer, podcast co-host, and analyst. He has been covering Microsoft since 2007 when this site was called WMExperts (and later Windows Phone Central). His interests include Windows, laptops, next-gen computing, and for some reason, watches. Before all this tech stuff, he worked on a Ph.D. in linguistics, watched people sleep (for medical purposes!), and ran the projectors at movie theaters because it was fun.
Waiting until we get native class 2.0 usb audio on mobile before I get back to fast ring.

Eh? It is already available from build 14912 on Mobile according to MS developer. https://blogs.msdn.microsoft.com/matthew_van_eerde/2016/09/15/installing-the-microsoft-class-drivers-for-usb-audio-devices/ -------------------------------------- The USB audio class drivers also work on Windows Phone. To use them: Verify you have a phone that supports "USB host mode"
For example, from the Lumia 950 specs Plug in the USB audio device to the phone That's it! Here's the current picture: 1. USB Audio 1.0 devices work on the Lumia 950 XL now, both playback and recording
2. USB Audio 2.0 devices work on the Lumia 950 XL if you install a build >= 14912, for playback only
3. USB Audio 2.0 recording devices will work on the Lumia 950 XL once we add recording support to the class driver*

Ah k thanks I'll try using my dac with my 950xl this evening... Fingers crossed! (I'm not brave enough to stick my x3 on fast ring!)

already supported long time ago. at least on my 950 and the speakers in my office and the usb microphone from PS3 eye

Shucks thought they would have the continuum experience they showed off at ignite. Only thing going to get me on fast hehe

you can lock the phone screen while still working on continuum mode, same as when operate on phone the continuum screen will shut off automatically after a while not using.
​edge broswer on mobile has been improved and more like on PC,

Nice update! Pulling now on spoofed 920.

Spoof as a supported device, select Fast ring, bam, RS2.

Interesting and pretty cool. As the 920 was cut due to performance across the board, wonder how it holds up.

Let us know, im curious as well too

I feel almost like I should have kept my 925 and got into the program.

Spoof? Please share. Would love to get my 1020 updated.

Yeah.... Everyone who enjoy life living on the edge....

*On the Microsoft Edge Ok, I stopped.

I'm not sure if it was a coincidence... Edge never opens and keeps crashing on my L950 after this build! But any way it's time for the monument (browser) to help me out.

Edge and Podcasts are doing that for me too on 950 XL

Option to remove a word from user dictionary (Mobile) - THIS! B-)

It was part of the keyboard company Microsoft acquired. I'm glad to see the features I loved about SwiftKey are showing up on Windows Mobile, making the Keyboard even more awesome.

Is plying Netflix in Continuum fixed?

That would depend on Netflix updating their app to be Continuum compatible. Nothing to do with Microsoft, everything to do with Netflix.

My "Nokia" earphones stopped working with my "Nokia" L830 after a hard reset. But they do work with other devices. I hope installing this build fixes the issue.

You mean your other earphones work?

I have tried with Samsung earphones. They work with my L830 but not the Nokia earphones. Also, the Nokia ones work with my sister's Samsung and my laptop. Strange!

I had a similar weird experience with some Microsoft Comfort earphones, they suddenly refused to work with my 950xl, would work fine on everything else, computers, other phones and my Xbox controller - but would temporarily break the mic abilities of the controller until the batteries were taken out and put back in. It was weird behaviour and must have been due to that specific set. Other headphones were all okay, no issues at all with them. Anyways, I replaced with an identical set and the new ones still work flawlessly. Binned the old pair.

Sounds like you need get the drill out and make yourself a new headphone jack LMAO

This exact issue happens with my L950xl. Stock earphones work on other devices but mine, while all other earphones work just fine on my phone. One word, WEIRD!

Feel your pain.
My WM10 near new Nokia 930 won't connect via Bluetooth to my company car, never has, so after many years WM is now dead for me.
Every iPhone and Android in the office syncs perfectly, but me the boss where the car is the mobile office (and the only one with a WP), can't afford the danger anymore.
P- isses me off but it's bye bye Windows Phone.

Any comments for windows 10 on 512mb ram's

you need 1 gb ram for your mobile devce to use win10

You had W10 TH2. Which was awful on 512 MB devices. RS1 works barely decent on L63x. I would suggest you get a new phone.

Windows 10 looks fab but not experienced yet coz of 512mb ram

Well, you will very likely NEVER experience it! Even spoofing your phone will result in a complete and utter failure!

This might be dangerous to say, but as a (happy) user on standard release W10M, I do find it a little bit of a shame these new features all get saved up for big milestone updates. Obviously there's practical and logistical reasons for a fair few of these - Onecore refinements etc., but things like the screen-off feature for Continuum or removing misspelt words from the dictionary, for example, it almost seems a shame to wait. The Insider program obviously is necessary to test for bugs etc, but what then? The features just kinda sit there waiting to be bundled into 'Redstone 2' or whatever comes next rather than being sent out upon completion. With W10's regular updates, I thought new features, however minor, might come a bit quicker than these big milestone ones. It's not a complaint and before anyone suggests it, no, I don't want to join the Insider program, I'm not that fussed about it. It's just an observation.

Yeah its true man i'm waiting for surprise since sept. Again no new big features for mobile(pc got many new features). Now i decided to left insider program.

You should have turned right. Lots of goodies.

They release date isn't until close to mild 2017 so still early. I did get 2 notification for gesture beta and messaging+ :)

Such a "rolling release" system would require some serious engineering. This would require each feature to be developed independent from each other and tested in a similar fashon. That "stable" branch would still need to be actively tested before these updates would roll out. It's just not worth the effort. Honestly, there is nothing wrong with 6-months between feature updates. This has a couple of advantages: easier to test, and more important, it is easier to support older versions and to "draw the line" when support has to be cut off.

Yeah I know, I can get why, just the nature of the complexity of it makes it a shame, is all. Biannual updates with multiple cumulative updates is nothing to complain about - way better than Android!

OS's are much of a muchness. They all have pluses and minus's. Android releases are to fix past issues and create some more for future updates. The new iOS has really had a negative impact on my iPad mini 3. Battery is nowhere near what it was, and has got a bit laggy. With W10 we will get cumulative updates and fixes, but goodies tend to come in a big release. It would be nice to have it differently, but that's less time consuming and lighter on resources

Most (if not all) new features are API dependant and older versions of w10m simply don't have them yet. That's why they are trying to move away from integrated apps to store updateable apps.

Wish they would bring back the Wi-Fi setting to turn back on when near favorite places. Anyone know why it was removed?

Because it was a great feature that differentiated Windows Phone from other mobile OSes. MS wants to make sure there are no features that aren't in other OSes.

How about wifi selection priority? It would be nice to auto choose a preferred network from a list. I know my Mac at work has this feature; not sure about iOS. This idea could be made even better if it could auto select the stronger wifi signal in a priority group from the list. Currently, my phone selects the first known network in range. My house has two routers so it selects the one near the front entrance when I get home. However, the signal gets weak and I need to manually switch once I move to the other side of the house.

Yep, this is something I miss. Probably removed because nobody knew about it so they saw in their telemetry data that it was not being used.

That's not legit reason. I don't use Xbox app, plus many ohter things in the OS, and they are still there!

Yeah, but how many people are using them. Lots of Xbox app users probably not so many using the near Wi-Fi feature (because no one knows). And I know it's not legit, it's dumb and stupid of Microsoft. But this is what they do, they clearly have no clue what consumers actually like/want

You mean WiFi turning on itself when, say, you arrive home? WiFi on my 950XL turns itself on regularly. Hard to say exactly what's causing it, but I'm guessing availability of accessible WiFi networks. Real pain, actually; sucking battery even though I've manually switched it off...!

Have you switched the "Turn Wi-fi on again" option to manual in the Wi-fi settings? :)

Is it available for Slow Ring users?

Updated on my Lumia 640, now Edge crashes constantly upon opening -- will not start at all. Tried soft reset too -- really don't want to hard reset...

same here. Been unable to open Edge. I wish this would have been known, otherwise i would not have updated.

It may very well need one working fine on 1520

Yeah... you're probably limited to hard reset. I think someone in the forums had the same issue and tried all the suggestions (including mine) and the only thing that worked was hard reset.

I have a Lumia 640 and not experiencing any problems

Any news on Mirrorlink please Microsoft?

The auto-correction features are much needed. Thank you msoft!

Look in "Additional options" on the WIFI page. Option to use random hardware IDs when logging into wifi networks. How cool is that (y)

I hope they add this feature in mobile like more third party bluetooth gamepads to work.Just a suggestion

Did anyone else notice the gesture beta and messaging+ notifications in mobile

So are the words added to dictionary if we send the text in message or whats appthen or any input text block without correcting or clicking on + .. This is a big win for non English languages as we rarely type in English dictionary words

THIS!! * We fixed an issue resulting in Camera app video recordings having a slight crackle to their audio in recent builds.

Is it just me, or has the start screen selections suddenly got the 'wow' zooming out animation back, damn it looks slick!!

I didn't get what you mean :P

Has anyone found a work around for the sd card issues? My 950 for the last two builds has had a sd card issue.

SO happy about the autocorrect additions!

Messaging+ message keeps popping up no idea if it's new

finally some of the features which would make my lumia 950xl much better.. keep it coming !!

WhatsApp web has significantly less breakups with this build. And I find it is really snappy on my 950. I really like it. Windows Hello is like 80% faster.

Fixing the text messages bug is great; bluetooth being seriously bugged for the last six builds now is infuriating...!

I concur. That was annoying AF. Just had to wait a while for messages to eventually send

Thanks for mentioning this. I went back to production build because of Bluetooth issues.

Conflicts with Kaspersky AV/IS and won't install. PC People app still doesn't sync fully - no images. Mobile Tiles stop refreshing after a short while. Mobile.

The status bar on top of the screen on mobile seems to not show and has a fading animation instead of the sliding away one, I'm not sure if the animation is a bug...

Well darn. Installed on my 640 changed display size rebooted now stuck on Windows symbol. And if yea I'm trying an Android phone to see if I like it. Alcatel idol 3. Got it for $45 after rewards discount so how could I pass it up. Posted via the Windows Central App for Android

Just reset phone and it will continue, sticks on that screen with mine every time but I have sooooo many apps, it fixes it fine

Yep that's what I did and it fixed it. I only put 6 apps back on. Decided just to use 640 for fast ring testing only. Posted via the Windows Central App for Android

With any luck I'll actually be able to install this build on my PC, unlike the last one.

The WhatsApp vídeo thumbnails issue will only be solved with RS2...??? Give me a break.................

Anyone having Edge crash on launch? I get a splash screen then goes back to the start screen.

Read previous comments above.

So when is 10 coming out on my Surface 2? specs support it? hmmm... ???

Just downloaded on my 950 and only weird issue so far was text notification chime went off fast right after another like someone tapping on a door bell really quick right after I woke my phone up and unlocked it. Like is was catching up on all the text message chimes that it missed but all at once. :-\

last 3 built is horrible in battery draining and phone heating. Can't pass half a day...

My 950's and XL's generate very little heat and can squeeze over a day out of battery, with moderate use. Perhaps if you put phone model in post people would help out

Can this be installed on an 830?

Can this be installed on my 830?

I'm so pumped for this build. They finally seems to be addressing the autocorrection woes. Hopefully a nice touch keyboard upgrade in terms of customization, features is in toe. One can hope. Coming back to autocorrect, finally finally we have our originally written word in suggestion. This was so annoying. The over zealous autocorrect would correct my correctly spelled word I was intending to write and if I back spaced it and wrote it again, it would again be auto corrected, repeat. The over zealous auto correct was/is force over riding user preference and every time. This was so annoying. Finally the common sense prevailed and I turned it off. Now I use the suggested words on my own and don't let the forceful autocorrect change my originally intended correct words for me to something different.

The bought SwiftKey in February, they just need to port that over. Such a great keyboard.

Used swift key all the time on my notes 3 & 4. It was so good that I always included it as an option in the custom rom install so it could be dumped straight in to the device.

I am facing problem in geting notification of whatsapp.....whenever my phone is locked I can't get any whatsapp notification sound.......is there any solution?

Something happened to the people app on this upgrade. It and the messaging app would crash and never run. For the first time in all of my updates, I had to do a backup, hard reset, and a restore on my 950XL. It took a while, but I am back up with everything working. It has probably been due, since I have not done one in a long time.

Yes it happens to me now after upgrading to 14946.

I will do hard reset tonight. Very regret to upgrade to 14946

Mine seems to have something called messages+ that is a Vodafone app, amd I've never installed on my phone.

The toggle on/off of encrypt option wouldn't stay ON... In this release I finally can turn it ON and stay ON. But now, when I try to download other languages, they just say " pending/downloading" and never install... Even the english USA. Thus I can't even use prediction and swipe the keys. I always do an HR after any upgrade.

So this: "Your device will continue to try and download and install the update and fail. It is recommended you move to the Slow ring until this issue is fixed. This has been mitigated and fixed" was not much mitigated as far as I can see... still the same.

Remove the sd card and put it back may work.

I bought a Lumia 950 XL today, What u recommend guys? to keep it simple with normal updates or get into the preview updates? I have a 640 in the Insider preview and dont have problems with it but I woul like to know what u say guys

I'm on fr on a 950 xl, all run fine.

Are you sure? Almost of my apps including Edge don't work☹

Ive been an insider on the 950XL since it came out... I haven't had any issues in the last few months that my iPhone and Android friends don't also have ;) I will say, every once in a while, when the phone is locked and I try to unlock it, it remains on a black screen for a little while. It does recover after 5-10 seconds, but it does suck.. and I usually restart to fix it.

Deactivate glance screen and it will be ok. I almost throw away the phone because the stupid auto brightness after upgrading to 14946.

Upgrade to 14946 may fix it but you may end up having more problems with broken apps like mine now ☹

I also have this problem on14393.1xx-2xx ,in .321 not came out (thanks God) it is horrible bug!!!! 5-10 sec to unlock all the time my phone!!!! What is this????? And this is "stable" builds!!! When I have a call the same thing need to wait 5-10 sec to answer the call!!! This bug is only Lumia950-950xl problem , have 650,640xl not saw this bug.

When your phone is connected to your PC, long lists of captured photos will now load significantly faster in File Explorer. that's a good one

I can't get the update on my lumia 640 xl , I'm stuck on 14926 and when i press check for updates it tells me that no available updates , any help ?

Re-register for the fast ring.

Still the same problem :(

I'm in fast ring,since update to 14946,I was unable to log out from Facebook app. It does show a 'Log Out' button,but it didn't response when I touch it,and the worse thing is,ALL button on this log out screen seems freeze,I have to press the start button to turn off and on the screen to get back to system. Anyone suffer this?

Yup, me too. Disabling glance seems to be working so far.

My lumia 540 screen goes black after sometime and phone stops responding had to remove battery again and again to make to work

This build has done alot damage

Yep, band 2 Cortana link thru no longer works. Come on ms. It's 1 step forward not 2 steps back.

Totally screwed my 950 XL (stuck on the windows logo on startup). Rolled back using Device Recovery and joined the slow ring for a while to avoid getting this update again. Can't wait for the next one - providing this doesn't happen again!

I'm exactly the same. May disable glance to see if that helps.

That's the thing.. It wasn't a enabled!

Any luck getting it to boot up normally? I have 20+min start up l950 xl.

As long as you set up scheduled backup, you do not need the recovery, just reset then restore. You may lose a couple days of text message and photo records but it works fine.

Having to uninstall apps to make space on my 640lte is becoming a ballache. It should be able to download and install from SD card.

Also flash light won't stick on quicktabs

L950 xl 20+ min boot up screen every time since update anyone else have this issue or a fix?

I would say it's 10min booting for my 950 after this update. Random drop in screen brightness that cannot be fixed without a reboot. and delayed wake-up when clicking on the power botton.

Hi
Today i updated my lumia 535 to build 14946.the flash light was missing in the notifications center.please fix it.thanks

having updated everything to 14946 with exception of my desktop. Nothing I do will let install anything on my desktop after 14393. I replaced hard drive but no nothing fixes it dies when "Working on updates" gets to 87%. WHY WHY no one can tell me. I've been through all the usual remedies.

laptop is waiting for me to restart it phone 640 says it has an update to newest build but won't download it. wtf?

I was recentlly updated to 946, but ever since my photos app and my very essential One Note both crash after opening. One Note opens, syncs then displays the currect notebook, but then crashes. It works flawlessly on my other devices. (laptop and iphone).
Windows Central Newsletter
Thank you for signing up to Windows Central. You will receive a verification email shortly.
There was a problem. Please refresh the page and try again.