What's going on with Xbox Clubs?
Umm. Paging Microsoft, did you forget about Xbox Clubs?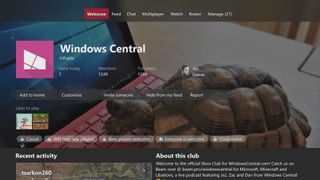 (Image credit: Windows CEntral)
So, Xbox Clubs. Remember those?
Xbox Clubs were introduced a fair while back, alongside an update in 2016. The social system effectively lets gamers on Xbox Live set up communities for all sorts of activities, pooling shared clips, messages, and other content, through a single forum-like space. However, since their initial launch, Xbox Clubs have had almost no updates whatsoever.
Furthermore, Xbox Clubs are completely absent in the new Xbox app for Windows 10, the Xbox Game Bar, and the upcoming Xbox mobile app redesign.
According to Microsoft, at least as of a few years ago, there were millions of active users of Xbox Clubs, and tens of thousands of communities on Xbox Live. In 2020, though, we have to ask, is Microsoft gearing up to ditch them completely?
Where's the development?
A while ago, we saw some detailed plans from Microsoft to expand the Xbox Clubs toolset, beyond the simple chatroom and clips sharing aggregate we have today. One feature we uncovered was Microsoft's move to make some Discord-style channels, allowing people in Xbox Clubs to set up different topics within a single Club. Unfortunately, this feature never came to pass, for some reason.
Beyond some more Discord-like features, Microsoft also built an Xbox Clubs API developers could use to attach a Club directly to a game, to serve as a game's clan system if a developer didn't want to create one for themselves.
As far as I'm aware, literally the only game that uses this is Minecraft, which gives Realm subscribers an Xbox Club automatically linked to their dedicated server. Microsoft doesn't push the feature, though, so I doubt many people even know it exists.
The fact that Xbox Clubs have had virtually no new features since they launched would be worrying enough, but when they're missing from the latest Xbox apps on PC and mobile, it could be indicative that Microsoft is gearing up to remove them completely.
Would development be worth it?
The only data we have for Xbox Clubs is a few years old, but Microsoft told developers in a presentation that there were over 30,000 active Xbox Clubs, with over 5 million active participants. I have no idea if Xbox Clubs grew or shank in usage since then, but you'd have thought that the number of users engaging with the system would've been more than enough justification to continue developing the service.
The Xbox (Beta) app on Windows 10, which powers Xbox Game Pass for PC, does have Clubs integration ... but only for developers and official "Clubs." Player-made Clubs are completely missing from the system.
If a game has an official Club, you can see updates from the developer on the store page, and also comment, like, and interact with users in the thread. This could be a glimmer of hope that Xbox Clubs made by players will eventually see the light of day on Microsoft's PC and mobile apps, but it may also not be the case.
Indeed, since the rise of Discord as the de-facto preferred method for gamer communication, it begs the question of whether or not Xbox Clubs is even worth keeping around. Maybe it would be better to simply do a deal with Discord and fully integrate the service into Xbox Live.
Do Xbox Clubs have a future?
We have no real information on whether or not Microsoft is gearing up to shelve Xbox Clubs, or whether the service is simply on the backfoot while the UI and software teams deal with bigger fish. We recently discovered that Microsoft has fully revamped the Xbox Store on console, bringing the design in-line with the new Xbox apps on PC and mobile. We suspect that the Xbox dashboard will get a similar facelift to further modernize it ahead of the Xbox Series X launch.
Perhaps sometime after Microsoft has finished sorting out the more critical aspects of Xbox Live, they can turn their attention to things like Xbox Clubs, but knowing Microsoft ... it could really go either way.
Do you use Xbox Clubs? Do you want to see them stick around or should Microsoft try and court Discord integration instead? Let us know in the comments.
Xbox
(opens in new tab)
Main
Windows Central Newsletter
Get the best of Windows Central in your inbox, every day!
Jez Corden a Managing Editor at Windows Central, focusing primarily on all things Xbox and gaming. Jez is known for breaking exclusive news and analysis as relates to the Microsoft ecosystem while being powered by caffeine. Follow on Twitter @JezCorden and listen to his Xbox Two podcast, all about, you guessed it, Xbox!
Clubs aren't fun at all and I don't use it much anymore and not too many still use the features.

I think Clubs are a good idea in theory but Microsoft doesn't seem to have any interest in actually making them a good feature, so they'll probably give it the typical Microsoft treatment and let them languish until they remove it entirely.

Microsoft just announced the June Update for Xbox One which brings a minor update to Xbox Clubs. But I think that for Xbox Series X, Microsoft would eventually replace or integrate Clubs into Discord.

Would be sad to see it go away. I like the idea and see it as a good platform feature that could rival discord in some aspects. I've found nice people with this.

Do use some that I'm in. They are bare bones, in terms of features, but serve a purpose. The insider one and shot em up one's I'm in are very active. The revamped community page also has them featured more. Though the new community page is a little bit choppy. Can no longer get rid of trending twaddle.