What's new in Windows 8.1? Microsoft spills some of the beans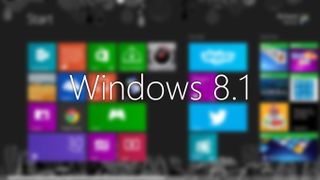 Windows 8.1 (codenamed "Blue") is the upcoming update for Microsoft's desktop operating system, Windows 8. The company has been pushing out its latest major release of Windows since late last year with bumps in the road and goals ahead to smash. Details as to what consumers can expect to see in Windows 8.1 have been rather vague, but today Antoine Leblond, Corporate Vice President, Windows Program Management revealed some of the changes.
No matter which way you look at the launch of Windows 8, it has been successful enough for the company to continue pushing forward, including feedback from customers into any features that are planned to be implemented. As Windows Phone owners, we're all ecstatic to see Microsoft continue to head down the integration road where unity between Windows, Xbox One and Windows Phone is brought closer to the "three screens" vision.
So, what can we all expect to see in Windows 8.1?
Microsoft will be delivering improvements and enhancements in key areas of the Windows 8 experience. This includes personalisation (which is extremely important to many users), search, built in (or 'system') applications, Windows Store, cloud connectivity and non-touch peripheral support. Businesses will also be seeing some improvements as the company will also be touching on management and security, which will be discussed more at TechEd North America next week.
For consumers, Leblond has gone into some detail as to what will be included in the Windows 8.1 update. So do read on...
Personalisation
The lock screen can be configured to display a slideshow of selected photos, perfect for those who wish to have those favourite moments on-screen. Files hosted on SkyDrive, as well as those stored locally on the device will be included and the ability to take a photo using a built-in camera right from the lock screen is now present. Neat.
If that wasn't enough, Microsoft has also included more choice of colour and background textures for the Start screen - including some with animation. It's even possible to choose the desktop background as the Start screen background, creating a greater sense of unity. Let's not forget the small tile sizes that have been brought across from Windows Phone. Here's an example of what can be the end result: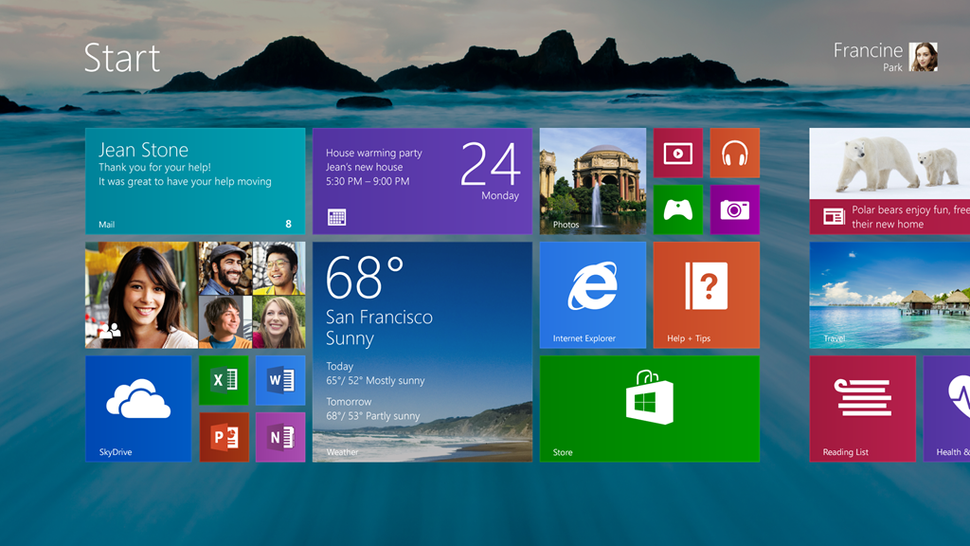 The new Start screen in Windows 8.1
To wrap up the personalisation section of changes, users can now select multiple apps and resize, uninstall or simply rearrange them. If you're one to accidentally move tiles around, you'll be pleased to hear the team have applied measures to help prevent this from occurring. Viewing all installed apps on a machine is as easy as swiping from the bottom. Filters are in place to help sort apps by name, date installed, most used, or by category.
Finally, a nice change is when apps are installed from the Windows Store, tiles are no longer automatically created and instead the app heads to the main app list. This puts Windows on the same wavelength as Windows Phone.
Search
Speaking of Windows Phone, Microsoft will also be changing the way the search charm works. Global results will now be provided by Bing, with multiple sources being tapped into (web, apps, files, SkyDrive, actions a user can take and more) to provide the "best answer" for any given query. The blog post states it's the "modern vision of the command line."
Local files, apps and settings are easily accessed in the same convenient view - simply scroll to the left and they're available.
Apps and the Windows Store
Leblond only touches on how the team will be improving all the built in apps that ship with Windows 8. An example was provided with the Photos app now sporting some new editing features that enable users to quickly edit and adjust photos accordingly. The Music app has also been completely redesigned. More information covering all the changes that will be applied to the built in apps will be published in the near future.
Windows 8 Store
If there's one issue with Windows 8 that upsets those who upgraded from previous versions, it's multitasking. Windows 8.1 is billed to improve on this with variable, continuous size of snap views. Users will have more ways to see and interact with multiple apps on the screen at any given time. Apps can be resized to any size, share the screen between two apps or have three apps opened up on multiple displays.
New snap view in Windows 8.1 (with 'Start' Windows logo)
We're sure many will be pleased to hear Microsoft attempting to implement new ways to get more apps on the screen when not in desktop mode.
We noted changes to the Windows Store are on their way too and these were also touched on in the blog post. The new store app is designed to display more information than what's currently shown in Windows 8. This extra information includes detailed lists of top free apps, new releases and personalised picks on the homepage. Each app listing is also more descriptive and informative, with an area for related apps to aid with app discovery.
Cloud connectivity
The SkyDrive app has been revamped in Windows 8.1 and access to files that are stored either on the cloud or locally on the device is more convenient, as well as providing offline access. As an added bonus, when a consumer logs on to a Windows 8.1 device with a Microsoft account, all personal details, configurations and apps are all pulled down from the cloud. This makes transferring from one device to another real simple.
New SkyDrive app in Windows 8.1
PC Settings
Another area that has been improved is the PC Settings. This isn't the vintage Control Panel as you know it, but more the new area on the new start screen where Microsoft has grouped numerous options and settings. More configurations have been added to PC Settings in Windows 8.1, including display resolution, power options, make and model of PC, product key and more. This saves time by not forcing the user to head into the Control Panel.
PC Settings in Windows 8
SkyDrive can also be managed from here with the option to purchase more storage.
Internet Explorer
Microsoft's web browser continues to receive much love, care and attention from the company. This isn't changing in Windows 8.1 as Internet Explorer 11 will be included. The updated browser will bring better touch performance, improved page load times and several other features. An example of said features is users can now adjust the appearance of modern IE11 (the one that runs in full screen and is selected from the Start screen) to always show the address bar and multiple tabs can be opened at any one time, which can be synchronised across other Windows 8.1 hardware.
Improved support for keyboard and mouse
Microsoft continues to recognise the way technology is evolving for a world of mobile computing with touch screens. This is why the company continues to improve on its touch interface in Windows 8. But the many non-touch devices with Windows 8 installed have also been recognised. This brings us to probably one of the new highlights that will please most Windows 8 users - improved keyboard and mouse support.
Microsoft has added the familiar Windows logo to the Start "tip" (when you hover the mouse to the bottom left-hand corner of the screen) that is displayed when the mouse is moved to that corner. This logo will be constantly visible on the taskbar when in desktop mode. There are now options to change exactly what these corners do, as well as the ability to boot into alternative screens. Example: if you prefer to see the full list of apps instead of tiles, this is now possible when booting up the device.
Wrapping it all up
There you have it, folks. These are reportedly just a handful of the updates that will be included in Windows 8.1. More information about these updates and other changes will be published in the coming weeks. As a reminder, Windows 8.1 will be available later this year as a free update for all consumers through the Windows Store (much like how app updates are handled).
June 26th will be when the public will be able to demo these changes in the preview build of Windows 8.1. Windows Embedded will also be discussed at this year's Build and will be upgraded in the same timeframe as Windows 8. Sound off your thoughts in the comments.
Source: Windows Blog; thanks to everyone who tipped us!
Windows Central Newsletter
Get the best of Windows Central in your inbox, every day!
Rich Edmonds was formerly a Senior Editor of PC hardware at Windows Central, covering everything related to PC components and NAS. He's been involved in technology for more than a decade and knows a thing or two about the magic inside a PC chassis. You can follow him on Twitter at @RichEdmonds.
That's it "Nice". I think it's friggin awesome.

yeah..so far, nothing ground breaking. I'll keep my mouth shut until RTM and other features are announced. But I think more people care about a unified notification center across devices (including the ability to send/receive SMS).
I like unifying the desktop/start background, but I think they could take it a step further by making the start screen translucent.. so your desktop and start don't feel like 2 separate environments. When in desktop mode, all your little/big tiles show up, but you can see the other crap (dimmed) on your desktop. That might help consumers feel less "confused". my 2 cents

I don't think SMS will ever come to Windows 8, since it's a PC/tablet solution. Now a service like skype however which is on both WP and W8...

Regarding SMS, Windows has had the ability to use SMS since around 2003. It is 'technically' built into the OS, but has only been exposed through free Applications like Messenger and as an 'add-on' service for Microsoft Outlook.

Even today, there are numerous SMS Apps for Windows 8, including Skype. Due to the 'cost' of SMS, you have to buy a subscription or use messaging credits since you do not have have a 'carrier' that handles the costs.

In 2006 when you could buy Netbooks at ATT with integrated 3G, they all came with built in SMS/MMS software, and many carrier 3G/4G USB and Mifi product STILL come with SMS/MMS sofftware for Windows.

As the ecosystem contracts and you find WP8 and Windows RT/Windows 8 tablets ALSO being offered by Telco-Carriers, you will find SMS to be a standard feature of any Cellular enabled Tablet/Notebook.

*As a side note, Windows 8 'technically' supports the internal functionality for SMS; however, it is dependant upon the provider/carrier to implement the APIs into an 'App'. http://msdn.microsoft.com/en-us/library/windows/hardware/hh770508.aspx


light a fire underneath the carriers rears...

I don't think this is meant to be ground breaking, it is a .1 release after all. I would say that this is more about refining what's available in Windows 8 and Windows RT than adding features.

I wish article could say.. Whats new in windows phone 8.1?

http://www.engadget.com/2013/05/30/microsoft-windows-8-1-unveiled/

Why would an article about the new desktop software go into detail about the phone software? Or is it that all articles should mention it. New game zombie face melter 5 electric boogaloo review: so in wp8.1 we will see.............. No. Separate article is separate

My bad, I thought you actually read the article and talk about windows 8.1. Not some random shit, like "I wish article would say... What's new in Xbox one".

Yeah, how dare he think there'd be news about Windows Phone on a site called "Windows Phone Central".

On a post about desktop software. What's hard to grasp about different articles being about different things?

The question is how many of these will make their way to WP8

Well thats a strange question to ask. Better mouse/keyboard, new snap positions, new metro PC settings, desktop background, start button. These aren't relavent to phone.

Actually, if you read the Verge article on 8.1, there's actually quite a few things revealed to be coming to WP8, mostly surrounding browser synchronization.

Oh I'm sure there will be plenty of cross-platform improvements for WP8 and W8. I'm specifically replying to his "how many of these will make their way to WP8". Its just a strange comment to me because all of the improvements detailed on this article are specific to PC, at least in my opinion.

Things like IE 11, background wallpapers and moving wall papers too.

Oh, I love these. I hope I can have these in my Lumia soon.

Sounds pretty good so far. I wonder if we'll see wallpaper options on the background in windows phone?

Not sure that's necessary with so little "white space" on WP, but I guess it could be neat for those with very few tiles.

well the reason they are adding that its to make the transition for complainers easily between desktop and win8 start screen. you know people who wont even see the wallpaper or dont need to see start screen more than few seconds but still complain.
so its not like wp8 needs it since it doesnt have desktop. it might but i doubt they would.

This is looking great. I hope there is an official announcement for Windows Phone 8.1 soon. WP8 needs new features and an update to keep people interested.

High intensity discharge lights?

And Qualcomm based CDMA coding for US carriers

Liking the ability to change the size of the live tiles

wasn't it always there? I just see a big one being introduced.

I like the option of small tiles. This entire update looks like it'll be awesome, and it's even better that it'll be free.

Yeah I should've been clear there. I meant I like the choice of two new sizes for the tiles. Small tiles are introduced to w8.1

it has always been there, but 8.1 let you do it faster since it lets you select more than 1 tile at a time with the new tile customization thing. so you can pin, unpin, resize and move multiple tiles at a time.
so it has always been there but now its getting better. besides the new 2 sizes.

Then checkout the wp8.1 article when they write it.

I wonder if windows phone will show up as a device in the redesigned music app....that would be a nice, if obvious, touch for syncing/copying of music.

Good shout. I wish they would rebuild zune for windows 8 and give us back wireless sync

By Odin I hope they do that

Sounds nice! Can't wait! :)

I think it's about time I get Windows 8.

Notice, no mention of a cross-device Notification Hub, or availability. :)

If a cross-device notificaiton center was the ONLY thing in Windows 8.1 & WP8.1 I would be content...

That would be awesome. That was one thing I hated about having Lion on my Mac and an iPhone, I never use the notification center in Lion so it would always get cluttered as hell. I really hope once 8.1 comes out though there comes either a 2nd iteration of the Surface, or a better hybrid option. It's coming up to 3 years of having my MBP and I'm looking to jump back to Windows if the next update doesn't include something big worth staying for.

sigh. I thought this was going to come with WP8 and W8. It would be a dream to have a Unified Notification Hub, where I can send/receive/read Text messages/SocialMediaNotifications/etc..

These backwards thinking remarks are educate the uneducated with incorrect info.
This was a brief blog post... if they didn't mention it it must not be coming right?

I can mention over 30 things coming with Windows 8,1 that were not mentioned here. Also, it's not certain if it will make it in the Windows 8.1 RTM, but in the leaked builds there is undeniable evidence that a unified notification center is coming.
I was the only one who found it and posted about it.
How do you deny a file called "CloudNotifications.exe"? Sure, it might mean something else, but I reverse engineering the source code and took it a step further. Finding code for forwarding specific notifications to devices and other stuff.

You make me sick.

Wow, relax man, I don't think this post deserved this nastiness

One thing I always feel crazy about: when using my WP8 right after Windows 8, I try to make the charm ribbon appear on my phone without really thinking about it. I guess interfaces designs are now so close that my brain tries to use them both the same way ;-)
I think MS should make use of the charms bar and the other "swipe menus" the exact same way in both OS.
They could do it with blue / WP8.1, but I guess they won't before WP9 appears...

I could not agree more. I love the modern IE on my surface and wish that IE on my wp8 would have the same features!

+ 1000.........ive been on the fence to switch to WP8 from Android - I have Surface RT, and i picked up the Lumia 928 the other day in the Verizon store, and really feel that they should ditch the static buttons on the bottom, and utilize similar gestures that Windows 8 uses. That unnecessary bezel drives me nuts every time i look at a windows phone. At the same time, I think Android phones with physical buttons are completely useless too. Why does Scumsung have a physical button on the GS3/4?? Its completely unecessary, especialy when there are on screen buttons.

I always try to swipe backwards in IE on my phone and then frown when it does nothing.

This is looking great. I hope there is an official announcement for Windows Phone 8.1 soon. WP8 needs new features and an update to keep people interested.

2 things which Microsoft has not included a notification centre support and bing voice search like tell me. Come on Microsoft how difficult is it to include voice search for bing app. Infact in the settings of bing app one can put permission for the app to access microphone. Then why not include tell me for windows 8? And don't get me started on the notification centre. Even mac has it.

They did say there are more features that they haven't disclosed yet, so hopefully this is one of them.

Windows8 has extensive voice capabilites already. If you look in the all apps window you will see it near the control panel stuff. They actually record you saying specific things so that it can familiarize itself with your voice. I use the voice search constantly with the bing button on my windows phone too. As far as the notification center; isn't that what the peopel app and messaging do? I'm not very familiar with iOS.

the voice commands in Windows 8 are the same ones from Vista, and from my experience, are not as extensive and very inaccurate at recognizing my voice (It cant recognize the letters D, P, or Z when I say them), and I speak very clearly when I try using it. Something like the current iteration of TellMe, which is cloud connected, unlike the current voice commands in 8, would be useful. It would allow easier use of voice commands and would process your voice more accurately (My windows phone actually understands me.)

As far as a notification center, thats where it pulls up a list of past notifications from apps, which, if used right, live tiles do the same thing more efficiently (Live Tiles can be used as a replacement. Its major problem is developer adoption, to those out there who think its not a viable replacement. A notification center would be even less useful anyways, seeing as more apps utilize Live Tiles then they do Toast notifications.)

Notification Centre of iOS and People app of WP8? Those aren't the same thing. For example, when you receive a message on whatsapp while you are doing something else like games or whatever, with my lumia920 I have to read it quickly before it disappears on the top of the screen (it lasts quite long though) and, after I finish what I was doing, I go to home screen and search Whatsapp tile and click it remembering what the message was about. Meanwhile, with my iOS device I see the message on the top of the screen (I can make it disappear swiping to right) I don't have to read the every single letter. I just check who sent it, I keep doing what I was doing and later when I'm not busy, I swipe down to call the notification centre to check the whole message and can reply by swiping to right from there (no need to open the Whatsapp)


But if you look at tell me on a windows phone, it can communicate wih apps and get searches based on voice inputs e.g if i say top news on NBC, it shows top news on NBC, in fact if one looks at voice apps like indigo , they are a bit closer to siri. Just saying that it is a bit strange that microsoft has not explored this in entrety when apple and google both have excellent voice search clients.

Notification centre like the one on XBOX 1 or android or IOS. Where it pulls up all the mails, phones, SMS, whats app notifications, FB notification etc. One can argue you have live tiles for that but it kind of is tedious to look at the live tiles every once in a while to see for updates. A notification centre with lock screen customisation would be awesome, (i speak for windows 8 and windows 8 phone OS)


Please add a feature to drag and drop Xbox music downloads from phone to PC to phone.

So I'm not the only one?! I feel it's as if Microsoft is trying to make thing so simple that it sometimes obscures details of what we (the end-users) are trying to accomplish. (i.e. Complete Meta-Data when syncing to my windows phone)

Upgrading to Windows 8 was the best investment I have ever made

I was hoping to get the update this month... Preview comes out June 26th for Windows 8.1, meaning it will be a month or so before being released... Meaning it will be a month or more after that when the WP8 update comes out. Damn.

I upgraded a laptop with W8... no touch screen but I like it a lot. These improvements make me like it even more...can't wait!

I found it a bit cumbersome to move around without touch. Works great on my Samsung tablet.

Why is Microsoft always so secretive?

They aren't and they can't be. You are commenting about "secrecy" on an article about MS providing details about the changes in a release of Windows that is not scheduled for release for several months. They are also releasing a preview version of the OS in another month. If MS is trying to be secretive they really suck at it.

The reality is that MS has to share this kind of info and preview software in advance anyway because there are other companies out there that need to test there hardware and software on new versions of Windows before it gets released.

If MS does withhold certain features it's probably because at this point they don't know for sure that those features will be ready in time for release. This is normal in the software development world.

The " PC Settings " interests me in particular...looks like something that will directly translate over to WP as a notification center... hell it even already has a tab for Notifications in there! Not to mention quick toggles for settings ...

I hate to burst your bubble...but that Notifications tab in PC Settings is to control/manage the bubble notifications you get when you have a new email/skype call/etc. It is highly likely that it is not an indicator of a notification center/hub. IMO, it should function the way Photos, Mail and other built in apps work, where each app has it's own settings (via Charm). If this were to materialize, that's how I envision it happening.

So how about a Notification center for WP, Win8, and Xbox..??

I wish wp8 looked more like the desktop grids, it seems to look more high quality

Those Excel, Word and Powerpoint apps on the start screen are Metro apps and new. :) Otherwise the background color would have been the same basic theme color on all of them, as it always is with desktop apps, and they would not be able to be small. Am I right?

Could just be that they finally gave them icons. Probably still shortcuts to the desktop apps.

They have always had icons, but in previous leaked builds it has not been possible to make the deskop app tiles smaller.

They had the standard pinned desktop app icon. These look specific and styled. But I doubt it's as far as new metro apps.

I don't think they will make the desktop apps look like the metro apps, it is good to be able to tell them apart. The Onenote app that is displayed in this image already exists in the store as a metro app and looks exactly like this. I don't think they would want those two to look exactly the same.

I see what you're saying. I'm all for Metro versions of these apps btw. Just seems a little far fetched for the rate of speed that Microsoft works in.

The Windows team and the Office team have never shown to be slow in my opinion. The WP team on the other hand seems to spend a great deal of their day jerking off though;) Anyway, we will probably know next month:)

"The Music app has also been completely redesigned." Now that is music to my ears, becuse it can't get any worse than what we have now.

Lol, only an idiot wouldn't...:P

Ooooh good point rock! Office should be fully metro now. Agree with everyone about cross device notification centre

"The music app has been completely redesigned." This is MUSIC TO MY EARS!!! (no pun intended) EDIT: Just read in the Engadget article that the music app will now focus on your music collection, rather than "music discovery" (although it will still be available as a feature).

So excited I could puke a rainbow. Go Microsoft!

That's great for Windows 8 but throw me a bone for my phone

WOW
Looks like Windows 8 and Windows Phone 8 will get some real functionality improvements!

this is awesome! can't wait for the update to arrive on my surface rt :)

Windows 8 has transformed even our older xp desk and laptops and now a free update with so much to offer. Add gesture control to this mix and it's going to be fantastic summer

I want To have the startscreen background as my desktop background, not the other way around.

That's what I was thinking! Im sure it will be possible.

looks like microsoft is close to their dream "3 screens 1 experience", but now they are beyond that, Xbox is added to their dream, so it's now like "4 screens 1 experience"

I think they grouped Tablets and PCs into one group, even though they shouldnt (RT is a seperate OS, with an identical UI).

The only thing I want on top of these features is a modern mix style way to be able to run metro apps on the desktop. This seems like the final barrier to giving users the option of a consistent UI experience, allowing them to choose to stay in the desktop UI if on a mouse and keyboard setup, or on the metro UI for touch devices. It just allows that extra bit of customization that users want from a windows product. Everything else though looks brilliant.

Maybe I'm the only one, but I'm stoked for Embedded 8 updated. I really think Microsoft has the best interface for incar or inhome entertainment systems. I can think of a few uses for the new embedded.

I hope that they add some Xbox One features into Windows 8.1 likw voice multi-tasking, streaming live tv, and live movie tiles.

A mouthful of welcome features. Reminds me of when mango was announced with its reported 500 features

Im finnaly getting my WINDOWSPHONE 8 soon.. Den windows8 yes yes yes

MS - Where is the Unified Notification Hub?!!!!!!!!!!!! This is what everyone wants and needs. That and fix the damn Xbox music. And why didn't you just re-badge Zune music? It was damn near perfect as it was and you changed it for the current POS? WTF were you thinking?

"Everyone"? Nope. Also, despite what people think, Live Tiles are a viable alternative to a notification hub. Who needs an area cluttered page full of old toast notifications (which if you use a web browser, would include "file download complete" notifications), when I can look at a square and know exactly what and how much ive missed? (And no, live tiles are a viable replacement. It all relies on developer adoption. Speaking of which, more developers incorporate live tiles than they do Toast notifications, so the Notification center would be less helpful than the tiles in a real life scenario.)

I sure as h**l don't want nor need a Notification Center/Hub.

As far as the music/video/sync, I agree. They screwed that up big time.

Hoping they don't forget the Xbox 360. Only bought it 2 years ago and been waiting for Skype a long time. Not upgrading to Xbox one in a hurry.

You had me at personalization.. i didn't even need to read the rest.. this is gonna be awesomely sweet!!

How about the ability to run windows phone apps

regarding the start button...I hope this is idiot proof enough.

more than awesome can't wait

As much as I want this to shut people up, it won't. They will still complain cause they don't know how to use WIn8 properly.

I honestly just want better functionality with multitasking. I'm tired of having Win8 Apps either "shutdown" or mute when Alt-tabbed. Hopfully I'll be able to split screen both monitors. I'm not liking only being able to split the main screen, If this is the case it'll fix a lot of my issues.

Is it heading to every windows platform, like windows rt too?

Windows RT is Windows 8, so there should be NO reason that it won't receive the newer version as well.

Due to the locked down nature of the RT device, they may not be able to participate in the preview release and will have to wait for the final release.

Even Windows Phone 8 - if nothing is changed at the OS UI/App level, the core NT technologies should still be updated. (However it appears Microsoft is planning a full 8.1 release for WP8 as well.)


(With all the platform's code bases unified, it is barely more than a 'recompile' targeting the processor base to produce Windows (NT) on ARM, x86, x64 etc. Even WP8 is running the 'full' version of WIndows NT, not some watered down mobile version. Just because the desktop is hidden/disabled, it does not mean that the framework and APIs are actually there.)

It has been confirmed that the preview is coming to RT aswell and will be downloadable from the store. "The preview will be available for Windows 8 and Windows RT". Here you go...
Last sentence of this blog: http://blogs.windows.com/windows/b/bloggingwindows/archive/2013/05/14/windows-keeps-getting-better.aspx

I'm waiting for Windows 8.1-1, when Microsoft tries to sell me Windows 7 all over again because Windows 8 was such a bust.

Is it just me, or do the Office icons in the left corner look like native tile icons and not pinned desktop apps ? Could they announce Metro version of Office or am I daydreaming ? :D

That would be nice! Hopefully you can get the metro versions free if you already have Office 2013 or 365!

That's Office 2013, it's just that the Tile Colours are being picked up from the colour of the icons. Windows 7 used to do this with the hover colour for open applications.

Awesome! I'm so stoked on this update. Imagine what apps will utilize the larger tile sizes and different snap view sizes!

Windows 8 created a new platform and modality, and just as EVERYONE in the 'know' said over a year ago, the initial release will be 'technical' foundations and technology, with the subsuquent release adding in the end user polish that the base set of new technologies made possible.

This is what is expected of Windows 8.1 and should 'shut down' all the negative and 'less informed' arguments against Windows 8.

When Vista was released, it also was a GIANT new set of technologies and Windows 7 was able to come in and refine them to create a well loved product. (The majority of the reasons people love Windows 7 were core technologies that were first created and introduced in Vista, and resulted in the new functionality and Windows 7's highly stable and smooth nature. Ironically, even the 'trouble' areas of Vista like the new Video/Sound/Network stacks are what makes Windows 7 so crash resiliant and faster than the previous XP generation of the NT codebase.)

I been using windows 8 pro since it came out and also used the preview and it is really fast and fluid OS which makes mac lion fail. You ever notice they never talk about or show Mac Lion Os on tv. Shows you it a total failure from the start. Can't wait update to windows 8.1 preview and she.n it gets finalize. Great about it is it will be a free upgrade for windows 8 pro users. Just love the look of live tiles. So innovative.

Windows 8 OS sold over 100 million within 6 months and can't wait when it will double within the months

IMO Windows 8 is the best OS that Microsoft has done, but it can definitely use improvements in the Modern UI part. Looks like they have succedded in making that part better, so this should be a worthwhile update.

Now, how about giving the same care and level of attention to detail to WP8...?

The 4x4-size tiles look pretty nice, can display more information at once, pretty promising......

What about improved support for viewing in portrait mode. I'm missing that. will we have multitasking while in portrait. After all windows 8 was also designed for tablets. I'm getting the impression that microsoft is slowly steering away focus from touch tablets and going back to desktops and laptops. Its a big shame.

Is it available for windows 7.8 ?

No, just Windows 8 and RT!!!

Some of these will be great changes! Having modern apps have a variable (or at least 50%) snap is a handy thing and is one of the major resons I do not use current modern apps, though I would like to see 3 apps available to snap or (and I know this is a pipe dream) the ability to have windowed modern apps available on the desktop.
I hope that the the sync features in IE11 are good, and that IE11 becomes available to win7. I really love IE10, but the lack of sync is the one feature that is still keeping me on google chrome. The ability to sync from my phone or send pages between my phone and desktop would be another amazing feature if they can fit that in the WP8.1 release!
I really hope that the new music app works. The current one can't even seem to look in my MP3 meta data and organize music by track number which makes it entirely useless for me. I like the idea of running multimedia programs in the modern UI, but until they make something that simply works from an organizational perspective then I'll just continue to use WPM. I have a large and well organized library of media, I do not care for my media player to attempt to reorganize it better because it cannot. Also, why on earth don't media players organize shows the same way that they organize music? Have a series option like a CD, and then under the series then list the individual shows! I don't want all of my shows and movies thrown together in a giant heap!
Very happy to see more customization options as well! Hopefully we can sync those options with our phones. I would love for my theme to have a common lock, background, and tile color across all devices. And if I change it on one device then it should propogate across the rest of them. It really helps with the illusion of your computer enviornment following you around.

I really hope that they do not remove the auto-pin feature for new apps! With all of the different things I do on my computer I literally have close to 200 applicaitons, programs, and utilities on my full list of apps. If there is a new program that I am trying out and I am not as fimiliar with the name then it will just get lost and burried. It is much more useful to me to have all newly installed programs pre-pinned and then I can unpin it, or sort it all on my own.

After a few hours I have installed my Windows 8.1 RT, here is my PRELIMINARY REVIEW on my blog and I will keep it updated as I continue my tests: http://surfacertreview.blogspot.com.br/2013/06/windows-81-rt-preview-review-my-first.html

I miss windows 8.1 . it was the best windows to date .