What's new in Windows 8.1? Microsoft spills some of the beans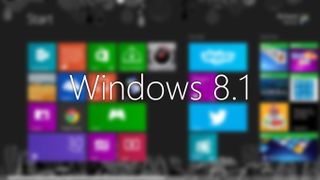 Windows 8.1 (codenamed "Blue") is the upcoming update for Microsoft's desktop operating system, Windows 8. The company has been pushing out its latest major release of Windows since late last year with bumps in the road and goals ahead to smash. Details as to what consumers can expect to see in Windows 8.1 have been rather vague, but today Antoine Leblond, Corporate Vice President, Windows Program Management revealed some of the changes.
No matter which way you look at the launch of Windows 8, it has been successful enough for the company to continue pushing forward, including feedback from customers into any features that are planned to be implemented. As Windows Phone owners, we're all ecstatic to see Microsoft continue to head down the integration road where unity between Windows, Xbox One and Windows Phone is brought closer to the "three screens" vision.
So, what can we all expect to see in Windows 8.1?
Microsoft will be delivering improvements and enhancements in key areas of the Windows 8 experience. This includes personalisation (which is extremely important to many users), search, built in (or 'system') applications, Windows Store, cloud connectivity and non-touch peripheral support. Businesses will also be seeing some improvements as the company will also be touching on management and security, which will be discussed more at TechEd North America next week.
For consumers, Leblond has gone into some detail as to what will be included in the Windows 8.1 update. So do read on...
Personalisation
The lock screen can be configured to display a slideshow of selected photos, perfect for those who wish to have those favourite moments on-screen. Files hosted on SkyDrive, as well as those stored locally on the device will be included and the ability to take a photo using a built-in camera right from the lock screen is now present. Neat.
If that wasn't enough, Microsoft has also included more choice of colour and background textures for the Start screen - including some with animation. It's even possible to choose the desktop background as the Start screen background, creating a greater sense of unity. Let's not forget the small tile sizes that have been brought across from Windows Phone. Here's an example of what can be the end result: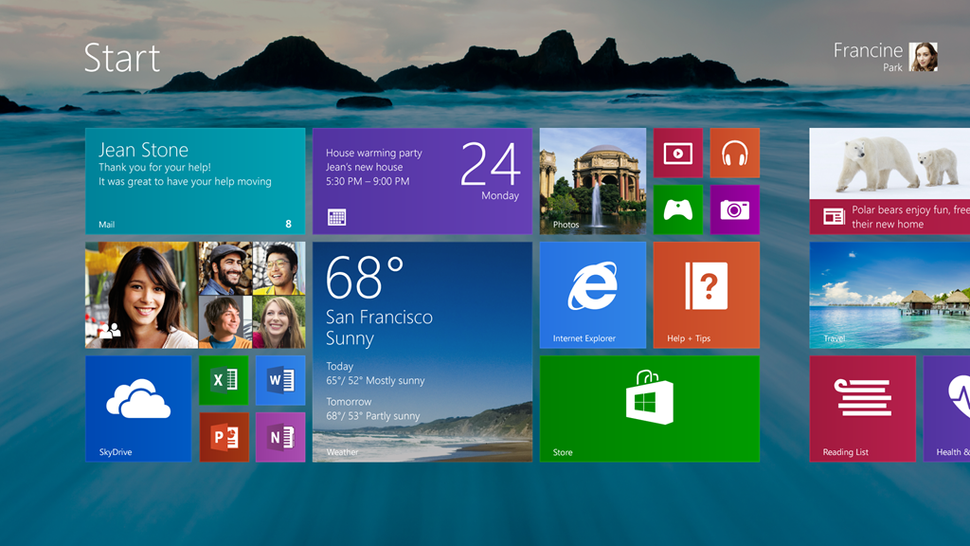 The new Start screen in Windows 8.1
To wrap up the personalisation section of changes, users can now select multiple apps and resize, uninstall or simply rearrange them. If you're one to accidentally move tiles around, you'll be pleased to hear the team have applied measures to help prevent this from occurring. Viewing all installed apps on a machine is as easy as swiping from the bottom. Filters are in place to help sort apps by name, date installed, most used, or by category.
Finally, a nice change is when apps are installed from the Windows Store, tiles are no longer automatically created and instead the app heads to the main app list. This puts Windows on the same wavelength as Windows Phone.
Search
Speaking of Windows Phone, Microsoft will also be changing the way the search charm works. Global results will now be provided by Bing, with multiple sources being tapped into (web, apps, files, SkyDrive, actions a user can take and more) to provide the "best answer" for any given query. The blog post states it's the "modern vision of the command line."
Local files, apps and settings are easily accessed in the same convenient view - simply scroll to the left and they're available.
Apps and the Windows Store
Leblond only touches on how the team will be improving all the built in apps that ship with Windows 8. An example was provided with the Photos app now sporting some new editing features that enable users to quickly edit and adjust photos accordingly. The Music app has also been completely redesigned. More information covering all the changes that will be applied to the built in apps will be published in the near future.
Windows 8 Store
If there's one issue with Windows 8 that upsets those who upgraded from previous versions, it's multitasking. Windows 8.1 is billed to improve on this with variable, continuous size of snap views. Users will have more ways to see and interact with multiple apps on the screen at any given time. Apps can be resized to any size, share the screen between two apps or have three apps opened up on multiple displays.
New snap view in Windows 8.1 (with 'Start' Windows logo)
We're sure many will be pleased to hear Microsoft attempting to implement new ways to get more apps on the screen when not in desktop mode.
We noted changes to the Windows Store are on their way too and these were also touched on in the blog post. The new store app is designed to display more information than what's currently shown in Windows 8. This extra information includes detailed lists of top free apps, new releases and personalised picks on the homepage. Each app listing is also more descriptive and informative, with an area for related apps to aid with app discovery.
Cloud connectivity
The SkyDrive app has been revamped in Windows 8.1 and access to files that are stored either on the cloud or locally on the device is more convenient, as well as providing offline access. As an added bonus, when a consumer logs on to a Windows 8.1 device with a Microsoft account, all personal details, configurations and apps are all pulled down from the cloud. This makes transferring from one device to another real simple.
New SkyDrive app in Windows 8.1
PC Settings
Another area that has been improved is the PC Settings. This isn't the vintage Control Panel as you know it, but more the new area on the new start screen where Microsoft has grouped numerous options and settings. More configurations have been added to PC Settings in Windows 8.1, including display resolution, power options, make and model of PC, product key and more. This saves time by not forcing the user to head into the Control Panel.
PC Settings in Windows 8
SkyDrive can also be managed from here with the option to purchase more storage.
Internet Explorer
Microsoft's web browser continues to receive much love, care and attention from the company. This isn't changing in Windows 8.1 as Internet Explorer 11 will be included. The updated browser will bring better touch performance, improved page load times and several other features. An example of said features is users can now adjust the appearance of modern IE11 (the one that runs in full screen and is selected from the Start screen) to always show the address bar and multiple tabs can be opened at any one time, which can be synchronised across other Windows 8.1 hardware.
Improved support for keyboard and mouse
Microsoft continues to recognise the way technology is evolving for a world of mobile computing with touch screens. This is why the company continues to improve on its touch interface in Windows 8. But the many non-touch devices with Windows 8 installed have also been recognised. This brings us to probably one of the new highlights that will please most Windows 8 users - improved keyboard and mouse support.
Microsoft has added the familiar Windows logo to the Start "tip" (when you hover the mouse to the bottom left-hand corner of the screen) that is displayed when the mouse is moved to that corner. This logo will be constantly visible on the taskbar when in desktop mode. There are now options to change exactly what these corners do, as well as the ability to boot into alternative screens. Example: if you prefer to see the full list of apps instead of tiles, this is now possible when booting up the device.
Wrapping it all up
There you have it, folks. These are reportedly just a handful of the updates that will be included in Windows 8.1. More information about these updates and other changes will be published in the coming weeks. As a reminder, Windows 8.1 will be available later this year as a free update for all consumers through the Windows Store (much like how app updates are handled).
June 26th will be when the public will be able to demo these changes in the preview build of Windows 8.1. Windows Embedded will also be discussed at this year's Build and will be upgraded in the same timeframe as Windows 8. Sound off your thoughts in the comments.
Source: Windows Blog; thanks to everyone who tipped us!
Get the Windows Central Newsletter
All the latest news, reviews, and guides for Windows and Xbox diehards.
Rich Edmonds was formerly a Senior Editor of PC hardware at Windows Central, covering everything related to PC components and NAS. He's been involved in technology for more than a decade and knows a thing or two about the magic inside a PC chassis. You can follow him on Twitter at @RichEdmonds.