WhatsApp now tells you what time someone read your message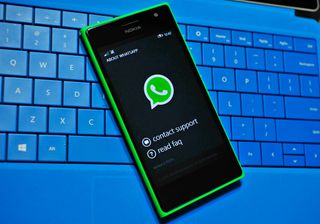 Yesterday, the popular messaging service WhatsApp had two updates: one was server side and the other was an actual app update. Although bugs and fixes were listed in the changelog, as it turns out much was included than previously thought.
WhatsApp now included detailed 'seen' and 'read' information for messages you sent to either individuals or groups. In fact, for groups it will show who read the message and at what time, alongside who has not yet read your message (but the time it was delivered to them).
Yes, with these new WhatsApp features, no longer can you use the excuse 'Sorry, I must not have received the message' because the sender will know what time you received it and what time you read it. In addition, it even works for audio messages as well.
How to view sent and read message info in WhatsApp
In order to access the information, all you have to do is long-press on your sent message. A pop-up menu will appear with four choices: copy, delete, forward, info. Choosing 'info' then brings you to the detailed message history page, which will included the aforementioned data. For group messages, it will be broken down by who is in the group.
Overall, a very cool, albeit creepy, feature that augments those 'new' blue check marks from yesterday.
Thanks for the tip Hudson H.
Get the Windows Central Newsletter
All the latest news, reviews, and guides for Windows and Xbox diehards.
Daniel Rubino is the Editor-in-chief of Windows Central, head reviewer, podcast co-host, and analyst. He has been covering Microsoft since 2007 when this site was called WMExperts (and later Windows Phone Central). His interests include Windows, laptops, next-gen computing, and for some reason, watches. Before all this tech stuff, he worked on a Ph.D. in linguistics, watched people sleep (for medical purposes!), and ran the projectors at movie theaters because it was fun.
Noooooooooo y u doin this whatsapp :(

to be honest with your friends

a) not everyone is a friend b) none of whatsapps/facebooks business what I do This is 100% a Facebook implementation, Whatsapp was very private before, now they are introducing things that facebook introduced in the past years. Since facebook put in the "seen at ...." thing to messages, I don't read messages unless I want to respond to them right away, which means I have dozens of unread messages months and even more than a year old that I never got remembered to get back around to reading and now it would be silly to respond to them. So while they may want to excuse their sht with "being honest and helping friends stay connected", in reality they are making it harder for people to keep casual, non-commited contact, which is stupid because that is esentially what facebook is and why it has the userbase it has in the first place. Now it's all very forced and commited, which ruins the whole thing. If I wanted to text or call someone I wouldn't be using facebook or whatsapp, you know, because I already have those 100% commited options of calling and texting, there's a reason we are using the flaky, indirect and casual one.

Exactly! Honesty is always best. Ironically, it is this feature that caused me to stop using whatsapp; even though I loved the app as a whole. Invasion of privacy means a lot when your "friend" is the jealous type.

I'm glad they're adding these features!

So much for giving the option to hide the last seen...

yeah, they should make this an option in the privacy settings too.

Ya, she's using 'y' instead of ' why' and 'u' instead of 'you' and 'doin' instead of 'doing'... Definitely she's a girl.

He (it) is definitely an egg. Can't you see it from the avatar picture?

If you don't like it I suggest you try Skype, that can't even notify you of new group messages.

Don't rely on it. I got an answer at 3pm to a message that according to whatsapp was read at 5:45pm

Sent this tip when the app was last updated..No thanks again..

I guess you speak for the entire Windows Central user base??

Did I mention the whole community?

I didn't know it. Daniel, thanks for the information!

There's always a moron that makes this kind of comment. Yay...you knew. Maybe that will give you a some pride, so you won't have to attempt lame boosts of self esteem by posting such nonsense. Thanks for the info, WinCen!

I was commenting for myself and you don't need to be rude.

Gud ... Y u not tipped wc

What are you, Dothraki? :D

Lol. All clingy girlfriends will have a field day.

Many couples gonna end up having breakups due to this feature.. :D :v

More muff to go around...and around...

Well my sister didn't break up but she did have a quarrel yesterday because of this..

viber still has lots of problem shame on you viber

Hike is better than WhatsApp, anytime...

Except it's slower when loading new messages..

How can having no telegram be better?

The problem with hike is photos sent or received are compressed though they support 16mb file size. I contacted them to fix it but nothing yet.

Even on WhatsApp photos are compressed.

Common Daniel, my girlfriend is getting blue checks in when we are talking, but m not getting it in my phone? Why so? She's on android and I'm on 730!

I'm getting everything as described. L730.

Tell her to update her WhatsApp. You will also start getting blue ticks.

Ask your girlfriend to update her WhatsApp. Then you should be able to see the blue checks.

A Common Daniel wouldn't know something like that, but a Rare Afgan-Scarfed Snappy Daniel might.

Tell her to update WhatsApp on her phone, there ia a update for android aswell... You can only see blue checks if the opposite person has updated his/her WhatsApp... U have updated already so your gf can see the blue checks... So now your turn to convince her for updating her WhatsApp... ;)

You don't need to update WhatsApp for the blue ticks as I did not update. I haven't updated yet.

You'll only get blue checks if the opposite person has updated the app on his phone, you are getting blue checks coz your friend have updated on his phone, m sure your friend will not b getting blue checks, because you have not updated the app on your phone.

On the chat screen you don't see the blue tick but click the info of that chat to see if it was read with a blue tick.

Some Android users don't use official Whatsapp Apps, they use Whatsapp plus. If they do, you won't get the blue checks for the messages they read.

Is this coming from Facebook or Whatsapp? I wonder what more do we have in store.

I guess it is came from Hike messenger. It has everything what's WhatsApp is releasing now :P try hike.. Better than WhatsApp

WhatsApp is better. Simple and efficient. Hike is just loaded with too much bullshit called as features.

Well Hike is good as well, however, there will always be a delta between the users on both platforms and that kinda stops me from using Hike as a replacement.

Not working for many users in Italy...

Still not showing blue ticks... :/

It doesn't show blue ticks if the massage was sent to an Android user.

Yay! Its working :D But not for android users :/

Its working fine for me as described... Using Lumia 730

Actualy it worked for me and my friend Lumia 1320 and Note 3

I also have 1320, but even after updating to latest version ... Not working. In India. Wp8.1 update cyan

It works for me when sending to an android user.

Any settings required to see these ticks..??

Not true. One Android recipient is marked blue, another one not... strange

It is showing but under info of that message.

It only shows blue ticks when you message a user who has updated his whatsapp. Both android and wp got updates yesterday for the same reason. Whenever you message a user who has updated whatsapp you will se blue ticks.

Shikhar no its not true I have not updated my app still m getting blue ticks and this message info...

Actually Shikhar is right, you can only see blue checks if the opposite person has updated his/her WhatsApp, ya its true that you can see the blue checks, but ask your friends, just because you have not updated your WhatsApp m sure they'll not see blue checks in your convo.

Yash you are sure n wrong... they are also getting the blue ticks...and I have still not updated to the latest update..now say

applicable only for Android users... They can see our blue ticks even if we have latest updates or not.. But we cannot... We can see blue ticks from an android users only if they have latest version installed.

I am a windows phone user #Lumia730 and m not on latest update still I have blue ticks and message info...

Remember that Android users don't have the same software.

This is not good. Don't want people to know if I'm ignoring their messages.

Seriously man, this is not at all good...

I know I know! I guess it's better hold and press delete then! that would be the best thing, so you say "oh I never got it" since it was never read it. that feature just sucks, even the ones that don't tell you the time. but of course it just gets boring to know someone ignore you, or people knowing you ignore them. that's why skype is still cool for me. but anyway, internet life sucks!

I just read them at the notification center and decide there is I want to ignore them haha

No wonder it is bought by Facebook!

HIKE should be HYPED!! :)

No it should not be its too slow while loading new messages... :\

It takes time..for me using a Lumia 730..

Infact after the latest update Whatsapp started stuttering a lil bit!

Don't know I have not updated my WhatsApp to the latest update... :)

Good then :) Its again compelling us to install it on phone memory :(


Yeah and its not a big deal its just 16- 17 mb.. :/ but would have been nice to be able to install it on sd.. :)

And is it stuttering so much after the latest update should I wait for the next update or update it..??

They think this is gonna prevent us from reading and ignoring people. Fools...

Unless you have a Blackberry. You can't get that details from BlackBerry

I would still ignore people with or without that crap.

WhatsApp still bugs in Windowsphone

I don't like people who snitch.

I am sure paranoid people will love this feature. 5 minutes after they read the message "why isn't he answer me???? please answer please pleaseeeee I promise I will change" these features are scary... I mean, it's simply nice to know it was read, not the time. because if the other person didn't answer, some people will get paranoiod, or simply you will find out the person doesn't want you the same way xD or something

I think this is good, if the person means something to you, why would you ignore them and then pretend you never saw it

It doesn't work for me when sending a message to people with other systems

It doesn't work when im sending SMS

You can do something similar with the fb messenger too, pretty cool addition nonetheless!!

Nor showing blue ticks
L730 India

Cheaters will start moving to Telegram, Kik, Line , Viber... As suggested before in WC haha! XD

Btw, when I want to ignore I just read from the larger live tile ;) It will say it's delivered but you read when you want to

Me tooo, thanks to Windows Phone Large tiles ;)

Also, can just read messages (partial) in Notification Center.

Now you can see the Facebook essence in these new features.

Don't show me time of reading.and i dont have the blue tick.why??? :(

WhatsApp eventually planning to start a girls vs boys fight .... Damn hell .... Life is just gonna turn in to hell now :(

I was getting the blue ticks last night.. But after the update today.. I aint getting them.. Whats the problem??

Another reason not to use the app (for me). Give me a way to block it

Can we also know if a person has recently broken up due to this feature ;) and what time was the break up?

I'd love to see some data on breakups/arguments this weekend, it being the inagural weekend for this feature. One can only imagine how many people will be standing outside bars leaving angry voicemails for people that read their message and blew them off LOL.

Is it possible to set this feature off so that other people cannot see if you read their message?

Is there anyone who believes that all these changes are somehow connected to the fact that facebook bought whatsapp and maybe looking to combine the two where whatsapp would be the default app going forward as it's the most used msg app in the world. Would be great for WP if that's true as the call feature on Android and IOS in facebook messenger that's absent on WP hopefully would be a welcomed bonus to our OS.

Yup, pretty much. Facebook wouldn't spend so much money on WhatsApp for nothing, they had a plan.

Helping stalkers keep their game up

Coz lst seen was too mainstream

But I'm not getting blue color tick if any Android user is seen my msg in watsapp but I'm getting it with windows phone users, wat is the problem with it

Am not seeing the blue tick on any of my messages

They better remove the last seen option in the next update. Is useless now anyway

Why? Last seen tells you when someone was using the app but that doesn't necessarily means that they did read your message

Oops, what I wanted to tell was about the option to hide the last seen. Now you can see if a person comes online in a certain time period by just sending a message even if the person does not share the last seen info. No more claiming that you didn't see the message because you were offline

Yeah that's a privacy issue that WhatsApp needs to handle better. But if I don't want a particular person to see me I would block it... And then unblock, Its pretty simple

Seems WhatsApp doesn't want people in relationship.... Or some gangs of girl are developing apps...lol !! Anyways jokes apart....i feel there is some problem in this feature.......my friend's last seen was 12.55 am. And I have just send a msg by 1.47. In info its showing read and double tick. So either msg has been read now and last seen status is wrong or last seen status is correct and read status is wrong......

It would be better for me if just tapping the message would bring the menu from the bottom, like the dots menu.
But I'm fine with these new features that facebook already had, it was a matter of time, people need to chill out.

Seems kinda slower after update.Well,with the 'last seen' online status the new 'info' is no big deal.

I'll put my whatsapp messages on my lock screen. I'll read it there so I could still say I haven't! Hehheh...

Yup, that is kinda creepy. If only Skype was the central hub of modern messaging on Windows Phone that is *should* be. So much potential, wasted. *sigh*

@Daniel I've noticed that Group/s can now be muted for upto a year.

I am not getting read indication on my Lumia 720 and in message info time among read showing three dots no time ....
Why this is happening .... ?

I have this "message" pop-up until some time, but no blue ticks or "read" info. I don't understand why there is this "maniatic" about the blue ticks. Nowadays with all "notifications", notification centers and all of this stuff, saying "ooooo sorry I don't see it" really!!! for god sake!!

Nothing happened to my WhatsApp still no blue rights

No blue check on Android receivers while msg sent from WP sender.

come on, there so many reasons one could open a chat without reading anything. you just say 'yes I opened it but I didn't actually read it, sorry'.

Wow, then soon or later most of peoples switch to LINE and WECHAT

I get blue checks but no read time. Just delivered time

For me this blue tick thing doesn't even work properly. I get blue ticks on messages read by my friends using a Windows Phone. But for my friends using Android phones the message never gets a blue tick..

Yes, for some msgs they are not getting just like us. I read reviews in play store users complaining about it. Also Android users don't like this feature, maybe they will remove or change the way it works.

Omg now i cant escape from my gf.. So sad

What the hell... Update is showing in the store.. But I cannot update.. An error is coming up saying 8103012e.. Any body else with same kind of problems?? Using #Lumia630

Time to say good bye to WhatsApp

Doesn't seem like I works. I send a message to a individual person, I check in the info, it shows only delivered time, but doesn't show read time even though the person has replied me back. And the blue ticks doesn't work for me. Lumia 720.

Ask your friend to update his app, you'll only get blue checks when the opposite person have updated his app.

I don't like this features. I want my privacy
I hope next update won't show my location

Other than quitting WhatsApp, any option to get rid of this feature!!

Only to WP? Android friends keeps keeping creepy seeing blue ticks! LOL

That's okay but WhatsApp WhatsApp on my 620 is getting disabled sporadically since the last update. I have to reinstall it tho get it back ruining.
Anyone else with the same issue?

This is going to cause SO MANYarguments LOL. That said, I don't mind it. IMO it prevents people from being sneaky. What others call privacy, in this particular situation, I call being sneaky. Wanting to read someone's message without them knowing you read it is sneaky. If you feel the need to do stuff like that then that person probably isn' t that important to you, so them knowing you read their message and didn't reply shouldn't be a big deal to either party. Unless it was a good friend or my girlfriend I'd just brush it off and say "maybe they're in a meeting, or on the treadmill or just in the middle of something". Everyone can't just up and reply to your message right away but they can quickly glance at it to see if it's "sup" or "my car brokedown can you help?" to see if they need to make an exception and stop what they're into to reply. Now if it's a good friend or my girl and they read my message and blew it off for hours, wehave problems lol.

WhatsApp still have some bugs..when I use to set a background image for a specific chat its automatically set as a default background image...Is anyone face this type of problem,then suggest me the solution...

Now my privacy is gone...

Uninstalling... just kidding :) But when you read the message-preview (first couple of words) from the notification center, it doesn't mark that said message to "read" within the app itself right?

It's is not updating on my Nokia Lumia 520

It's is not updating on my Nokia Lumia 520

Blue check only working for same platforms e.g Android app to Android app or Windows phone app to Windows phone app etc. But not working for cross platforms e.g Windows phone app to Android app.

Works on my WP app when talking to friends on android

At this rate Whatsapp would soon replace outlook !

How is that phone being charged?

WhatsApp wants to cause wars everywhere..

It shows "ooo" instead of the time. Any one getting this?

After update, new messages doesnt show up, I have to open whatsapp to see new msg! Why?

Here how to read #WhatsApp conversations without opening them, so senders won't be able to know that you read
http://7rl.in/a6Ww

Nice one from WhatsApp. Now, I'll know if my girlfriend read my message and just ignored it.

I have a problem with the latest update. My WhatsApp disbaled by itself sporadically and then I am unable to launch the App. I have to re-install it to run it again. There is some bug in the update. I am using it on my Lumia 620. Don't know whether it is device specific or not. I also have to make the default download path for apps to phone to donwload WhatsApp. It does not recognize by its own and install on phone as it used to do previously.

One more thing that many of us seem to be missing is the "Last Seen" feature added by WhatsApp. We can now hide it ( At Least I noticed it after the first big update a few weeks ago.). It is now available on Windows Phone as well. Nobody is discussing this feature. :) Anyway, if people are already doing it then sorry. :)

But... what's' this? Why they are adding features they know we don't want to use? what's that? It-s just like me, making questions everybody already done and anybody wants to read!

If you are admin of the group, you can now add one more admin from Info option of the group.

The one feature I wish Whatsapp could improve for us is, to have the notification or the message pop-up on our lock screen. I've been having problems getting notification on real time. It will only refresh itself when I enter the Whatsapp app. My friends & families are proving them right, that WP is a low-tech device. How frustrated! Please Windows Phone!!! I am trying hard to proof to them and to myself that I made the right choice of backing up WP all this while. Dear Daniel, I hope you can give me some consolations that WP is doing something to improve this! Sincerely yours,
One of many sad WP user

The new whatsapp shows a message on a glance screen version 2.11.680

does anyone here know why the read info time can changes over time?
for eg: the info now shown read on 4.20pm but after few hours, the info read time changed to 6.39pm and so on....