Which new Microsoft Surface devices do you plan to buy? (poll)
By Matt Brown published
Microsoft has launched a handful of new Surface toys to buy.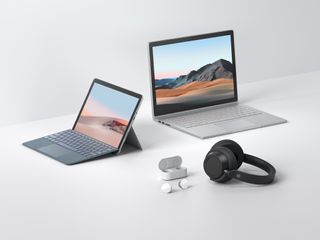 (Image credit: Microsoft)
Microsoft has unveiled its latest wave of Surface hardware for 2020, expanding its premium lineup of PCs and accessories with much-welcomed revisions and new product entries. That includes the Surface Go 2 reworked with a larger 10.5-inch display and thinner bezels, including more powerful hardware under the hood. The Surface Book also receives its third installment, retaining the same form factor while embracing the latest from Intel and NVIDIA.
The lineup of Surface accessories also receives love, especially for audiophiles within Microsoft's ecosystem. The Surface Headphones 2 further improve upon the original, now featuring a matte black option, with new connectivity enhancing the active noise canceling cans. We also see the firm Surface Earbuds finally set for release, providing a new category within its peripherals for everyday use, and cheaper at $199. Other Surface essentials also receive love, like the Surface Dock 2 and the Microsoft USB-C Travel Hub.
But with all these Microsoft Surface products set to release, which have caught your eye? Below is a poll to vote on your top picks, with the option to select multiple products, if your wallet is ready to hurt.
We'd love to hear from you in the comments, as well.
The full lineup of Surface refreshes has hit the Microsoft Store, shipping over the days ahead in various markets across the globe.
Tiny PC
(opens in new tab)
Small and portable

The new Surface Go 2 packs a larger 10.5-inch higher resolution display, thinner bezels, more power and storage for all your on-the-go computing tasks. Compatible with previous and new accessories.
Two in one
(opens in new tab)
Power on the go

The refreshed Surface Book 3 for 2020 gets new Intel 10th Gen processors, more powerful GTX graphics, and much better Wi-Fi, SSD, and RAM options making this one powerful 2-in-1 convertible PC.
Surface Sounds
(opens in new tab)
Back in black

Microsoft's Surface Headphones are back, and they're available in black. The Surface Headphones 2 also bring Bluetooth 5, up to 20 hours of battery life, aptX support, and more.
Hear Smarter
(opens in new tab)
Microsoft's super smart earbuds

Now at a lower price, the Surface Earbuds will undoubtedly turn some heads when you're out wearing them, but you'll be able to make use of gesture support on your PC, iPhone, or Android smartphone.
Matt Brown is Windows Central's Senior Games Editor, Xbox & PC, at Future. Following over seven years of professional consumer technology and gaming coverage, he's focused on the world of Microsoft's gaming efforts. You can follow him on Twitter @mattjbrown.
Nothing! I'm buying nothing.... or rather.... No Surface sold on my country.... 😅

I'm looking at the Surface Book 3. I've had the Book 2 for a while now, but I would like more internal memory & I'm considering the 15" this time.

I've got the SB2 with 16GB 1TB i7, and for now it meets my needs, but yes, as my eyes get older.... I've already told my wife that the next PC I get will be a 15". We just bought her a 15" HP last week, but she doesn't need the power that I need, so hers was a lot cheaper than whatever I end up getting.

Many reasons to keep my money at the moment, but I'm not sure I want to risk buying any more surface hardware. I've had to send back my original go, my surface pro 4 had the shaky screen thing and then the replacement just died 3 months after, MS not interested. Swapped the Pro 4 for a XP13 2in1 and although I miss the light compact surface pro, the power it's got and it's as nice in so many ways and cost me 2/3 the price of the equivalent spec. surface.

I have the XPS 13 2in1 as well. It's awesome!

I'm going to stick with my Surface Book 2 for now, as I just bought a new desktop to do the video processing for my church, and otherwise the SB2 meets my needs. As for the others, I'm going to buy the Surface Headphones 2 and the Surface Earbuds, and use the 60 day return policy to decide which one I like better. I am leaning toward the earbuds, but if they can't do multipoint, I won't be able to use them for most of what I want to do. Sixty days will give me plenty of time to decide. If you are a student or military (US at least), don't forget to use your 10% off.

If I hadn't already gotten the original Surface Go LTE, I would probably get the Surface Go 2 if I wasn't quarantined and still had a need for a portable computing device.

We already have a SP4, SP5, SP6, Surface Go, so we obviously have no need for another tablet. I have several pairs of MUCH less expensive headphones, for use in my studio and wireless ones (that rarely get used) if I need them. I have a set of JLab true wireless ear buds that are perfect for my needs (at a significant savings over the high-priced and UGLY Surface ear buds). I likely won't need any new Surface tablets for a couple of years.

I ordered the Surface Headphone 2's today.
Really interested in the Surface Go 2 m3 version but may wait until holiday season to see if I still have a job with this pandemic...

I have pre-ordered the Surface Go M3/128gb/LTE and the Surface Earbuds

I had planned to get the GO2 but what a let down that has turned out to be.

Already have a Surface Go.
Getting a core version is too expensive, way too many other options at that price, defeats the purpose of the go. None of the surface line has thunderbolt ports still, for a lot of professionals like myself, thats an immediate no go.

Ive had 4 Surface devices, honestly? Not buying one again, the battery longevity of every device ive had has been horrendous. Right now ive got 2 Surface Pros, one has less than 150 battery lifecycles and im down from 45,000 to 22,540!! I replaced my Desktop PC with a SP plus monitors, am going back to a Desktop PC, most likely the new AMD chipset, plus either a LG Gram 15 or Dell XPS 13, you can keep the touchscreens and pens!.

I am not sure yet what would be a good upgrade for my pro 1. The cpu is fine but I want a noticeably better gpu, lower weight and ntrig pen support. I am leaning towards the Go2 m/y version but the pro 5 with iris plus graphics would also make sense but maybe slightly on the heavy side. 🤔

The Surface Headphones 2 would be the only thing slightly interesting. If I hadn't recently bought a Sony set anyways. I would love to have a Surface Go if it had more modern internals. If it had more recent CPU and TB3 for docking compatibility, then it would have been a good buy. I hope Microsoft builds a Surface with modern IO someday, just makes no sense what they are doing.

None. I was waiting for, and fully planning to buy the SB3 to replace my original SB, but honestly came away disappointed. Got a lackluster feeling for the price so I think I will look elsewhere. Will wait for the 2020 XPS 15 and see if that moves me. I've owned the Surface RT, Surface 3, Surface Pro 3, Surface Book and just kind of over the line at this point.

Snagged the Surface Book 3 - I would have preferred some design improvements (Thunderbolt 3, USB-C on the clipboard, larger trackpad, smaller bezels), but ultimately the Surface Book is just too uniquely useful in its design to consider anything else for my use case.

Looking to get the Surface Go 2 LTE but when the m3/256GB version is out. That with the earbuds I think will be a great mobile solution. Will even look just using my sim for my phone with that and just use Skype for calls be stop carrying around my phone period. Really depends on battery life at the end of the day.

Missing from the vote
# This product is not available in Norway, so I can't buy it even if I want to...

Waiting for the new Surface Studio stand-alone monitor. That would be a game changer for my office.

For me all of these devices have too much compromise to be on my radar this year. It is not Microsoft's best. The one I think is most interesting is the wireless headphone. But I'm disappointed with the battery life. Another thing is it is uncertain times with regards to Windows 10 and seeing a fully baked product. They seem to want to start over or evolvee to 10 x, but I think it is even less enticing and potential value than what we have with Windows 10 today. The sexy is over and its serious cloud business now, and the software UI and UX is in an identity crisis. This while they're also figuring out Windows 10, and what started with a potential great identity, but failed to pull through. I find it harder to identify the personal in personal computing.

Your last paragraph sounds very woolly and strange. You say the 'sexy' is over but arguably 10x animations etc look 'sexier' than that from 10 (same goes for Panos's teasers for W10). Also not sure what is wrong with having 2 OS's. W10 is there for desktops and laptops and full legacy support, 10x is more touchscreen focused and more 'modern' (which some like and others dislike, hence 2 OS's 2 make everyone happy).

I've already preordered the SB3. I've been waiting for it to replace my SB1 and a struggling desktop. I'll probably get the dock 2 as soon as it's available. I'm happy with my Surface Go 8/128 and Surface Headphones (which I got on sale). I'm interested in the buds, but will wait a bit.

I want to buy the Surface Earbuds, but I want to read your review of them. I assume you will have a more in-depth review Monday or Tuesday?

I'm interested in the Earbuds but I'm disappointed that there's no noise cancellation. I like the ambient noise passthrough option on my Surface Headphones and I understand that the same feature might not be easy to implement on the earbuds but, given how easy it would be to remove one and replace it if you needed to hear something external, I'd have liked to see some sort of NC built in. I'll wait for a few reviews before I jump in. Regular earbuds don't stay in my ears very well, especially if I'm chewing. They quickly wiggle free and fall out. The shape of the Surface Earbuds looks like that would not be a problem but I'm a little nervous. I might have to check whether they can be returned if they won't stay put.

I'll be waiting till the Black/Grey Surface Earbuds launch, like the white ones but prefer a darker colour

I am waiting for the Surface Duo whenever it releases, lol, ive got way to many wireless earbuds, and full size headphones already, so Microsoft was to late, and i am happy with my surface pro 6, to be honest, but mmmmmm that Surface Book 3 looks tasty, lmao, i must resist!

I would have participated in the poll but it didn't list the Surface Duo which I WILL be purchasing. Not sure how/why you missed it.

Surface duo isn't officially released yet..... so I assume that is why it is not included😁

Surface Go 2 LTE to replace my Surface Go non-LTE. The core M and LTE should improve my workflow really well. :) Also the Surface Earbuds for a general purpose true wireless.

Earbuds. Though a pro x Intell is something I do want untill at least arm on emulation handles x86 like an i5. Also if love duo and neo would be a great consumption replacement so I'm waiting on that too. One thing neo 2 should have for me is a surface pro sized keyboard that doubles as a full case and can fold closed with the tablet.
Windows Central Newsletter
Get the best of Windows Central in in your inbox, every day!
Thank you for signing up to Windows Central. You will receive a verification email shortly.
There was a problem. Please refresh the page and try again.