Who won the trip to NYC for the Talk Mobile launch party? Find out now!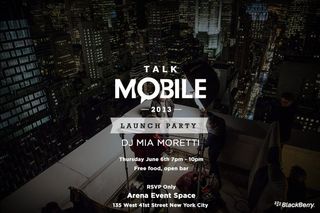 Did you get your RSVP in for the Talk Mobile launch party in New York City next week? It's going to be a spectacular event, with all the Mobile Nations editors and a ton of fans and some very special guests all together under one roof to celebrate. This is the first time we've done a cross-site celebration like this, and we have no doubt that it's going to be a night to remember. We have DJ Mia Moretti lined up for some sweet aural stimulation as well as good food, strong drinks, and thousands of dollars in awesome prizes to be given away throughout the evening!
Aside from the lucky fans that managed to snag a spot at the party by RSVPing online, we had a contest to send one lucky reader and a guest to NYC for the party, with paid airfare and hotel, and it's time to announce who that person is!
Drum roll please...
The winner of a trip to fabulous New York City for the Talk Mobile 2013 launch party is...
mikeplus1
Congratulations Mike! We can't wait to see you and everyone else in New York on Thursday! It's going to be EPIC!
Derek Kessler is Special Projects Manager for Mobile Nations. He's been writing about tech since 2009, has far more phones than is considered humane, still carries a torch for Palm, and got a Tesla because it was the biggest gadget he could find. You can follow him on Twitter at @derekakessler.
I was really praying to win but I must congratulate you Mikeplus1 have fun for those of us who can't make it

Thanks everyone in looking forward to new York... Oh wait, damn i thought I was the winner :(

Congrats! (I just found about the contest lol)

Congratulations. You gonna have Daniel autograph your chest?

Awesome! Congrats. I'm sure it will be a sweet trip.

Mikeplus1, this is going to be a very time consuming and tedious event. I mean u have to request a time off at work, do your laundry, find the best outfit, practice your smiles and thank you's. Then fly coach with disgruntled passengers which could get hijacked by terrorists heading to new York (too soon?). On top of that, the flight meal sucks, and you might not even get your peanuts. If you aren't lucky, you might end up sitting next to an obnoxious obese woman or kid during a turbulence with tornadoes in Midwest. Or your flight might even cancel due to weather. I would forfeit this offer to avoid these traumatic events. Its a very stressful thing to win this type of contest.
/Debbie.

Congrats man !
what about the mobile contest ? who won yesterday ?

WHY can I not comment on Talk Mobile articles?

Can someone please help me? Its not working!

Funny enough. His name suits the prize. Mikeplus1.

Congratulations mikeplus1!
Windows Central Newsletter
Get the best of Windows Central in in your inbox, every day!
Thank you for signing up to Windows Central. You will receive a verification email shortly.
There was a problem. Please refresh the page and try again.