Why the Surface Book 2 seems like a dream laptop
I've been a Surface user since the dark days of RT, but with the Surface Book 2, it looks as though Microsoft might have achieved perfection.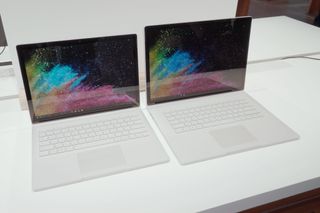 Microsoft unveiled the Surface Book 2 at a press event in October 2017. A sequel to Microsoft's ground-breaking 2-in-1 convertible laptop was never in doubt, but many had expected it to arrive a little later, and few expected the spec bump Microsoft baked into it.
The biggest pitfall with the original Surface Book wasn't the design, it wasn't driver issues, and nor was it a form factor problem ‒ it was those damn specs.
The original Surface Book was a stunning laptop, but that's all it was. With its paltry dual-core processor and its NVIDIA 940M 2GB dedicated GPU (d-GPU), it was hard to get real work out of it. Despite being unveiled with video-editing capabilities, programming, and even gaming, as usable features, in practice, it wasn't so hot.
While we haven't reviewed the new Book 2 just yet, I have high hopes that the changes Microsoft made will rectify every issue I had with the Surface Book, as it beckons me back after my switch to a Razer Blade 14 (opens in new tab). The Surface Book 2 almost feels as though it was designed for me. This is why.
See Surface Book 2 at Microsoft Store (opens in new tab)
Surface Book 2 tech talk
First, let's breakdown the primary differences between the Surface Book 2 and OG Surface Book range. Here are the specs, as listed by Microsoft.
Swipe to scroll horizontally
Category
Surface Book 2 (2017)
Surface Book (2015)
Processor
Core i5-7300U (3.2GHz dual-core)
Core i7-8650U (4.2GHz quad-core)
Core i5-6300U (3.0GHz dual-core)
Core i7-6600U (3.4GHz dual-core)
Display size
13.5-inch or 15-inch PixelSense Display
13.5-inch PixelSense Display
Display resolution
3000 x 2000 (267 PPI) or 3240 x 2160 (260 PPI)
3000 x 2000 (267 PPI)
RAM
8GB or 16GB
8GB or 16GB
Native Graphics
Core i5: Intel HD Graphics 620
Core i7: Intel UHD Graphics 620
Intel HD Graphics 520
Discrete Graphics
Core i5: None
Core i7: NVIDIA GTX 1050 (2GB) or NVIDIA GTX 1060 (6GB)
Core i5: None
Core i7: NVIDIA GTX 940M (1GB)
Storage
256GB, 512GB, or 1TB
256GB, 512GB, or 1TB
Battery
Up to 17 hours
Up to five hours in Tablet Mode
Up to 12 hours
Up to three hours in Tablet Mode
Wireless
Marvel Wi-Fi: IEEE 802.11 a/b/g/n/ac compatible
Bluetooth Wireless 4.1 technology
Marvel Wi-Fi: IEEE 802.11 a/b/g/n/ac compatible
Bluetooth Wireless 4.0 technology
Ports
Two USB Type-A 3.1 (Gen1)
One USB Type-C with video, power in/out and USB 3.1 (Gen1) data
Full-size SDXC card reader (UHS-II)
Headphone jack (3.5mm)
Two Surface Connect ports (one in tablet, one in base)
Two full-size USB 3.0
Full-size SD card reader
Two Surface Connect ports (one in tablet, one in base)
Headset jack (3.5mm)
Mini DisplayPort
Xbox Wireless
13-inch: No
15-inch: Yes
No
Audio
Stereo Speakers with Dolby Audio Premium
Windows Sonic for Headphones
Dolby Atmos for Headphones compatible
Stereo Speakers with Dolby Audio Premium
Windows Sonic for Headphones
Dolby Atmos for Headphones compatible
Dimensions
13-inch: 312 mm x 232 mm x 15 to 23 mm (L x W x D)
15-inch: 343 mm x 251 mm x 15 to 23 mm (L x W x D)
312.3 mm x 232.1 mm x 13.0 to 22.8 mm (L x W x D)
Weight
13-inch: Core i5: 1533 g (3.38 lbs)
Core i7: 1642 g (3.62 lbs)
15-inch: Total: 1,905 g (4.20 lbs)
Tablet: 817 g (1.80 lbs)
i5 GPU: 3.34 lbs (1516 g)
i5/i7 dGPU: 3.48 lbs (1576 g)
Sensors
Ambient light sensor
Accelerometer
Gyroscope
Magnetometer
Ambient light sensor
Accelerometer
Gyroscope
Magnetometer
Cameras
5.0MP 1080p video @30 FPS (front)
8.0MP 1080p video at 30 FPS with auto-focus (rear)
5.0MP 1080p video at 30 FPS (front)
8.0MP 1080p video at 30 FPS with auto-focus (rear)
Windows Hello
IR Camera
IR Camera
Price
Starts at $1,499
Starts at $1,499
Availability
November 16, 2017
Preorders start November 9, 2017

(opens in new tab)

November 2015
Switching to Razer
I listed both the Surface Book 2 13-inch and 15-inch model specs above, alongside the 2015's Surface Book configurations to illustrate why I'm talking specifically about the 15-inch model here. Across the board, the Surface Book 2 is a gargantuan upgrade from the previous version. The design of the Surface Book remains largely the same, but the exciting parts are on the inside.
The biggest drawback of 2015's Surface Book is the dual-core processor, which simply isn't good enough for heavy lifting and working with taxing programs.
Yes, I did edit video on my 2015 Surface Book. I even played some light games on it, but for the most part, the sluggishness was a constant bottleneck..
Finally, earlier this year, I upgraded to a Razer Blade 14-inch model, which comes with quad-core processing and a beefy GTX 1060 GPU. The differences between that laptop and my old Surface Book are night and day, at least when it comes to more intensive tasks. I wrote about how I switched to Team Razer and didn't look back. For the most part it was true, but there was a ton of little things I began missing about the Surface Book form factor.
A return to Surface
I managed to "accidentally" break my Razer Blade, in a haphazard attempt to clean some keys. That's one of the things that began annoying me about the Razer Blade versus the Surface Book: the color. The black aluminium used on the Razer Blade is a dust and fingerprint magnet, and even though I'm pretty obsessive about cleaning my hands, you just can't avoid getting smudges and dust all over this thing. It requires constant cleaning, whereas the Surface Book's magnesium veneer is pretty much impervious to ugly smudges.
Then there was more practical things to consider, I simply began missing touch and Windows Ink. I don't draw often, but I like having the option. To achieve similar functionality on my Razer Blade I'd have to purchase a separate drawing tablet, which defeats the usability and convenience you'll find in a Surface Book or Surface Pro.
As much as I love the Razer Blade as a workhorse and PC gaming laptop that ditches the gaudy designs of some other gaming laptops out there, I yearned for the versatility of Surface. I wanted the taller 3:2 aspect ratio, which is far friendlier when you're doing lots of work with websites. I missed tent mode configuration for travel on trains and on flights. I miss the unique, stunning design that raises eyebrows in equal amounts of awe and perplexity, and most of all, I missed the Surface Pen, for signing documents, doodling, and hobby art.
But, the weak specs just made the original Surface Book impractical for me and many others doing professional Adobe Creative Cloud work, either in graphics or editing. I compromised on that versatility and inspiring design to switch to Razer's beastly 2017 quad-core Blade 14 inch, just to do basic work tasks that the Surface Book simply couldn't handle. Recording Xbox footage with a capture card? Forget it. Streaming to Mixer? Not a chance. Editing 4K Xbox One X videos? Sure, if you want to wait until the heat death of the universe for the rendering to finish.
Then, Microsoft's Corporate Vice President of Devices, Panos Panay, unveiled the Surface Book 2, delivering what sounds like, it could be, the ultimate laptop.
It's all in the details
The displays on Surface devices are simply stunning, but they almost teased you with their inability to play games, or edit 4K videos or even photographs competently with their dual-core restrictions. The Surface Book 2 fixes all of that, with quad-core processing, and a GTX 1050 or 1060 d-GPU. It's effectively a Surface Book with Razer Blade internals, making it my dream device.
The 15-inch model, which I'm aiming to purchase (after saving money for several months... ), not only sports those powerful innards, but it also supports the latest innovations in Surface inking tech, reducing latency via a dedicated display co-processor. Not only is tilt supported now, but also the intriguing Surface Dial, which seems like a convenient option for artists using the device in canvas mode.
Additionally, Microsoft claims that it will ensure the cooling on the Surface Book 2 will keep it both frosty and quiet during heavy loads, which is not something I can claim of the Razer Blade. I've had the opportunity to hear the Surface Book 2 for myself, and it seems incredibly quiet, but I'm eager to find out what our Executive Editor Daniel Rubino finds when we eventually review it. The Razer Blade can sound like a jet engine running even mid-range games or when exporting Adobe Premier video.
I've watched this video about 30 times. Yes, I'm weird.
Speaking of gaming, the Surface Book 2 15-inch model comes with Xbox Wireless, which means connectivity with compatible headsets and controllers without Bluetooth or annoying USB dongles. You simply connect your Xbox controller directly, and play some games. Seriously, it's almost like they built the thing for me.
Surface Book 2 is not for everyone — but it is for me
Are all of these extra details worth the quite honestly insane price tag on this thing? I think they are. As long as it doesn't overheat, explode, or suffer from any other unforeseen unpleasantries, the cost will be worth while simply because there won't be any other device out there to match it. The Surface Book 2 won't be for everyone, but it perfectly lines up with my desire for gaming, hobby inking and art work, and heavy-duty editing and graphics work, all with a collection of other gorgeous details.
I can't tell you how excited I am for the Surface Book 2. At this point, I can only hope it delivers.
See Surface Book 2 at Microsoft Store (opens in new tab)
Windows Central Newsletter
Get the best of Windows Central in in your inbox, every day!
Jez Corden a Managing Editor at Windows Central, focusing primarily on all things Xbox and gaming. Jez is known for breaking exclusive news and analysis as relates to the Microsoft ecosystem while being powered by caffeine. Follow on Twitter @JezCorden and listen to his Xbox Two podcast, all about, you guessed it, Xbox!
Out of interest, how many documents have you signed on the Surface screen ever?

Hi, I do a lot, saves a lot of printing.

Just a personal anecdote of mine: I use a PC mainly for my work because I need to. But, I also have a surface. When it comes to documents, I always work with my documents on my Surface. I signed all of the documents for my mortgage via the Surface. I routinely sign stuff needed for my family. I also use Adobe Acrobat to use my saved signature when its convenient to do so (and it is often is), but even that signature was created using a Surface.

"The biggest pitfall with the original Surface Book wasn't the design". It actually was.
That horrendous hinge gap has no place on modern tech, as Microsoft's OEM partners have shown.

It might be aesthetically displeasing to you, but there's nothing wrong with the hinge gap. I have the original surface book and it never changed how I used it versus a regular laptop.

Hinge is fine. I like the design.

I love the hinge gap. It looks interesting and unique.

A fat man with half his hair painted orange and the other half paited blue also looks "interesting and unique". But he'll still be ugly as sin. Of course, some people will be bound to like that, sure. Most people won't though. I have yet to meet a single normal person who likes the look that hinge gives the Book. (Notice I said "meet" and "normal". Faceless fanboys of Microsoft obviously don't count)

What are you talking about??? I was so sick and tired of keys smudging by screen on previous laptops... I also love the grip the hinge gap provides. You have to use one to appreciate the design. BEST LAPTOP EVER... (Someone help me keep those mac users away from my laptop. They've got to stop drooling close to my device ;) )

"I was so sick and tired of keys smudging by screen" Are you sure you haven't been using a potato?

You obviously didn't get the memo about Apple hardware doing returns because of keys damaging screens years ago, or the early HPs for that matter which still have marks on the screen. So yes it does happen and more often than you realise.

Initially, I didn't care for the hinge and its gap either. However, over time I've learned to appreciate its different and unique look. I think it has now become an iconic design of the SB and don't see MS changing it any time soon. It's a super functional design. Style wise, it's a love or hate thing. I now love the look. And if the price was lower, I'm willing to bet you more people will learn to love its look too 😍😃.

I kind of agree. I'm lookin for something to go in my camera backpack and if I got a surface book I'd worry it bent under pressure in the backpack.

Don't you wish all those YouTubers would start doing bend test on laptops, not just on smartphones? 😃 I don't think you have to worry about the SB bending any more than a conventional laptop. You may not like the look/style, but the build is pretty solid.

The hinge gab actually doesn't take getting use to from a usability standpoint. So other than just staring at your laptop while it's not in use and the lid is closed, the gap isn't an issue at all from a design perspective. Apple, on the other hand has a huge flaw in the design of one of their latest products, the iPhone X. The ugly notch takes some getting used to from a usability standpoint. So, not even Apple has perfect designers.

Rubbish. Looks awesome, and the keyboard doesn't have to sit on the space you're working on, like a dirty cafe table....fantastic design, looks great, great to carry because of the rounded shape. Get over it.

There's a difference betwen being great and looking great. It might be great (I don't think it's anything special) but it looks God damn ugly.

To me it looks God damn great.

Maybe it's just me, but I don't really care about what my device looks like when closed. I don't display it like some priceless piece of art. The gap is purposeful too, which is also important. Sometimes form and function don't always go hand in hand, unfortunately. Doesn't mean that you can't dislike the gap though. If it really bothers you that much, why not look at some of the OEM devices?

I can't wait for this. I'm upgrading from my Surface 3 for professional work as well as School works w/ the full adobe, sweet, coding, etc. 15" model

Nice, I Loved my Suface 3, but my boss just got me the new Suface Pro. The pen alone is a gigantic improvement. A 15" Surface book 2, would be amazing as a home computer. I wouldn't want to drag that around with me. I like the portability of the Surface and Surface Pro form factors.

For me the tablet functionality is a must. I use it all the time in teaching and research (chemistry/biology), but like the option to couple that to a beefier base when needed for heavy lifting.

A full touch screen, convertible laptop that's not only gorgeous, but has beastly graphics power. A true unique machine with nothing else like it. A productivity power house with the ability to place games at 1080 with fairly good settings. This is why it is a dream.

Love this Surface Book, Quad Core, 1060x GPU is a game changer, I have seen the old Surface Book Dual Core beating down a new MacBook rendering 4k videos on YouTube, can't imagine now with this specs totally worth it. Able to work on the go for high end Adobe is a plus for me, complaining for signing document sound to me out of context. The hinge makes it easy to hold as a book, less chances to drop it, so don't mind either.

I pre ordered an iPhone x, Xbox one x, and 15" sb2. Thank goodness I don't have a wife to answer to. Anyone got any Ramen noodles?

Best comment on this thread. Would have been better if you didn't pre-order an iPhone! Eeewww 😖😖😖. All kidding aside, you lucky *******. I envy you. 😃

Awesome. Great toys to keep you busy 🤓😎

I just ordered a 950. I couldn't let WM go, and won't. The camera alone is worth it. Will go well with my X3, 640xl, 950xl. Love WM.

You need professional help.

Sorry, but do you have to refresh the whole web page every time I like a comment.

There are only a couple of changes I would like to see to the SB2.
1) A MicroSD card slot in the Clipboard, so I can stop using my Valuable NVMe storage for static files from OneDrive.
2) USB-C Thunderbolt added to the USB-C port.
3) This is more of a fantasy wish than anything, but I wouldn't mind a kickstand added to the clipboard for times when it is detatched from the kb base. My only other concern is that with the Valve announcement that Steam VR will be supported on Windows Mixed Reality and that All of the MR headsets will work with their service, is that the minimum required spec is the NVidia 1070. If the 1060 on the SB works well and doesn't have any issues, I'll get the 15"/i7/16/512/1060 version in a heartbeat.

I agree with all 3, but most enthusiastically with 2 and 3. Honestly I wish this device was a Surface Pro with a "Book" base as an option along side the Surface Pro keyboard.

Mixed reality ultra minimum specs are gtx 970! Sure gtx 1060 can run it;")

It looks like a really good device for gaming

This device also seems like it was built for me and I will get very soon (fingers crossed since I have to import it from the states to Angola 🇦🇴) I am a professional photographer and currently use the first surface book with Nvidia graphics and even for photo editing its slow, especially in lightroom use (especially photo exporting). I can't wait for the specs upgrade that the 15" SB2 will bring, including the battery upgrade and better thermals. Will also love to finally be able to play properly in my off times. SB2 seems like the perfect laptop indeed.

Honestly I wish this device was a Surface Pro with a "Book" base as an option along side the Surface Pro keyboard. I know their are reasons why like needing the base to be heavier than the clipboard, yet not wanting to make it too thick. I am really glad they now have a 15" option.

Love this thing. Can't wait to get the 15"

Am I won't in thinking that Core i7-8650U (4.2GHz quad-core) isn't actually a true quad core i7 like the Q or QM Series? I believe the U Series mocks it up to hyperthreading to quad core.

major difference is in voltage 15/20W vs 45W for laptops, or 65W+ for desktops But no, it's a true quad-core and the performance is better than a 45W quad-core from last year.

No way that claim is true... Already seen some reviews of the 8550U, which shows it to be a massive improvement from prior year U series chips, but it can't last with the 7700HQ, or even the 6700HQ over more than 5 minutes of crunching. I know Dave Lee (D2D) reviewed the latest Razer Stealth with the 8550U and shows render comparisons between a true laptop 45 watt quad core and the new quad core 8th gen in the Stealth and the render times were almost double (15 vs 30 minutes) https://youtu.be/ZBePB1Um7FM?t=316

8th gen U processors are faster than 7th gen U processors, but not the H series. PC perf has a fantastic review on it I highly recommend you read it. The 45 watt processors can last longer, by A LOT. 8th gen U cores do beat 45W CPUs in single threaded perf. You can read more about it, again, on PC perf's site.

I'm not sure what you are refuting from my statement? Rubino said " and the performance is better than a 45W quad-core from last year " - which is not true. I'm sure some short lasted benchmarks, the new 8650U will hold it's own, but after 5 minutes, it will fall apart. I'm more than excited about the new mobile chips, and really care more about overall gaming performance when paired with the reduced power GPU in the surface book. But I don't kid myself to think it will match a 7700HQ with a full fat 1060 (mobile chip). I just want to know how much I will sacrifice going from my Alienware 13 r3 to the SB2 in terms of raw FPS in a game.

I believe the first surface book dgpu was only 1gb of mem. The performance base doubled that. I had both, sold both, but only to fund the next one. Buying the new 15" this weekend. Can't wait. LOVE the hinge.

Surface Book 2 is not for everyone (you say, based on likely needs) - but we have to look hard to find that is literally true 15 inch only available in the US - it says in teeny tiny writing part way through the advert you'd watched all those times. That gap at the hinge. Why on earth doesn't the pen Dock there? It would at least give it a useful reason for being.

They recently announced the 15 in will be available in the UK early next year.

+1 for Thunderbolt 3, which the Razer notebooks and lenovos have.

The 15" makes a lot of sense. The 13" is stupidly heavy. I wish they made them lighter even if they gave up the detachable hinge.

Another article on Surface2 AGAIN, and how many times are you guys going to recycle that same stock pic?

I always liked your balanced reviews, open opinions as well as judgement based on use cases. This article, unfortunately, is not like that. I'd like you to be more specific about your particular use cases and patterns. I agree Surface Book might not hold well against your high demands, but generally speaking I would not consider it underpowered at all even hanving only two cores.

me too; wondering what you were powering that turned it sluggish. I routinely use my surfacebook (core i7 w dGPU) as my video editing computer (Adobe CC) with a couple of the big apps open (premiere pro, illustrator, after effects), connected to the surface dock and powering two other screens, and besides Adobe being thoroughly confused as to what to do with hiDPI screens or screens that aren't all neatly aligned in a row, it's never the processor that's sluggish (again, Adobe's fault for the very large part). Although it does get blazing hot even with the fans going at full bore, that's no joke. You set it to render something for more than 5 minutes and it becomes a personal freaking space heater, warms up a decent sized bedroom all by itself.

It's that damn 15 in screen. I can't wait for the Surface Pro to get a bigger screen option.

The only thing missing for me, is an LTE option. That would seal the deal. If I'm going to spend top amount of money on a product, I'm making no compromises. Hopefully the Surface book 3 will include LTE and thunderbolt.

Just use your phone. LTE on a PC is pointless.

such a sexy device, the surface product is premium and really getting better and better.
but I still stick with low end laptop with touch screen as I don't have much budget...
I don't sign document much, but found the touch capability is great when I wan to highlight something or write something on a photo or a document, that's really handy.

I've watched that video about a bajillion times as well 🤣🐱‍💻

The Surface Book 2 is pretty much every windows user's 'dream laptop'. And if it wasn't for the outlandish pricing and the senseless unavailability issues, you would see this device everywhere, just like you see the MacBook. But the reality is what it is.

For me, I hope they fix the design flaw of losing wi-fi when you close the lid. This only affects people who connect to external monitors/keyboards. And if your wi-fi signal is exceptionally strong, you might not experience it even then. The frustrating thing is that Microsoft won't take notice or do anything about it. It's all over the community boards and I know it's beeen reported! But when I mention it to someone, they act like I'm nuts! Also, +1 to the idea of a kickstand on the screen when detached!!!

I am not a fan of the hinge's looks...but damn. the surface book 2 is what the macbook wants to be.....but fails miserably at!

I have to say Jez that this seems like the perfect device for me as well. I'd love to get one. Give it a year and maybe I can. Hopefully they'll have announced the next model by then so I can get this one cheaper. Of course that leaves the dilemma of wanting the newer device then but hey ho xD

There will always be a better device coming out. Buy the one you want NOW. Enjoy using it. I am a year in with my ole cheapy dell 2 in 1, and I LOVE IT. touchscreen, lots of ram, storage etc. Awesome device for what I want. I plug it in to my 24" touchscreen dell monitor in my office. I have a surface/studio style setup for much much cheaper. That being said, if things go good with our new businesses my wife and I are starting up here, then, we will be using surface devices all around.

Waiting for the reviews. I'd have to sell a SP4 and wacom cintiq to get this, but I've wanted one since I saw the unveiling in 2015. Is it still worth picking up the original SB1 if it won't be your primary computer? The prices are dropping significantly on Amazon and I suspect they may go down further.

I currently own a Surface Book and I am interested in upgrading to the Surface Book 2. I visited the local Microsoft Store and asked to see the Samsung Mixed reality headset demonstrated on it, but they had no way to hook it up. The SB2 does not have an HDMI port (SB1 had a mini display port). Does anyone know if there is a way to use the Samsung head set with the SB2 short of using a docking station?

how about an usb type c to hdmi converter?

I bought a MS SP4 last year and I now need to replace my 2006 Dell XPS Gen II laptop/workstation (running w10 fine but it becomes slow). Not sure yet whether to buy a Dell Precision 7720 17" laptop with i7 (7920HQ) w10 Pro for workstations (if I would selext a Xeon processor i.s.o. i7), and Nvidia quadro p4000 8GB GDDR and 64GB ram or the 15 " SB2. In the Dell I can stuff 3 HDD's and the screen is 17.3 UHD IGZO but non-touch... difficult choice.
Windows Central Newsletter
Thank you for signing up to Windows Central. You will receive a verification email shortly.
There was a problem. Please refresh the page and try again.