Why the Surface Book 2 seems like a dream laptop
I've been a Surface user since the dark days of RT, but with the Surface Book 2, it looks as though Microsoft might have achieved perfection.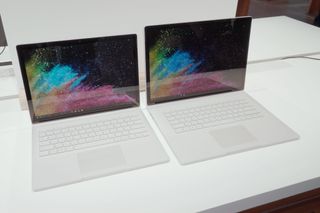 Microsoft unveiled the Surface Book 2 at a press event in October 2017. A sequel to Microsoft's ground-breaking 2-in-1 convertible laptop was never in doubt, but many had expected it to arrive a little later, and few expected the spec bump Microsoft baked into it.
The biggest pitfall with the original Surface Book wasn't the design, it wasn't driver issues, and nor was it a form factor problem ‒ it was those damn specs.
The original Surface Book was a stunning laptop, but that's all it was. With its paltry dual-core processor and its NVIDIA 940M 2GB dedicated GPU (d-GPU), it was hard to get real work out of it. Despite being unveiled with video-editing capabilities, programming, and even gaming, as usable features, in practice, it wasn't so hot.
While we haven't reviewed the new Book 2 just yet, I have high hopes that the changes Microsoft made will rectify every issue I had with the Surface Book, as it beckons me back after my switch to a Razer Blade 14. The Surface Book 2 almost feels as though it was designed for me. This is why.
See Surface Book 2 at Microsoft Store
Surface Book 2 tech talk
First, let's breakdown the primary differences between the Surface Book 2 and OG Surface Book range. Here are the specs, as listed by Microsoft.
Swipe to scroll horizontally
Category
Surface Book 2 (2017)
Surface Book (2015)
Processor
Core i5-7300U (3.2GHz dual-core)
Core i7-8650U (4.2GHz quad-core)
Core i5-6300U (3.0GHz dual-core)
Core i7-6600U (3.4GHz dual-core)
Display size
13.5-inch or 15-inch PixelSense Display
13.5-inch PixelSense Display
Display resolution
3000 x 2000 (267 PPI) or 3240 x 2160 (260 PPI)
3000 x 2000 (267 PPI)
RAM
8GB or 16GB
8GB or 16GB
Native Graphics
Core i5: Intel HD Graphics 620
Core i7: Intel UHD Graphics 620
Intel HD Graphics 520
Discrete Graphics
Core i5: None
Core i7: NVIDIA GTX 1050 (2GB) or NVIDIA GTX 1060 (6GB)
Core i5: None
Core i7: NVIDIA GTX 940M (1GB)
Storage
256GB, 512GB, or 1TB
256GB, 512GB, or 1TB
Battery
Up to 17 hours
Up to five hours in Tablet Mode
Up to 12 hours
Up to three hours in Tablet Mode
Wireless
Marvel Wi-Fi: IEEE 802.11 a/b/g/n/ac compatible
Bluetooth Wireless 4.1 technology
Marvel Wi-Fi: IEEE 802.11 a/b/g/n/ac compatible
Bluetooth Wireless 4.0 technology
Ports
Two USB Type-A 3.1 (Gen1)
One USB Type-C with video, power in/out and USB 3.1 (Gen1) data
Full-size SDXC card reader (UHS-II)
Headphone jack (3.5mm)
Two Surface Connect ports (one in tablet, one in base)
Two full-size USB 3.0
Full-size SD card reader
Two Surface Connect ports (one in tablet, one in base)
Headset jack (3.5mm)
Mini DisplayPort
Xbox Wireless
13-inch: No
15-inch: Yes
No
Audio
Stereo Speakers with Dolby Audio Premium
Windows Sonic for Headphones
Dolby Atmos for Headphones compatible
Stereo Speakers with Dolby Audio Premium
Windows Sonic for Headphones
Dolby Atmos for Headphones compatible
Dimensions
13-inch: 312 mm x 232 mm x 15 to 23 mm (L x W x D)
15-inch: 343 mm x 251 mm x 15 to 23 mm (L x W x D)
312.3 mm x 232.1 mm x 13.0 to 22.8 mm (L x W x D)
Weight
13-inch: Core i5: 1533 g (3.38 lbs)
Core i7: 1642 g (3.62 lbs)
15-inch: Total: 1,905 g (4.20 lbs)
Tablet: 817 g (1.80 lbs)
i5 GPU: 3.34 lbs (1516 g)
i5/i7 dGPU: 3.48 lbs (1576 g)
Sensors
Ambient light sensor
Accelerometer
Gyroscope
Magnetometer
Ambient light sensor
Accelerometer
Gyroscope
Magnetometer
Cameras
5.0MP 1080p video @30 FPS (front)
8.0MP 1080p video at 30 FPS with auto-focus (rear)
5.0MP 1080p video at 30 FPS (front)
8.0MP 1080p video at 30 FPS with auto-focus (rear)
Windows Hello
IR Camera
IR Camera
Price
Starts at $1,499
Starts at $1,499
Availability
November 16, 2017
Preorders start November 9, 2017
November 2015
Switching to Razer
I listed both the Surface Book 2 13-inch and 15-inch model specs above, alongside the 2015's Surface Book configurations to illustrate why I'm talking specifically about the 15-inch model here. Across the board, the Surface Book 2 is a gargantuan upgrade from the previous version. The design of the Surface Book remains largely the same, but the exciting parts are on the inside.
The biggest drawback of 2015's Surface Book is the dual-core processor, which simply isn't good enough for heavy lifting and working with taxing programs.
Yes, I did edit video on my 2015 Surface Book. I even played some light games on it, but for the most part, the sluggishness was a constant bottleneck..
Finally, earlier this year, I upgraded to a Razer Blade 14-inch model, which comes with quad-core processing and a beefy GTX 1060 GPU. The differences between that laptop and my old Surface Book are night and day, at least when it comes to more intensive tasks. I wrote about how I switched to Team Razer and didn't look back. For the most part it was true, but there was a ton of little things I began missing about the Surface Book form factor.
A return to Surface
I managed to "accidentally" break my Razer Blade, in a haphazard attempt to clean some keys. That's one of the things that began annoying me about the Razer Blade versus the Surface Book: the color. The black aluminium used on the Razer Blade is a dust and fingerprint magnet, and even though I'm pretty obsessive about cleaning my hands, you just can't avoid getting smudges and dust all over this thing. It requires constant cleaning, whereas the Surface Book's magnesium veneer is pretty much impervious to ugly smudges.
Then there was more practical things to consider, I simply began missing touch and Windows Ink. I don't draw often, but I like having the option. To achieve similar functionality on my Razer Blade I'd have to purchase a separate drawing tablet, which defeats the usability and convenience you'll find in a Surface Book or Surface Pro.
As much as I love the Razer Blade as a workhorse and PC gaming laptop that ditches the gaudy designs of some other gaming laptops out there, I yearned for the versatility of Surface. I wanted the taller 3:2 aspect ratio, which is far friendlier when you're doing lots of work with websites. I missed tent mode configuration for travel on trains and on flights. I miss the unique, stunning design that raises eyebrows in equal amounts of awe and perplexity, and most of all, I missed the Surface Pen, for signing documents, doodling, and hobby art.
But, the weak specs just made the original Surface Book impractical for me and many others doing professional Adobe Creative Cloud work, either in graphics or editing. I compromised on that versatility and inspiring design to switch to Razer's beastly 2017 quad-core Blade 14 inch, just to do basic work tasks that the Surface Book simply couldn't handle. Recording Xbox footage with a capture card? Forget it. Streaming to Mixer? Not a chance. Editing 4K Xbox One X videos? Sure, if you want to wait until the heat death of the universe for the rendering to finish.
Then, Microsoft's Corporate Vice President of Devices, Panos Panay, unveiled the Surface Book 2, delivering what sounds like, it could be, the ultimate laptop.
It's all in the details
The displays on Surface devices are simply stunning, but they almost teased you with their inability to play games, or edit 4K videos or even photographs competently with their dual-core restrictions. The Surface Book 2 fixes all of that, with quad-core processing, and a GTX 1050 or 1060 d-GPU. It's effectively a Surface Book with Razer Blade internals, making it my dream device.
The 15-inch model, which I'm aiming to purchase (after saving money for several months... ), not only sports those powerful innards, but it also supports the latest innovations in Surface inking tech, reducing latency via a dedicated display co-processor. Not only is tilt supported now, but also the intriguing Surface Dial, which seems like a convenient option for artists using the device in canvas mode.
Additionally, Microsoft claims that it will ensure the cooling on the Surface Book 2 will keep it both frosty and quiet during heavy loads, which is not something I can claim of the Razer Blade. I've had the opportunity to hear the Surface Book 2 for myself, and it seems incredibly quiet, but I'm eager to find out what our Executive Editor Daniel Rubino finds when we eventually review it. The Razer Blade can sound like a jet engine running even mid-range games or when exporting Adobe Premier video.
I've watched this video about 30 times. Yes, I'm weird.
Speaking of gaming, the Surface Book 2 15-inch model comes with Xbox Wireless, which means connectivity with compatible headsets and controllers without Bluetooth or annoying USB dongles. You simply connect your Xbox controller directly, and play some games. Seriously, it's almost like they built the thing for me.
Surface Book 2 is not for everyone — but it is for me
Are all of these extra details worth the quite honestly insane price tag on this thing? I think they are. As long as it doesn't overheat, explode, or suffer from any other unforeseen unpleasantries, the cost will be worth while simply because there won't be any other device out there to match it. The Surface Book 2 won't be for everyone, but it perfectly lines up with my desire for gaming, hobby inking and art work, and heavy-duty editing and graphics work, all with a collection of other gorgeous details.
I can't tell you how excited I am for the Surface Book 2. At this point, I can only hope it delivers.
Get the Windows Central Newsletter
All the latest news, reviews, and guides for Windows and Xbox diehards.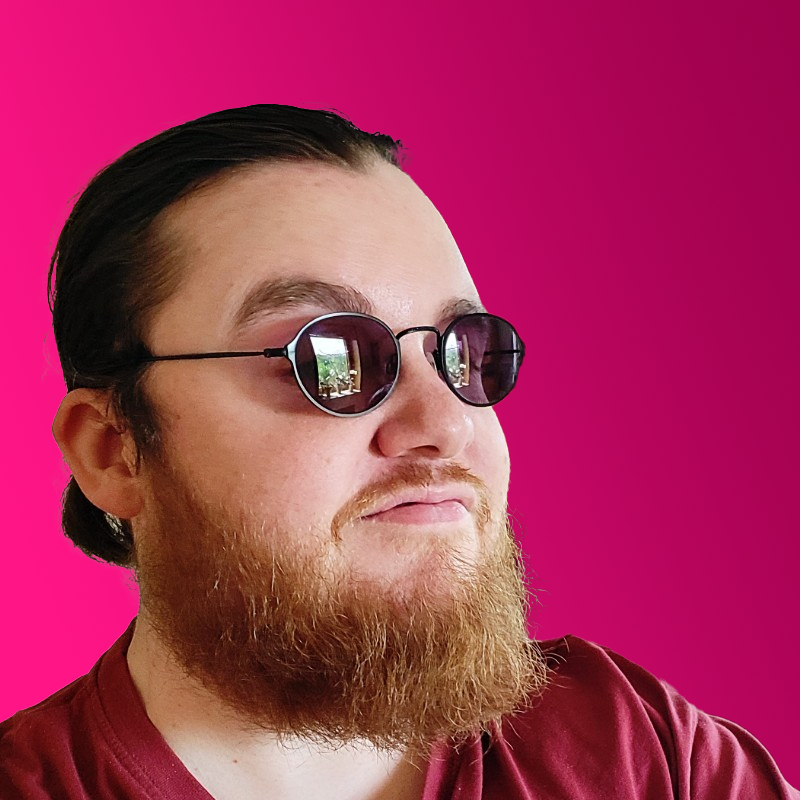 Jez Corden a Managing Editor at Windows Central, focusing primarily on all things Xbox and gaming. Jez is known for breaking exclusive news and analysis as relates to the Microsoft ecosystem while being powered by caffeine. Follow on Twitter @JezCorden and listen to his Xbox Two podcast, all about, you guessed it, Xbox!