Does Microsoft's CEO hate the things you love, or just inefficiency in his business?
Every leader brings their unique personality to the position. And that personality has a profound impact on the direction of a company.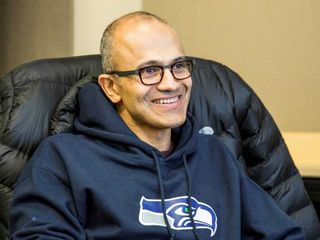 Microsoft's CEO Satya Nadella's character, as shaped by his son with Cerebral Palsy, was instrumental in transforming the company's culture through empathy. Personality types are equally as compelling as they affect the critical course-setting decisions a leader makes.
An individual's personality type shapes how he sees the world, his and others place in it and the processes that govern activities, events and even big business. Based on his personality-filtered perception, a leader makes decisions that are ultimately good for a company or detrimental to its future success.
The Meyers-Briggs personality type index describes 16 distinct personality types. I cannot be certain but based on observations of Nadella's public actions, what he's communicated and the decisions he's made as Microsoft's CEO, I believe he's an "Introverted Intuitive Thinking Judging" (INTJ) personality type; also referred to as the Mastermind. (Of course, this is obviously complete conjecture — I do not claim to know what Nadella thinks or why). Though that term may conjure negative images, it is not meant to. Nadella seems to be a man of empathy and one who's genuinely determined to empower others.
Still, if Nadella is indeed an INTJ any of the company's struggling consumer-focused efforts, which you might love, may end up on the chopping block sooner or later.
The making of a Mastermind
These were Nadella's words to Microsoft employees, via his "Bold Ambition and Our Core"," email after becoming CEO in 2014.
In the three years since, Nadella has terminated tens of thousands of employees, shuttered Microsoft's phone hardware business, shuffled leadership numerous times and closed shop on consumer-facing projects like Microsoft Band and Groove Music. Nothing has been off the table.
Among other qualities, the decisive elimination of perceived inefficiencies is a hallmark of the INTJ personality type.
Masterminds are described as contemplative, life-long learners, avid readers, imaginative, possesors of a natural talent for creating logical systems and shapers of the external world to create order. They intuitively perceive how something can be improved.
Masterminds are naturally able to grasp how one step leads to another in complex systems. In his big picture perspective, the projects and positions Nadella has eliminated, were obviously not steps toward his vision of Microsoft's ultimate goal.
Consistent with the INTJ personality type Nadella, in his first interview after becoming CEO, shared that he's started more books than he has finished. And he's still pursuing knowledge via online learning. Before becoming CEO, he also led Microsoft's cloud team. This position required a passion and aptitude for creating logical systems and order; all qualities of an INTJ.
Nadella, the quiet cloud guy
Nadella worked for Microsoft for over 20 years before becoming CEO. As a contemplative personality type, Masterminds observe for long periods of time, mentally conceive detailed plans and doggedly pursue the fulfillment of those goals if provided the opportunity.
As a "quiet cloud guy" (typical of the introvert nature of Masterminds) Nadella wasn't a favorite to replace Steve Ballmer at Microsoft's helm. Some deemed a more bullish personality was required to recover Microsoft's then downward spiral toward irrelevance.
In line with the INTJ's contemplative, calculating nature and propensity for improving processes, Nadella hit the ground running after taking the post. One of his first orders of business was asking the company's Senior Leadership Team (SLT) to read Marshall Rosenberg's, Non-violent communication. This reading assignment reveals just how much thought, this "quiet cloud guy" had been giving to how Microsoft could be transformed.
Consistent with the Mastermind personality type, he began executing calculated steps toward a conceived goal beginning with changing how senior leadership thinks and communicates. His decisions ultimately added $250 billion dollars in value to the company (as did an improving economy and rising stock market).
The beginning of the end of "inefficiency"
Because INTJ's are critical and clear thinkers who will have contemplated a plan long before communicating it, they can be blunt in its expression and expect others to simply "get it." They also tend to talk in large strategy terms, often omitting the finer details.
Nadella has expressed a grand vision of Microsoft as the "platform for all platforms" based on the intelligent cloud and intelligent edge, AI, Conversations as a Canvas, IoT, Windows Mixed Realty and quantum computing. After excising phones from Microsoft's product portfolio, he has been silent, barring cryptic statements, concerning mobile, however. The elimination of Microsoft Band and Groove Music were also details that weren't shared as part of his grand vision.
Furthermore, Microsoft made big claims that 3D was for everyone when it introduced 3D Paint this year. The important detail of marketing that mission seems to have been omitted, however. The company even demonstrated a cross-platform mobile app that could scan real objects to create 3D models. That app has been MIA since the demo. Like most of Microsoft's ambitious endeavors, the vision is great but, the devil, as they say, is in the details. In the case of many of Microsoft's consumer-facing initiatives, it's the lack of detail, notorious of an INTJ personality, that is the problem.
Even after a big splash with HoloLens and augmented reality in 2015, Apple and Google are poised to mainstream their take on AR among consumers before Microsoft transitions there from the enterprise. If that happens will Nadella surrender as he did with phone, wearables, and music concluding that pouring resources into the AR consumer space would be inefficient? The Keirsey Temperment sorter states:
Should you stick with Microsoft going forward?
Nadella and his wife, Anu, discuss family and leadership.
Consistent with the Mastermind personality type Nadella remains focused on positive affirmation even as he eliminates percieved inefficiencies. He acknowledges and nurtures the positive rather than the negative via an empathetic leadership style. I genuinely believe he's probably a really nice guy. But that does little to assuage the feelings of Windows phone, Microsoft Band, Groove Music and Docs.com fans who loved these now axed products.
How fathering a son with disabilites helped Microsoft's CEO transform the company
Considering Nadella's track record consumers may not want to get too invested in any struggling Microsoft services. If Nadella is a Mastermind, his personality type will drive him to eventually cut that inefficiency. If he's not a Mastermind history certainly dictates he may.
Though you may not like being at this crossroads, the candid truth is that its easier to control your own behavior than it is to hope someone else will change thiers.
Get the Windows Central Newsletter
All the latest news, reviews, and guides for Windows and Xbox diehards.
Jason L Ward is a columnist at Windows Central. He provides unique big picture analysis of the complex world of Microsoft. Jason takes the small clues and gives you an insightful big picture perspective through storytelling that you won't find *anywhere* else. Seriously, this dude thinks outside the box. Follow him on Twitter at @JLTechWord. He's doing the "write" thing!