Why Microsoft's Xbox partnership with Samsung could be a big deal
At Samsung's 2020 Unpacked event, the Korean tech giant announced a partnership with Xbox. Details are scant, but what could it mean for the future of Microsoft's gaming platform?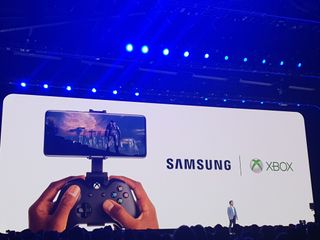 (Image credit: Samsung)
Last week and without warning, Samsung announced a partnership with Xbox, extending the love affair between the South Korean tech giant and Microsoft.
At Unpacked 2020, Samsung detailed its latest handsets, including the exciting Z Flip vertical folding phone, alongside some truly mind-blowing specs for the high-end Galaxy S20 Ultra. Samsung also announced a partnership with Xbox, stating that this was "just the beginning." When we asked Microsoft for comment, they effectively said: "more details to come."
So, given what we know about Microsoft's aspirations for Xbox, and Microsoft's partnership with Samsung thus far on things like the "Your Phone" app, it's not hard to speculate where this could be going — or why it could become a big deal for Xbox.
A deepening partnership
For those in the Xbox space that perhaps haven't been following along, Microsoft has already been partnering closely with Samsung lately. It started with the pre-installation of Microsoft apps like Office and OneDrive, and has since extended to system-level APIs that create greater synchronicity between Windows PCs and Galaxy phones.
"Your Phone" for Windows 10 (opens in new tab) and Android (opens in new tab) allows you to receive text messages and browse recent photographs with a paired Android phone, but the connection on Samsung's more recent Galaxy handsets goes far deeper. Since it's built directly into the OS, you can not only receive texts and notifications far more reliably, but you can even interact directly with your phone over a home network using your mouse and keyboard via a PC.
It's the kind of functionality that we always hoped we'd get with Windows Phone someday, made by a very close partnership with Samsung. It's also the kind of functionality that will probably never happen for the iPhone, due to Apple's tight grip on its ecosystem.
That's the productivity stuff, but what about gaming? Samsung and Microsoft have already offered some small hints that the firms were getting together more closely for gaming stuff, with exclusive stickers for the Galaxy Store version of Mixer, for example. But it wasn't until we saw that big XCloud banner on Samsung's Unpacked 2020 stage that you can begin to paint a more detailed picture of what's probably to come.
XCloud for every (Samsung) screen
Samsung is an absolute giant when it comes to tech, and you don't need me to tell you. They are among the top smartphone manufacturers in the world in terms of shipments, and command one of the largest marketshares in the world for smart TVs.
Microsoft is effectively on the record as gunning for "billions" of gamers within its ecosystem, with Xbox lead Phil Spencer recently commenting that it is Amazon and Google that are the firm's primary competitors — cloud companies — all seeking to reach far beyond the fairly small share video game consoles currently enjoy.
Mobile gaming has become a dominant force in part on the basis of the ease of access. And XCloud could serve to eliminate those psychological and economic barriers that factor in to someone opting to stick with Fortnite mobile over picking up a video game console or a gaming PC.
If Samsung and Microsoft were to say, cut a deal to have XCloud pre-installed not only on Galaxy handsets and tablets, but also Samsung QLED smart TVs, it could bring millions into the Xbox platform very quickly. The system-level access Samsung has been granting to Microsoft for "Your Phone" could also extend to Xbox controllers for TVs and other accessories, it could extend to Xbox achievements and apps as well as Mixer, and even screen recording. There's really no limit.
Intriguing prospects for Xbox (and Samsung)
Microsoft has already announced that it sees South Korean usage of XCloud to be almost double that of a Western gamer during the preview tests, indicating XCloud could finally help the Xbox development platform get a serious foothold in markets where it has largely been absent.
Samsung itself is facing aggressive competition from Chinese competitors on mobile, and partnering with Microsoft to effectively transform Samsung Galaxy phones into the ultimate PC companion handset is a smart bet for both firms. For smart TVs as well, Samsung is among the fastest-growing brand for the medium, seeing rapid growth in Asian countries where Xbox has traditionally struggled.
How does this help Xbox as a console and a platform? Well, any game that is made for XCloud must be built also for home Xbox consoles, since it is the same developer environment. As XCloud grows in popularity on edge devices like low-power PCs, smart TVs, and phones, it'll only lead to more content hitting local consoles as well. It'll allowing Microsoft to boast a much larger Xbox ecosystem consumer base than what was previously possible locked to the console and the relatively niche Microsoft PC games store.
It's a win for developers seeking to bring their games to a larger audience, it's a win for Samsung who can boast the superior Windows-Xbox system-level connectivity for its devices, and it's a win for Microsoft, who can build up a cloud platform at scale far faster than Google or Amazon, owing to their entrenched relationships in the industry.
Main
Windows Central Newsletter
Get the best of Windows Central in in your inbox, every day!
Jez Corden a Managing Editor at Windows Central, focusing primarily on all things Xbox and gaming. Jez is known for breaking exclusive news and analysis as relates to the Microsoft ecosystem while being powered by caffeine. Follow on Twitter @JezCorden and listen to his Xbox Two podcast, all about, you guessed it, Xbox!
xCloud via Samsung Dex is already awesome, fully supporting Xbox controllers, including wired Xbox 360 controllers so I hope Samsung takes advantage of that and markets it. The same for their TVs, we have a Samsung QLED in addition to our regular Samsung 4K TVs and it would be amazing to have the xCloud app on our TVs, allowing gaming from any of them without a console, without installs. The only thing major that is missing from xCloud for me is local multiplayer. The phone can see multiple controllers but the xCloud app recognises all controllers as player one.

Yeah, local multiplayer would be cool.

I really need to try that Dex thing.

Maybe it'll help push VR into the living room wirelessly too, with a new Odyssey hmd 😎

Instead of making stuff for retarded adults that did not get out of teenage, cant you just make Samsung Notes work flowlessly with W10 ? That would be much more usefull.

Looks like someone needs to GTF over himself.

Um yeah you tell 'em.
Hey Samsung stop chasing highly lucrative markets and mutually beneficial business/technology partnerships. Just focus on fixing issues this guy apparently has with your phones um 'flowing' into Windows...

Um excuse me. The word is "flowinglessly". Fixed that for you

Game over! Xcloud pre-installed with a limited trial to ALL games! Thats huge!

Imagine MS getting a partnership with Samsung that results in INTEGRATED SUPPORT for xCloud in all of Samsung's new TVs.
Most new TVs have some form of Android in them already, and not just Samsung. Vizio, Sony, etc. so to build in support for xCloud would only entail adding in a powerful enough APU to run the games, like say a Qualcomm 845 or higher CPU, and Bluetooth (I would prefer to see an xbox wireless chip since Bluetooth sucks for this.)
Many TVs already are approaching that level of CPU in their sets, so this is a possibility. They just need enough memory to buffer the video stream properly.

I'd rather have it on an OLED than an LED, but it's a start.

what if once xCloud is released, every Samsung TV comes with a controller included in addition to a xCloud app installed. I don't think it will cost MS much money to include a controller with every TV purchase. Every TV customer potentially becomes a new customer in Xbox ecosystem.

It doesn't even have to be Xbox branded as they allow a PS controller. It seems like they can easily add any BT controller that has equivalent buttons.

When is xcloud coming to PC? Wouldn't think it would be that difficult.

I think because it not difficult to do XCloud on the PC, Microsoft is saving it for last. The other platforms need more testing and user feedback.

This is huge. I'm not a fan of Samsung, but they're basically synonymous with Android hardware.

While they're at it, more expansion on galaxy store for Duo.

So Stadia announced it will be available on Galaxy phones as well.

Why does everyone assume it's all for phones? Does everyone remember the Netflix button appearing on your TV remotes?? MS and Samsung could have Xcloud integrated into every TV sold going forwards. With a dedicated Xcloud button in the remote just like Netflix. Not just that, they could bundle Gamepass 12 months with every TV sold. People could have the option of playing Xcloud and Gamepass right there on their brand new Samsung TV. Even PCs, Laptops, Tablets. Samsung is the largest TV and phone provider in the world. Don't be thinking this is just limited to Mobile Phones.
Windows Central Newsletter
Thank you for signing up to Windows Central. You will receive a verification email shortly.
There was a problem. Please refresh the page and try again.