Why you should switch from Microsoft Office to LibreOffice (and why you shouldn't)
LibreOffice is a powerful and free alternative to Microsoft Office. But should you make the switch?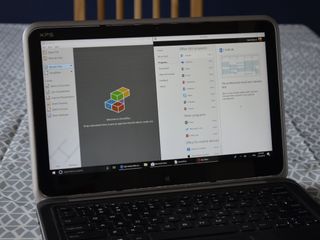 LibreOffice's 5.1 update added support for Windows 10. An unofficial version of LibreOffice was recently uploaded to the Microsoft Store, but now doesn't show up if searched directly in the store. It's still available via LibreOffice's site, though.
While the version of LibreOffice that was available through the Microsoft Store isn't official, it's a quality software suite that begs the question, Is it worth switching from Microsoft Office?
I've used Microsoft Office since Windows 95. But I decided to take a look at LibreOffice after it arrived in the Microsoft Store. It's impressed me, though it's viability as an office suite depends largely on your setup.
Here are some reasons why you should choose LibreOffice over Microsoft Office, and some reasons why you shouldn't.
LibreOffice is available for free on Windows 10, Mac, and Linux through Libre Office's website.
See Office 365 at Microsoft (opens in new tab)
Reason to switch: Value
The first thing that catches the eye about LibreOffice is the price tag, or more specifically the lack of one. LibreOffice originally forked off of OpenOffice and has been regularly maintained and developed over the years. It's one of the best free office suites of applications around and has programs for word processing, spreadsheets, presentations, and more. It is a versatile and powerful set of programs, though it's worth noting that it emulates the older core set of apps from Microsoft Office and doesn't have equivalents to newer programs like OneNote.
While there are many word processors and cheap or free programs that try to deliver a full office setup, Libre Office is one of the most comprehensive. Its wide range of apps tackles the vast majority of office-related workflows. And it does all of this for free.
It supports open formats that allow you to use documents from other programs so you don't have to isolate yourself or your workflow into a Libre Office world.
The value of LibreOffice is truly impressive. It's practically an advertisement for the open source community because of how great of an app you can legally get for free.
Reason to switch: Dedicated developers
While LibreOffice is free, it's not some half-hearted project. It's regularly maintained and updated to support the latest versions of Windows 10. The suite can also be expanded with extensions to add more power and versatility.
While that might not seem like a big deal, some apps that are built to replicate or directly compete with big names fall away and become abandonware. LibreOffice released updates in the last few months to both its "Still" and "Fresh" branches. Because of this, you don't need to worry about LibreOffice falling away. All indicators show that it is alive and well and won't go anywhere anytime soon. Even if it did, you wouldn't have to worry because your documents would be in open formats.
Reasons NOT to switch: Cloud limitations
One of the biggest areas these two suites diverge is in how they approach online and cross-platform workflows. Microsoft invests heavily in the cloud to let you open and save documents anywhere you'd like. It also focuses on having apps on a variety of hardware, ranging from computers to tablets and phones. LibreOffice is available on Windows, macOS, and Linux, but iOS and Android are limited to viewing files only unless you turn on experimental features.
If you need to save something on one device and jump to another and continue editing, you'll be better served by Microsoft Office. You can do online editing with things such as Collabora and ownCloud, but that's more complicated to set up than just signing into your Microsoft account. Microsoft Office also handles collaboration from multiple editors better than LibreOffice.
Much like the rest of this comparison, how much this affects you will vary. I use a personal PC, work MacBook, work iPad, and personal Android phone. I use Office Online often and use two different OneDrive accounts for work and personal use. So, for me, these features are essential, and I could never switch away from Microsoft Office. But you could have a completely different workflow that would be great for you centered on using LibreOffice on select devices and saving them onto a cloud like Dropbox.
So should you switch from Microsoft Office to LibreOffice?
Deciding to switch to LibreOffice over Microsoft Office is largely dependent on your specific workflow. While LibreOffice obviously is a better value because you're getting something for free, that isn't a factor to someone who already is happy to pay for Office 365 for things like OneDrive storage or someone that gets Office 365 through their workplace or school.
Comparing the feature sets of the two suites is more complicated. It isn't as simple as saying that one is better. If you scroll through this page comparing the feature sets you'll see that the suites alternate in terms of which is better from section to section. For example, LibreOffice lets you insert more items such as vector graphics and FLAC audio, but Microsoft Office has better touch support and better cross-platform collaboration features. My advice in terms of features it to browse through each suite and see which fits your personal needs best.
LibreOffice is impressive, and because it's free you can try it out while still paying for Microsoft Office. My advice is that if you're interested, give it a try while keeping your Office 365 subscription and then make a more permanent decision. Ultimately, LibreOffice could save you some significant cash.
See Office 365 at Microsoft (opens in new tab)
News Writer and apps editor
Sean Endicott brings nearly a decade of experience covering Microsoft and Windows news to Windows Central. He joined our team in 2017 as an app reviewer and now heads up our day-to-day news coverage. If you have a news tip or an app to review, hit him up at sean.endicott@futurenet.com (opens in new tab).
It is nice how it is free....but honestly, I love O365. It just works and is easy to use. I've never had a reason to switch. However, you have a very sound argument here, Sean. Good article. :)

I also like OneDrive Premium and (all) the other features.

I bought Office 365 yesterday only and I feel the Microsoft apps are more polished and designed to get you most out of whatever you're doing. LibreOffice is good too but I had to switch because the experience is not what I get here. But yes, given the fact it is free- one should definitely give it a try.

Considering that Ms is a multimillion, (put what ever currency you use here) company and will have a team of people developing office, you expect it to be more polished, Libre office do not have that, but is still a good bit of software and it also do not have the dreaded ribbon

Any comparison of MS Office and LibreOffice, Outlook and OneDrive need to be factoring into the equation. Let's face it, the OOTB Windows Mail app is a checklist item. The Outlook desktop app enables you to d/l and cache emails, read and reply offline. You also get much better calendar and contact tools. OneDrive. OneDrive. OneDrive. Not only do you get 1 TB of cloud storage per user (that's 5 TB with Home, 1 TB with Personal or University). If you're paying for any cloud-based storage (Google Drive, DropBox, Carbonite), the cost of MS Office is approximately the same as most of these (don't have the energy to go research right now, so please correct me if any are substantially less than $100/yr). Big bonus: OneDrive as connected service in Office apps. This means you can save and access files from directly in the Office app. True enough that OneDrive is probably synced to a folder on your local drive, but if you're short on local storage, it's helpful to be able to open those files you've designated as cloud only. I would add OneNote desktop as a HUGE bonus with MS Office (it can do things the UWP and web apps can't), but MS, in their dubious wisdom, is deprecating it.

OneNote desktop has been available for free by itself from OneNote.com since Windows 10 was released. You can get it without Office 365. And it's not in development, so I dropped it completely. No use depending on internet connected applications that are undeveloped. For all we know they could break the integration with other Office apps I. Office 2019. Desktop OneNote is a dead man walking.

Wait what? Why did they do this? Do they have any alternative?

The UWP version of OneNote is almost at feature parity with the traditional x86 desktop app and is getting new features pretty frequently. Combined with the fact that Office 2019 is going to be Windows 10 only, I think that this signals Microsoft is shifting all of the Office apps to a UWP native solution.

Feature parity, Hanley? Not even close. Integration with Outlook Calendaring, inserting Excel spreadsheets and Visio diagrams, and my deal-breaker feature... dock to desktop. I know that with the UWP, I can tinker with side-by-side windows, but being able to hit CTRL+ALT+D and give OneNote a single column width on the right side of the screen while automatically resizing the browser window to fill the remaining area? That's my must-have. For those who want a comparison list...
https://support.office.com/en-us/article/What-s-the-difference-between-O...

You get what you pay for, O365 is the better value all around even tho the other is free. Too many perks to give up to save a little money.

Depends on what you want at the end of the day, for most home users Libre office is fine. I have been using Libre office for years and have never felt the need to have MS office, in fact the last MS office I owned was office 2000. I know many people who use Libre office or other free office suites. Why would i want to continually pay for an office suite in which 99% of it I am not going use? As for cloudy stuff. if I wanted to store my documents in the cloud, it is easy enough with Libre office, use something like dropbox and save to the dropbox drive instead of the document folder. Not that I use the cloud to store documents, normally. There are a couple of advantage here, one is that It is possible to use other cloud storage systems, the second is both dropbox and Libre office works on Linux.

It's raining money where you live, where is that?

At $69CDN a year for 1tb of online storage I don't even care if I use Office. As it happens, being retired, I rarely do, but I use my OneDrive every day. To me this is Microsoft's current bright spot.

365 is worth the money compared to the free stuff, factoring in storage etc you get with 365 that you do not get with the free stuff.

Short answer, NO. Office runs most companies, Word and Excel and Outlook are the default programs for most Enterprise companies. Excel is used for more things than it should be based on my experience, but it just works. OneNote is fast becoming an Enterprise offering that many use and of course our good friend, PowerPoint, still used by many even though it is no longer "cool".

Wooow there! Hold your horses! :) I guess you haven't used Libre Office. I like MS office, but Libre Office got all I need and one very important point: compatibility with MS Office! I use Writer (word), Calc (Excel) every day, exchanging those native Libre Office documents with the clients and nobody complaints. 2 years before three ware compatibility issues but not now. Yes, MS Office gives a lot for the money but I simply don't need when I have Libre office, it is simple, it is fast but it isn't UWP. So on mu new Windows Surface Go I'll have problems :)

Why? Surface Go has full Windows.

Because UWP apps are much more optimized for lower spec hardware. Especially when you factor in their clean install/uninstall process compared to traditional x86 desktop apps.

You described the biggest issue--can I collaborate with clients who send me Office files, and can I edit them and send them Office files worked on by LibreOffice. It's a mixed bag, I've heard good and bad here.

I'd say "value" is a bad argument. On the surface there is "value" with free but consider this. The office 365 subscription is 99$ for 5 licenses you can give to anyone. That's 20$ for a year that gives you all updates in features. It also gives you 1TB of one drive storage. At this moment Dropbox is 12.50/month for 2tb. Google drive is 9.99/mo for 1tb. Office 365 is 20/year.so you could argue you are getting the office suite for free along with a tb of storage. For my money there is no better value than office 365.

LibreOffice supports Google Drive and OneDrive for cloud storage.

Then you have to pay for OneDrive. Might as well have o365.

Only if you use more than what Ms gives out for free, many people will not even come anywhere near it.

I don't know who...it's only like 3 gb

I think it is 5GB for the free version of one drive, drop box is 2GB and google is 15Gb, but that is shared between all their service as far as I know. Plenty of people will not go over 2Gb, if they are just storing documents then it will take a long time to fill 2G, never mind 5GB. I know MS office files are big, but not that big. If you need more online storage then yes Office 365 is may be good value in that you do get office. Myself I have a 64GB thumb drive in which my documents are saved on.

You know you can use onedrive for more than documents you have created in office right? I have all my photos, documents, graphics, plans, etc on onedrive and I can access them on any of my devices regardless of OS. I don't know anyone who uses cloud storage JUST for office documents, just as I don't know anyone who uses computers JUST for creating documents anymore. Add in OneNote which is a great app for keeping track of quick notes etc...

If you need to work collaboratively in a team then O365 is way ahead. Nor is it bad value if you need the multiple licences.
But if you don't work that way so much of the O365 is overly complex and well, just horrible. The LibreOffice Writer UI in particular leaves Word in the dust. If you spend most of your day in a word processor even the colours matter, and why MS chose to limit your control to three or four variants, all hideous, mystifies me when there was no such problem in older versions. Style handling is also ludicrously overcomplex (where it used to be simple). LibreOffice gets all this right, letting you customise to your heart's content, making access to key formatting tools much easier.
But it falls down in its font display, and seems to have an insoluble problem with kerning. Its document compatibility with docx could also be better; it's easily thrown by custom styles.
So I prefer Softmaker Office to both alternatives. It has a nice, easily customised UI, excellent compatibility with docx, and displays fonts properly. It's not free, and probably not as powerful deep down but for day to day work it's smoother and better (I work between three Windows machines and an Android phone, and I store all active files on OneDrive so have no problem picking up on one device or the other). And don't get me started on the O365 version of Outlook - when did it last get a significant feature update? Still no unified inbox! Still such limited PIM information in the main mail display! Still such a basic approach to search! Part of the O365 promise is continuous improvement, but if you're a standalone user there's been nothing to write home about for years. OneDrive aside the subscription model seems pretty bogus to me.

Absolutely not a joke. I would say that LibreOffice is more than enough for most users. Most people do not work in an enterprise environment. Most users prepare little more than simple one page docs or spreadsheets. The users on this website are definitely not representative of the typical user.

But then, wouldn't office online be the more reasonable choise? I mean, on my private life, i need excel maybe once a year (and a view uses as a fancy calculator).

Office online wants to save everything to the cloud and if you are not online how do you use it?

it's been a while but the last time I looked at LibreOffice it was pretty bad. O365 is the best office ever and there is not a snowball's chance in hell I would switch to something inferior just to save 30 cents a day

If Libre had an email client like Outlook I may be interested but until then I'll stay with O365

outlook is far more than an email client and for many people is not needed. Outlook express used to be a great little email client, but now Ms replaced it on Windows 10 with that horrid mobile style mail app.

I gave it a try when hype for LibreOffice was high. After couple of hours I was so disappointed and understood that 99% of "good enough" messengers were lying blatantly. Crashes, incompatibilities, unusable UI... and it was just for simple things, simplest documents. After that I said to myself never again.
Then after some time on local public org (above 30K seats) migrated to Open Office to save on licensing. Then after 2 years they used tax payers money to migrate back.
So my suggestion is following: if you have team of at least 5-10 active developers of LibreOffice who can develop and support the product, then risk is yours. Otherwise, NEVER, NEVER use Libre.

Well..... It all depends on your needs I guess. For the people who write just a handful of letters each year, or have to convert something into a PDF, I would just stick with the free online offerings from MS, linked to your account.
If you do more, and not want to shell out money, than yes, this -could- be an alternative to Office. But with all the noise and forks, and things still broken after many years of developing, I'll stick to Office.

OpenOffice was a better product than Microsoft Office back in the day. Office365 is vastly superior to LibreOffice, so the choice is easy.

Lmfao openoffice was never better than Microsoft Office. EVER, not even for a second. The garbage people spew on here sometimes....

I use it and have never missed Microsoft Office. Only because its something I don't use that often and I don't feel like paying for Office 365 for those few times I use it. For a free application its really very good and well supported and updated. I don't know if its ready for users who are used to MS Office but its certainly a valid option for everyone else.

MS Office is one big pile of sh*t software-wise. Full of bugs and problems. I advice every person I talk to to switch to something else

Funny thing is each person has their preferences. Some people like it, like myself! I've never had one major issue. I use it daily for work.

Saving money is a legit reason, if you can do it why not? A lot of people are pretty sanguine about spending, guess it grows on trees somewhere.

It is not always about saving money. I can afford to pay for a monthly subscription for office and the majority of people i know that uses free office suites can also afford it. But if there is something that does what is needed without paying out then why pay out or continually pay out? I could have paid out for Adobe photo every month, but I found Affinity Photo by serif offers what I want for a one off fee of £50, in fact it is as good as photoshop, but even if it was not as good, but still done what I wanted, I would be silly to keep paying out for Photoshop. It is the same for Libre office, for me I can use it to write letters, do a bit of spreadsheet stuff, I do not use the database and I have no need for impress or draw for that matter, so why would I want to pay out for MS office?

Once you learn how to use excel, you never go back. In the business world I use it every day. I also set up a spreadsheet that even calculates the interest on my credit cards in my budget.

Filler article. No one is going to use LibreOffice....

Well they do use Libre office and other free office suites.

Does calc support macros and database connections? This would be a deal breaker if not.

Leaving the ribbon and the smooth interface of Office as a package and what I've learned over the past 6 years since my adoption of it would be tough. Office 365 is good for what it is and gives you 1TB of storage as well as an always up to date software package. Granted you never own it, you're just leasing it, but 69.99 a year is cheap enough to not worry about it.
Windows Central Newsletter
Thank you for signing up to Windows Central. You will receive a verification email shortly.
There was a problem. Please refresh the page and try again.