Will Borderlands 3 support cross-play?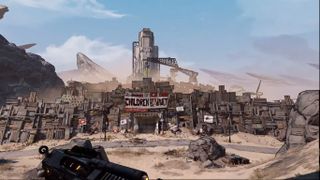 Will Borderlands 3 support cross-play?
Best answer: Gearbox hasn't confirmed cross-play for Borderlands 3, but the company has stated that it's looking into it.Shooting and looting: Borderlands 3

(opens in new tab)

($60 at Amazon)
What is cross-play?
Cross-play or cross-platform play as it is sometimes called, refers to the ability for people to play multiplayer games against people on different consoles. Usually, Xbox One users can only play against other Xbox One users, but cross-play opens up the matchmaking pool to players on PC, for instance. Some games even support cross-play between Xbox One and Nintendo Switch, like Fortnite and Minecraft.
What has Gearbox said about Borderlands 3 cross-play?
Gearbox's Randy Pitchford is notably in favor of cross-platform play and has stated that the company has a "very keen" interest in it. In regards to Borderlands 3 in particular, publisher 2K stated that they were looking into the possibility.
"Cross-play is something we're looking at closely," a 2K spokesperson told GameSpot. "But we don't have anything to confirm or announce at this time."
Which consoles will likely support cross-play?
Initially, after Borderlands 3 was announced, its Microsoft Store page listing indicated this it would feature "cross-platform co-op" between Xbox One and PC. The listing has since been removed, but if cross-play does make it to Borderlands 3, it's a good bet that Xbox One and PC will support it.
As for PlayStation 4, it's harder to guess. Sony has notoriously shot down cross-play compatibility in the past, but changed its tune some months ago following heavy backlash stemming from a Fortnite cross-play controversy. If PS4 does get cross-play, the most likely candidates would be between PS4 and PC.
When can we expect cross-play for Borderlands 3?
Considering that Gearbox is still looking into it and has not confirmed anything as of yet, you may not see cross-play support at launch. It'd be nice to see it within the first year, but we'll need to wait and see what Microsoft and Sony allow. We're not ruling it out as a possibilitiy though.
Welcome back
(opens in new tab)
Prepare for the fight of the galaxy

Borderlands 3 is set to release this fall. Pick your new favorite Vault Hunter and get ready to save the worlds. No pressure or anything. Just watch out for the wildlife while you're at it.
Get ready for Borderlands 3 with these games and accessories
Borderlands: Game of the Year Edition (opens in new tab) ($30 at GameStop)
What better way to prepare for Borderlands 3 than with the game that started it all? Now you can enjoy it in all of its remastered goodness on Xbox One, complete with 4K resolution support and several quality of life changes to make the experience even better.
Borderlands: The Handsome Collection (opens in new tab) ($40 at Amazon)
Handsome Jack is undoubtedly the most notorious villain in the Borderlands universe, and you won't want to miss out on his rise to power and his eventual quest for the Vault and the powers that it contains within. This collection contains Borderlands 2 and Borderlands: The Pre-Sequel.
Funko Pop! Borderlands Lilith (opens in new tab) ($12 at Amazon)
Love them or hate them, Funko Pop! figures are popular. If you love them, you should consider adding to your collection with this Borderlands Lilith Pop! figure. It may not come with her Siren powers, but it's still pretty dope.
Borderlands Keychain (opens in new tab) ($11 at Amazon)
Show off your Borderlands pride more subtly than with a shirt with this keychain, featuring the iconic symbol we've come to associate with the role-playing shooter series.
Borderlands PopSockets Phone Grip (opens in new tab) ($15 at Amazon)
Need more Handsome Jack in your life? Pick up this PopSockets phone grip and you'll be able to take him with you wherever you go.
Windows Central Newsletter
Get the best of Windows Central in your inbox, every day!
Jennifer Locke has been playing video games nearly her entire life, and is very happy Xbox is growing a stronger first-party portfolio. You can find her obsessing over Star Wars and other geeky things on Twitter @JenLocke95.